Cardano Price Could Lose Another 30% If The Traders Fail To Jump In!!!
Cardano price in the recent items has remained one of the major focuses in the crypto space. Mainly due to its capability to sustain above certain levels amid extensive sell-off or bearish market sentiments. However, the traders have not yet jumped in too to uplift the ADA price which manifests the possibilities of a continued downtrend.
The asset is witnessing an intensified downtrend for a week which has resulted in an exit from the top 3 crypto positions. Tether has officially regained its 3rd position with a market cap just surpassing that of Cardano. However, a successful reversal could happen, if in case the traders jump in, to uplift the price. 
Currently, as mentioned in the chart, the price is following a downtrend channel with a reduced volume. Therefore it indicates the lessen activity of the retail traders. No matter the whales can change the entire scenario but to keep up the volatility the traders need to be active. Many expected the Cardano summit would impact the ADA price but no such variation was seen. And hence, the price can shed some more gains if in the coming month continuing with a downtrend.
On the other hand, some popular analysts are pretty bullish on Cardano price and see a double-digit figure by the end of 2021. The current trend showcases the probability of achieving $10 is very less. However, as most of them believe, October could witness a surge in the ADA price and hence the bull run could resume soon. 
Cardano Price Prediction: ADA ready to explode to $4
Cardano price returns to bullish conditions, denying further sell-side control
An imminent breakout towards new all-time highs is likely.
Little resistance ahead, but bulls should remain wary.
Cardano price has failed to capitalize on the movement generated by its closest peers, Bitcoin and Ethereum. As a result, very tight and challenging trading ranges have been the norm for Cardano, but that may change here soon.
Cardano price targets a breakout above $2.45
Cardano price has a very bullish set up on its $0.05/3-box reversal Point and Figure chart. If a new column of Xs forms and hits the $2.45 entry, three things happen simultaneously. First, a double-top is broken, confirming an entry signal. Second, the entry confirms a complete Bear Trap Point and Figure pattern. Finally, the entry at $2.45 is a breakout above the dominant bear market angle.
The breakout could be the very beginning of a new bullish expansion phase for Cardano price. The initial target on the breakout is based on the horizontal profit target method in Point and Figure analysis. $4.05 is the initial range and would be a new all-time high.
However, the current trading conditions still have a significant bearish weight. Therefore, Cardano price must remain above the $2.05 value area. If it fails to hold $2.05 as support, a return to the $1.80 trading range is likely.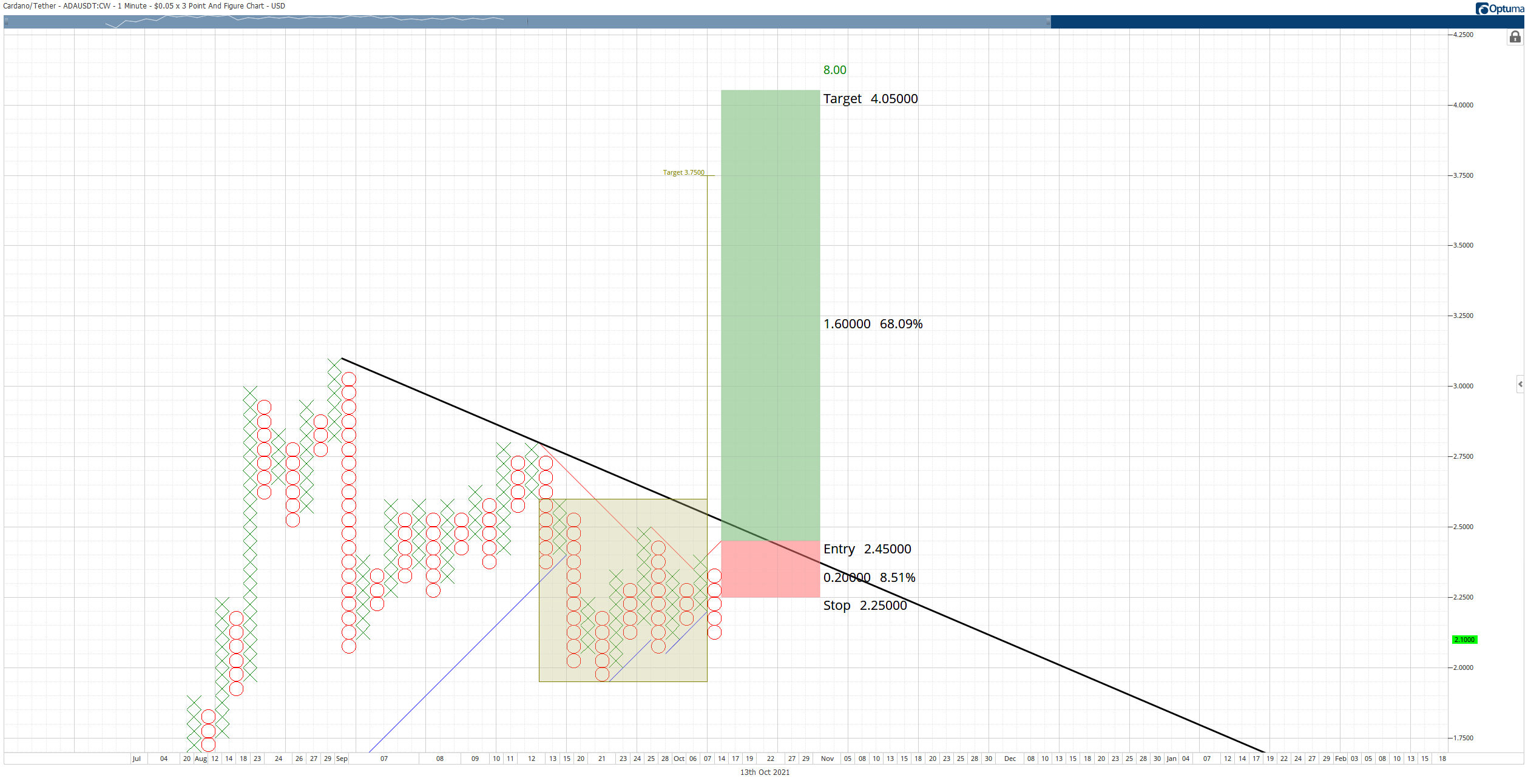 ADA/USD $0.05/3-box Point and Figure Chart
Bulls should also be aware of some resistance on any breakout near the prior swing high and high volume node at $2.80. While the momentum of the breakout may make any near-term resistance moot, $2.80 has been a consistent source of trouble for Cardano, and it would certainly be odd for it not to provide some resistance in the future.
Cardano Price Analysis: ADA/USD set to surpass the intraday highs of $2.3
Cardano price analysis is bullish today.
The ADA/USD pair formed a lower low yesterday.
Today we expect to see Cardano's value rebound somewhat.
Today's Cardano price analysis is bullish, as a new lower low was formed following a substantial decline over the previous 24 hours. As a result, ADA/USD should recover some of its losses later today as bears run out of steam, according to our predictions.
Cardano price movement in the last 24 hours: Cardano faces stiff resistance at $2.2
Over the last 24 hours, ADA has traded in a range of $2.178-$2.198, with considerable swings from one day to the next. The volume is up by 27.43 percent and stands at $2.78 billion. In comparison, the overall market cap is valued at about $70 billion, placing Cardano in third place among all cryptocurrencies by market cap.
ADA/USD 4-hour chart: ADA set to reverse today?
On the hourly chart, after a significant drop, bears are weary, with Cardano's price starting to reverse. The RSI is climbing, implying that the price will continue to rise. The current resistance level for Cardano is $2.2, which was established by a lower high.
The RSI is climbing, and the price should follow suit as no technical factors suggest otherwise. ADA/USD will rise if bulls break through the $2.22 resistance level.
ADA/USD 4-hour chart. Source: TradingView
On the 4-hour chart, we can see that after a substantial fall, bears are weary, with Cardano's price starting to reverse. RSI is moving up, suggesting that the price will continue to rise. The coin's current resistance level is at $2.2, formed by a lower high.
The RSI is moving up, and the price should continue to follow, as no technical factors suggest otherwise. If bulls manage to break through the resistance level of $2.22, then ADA/USD will rally towards its next resistance level at $2.4 – $2.45 – $2.5.
After establishing two lower highs above $2 in early October, Cardano hit a new downside high of $2.30 in mid-October, followed by the current range of $2.178-$2.198. Here we're likely to see a decisive break – either down or up – and we might anticipate temporary bearish momentum, as seen on the 4-hour chart, before ADA/USD recovers and starts gaining ground again.
Over the next 24 hours, the Cardano price is expected to recover some of its losses. We might anticipate bearish momentum to continue throughout this week if a lower high is hit.
Cardano Price Analysis: Conclusion
From a long-term perspective, this still looks like an excellent time to invest in Cardano.
Looking at the 4-hour chart, we can conclude that ADA is following an overall bullish trend. However, with RSI moving up and establishing a higher low at $2.178, this might be the beginning of a more extensive recovery.
ADA Price Seems to be Stuck While Cardano Eco-system Is Blooming !
Over the last 24 hours, the entire market has had mixed results. Cardano's price has been extremely stable over the last four daily sessions. The price of ADA has been rapidly growing this year, with an increase of 1426 percent. Its current price per ADA coin is $2.20,, and its total market value is close to 70 billion dollars. 
For the past few weeks, the Cardano price has been stuck in a tight range, but it's finally exhibiting signs of life. The price of the coin is now about $2.20. That should continue to climb as long as there are no major swings or occurrences that could cause it to fall in value.
For weeks, the price of Cardano has been drifting sideways. Following a higher low over $2, a lower high of $2.30 was reached in early October, indicating consolidation in a narrower range.
As a result, there is a chance that the coin will break out in the near future. The coin will break out in either direction because this is a symmetrical triangle. The resistance at $2.5 and the support at $2.0 will be critical levels to watch.
Ben Armstrong, a.k.a. @Bitboy Crypto, believes the ADA price cycle is the most parabolic ever, and has set a $15-$20 end-of-year target in a tweet.
The most parabolic action is at the end of the cycle. I do believe we can see #Cardano $ADA between $15 – 20 at the very end. I believe it is possible.#ADAGang what can I say? 🤷 pic.twitter.com/JWKjqanoUc— Ben Armstrong (@Bitboy_Crypto) October 9, 2021
Cardano Eco-system
On the fundamentals front, the Cardano ecosystem is becoming increasingly busy, with a wide range of projects preparing to debut. RavenDex is one such project, a decentralised exchange that has sold more than 60% of its tokens to early adopters in a private sale round and plans to deploy a fully functional system before the end of the year.
During the previous session, Derived, another DeFi project, launched its IDO. Derived is a multi-chain synthetics asset trading platform built on Cardano that will also enable cross-chain services across other leading blockchain networks including Ethereum, Polkadot, Avalanche, and Binance Smart Chain.
Cardano is gaining traction across the board, not just in the DeFi space. Over the last several weeks, the blockchain has begun to support NFTs, allowing users to mint and sell NFTs without the requirement for a smart contract address. One such venture, SpaceBudz, just reported the successful completion of its first Cardano-based NFT sale, which surpassed $1 million, setting a new high for the network.