Cardano's Alonzo hard fork was a success but real utility could be a while
Cardano (ADA) reached a major milestone in its roadmap on Sep. 13 as its blockchain successfully launched Plutus-powered smart contracts as a part of the Alonzo hard fork. 
The Alonzo hard fork has been highly anticipated in the Cardano community as well as the cryptocurrency sphere at large.
The smart contract functionality is meant to allow Cardano to become a platform on which developers can build decentralized applications (DApps) and even mint nonfungible tokens (NFTs). This milestone has been hailed as the point in the development of the network where the "mission truly begins."
However, the news of the successful execution of this milestone didn't prevent the network's native token, Cardano (ADA), from falling into the wider slump that has gripped the crypto market since Bitcoin (BTC) flashed crashed below $43,000 on Sep. 7. In the aftermath of the Alonzo hard fork on Sep. 10, ADA dropped 10% to hit an intraday low of $2.3 while BTC and Ether (ETH) only fell 4% and 6.97%, respectively.
Marie Tatibouet, the chief marketing officer of crypto exchange Gate.io, told Cointelegraph:
"This changes everything for Cardano! For the longest time, Cardano was known as the smart contract platform without the smart contracts, but now the critics will have to change that narrative. With the advent of actual contracts, Cardano's utility and usability goes through the roof."
Cardano developer activity amongst the highest
According to a report by Outlier Ventures titled, "Blockchain Development Trends Q2 2020/21," Cardano is one of the most actively developed blockchains out there, with the highest average monthly commits per month on Github code repositories at 701 commits per month (CPM). 
The average CPM for all protocols considered in the report is 107 CPM. These "commits" essentially represent any additions or amendments made to the network's source code on Github.
In terms of these commits, Ethereum comes in second with 447 CPM, IOTA stands third with 394 CPM with Filecoin and Flow rounding up the top five with 368 CPM and 306 CPM, respectively. This shows that Cardano is 555% more active than Ethereum and 317% than the average of all the blockchain networks connected.
In terms of the total number of developers building a particular blockchain network, Ethereum is still ranked at the top with 168 monthly active developers (MAD). Cardano follows closely in second place with 165 MAD, showing a higher year-over-year increase of 31.8%. The network already has the functionality that allows the creation of NFTs. According to data provided by Cardano to Cointelegraph, there have been 780,436 NFTs minted on the network.
Such an active developer community is a testament to how fast the network is developing and adapting to the changing needs of the ecosystem. Cardano has a high developer count with the highest development activities amongst similar blockchain protocols thus improving the security and transparency of the network. The Alonzo hard fork bringing in the smart contract functionality will only push these trends to greater heights.
Cardano DApps are still on the distant horizon
Even though the Alonzo upgrade, a part of the Goguen phase of Cardano's roadmap, allows developers to deploy Plutus-powered smart contracts on the network, the network hasn't quite reached that stage.
Despite the belief in the market that over 2,000 smart contracts have been deployed on the network, according to data from Vercel app, a third-party data provider that uses data from adapools.org, there are only 26 Plutus-powered smart contracts that have been deployed at the time of writing.
There is also a market-wide perception that these smart contracts are in timelock. But, a spokesperson from Cardano clarified to Cointelegraph that the network has had timelock scripts since the Allegra era of the project's roadmap. These time-locked scripts are used for activities like aiding NFT minting by making NFTs run unique for-instance and multisig schemes. Smart contracts highly differ from these scripts and cannot be placed "in timelock."
Hunain Nasser, senior analyst at OKEx Insights — the research team at cryptocurrency exchange OKEx — told Cointelegraph:
"Timelocks are used to protect users from changes made to contracts after they are created. Not all 2,300 or so scripts seen on the Cardano network are actual apps, most of them are minting policies for tokens and NFTs on the Cardano network, and they are time locked to prevent changes."
However, timelocks can be used once DApps are created and widely used. They can also be used to provide users alerts once any changes to a smart contract are triggered. This feature prevents the implementation of these changes instantly, giving users time to review them and act on them if necessary before they get implemented.
It remains to be seen how fast real utility could come to the Cardano network in terms of DApps and other decentralized finance features. But it also could be a case of managing expectations. Johnny Lyu, CEO of crypto exchange KuCoin, told Cointelegraph that even though the Alonzo upgrade is a landmark event for Cardano, one shouldn't expect lightning-fast achievements in a short period of time.
"Users need to be patient, and developers need to move on and do a lot of work to prevent mistakes that can lead to hacks and loss of funds on smart contracts."
An instance of smart contracts being fast-tracked into a network can be witnessed in the case of the Binance Smart Chain, the most recent one being the $12.7 million BTC hack from the pNetwork.
"At the same time, I believe that after launch, it will take more than two years for DApps to be deployed and operate at full scale on Cardano, as it was with the Ethereum network, " Lyu said, adding "I think everyone is ready to start now and offer some new products and applications to users, but it is necessary to make sure that they are safe."
Since Cardano is a blockchain project that has always focused on the fundamentals, one might assume that they will allow funds to flow through smart contracts only once they are deemed safe and secure. The Founder of Five Binaries, Marek Mahut, who ran the first smart contract on Cardano said that "Safety and scalability are major features for any developer. Cardano's accounting technology, eUTXO, provides a novel approach, which makes writing secure smart contracts easier."
The Cardano Foundation is held the Cardano Summit 2021 on Sept. 25–26. IOHK, the blockchain research and development company that backs Cardano's infrastructure, discussed the planned upgrades and improvements to the smart contract functionality at this summit. It remains to be seen when the deployment of actual DApps can be done on the network, but it's not an instantaneous process. 
Cardano Price Prediction: ADA ready to explode to $4
Cardano price returns to bullish conditions, denying further sell-side control
An imminent breakout towards new all-time highs is likely.
Little resistance ahead, but bulls should remain wary.
Cardano price has failed to capitalize on the movement generated by its closest peers, Bitcoin and Ethereum. As a result, very tight and challenging trading ranges have been the norm for Cardano, but that may change here soon.
Cardano price targets a breakout above $2.45
Cardano price has a very bullish set up on its $0.05/3-box reversal Point and Figure chart. If a new column of Xs forms and hits the $2.45 entry, three things happen simultaneously. First, a double-top is broken, confirming an entry signal. Second, the entry confirms a complete Bear Trap Point and Figure pattern. Finally, the entry at $2.45 is a breakout above the dominant bear market angle.
The breakout could be the very beginning of a new bullish expansion phase for Cardano price. The initial target on the breakout is based on the horizontal profit target method in Point and Figure analysis. $4.05 is the initial range and would be a new all-time high.
However, the current trading conditions still have a significant bearish weight. Therefore, Cardano price must remain above the $2.05 value area. If it fails to hold $2.05 as support, a return to the $1.80 trading range is likely.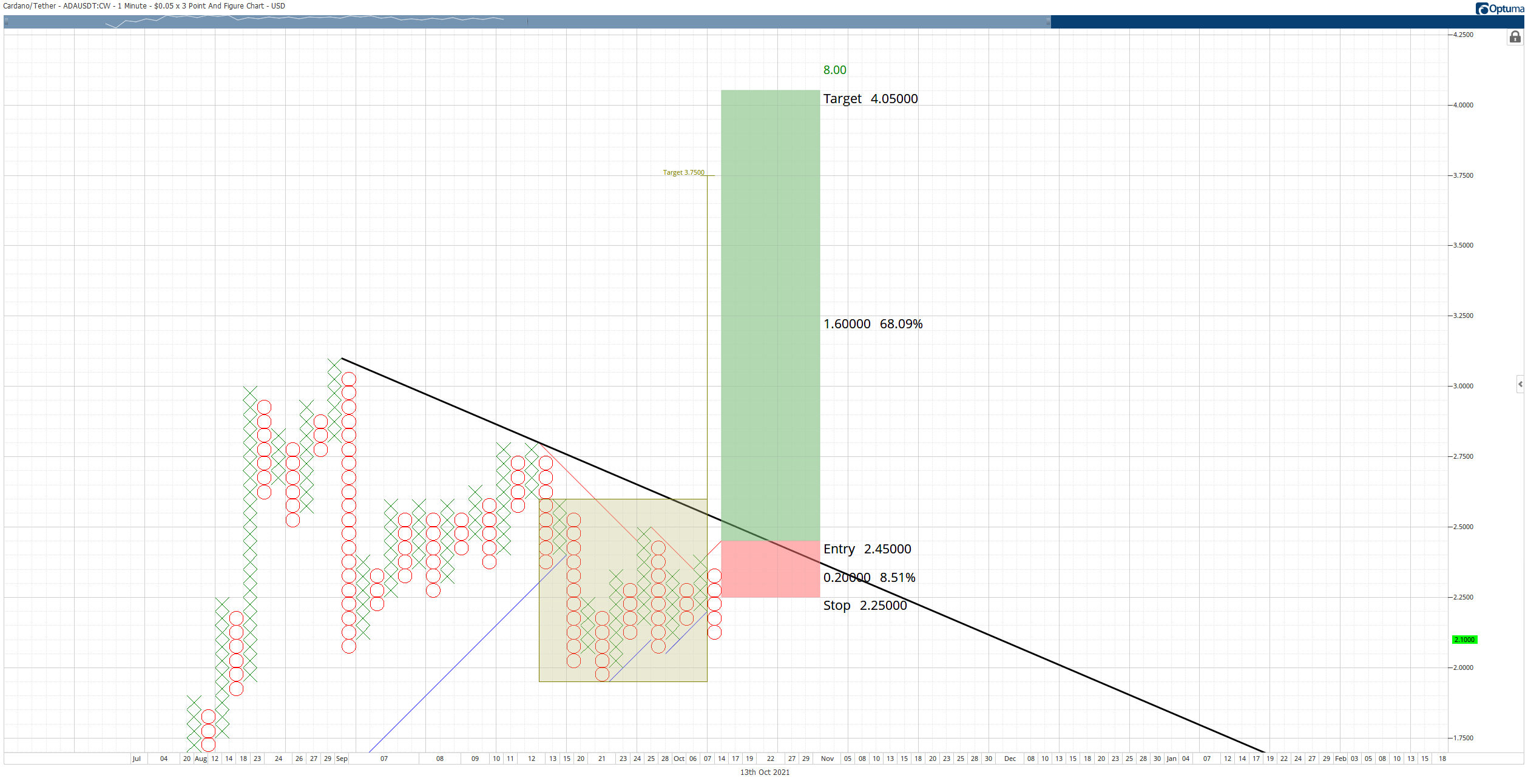 ADA/USD $0.05/3-box Point and Figure Chart
Bulls should also be aware of some resistance on any breakout near the prior swing high and high volume node at $2.80. While the momentum of the breakout may make any near-term resistance moot, $2.80 has been a consistent source of trouble for Cardano, and it would certainly be odd for it not to provide some resistance in the future.
Cardano Price Analysis: ADA/USD set to surpass the intraday highs of $2.3
Cardano price analysis is bullish today.
The ADA/USD pair formed a lower low yesterday.
Today we expect to see Cardano's value rebound somewhat.
Today's Cardano price analysis is bullish, as a new lower low was formed following a substantial decline over the previous 24 hours. As a result, ADA/USD should recover some of its losses later today as bears run out of steam, according to our predictions.
Cardano price movement in the last 24 hours: Cardano faces stiff resistance at $2.2
Over the last 24 hours, ADA has traded in a range of $2.178-$2.198, with considerable swings from one day to the next. The volume is up by 27.43 percent and stands at $2.78 billion. In comparison, the overall market cap is valued at about $70 billion, placing Cardano in third place among all cryptocurrencies by market cap.
ADA/USD 4-hour chart: ADA set to reverse today?
On the hourly chart, after a significant drop, bears are weary, with Cardano's price starting to reverse. The RSI is climbing, implying that the price will continue to rise. The current resistance level for Cardano is $2.2, which was established by a lower high.
The RSI is climbing, and the price should follow suit as no technical factors suggest otherwise. ADA/USD will rise if bulls break through the $2.22 resistance level.
ADA/USD 4-hour chart. Source: TradingView
On the 4-hour chart, we can see that after a substantial fall, bears are weary, with Cardano's price starting to reverse. RSI is moving up, suggesting that the price will continue to rise. The coin's current resistance level is at $2.2, formed by a lower high.
The RSI is moving up, and the price should continue to follow, as no technical factors suggest otherwise. If bulls manage to break through the resistance level of $2.22, then ADA/USD will rally towards its next resistance level at $2.4 – $2.45 – $2.5.
After establishing two lower highs above $2 in early October, Cardano hit a new downside high of $2.30 in mid-October, followed by the current range of $2.178-$2.198. Here we're likely to see a decisive break – either down or up – and we might anticipate temporary bearish momentum, as seen on the 4-hour chart, before ADA/USD recovers and starts gaining ground again.
Over the next 24 hours, the Cardano price is expected to recover some of its losses. We might anticipate bearish momentum to continue throughout this week if a lower high is hit.
Cardano Price Analysis: Conclusion
From a long-term perspective, this still looks like an excellent time to invest in Cardano.
Looking at the 4-hour chart, we can conclude that ADA is following an overall bullish trend. However, with RSI moving up and establishing a higher low at $2.178, this might be the beginning of a more extensive recovery.
ADA Price Seems to be Stuck While Cardano Eco-system Is Blooming !
Over the last 24 hours, the entire market has had mixed results. Cardano's price has been extremely stable over the last four daily sessions. The price of ADA has been rapidly growing this year, with an increase of 1426 percent. Its current price per ADA coin is $2.20,, and its total market value is close to 70 billion dollars. 
For the past few weeks, the Cardano price has been stuck in a tight range, but it's finally exhibiting signs of life. The price of the coin is now about $2.20. That should continue to climb as long as there are no major swings or occurrences that could cause it to fall in value.
For weeks, the price of Cardano has been drifting sideways. Following a higher low over $2, a lower high of $2.30 was reached in early October, indicating consolidation in a narrower range.
As a result, there is a chance that the coin will break out in the near future. The coin will break out in either direction because this is a symmetrical triangle. The resistance at $2.5 and the support at $2.0 will be critical levels to watch.
Ben Armstrong, a.k.a. @Bitboy Crypto, believes the ADA price cycle is the most parabolic ever, and has set a $15-$20 end-of-year target in a tweet.
The most parabolic action is at the end of the cycle. I do believe we can see #Cardano $ADA between $15 – 20 at the very end. I believe it is possible.#ADAGang what can I say? 🤷 pic.twitter.com/JWKjqanoUc— Ben Armstrong (@Bitboy_Crypto) October 9, 2021
Cardano Eco-system
On the fundamentals front, the Cardano ecosystem is becoming increasingly busy, with a wide range of projects preparing to debut. RavenDex is one such project, a decentralised exchange that has sold more than 60% of its tokens to early adopters in a private sale round and plans to deploy a fully functional system before the end of the year.
During the previous session, Derived, another DeFi project, launched its IDO. Derived is a multi-chain synthetics asset trading platform built on Cardano that will also enable cross-chain services across other leading blockchain networks including Ethereum, Polkadot, Avalanche, and Binance Smart Chain.
Cardano is gaining traction across the board, not just in the DeFi space. Over the last several weeks, the blockchain has begun to support NFTs, allowing users to mint and sell NFTs without the requirement for a smart contract address. One such venture, SpaceBudz, just reported the successful completion of its first Cardano-based NFT sale, which surpassed $1 million, setting a new high for the network.