CBDCs can cut cross border remittance costs by half: BIS report
The Bank for International Settlements (BIS) has published a report touting the benefits of central bank digital currencies (CBDC), especially in reducing the cost of cross-border payments.
According to the report titled "Inthanon-LionRock to mBridge: Building a multi CBDC platform for international payments" published on Tuesday, CBDCs can reduce the transaction throughput of cross-border payments from three to five business days to only a few seconds.
The stated claim is part of the conclusions drawn from phase two of Project Inthanon-LionRock involving the central banks of China, the United Arab Emirates and the Hong Kong Monetary Authority.
"The prototype demonstrates a substantial increase in cross-border transfer speed from days to seconds, as well as the potential to reduce several of the core cost components of correspondent banking," the report stated.
As stated in the report, a PricewaterhouseCoopers estimate based on the results of the phase two prototype showed a possible 50% reduction in the cost of cross-border payments.
The BIS report also stated that the speed and cost benefits of CBDCs can even be more significant among jurisdictions where robust correspondent banking relationships are non-existent.
With phase two completed, the project now dubbed "mCBDC Bridge" will move into the third phase, which will involve further pilot studies as well as the creation of a possible roadmap for large-scale testing.
The mCBDC Bridge project is one of many multi-central bank digital currency projects as the emphasis appears to be shifting toward more collaboration in the area of national digital currencies.
As previously reported by Cointelegraph, Australia, Malaysia, Singapore and South Africa recently announced a joint CBDC initiative.
These collaborative efforts are also being championed by entities such as the BIS and the International Monetary Fund as being more advantageous to the current financial landscape, especially amid the growing popularity of cryptocurrencies.
Indeed, the BIS has consistently advocated for CBDCs as a countermeasure to the proliferation of crypto and stablecoins in global payments.
Five cryptocurrencies that appreciated packaged by the rise of Bitcoin
Anyone who follows the cryptocurrency market knows that the price of Bitcoin directly influences the price of altcoins, both up and down. Some cryptocurrencies whose projects are considered important end up standing out precisely because they have a privileged position in the ranking of the most valued assets.
Dogecoin, for example, has just gone from a daily volume of $78 million to an impressive $10 billion a few months ago, given the global confidence of its investors, which has taken it to the top 10 of the most desired cryptos.
That's what happens with Bitcoin. The largest of the cryptocurrencies almost hit the house of US$ 67,000 this Wednesday (20th), breaking its historical price record, which was US$ 65,000. This has influenced several cryptocurrencies in the last 24 hours. See what they are, in order of market value.
Cardano (ADA) — Market value: US$71.7 billion
Cardano, 4th in the ranking of cryptocurrencies with the highest market value, has appreciated around 4% in the last 24 hours, leaving the range of US$ 2.12, reaching US$ 2.20 at around 11:50 am this Wednesday . During the period, the ADA dropped to 5th position in the Coinmarketcap with $2.09, but then recovered. At the time of writing, the asset ranges between $2.18 and $2.19.
Ripple (XRP) — $53.4 billion
XRP, Ripple's native cryptocurrency, has appreciated about 6% in the last 24 hours and at the time of text is trading at $1.15. Despite a small drop yesterday afternoon, going to US$ 1.07 — compared to US$ 1.04 on Sunday (17) — the price of the currency has only increased since then.
Solana (SOL) – US$ 51.3 billion
Solana was one of the top 10 cryptos that appreciated the most between yesterday and today, whose gain is close to 10% at the time of the text, when it trades at US$ 170. Amidst several price fluctuations, the SOL token does not stopped going up for at least 7 days, when it traded in the range of US$ 145.
Polkadot (DOT) — US$43.7 billion
Polkadot is another currency that also gained price between Tuesday and Wednesday. At the time of writing, DOT is trading around $44, up 7%. The only recent period that cryptocurrency has gone into decline was between the 20th and 30th of September. Since then, when it has been staggering between US$ 26 and US$ 28, the currency has only risen, although fluctuating around US$ 41 at times.
Dogecoin (DOGE) — US$33.2 billion
The Dogecoin meme cryptocurrency hit the price of 25 cents this Wednesday morning and has appreciated in the last 24 hours by approximately 3.5%, after spending several hours at 0.24 cents. However, on Monday (18), the currency reached its highest peak of the week, which was US$ 0.27. But if we count the last 30 days, the DOGE has already appreciated 35%.
Brazil imported BRL 23.3 billion in cryptocurrencies this year show data from the Central Bank
Brazilians have already bought nearly R$ 23.3 billion in cryptocurrencies this year. The data was released by the Central Bank in a report on Friday (14) and the numbers were presented in dollars, totaling US$ 4.270 billion since January.
In August, the purchase value was US$ 496 million. The purchase of cryptoactives reached its peak in May, when Brazilians bought US$ 756 million.
Since then these numbers have been falling (US$695 million in June and US$583 million in July), but they are still much higher than what was seen at the beginning of the year: in February cryptoactive purchases were US$386 million and in March, $357 million.
See below the numbers (underlined in yellow) of the purchase of cryptoactives by Brazilians since January (values ​​in dollars):
one-hand flow
The BC's director of monetary policy, Bruno Serra, said on Friday (15) that Brazilian investments in cryptoactives abroad are potentially three times greater than in American shares.
The executive points out that there is a potential to reach R$ 50 billion in cryptoactives purchased by Brazilians.
But Serra, who spoke in a videoconference organized by the company Upon Global, made a reservation: "It's a one-way flow. Due to the cost of energy, Brazil does not produce cryptoactives, it is just an importer".
Cryptoactives enter BC balance sheets
In August was the first time that the Central Bank of Brazil on import and export of cryptoactives in external sector statistics.
On the occasion, BC president Roberto Campos Neto said at the time that "a great increase in demand for cryptocurrencies was taking place," when he participated in a meeting of the FGV's National Financial System (Neasf) study group.
Campos Neto said that at that time there were around US$ 40 billion (R$ 209 billion) in cryptocurrencies in the hands of Brazilian citizens.
peak in may
BC import data confirm that May was the month with the largest purchase in Brazil, with R$ 4.127 billion in cryptocurrencies entering the country (values ​​adjusted to the current dollar exchange rate).
That month, the Brazilian market broke a record by trading R$ 826 million in bitcoin in a single day.
BC's view on cryptoactives
As of August this year, the transfer of ownership of cryptoactives between residents and non-residents began to be disclosed by the BC in the balance of payments assets account.
Following a methodological recommendation from the IMF, the Central Bank understands cryptocurrencies as goods (non-financial and produced assets), in such a way that they need to be registered in external sector statistics. Because there are no customs records for cryptocurrencies such as bitcoin, they are not included in commodity statistics.
Transactions with cryptoactives are estimated based on foreign exchange contracts — a legal instrument that records the negotiation between buyer and seller of foreign currency, following the requirements of the Central Bank.
Crypto Traders Most Bullish on Polkadot, Solana, Polygon and 10 Additional Altcoins: Digital Asset Survey
A new survey unveils that crypto traders are most bullish on 13 altcoins including Polkadot, Solana and Polygon.
The Real Vision Exchange Crypto Survey is designed to track sentiment among investors by allowing participants to scan 30 tokens and choose if they want to have an overweight or underweight allocation for each one. The survey was conducted by Real Vision Bot, which was created by two independent developers and boosted by macro guru Raoul Pal.
Results from voting that happened on the first two days of this week indicate traders prefer an overweight portfolio consisting of smart contract platforms Polkadot (DOT) and Solana (SOL), as well as Ethereum-scaling solution Polygon (MATIC).
The scalable and interoperable ecosystem Cosmos (ATOM) is fourth on the list, and smart contract platforms Terra (LUNA) and Cardano (ADA) appear tied for fifth. Traders also have overweight allocations for decentralized oracle network Chainlink (LINK), Ethereum competitor Avalanche (AVAX), Ethereum-based token Enjin Coin (ENJ) and decentralized exchange Uniswap (UNI) for the sixth, seventh and eighth places, respectively.
Tied in ninth place are cross-border payment solutions Stellar (XLM) and XRP, as well as decentralized storage network (FIL).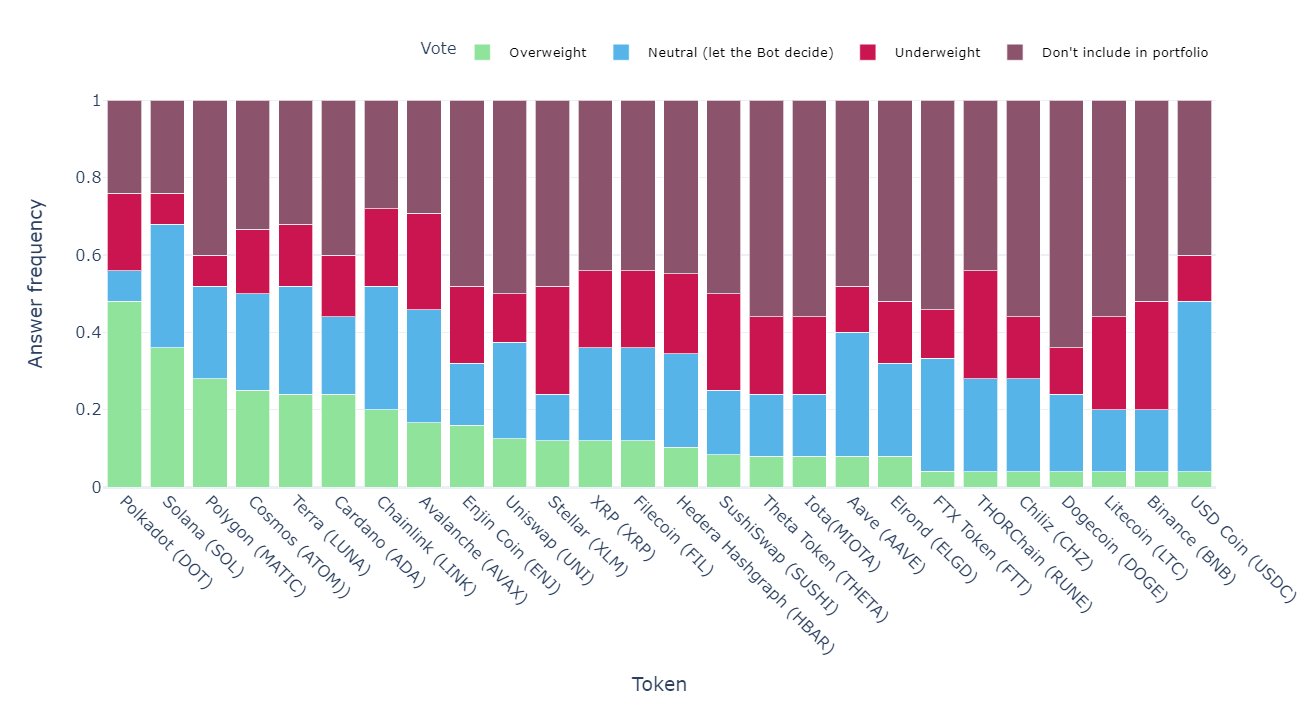 Real Vision Bot clarifies that the participants are not necessarily holding the cryptocurrencies that they voted for.
"They can of course vote according to their own positions, but also just based on their sentiment or forward looking. There are many reasons why the own book might not be 1:1 the preferred allocation."
Bitcoin (BTC) is conspicuously absent from the list. Pal highlights that the community is responsible for that absence.
"It's not us – it's the community who makes the allocation… You guys, to be exact.