Europe Now World's Biggest Crypto Economy: Boasts Over $1T Worth of Transactions
CNWE has surpassed Eastern Asia as the world's most bustling crypto trading hotspot. DeFi is largely responsible.
Central, Northern, and Western Europe (CNWE) has grown into the world's largest cryptocurrency economy since July 2020. The region experienced a massive increase in trading activity since then– particularly in the DeFi space.
The European DeFi Boom
Data from Chainalysis shows that CNWE received over $1 trillion in cryptocurrency over the last year alone. This represents 25% of global trading activity. Furthermore, it is responsible for at least 25% of all crypto value received by other regions, including 34% of the value received in North America.
This makes the EU the most concentrated in the world in terms of cryptocurrency trading volume. This is partially due to increases in all forms of trading activity over the past year, coming mostly from institutional investors.
Large institutional transaction value grew from $1.4B in July 2020 to $46.3B in June 2021, coming to take up half of all CNWE trading activity. The most pronounced increases were seen on DeFi protocols, where over 80% of these large institutional transactions were sent in June.
The impact of DeFi is further established when ranking coins in terms of transaction activity in the region. Despite being the largest cryptocurrency by market cap, Bitcoin heavily trails Ethereum in transaction volume among large institutional investors. Additionally, DeFi protocols took up a majority share of funds received by cryptocurrency services in CNWE in June 2021.
The Decline in Eastern Asia
CNWE has seen significant absolute increases in its crypto trading volume. However, its new place as the world's largest trading hub is partly due to a sharp decline in market share held by Eastern Asia– the previous world leader.
In early 2019 the region held over 30% of global transaction volume. This figure has since fallen sharply to about 15% – less than CNWE, North America, and even Central and Southern Asia.
This may be related to China's continued push to prevent and discourage crypto trading within its borders. China re-announced their ban on crypto trading in the country days ago, and have been moving to prevent all access to exchanges within the country.
CFTC commissioner says agency has broad enforcement authority on crypto derivatives
Dawn Stump, one of four commissioners currently serving at the Commodity Futures Trading Commission, or CFTC, has released a statement clarifying the agency's authority with respect to digital assets. 
In a Monday statement, Stump said the CFTC is empowered with both regulatory and enforcement authority for commodities. She did not specifically say that digital assets were cash-like commodities in the eyes of the regulatory body, but "even if a digital asset is a commodity, it is not regulated by the CFTC." However, according to the commissioner, the agency is within its power to regulate derivatives on digital assets, "such as the futures contracts on Bitcoin and Ether listed for trading on various CFTC-regulated exchanges."
U.S. government agencies including the CFTC, Securities and Exchange Commission, or SEC, and the Financial Crimes Enforcement Network, or FinCEN, are largely responsible for handling digital asset regulation and enforcement in the country. However, each has different jurisdictional claims regarding crypto, often leading to confusion for companies trying to operate within the law.
According to the commissioner, the CFTC should analyze a digital asset already considered a security — and would thus fall under the SEC's regulatory umbrella — to determine where the agency's regulatory authority would lie for a derivatives product for that same project. However, she clarified that the CFTC had enforcement authority over financial products that it currently regulates.
"A trading platform that offers derivatives on digital assets to U.S. persons without registering, or in violation of CFTC trading rules, is subject to the CFTC's enforcement authority," said Stump. "That was the case in the recent CFTC enforcement action against BitMEX, and the CFTC has brought similar such actions dating back to 2015."
She added:
"To determine the CFTC's regulatory authority with respect to a digital asset, ask not whether the digital asset is a commodity or a security — ask whether a futures contract or other derivatives product is involved."
In the case of BitMEX, the crypto derivatives exchange agreed to pay $100 million as part of a settlement with both the CFTC and the FinCEN. However, the regulatory agency is also reportedly looking into Binance Holdings Limited for possible derivatives trades made by U.S.-based customers, and previously filed charges against the Laino Group for soliciting investors on Bitcoin (BTC), Ether (ETH), and Litecoin (LTC) futures trading without proper registration.
While Stump has taken a position that seems to relegate many cryptocurrencies to the SEC's regulation and enforcement, she is only one of four voices — usually six — on the panel regulating commodities. Commissioner Brian Quintenz, a seemingly pro-crypto advocate in the CFTC, reportedly plans to step down at the end of August.
These Are the Most Rewarding Crypto Faucets in February 2021
Bitcoin faucets exist as an easy way to get cryptocurrencies free of charge. There are dozens of them on the internet that anyone can access and get their favorite cryptocurrencies without paying for them. On some sites, you will need to perform a few tasks in order to get crypto in return, while on others, all you have to do is spin a wheel or both.
While all crypto faucets offer free cryptocurrencies, some are better than others. In this article, we will review the ones that give the most rewards. Whether you are just spinning the wheel or performing tasks, you can be sure that these faucets will bring you the best remuneration.
Free Dogecoin
Dogecoin has recently taken the cryptocurrency space by storm. Many people have suddenly developed interest in cryptocurrency after it rallied 300% in one day. If you are one of such people and you would like to get some DOGE for free, Free Dogecoin is the place to go.
This faucet gives out Dogecoin exclusively and is one of the best. With it, you can win up to 145000 DOGE in a single spin. In dollar terms, you can win as much as $15 in an hour, and you can spin every hour to win more. This faucet also has a referral program in which you can earn 50% of whatever your referrals earn from their spins. You also get a free lottery ticket every time one of your referrals spins the wheel. You can choose to have your Dogecoin delivered to your personal wallet every week, or you can withdraw it manually to your wallet.
Bonus Bitcoin
With this faucet, users can earn up to 5000 Satoshis every 15 minutes when they spin the wheel. It does not require any tasks, just spins, and is one of the most generous Bitcoin faucets online. The referral bonus pays you 50% of whatever your referred friends earn for life. The faucet adds 5% of your total wallet balance to your account every night as long as you make at least one claim each day.
Free Faucet
This is one of the multicurrency crypto faucets that give out both Bitcoin and altcoins. Getting cryptocurrencies is as easy as clicking on the claim button on the website. Free Faucet currently supports 17 cryptos. These include the top ones, such as Bitcoin, Ethereum, XRP, and the recently popular – Dogecoin. You will easily find one of your favorites among them.
One thing that sets this website apart is that it doesn't just give you free crypto, but it provides education about cryptocurrencies so that you can find out more about this industry. You can earn more by participating in a few simple tasks, such as surveys, viewing ads, etc.
Freebitcoin.io
If you are searching for the most rewarding Bitcoin faucets, you certainly can't ignore this one. Freebitcoin.io gives you as much as $300 worth of Bitcoin in one hour; all you have to do is spin. It also guarantees a 50% bonus on your referral earnings, which is a substantial bonus considering how much they can make. You withdraw your Bitcoins to your personal wallet once you reach the minimum amount with no hassle and use it for whatever you want.
Moremoney.io
As the name implies, this faucet literally pays more than most in the space. In one hourly spin, you can win $500 in Bitcoin. There is a 25% referral bonus for you if you refer your friends to the faucet and they start earning, but there's even more. You can get some more Bitcoin by carrying out simple tasks, such as visiting short links, completing PTC, and offerwalls. There is no limit to how much you can earn with this faucet because you can spin as many times as you prefer and refer as many friends as you want.
Allcoins.pw
Are you looking for a multicurrency wallet? Allcoins.pw is one of the best. As the name implies, it is a faucet for all coins, but most of the rewards are paid in Bitcoin. There is the classic faucet and also the auto faucet. You can play several games in order to win BTC, which you can easily convert to other cryptocurrencies within the faucet if you like. There is also a functionality for mining Monero, which pays out mining rewards in Bitcoin as well. Rewards can be withdrawn to FaucetHub or your personal wallet.
ES Faucet
This is one of the well-known crypto faucets that support 13 cryptocurrencies that can be gotten free of charge. It has a short claim interval of 5 minutes, meaning you get to spin more often and potentially earn more. Unlike many faucets, you have to solve a captcha rather than spin an actual wheel. Apart from cryptocurrencies, the faucet has its own coins called ES Coins, which you can also earn and easily convert to any of the supported cryptocurrencies. You can participate in offerwalls and PTC to earn more, and you can mine your own crypto. Coinbase users withdraw their rewards free of charge.
Firefaucet
Firefaucet gives free rewards in 8 cryptocurrencies, namely Bitcoin, Ethereum, Dogecoin, Litecoin, Dash, Tron, Zcash, and Digibyte. You get rewarded mainly for carrying out simple tasks like surveys, offerwalls, and watching games. Moreover, you can get achievement rewards and a number of others, as well as referral bonuses for everyone of your friends that you add to the faucet. You can easily withdraw your rewards any time you wish.
Conclusion
These are high paying crypto faucets you can use to get some free digital assets in February 2021. Whether you are new to cryptocurrencies or just wish to get some more without paying for them, these faucets will help you achieve your goal. It may not be much but doesn't hurt to do fun stuff and get rewarded for it, so give it a try.
These Are the Most Rewarding Crypto Faucets in January 2021
Crypto faucets are an easy way to get some free cryptocurrencies. There are different types out there. Some give out only a single cryptocurrency, e.g., Bitcoin (BTC), while others give out multiple cryptos. Even if you don't need money to purchase them, there are certain requirements. Some faucets require that you perform some tasks to get rewarded with crypto, while you only have to "spin the wheel" for others.
This article discusses the most rewarding crypto faucets in January 2021. If you are looking for a way to get free crypto, you have come to the right place. Just read on and find out the best faucets you can use to get the highest amount of crypto possible.
MoreMoney.io
This is a relatively new crypto faucet. It, however, pays out one of the best rewards available. With MoreMoney, you can earn as much as $500 within an hour by spinning the wheel on this faucet. That is not all, as you can earn even more by engaging in some fun activities. These include visiting short links, completing PTC and offerwalls. This generous faucet also pays you a 25% referral commission on the earnings of any number of people you refer to it using your referral link. If you are looking for a faucet that gives huge rewards with minimal effort, MoreMoney is here for you.
Freebitcoin.io
This faucet needs no introduction, as it is a top one in the space. It is also a very rewarding one with a lot of goodies for its users; no wonder it has over 350,000 registered users. You can make as much as $300 worth of Bitcoin in an hour with this cryptocurrency faucet. While this is not as high as Moremoney.io, Freebitcoin offers a 50% referral commission, which is the highest commission ever. Once users reach a threshold amount, they can instantly withdraw their balance to their personal Bitcoin wallets.
Free Dogecoin
Free Dogecoin is another great cryptocurrency faucet. It is dedicated to the fun, dog-themed Dogecoin, a cryptocurrency that has attracted a lot of attention in the few years of its existence. You can win up to $150 in Dogecoin every hour and up to 145,000 DOGE in a single spin. Spins can be repeated every hour to increase rewards.
Apart from your own earnings, you can refer your friends to the faucet and get 50% commission on all of their rewards for life. A free lottery ticket is also available to you every time one of your referrals plays to win. Rewards can be easily withdrawn to your personal wallet either by you or automatically set up to send your DOGE every Saturday.
Allcoins PW
This is a multicurrency faucet that supports a lot of top cryptocurrencies, such as Ethereum and XRP, among others. You can get any of these cryptocurrencies out of Allcoins PW, and the interesting thing is that you can always exchange one for another. The faucet rewards users for doing fun stuff like playing games and completing offerwalls. What is really cool about this faucet is that you can actually use it to mine cryptocurrencies. Once you accumulate enough, you can easily withdraw your rewards either to FaucetHub or directly to your personal wallet.
Bitcoin Aliens
For those who enjoy using their mobile devices so much, Bitcoin Aliens is a cryptocurrency faucet they can use to get some great rewards on the go. This faucet basically rewards you for playing games, something most mobile phone owners find interesting to do. There are a number of cryptocurrencies you can earn, including Bitcoin, Litecoin, and Bitcoin Cash. Bitcoin Aliens already has over 2.5 million users, and you can be one of them. Just install the app, and you are good to go!
Faucet Crypto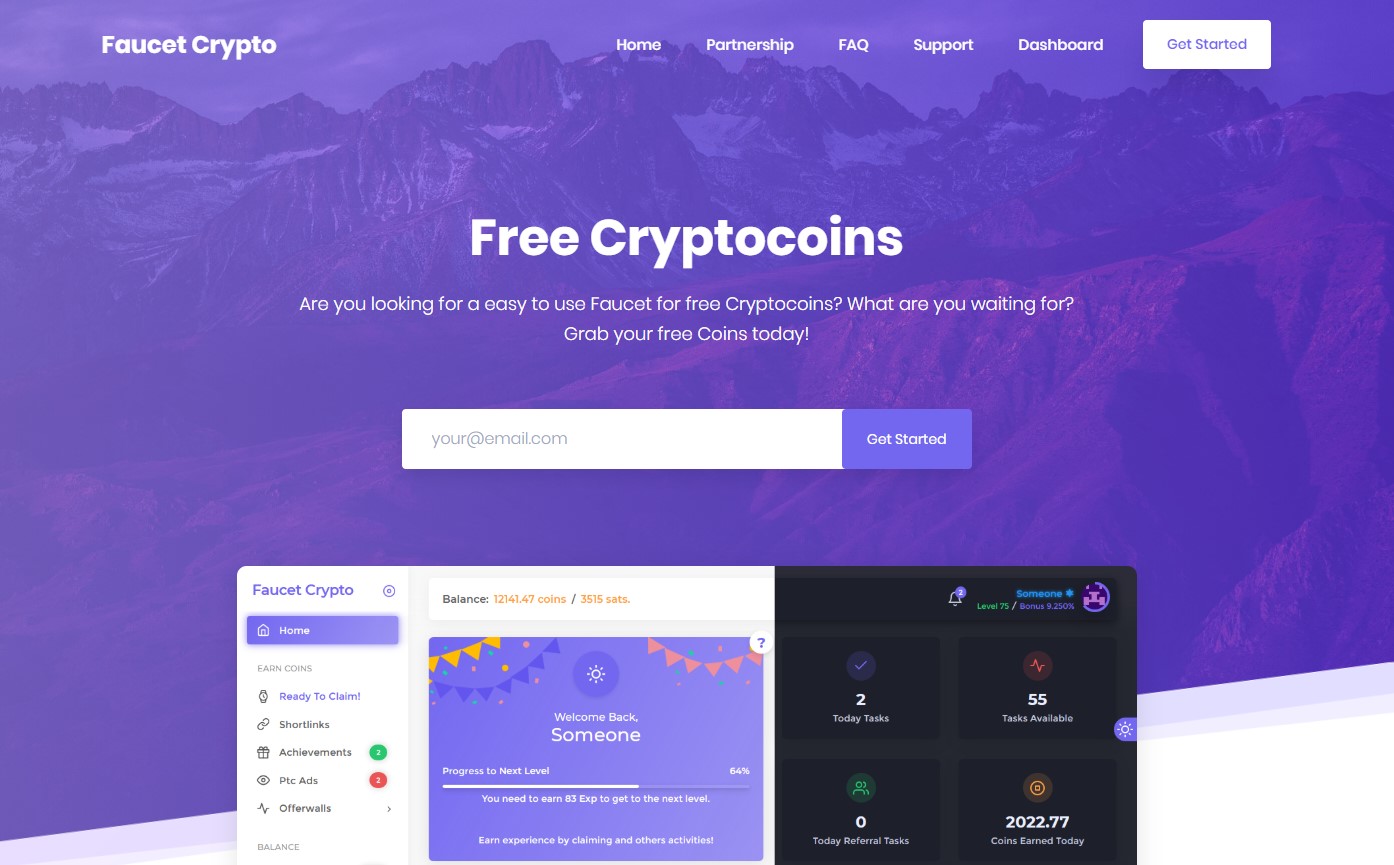 This is another multicurrency faucet. You can earn a number of cryptocurrencies, including Ethereum, for which Faucet Crypto is well known. Just do a few tasks, such as viewing ads, or do shortlinks to get massive rewards. You can also refer your friends and get a 25% commission on their rewards in addition to your own. You can easily withdraw your balance once it reaches the threshold of 0.00012 ETH at no cost at all.
Free Faucet
Free Faucet is one crypto faucet you should go to if you are looking for free Bitcoin and altcoins. Just click on the "claim" button when to register and get rewarded with cryptocurrency. There are 17 cryptocurrencies, so you can claim your favorite ones; it is all up to you. Apart from this, Free Faucet allows you to earn more by doing surveys, completing offers, and viewing promoted posts. The website is also an educational one that teaches you about your favorite currencies, so if you want to get a little savvier concerning your favorite digital assets, visit this website to learn and earn.
Bonus Bitcoin
This list will not be complete without mentioning Bonus Bitcoin, one of the websites that churn out free BTC. This faucet has a time interval of 15 minutes between spins that can give you as much as 5,000 Satoshis in one spin. You can earn much more with this faucet because of the short time interval between spins compared to other faucets that take one hour.
What's more? You can earn 50% of your referral's earnings if you refer them to the faucet, and you will always get paid 5% of your account balance overnight as long as you continue to claim. Bonus Bitcoin is also one of the oldest faucets with a lot of users, so it is also one of the most trusted. If you want some free Bitcoin with no risk, then this is a faucet to consider.
Conclusion
These are the most rewarding cryptocurrency faucets you will find in January 2021. If you feel like getting some free cryptocurrencies, including Bitcoin, jump on any of these faucets and start earning. The good news is that you can sign up for all of the above and increase your earnings significantly.