It's a Cryptocurrency Hustle: Jon oe Rogan NFTs
Joe Rogan is not interested in NFTs, calls them a "cryptocurrency hustle," which doesn't make any sense.
The sports commentator, comedian, and popular podcast host Joe Rogan admitted that he is "not interested" in non-fungible tokens. To him, their concept is difficult to understand, and he called them a cryptocurrency "hustle."
'It Doesn't Make Any Sence to Me'
The popular MMA and UFC commentator – Joe Rogan – does not see how non-fungible tokens have become such a trend recently. During a recent podcast, the American rejected the option of purchasing an NFT. He went further, stating that non-fungible tokens represent an obstacle in the cryptocurrency space:
"It's a weird hustle. I think it's like a cryptocurrency hustle. It doesn't make any sense to me."
Rogan argued that there is no point in spending a considerable amount of money on a digital artwork when people can download it for free:
"Here's my problem, I can have that photo and I can have it on my phone."
This is not the first time when Rogan reveals his confusion on the matter. A few months ago, during another podcast, the comedian Reggie Watts tried to explain what NFTs are and how people can interact with them. Rogan, though, said he "understands even less" after the discussion.
On the other hand, the American is not a cryptocurrency critic. He revealed that he is a digital asset hodler. However, he did not disclose which tokens he has exposure to:
"I have a little bit of crypto."
Are NFTs a Hustle?
Despite gaining massive popularity in recent months, many people are still unaware of what non-fungible tokens are. In short, they are cryptographic tokens that define an asset uniquely. They can represent an image, but they can also track real-world products, such as a car, a house, or a song.
Many have also used their popularity to raise money for charity. An example is the NFT-dedicated platform SuperRare hosted. It launched a digital art collection of Freddie Mercury's life and career and vowed to distribute the funds to the Mercury Phoenix Trust (MPT) – a charity organization that fights HIV/AIDS worldwide.
Speaking of prominent names, it is worth noting that celebrities such as Eminem, Tom Brady, Lindsay Lohan, and many more also launched their own collections.
In line with what was happening in the space, the NFT trading volumes reached all-time high records in August, exceeding $500 million for a single day at the end of the month. However, investors' appetite for trading has decreased significantly since then.
Brazil imported BRL 23.3 billion in cryptocurrencies this year show data from the Central Bank
Brazilians have already bought nearly R$ 23.3 billion in cryptocurrencies this year. The data was released by the Central Bank in a report on Friday (14) and the numbers were presented in dollars, totaling US$ 4.270 billion since January.
In August, the purchase value was US$ 496 million. The purchase of cryptoactives reached its peak in May, when Brazilians bought US$ 756 million.
Since then these numbers have been falling (US$695 million in June and US$583 million in July), but they are still much higher than what was seen at the beginning of the year: in February cryptoactive purchases were US$386 million and in March, $357 million.
See below the numbers (underlined in yellow) of the purchase of cryptoactives by Brazilians since January (values ​​in dollars):
one-hand flow
The BC's director of monetary policy, Bruno Serra, said on Friday (15) that Brazilian investments in cryptoactives abroad are potentially three times greater than in American shares.
The executive points out that there is a potential to reach R$ 50 billion in cryptoactives purchased by Brazilians.
But Serra, who spoke in a videoconference organized by the company Upon Global, made a reservation: "It's a one-way flow. Due to the cost of energy, Brazil does not produce cryptoactives, it is just an importer".
Cryptoactives enter BC balance sheets
In August was the first time that the Central Bank of Brazil on import and export of cryptoactives in external sector statistics.
On the occasion, BC president Roberto Campos Neto said at the time that "a great increase in demand for cryptocurrencies was taking place," when he participated in a meeting of the FGV's National Financial System (Neasf) study group.
Campos Neto said that at that time there were around US$ 40 billion (R$ 209 billion) in cryptocurrencies in the hands of Brazilian citizens.
peak in may
BC import data confirm that May was the month with the largest purchase in Brazil, with R$ 4.127 billion in cryptocurrencies entering the country (values ​​adjusted to the current dollar exchange rate).
That month, the Brazilian market broke a record by trading R$ 826 million in bitcoin in a single day.
BC's view on cryptoactives
As of August this year, the transfer of ownership of cryptoactives between residents and non-residents began to be disclosed by the BC in the balance of payments assets account.
Following a methodological recommendation from the IMF, the Central Bank understands cryptocurrencies as goods (non-financial and produced assets), in such a way that they need to be registered in external sector statistics. Because there are no customs records for cryptocurrencies such as bitcoin, they are not included in commodity statistics.
Transactions with cryptoactives are estimated based on foreign exchange contracts — a legal instrument that records the negotiation between buyer and seller of foreign currency, following the requirements of the Central Bank.
Crypto Traders Most Bullish on Polkadot, Solana, Polygon and 10 Additional Altcoins: Digital Asset Survey
A new survey unveils that crypto traders are most bullish on 13 altcoins including Polkadot, Solana and Polygon.
The Real Vision Exchange Crypto Survey is designed to track sentiment among investors by allowing participants to scan 30 tokens and choose if they want to have an overweight or underweight allocation for each one. The survey was conducted by Real Vision Bot, which was created by two independent developers and boosted by macro guru Raoul Pal.
Results from voting that happened on the first two days of this week indicate traders prefer an overweight portfolio consisting of smart contract platforms Polkadot (DOT) and Solana (SOL), as well as Ethereum-scaling solution Polygon (MATIC).
The scalable and interoperable ecosystem Cosmos (ATOM) is fourth on the list, and smart contract platforms Terra (LUNA) and Cardano (ADA) appear tied for fifth. Traders also have overweight allocations for decentralized oracle network Chainlink (LINK), Ethereum competitor Avalanche (AVAX), Ethereum-based token Enjin Coin (ENJ) and decentralized exchange Uniswap (UNI) for the sixth, seventh and eighth places, respectively.
Tied in ninth place are cross-border payment solutions Stellar (XLM) and XRP, as well as decentralized storage network (FIL).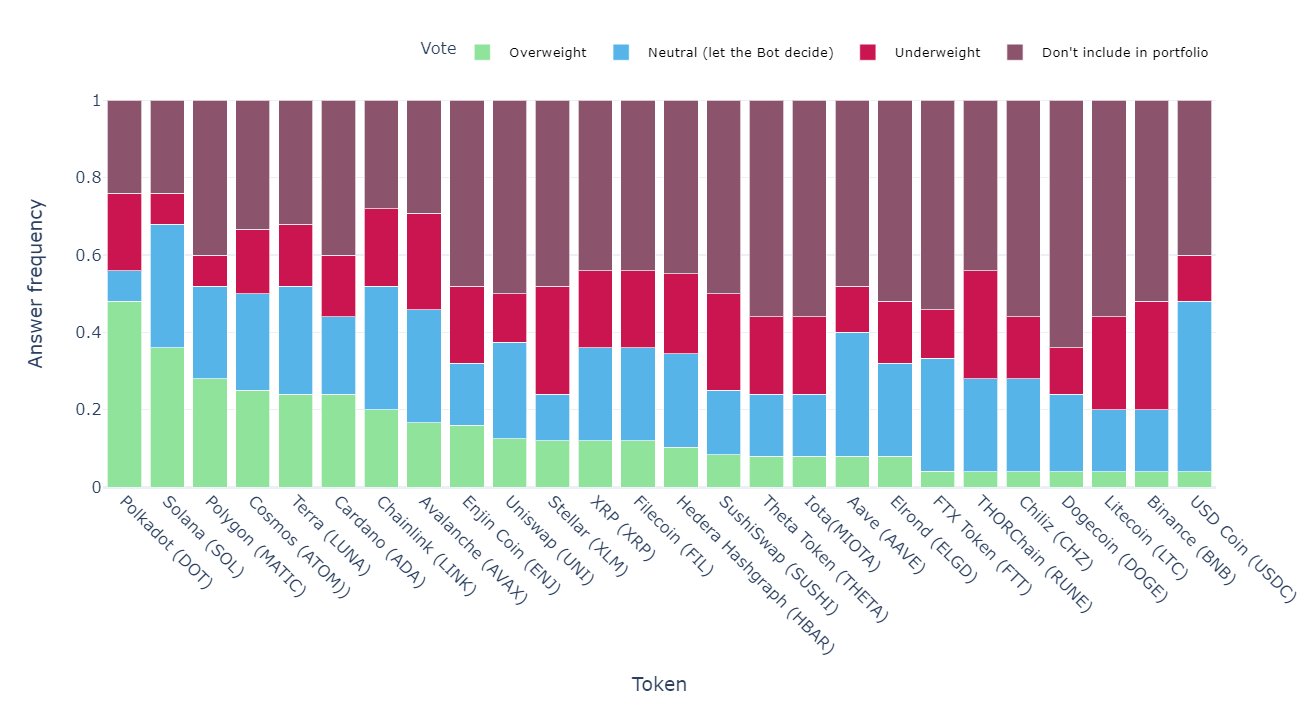 Real Vision Bot clarifies that the participants are not necessarily holding the cryptocurrencies that they voted for.
"They can of course vote according to their own positions, but also just based on their sentiment or forward looking. There are many reasons why the own book might not be 1:1 the preferred allocation."
Bitcoin (BTC) is conspicuously absent from the list. Pal highlights that the community is responsible for that absence.
"It's not us – it's the community who makes the allocation… You guys, to be exact.
Bitcast: How would Diem be affected by a Facebook downfall?
Last Wednesday (13) the 13th episode of Bitcast Lite, a Brazilian podcast about cryptocurrencies and blockhain, was aired.
In the program, the crash of Facebook's servers was addressed, which caused an interruption of the platform for 6 hours.
In this context, the presenters analyzed the controversial project Diem (formerly Libra), led by Facebook.
In addition, they debated how the lives of users of the future cryptocurrency — still without an official release date — would be affected by a server crash similar to the one that occurred on October 4th.
The podcast was presented by José Domingues da Fonseca, lawyer and cryptocurrency enthusiast, Paulo Aragão, specialist in cryptocurrencies and co-founder of CriptoFácil, and Gwin, the "good hacker" of Bitcast.
Facebook crashed. What if Libra/Diem existed?
As Aragon pointed out, if Diem were adopted globally, as was its initial proposal, a system crash would result in a collapse.
According to the expert, this would be equivalent to a Pix drop in Brazil, or worse:
"Can you imagine if a country's economy was based on the late Libra, now Diem? Nowadays, in Brazil, half of electronic transactions are already based on Pix. If Pix goes down today, it would be pandemonium. Now, imagine if it was 100% based on a kind of Pix, and it fell off?"
Thus, Aragon concluded that it is not feasible for an economy to rely on a centralized digital currency like Diem.
Also read: Bitcast: Asset tokenization in sport is crypto podcast theme
Also read: Bitcast: Celebrity scam promotion is crypto podcast theme
Also read: Bitcast: Axie Infinity and disruption in gamer world is crypto podcast theme