Solana Price Is Set to Explode to $500 Prior to Luna's Columbus 5 Upgrade!!!
The crypto space seems to be clearing out weak hands as the Chinese market manipulation keeps wreaking catastrophe in the market. The total market cap stands at $1.857 trillion, down from a 14-day high of $2.2 trillion reached on 26th September 2021. 
Despite the market crash, Solana performed pretty well by not allowing its price to drop below $100. Currently, the SOL price is attempting hard to surpass the psychological level of $150!!Even the platform has the strong potential to reach higher highs with series of upgrades are lined up. 
How Terra Luna's Columbus 5 Upgrade Will Skyrocket SOL Price?
Terra Luna price has seen massive gains in recent months, smashing a new ATH. The price recently hit new ATH at $44.34, making it one of the top crypto assets among the top 15. Followed by the spectacular performance Terra is getting ready for the much-awaited Columbus 5 upgrade launch on 30th September 2021.
Columbus 5 upgrade will bring cross-chain integration with the most prominent blockchains in cryptos like Solana, Polkadot and Cosmos. The upgrade could act as a major catalyst for the whole terra ecosystem and even can further push the SOL, DOT and ATOM prices.
Terra's upgrade also aims to allow the integration of a wormhole which acts as the bridge linking Terra and Solana. This allows ongoing projects and platforms to move tokenized assets seamlessly across various blockchains
Sized $LUNA into the biggest position in my portfolio again.

Terra is now the most undervalued L1 despite one of the best TVL growth prospects vs peers given Columbus 5 upgrade in few weeks.

TVL can easily double and multiple rerates to 6x which implies a $140 price target EOY. pic.twitter.com/nvveD8LDh2— Daniel Cheung (@HighCoinviction) September 14, 2021
According to the chart shared by popular crypto analyst Daniel Cheung, the Solana ecosystem witnessed massive growth. The total value locked (TVL) in  Solana surged by 1,657,043% in the last six months reaching 11.6 billion. He added, LUNA is the most undervalued coin despite all the upgrades and huge TVL.
Solana and Terra Luna Price Analysis:
The SOL price is currently trading at $134.58 at the press time. If the price rebounds off it, the bulls have the chance to reach new highs. If bears overtake the market, the SOL has a major support level near $75. Still, SOL price can manage to sustain between $110 to $115.
Collectively, prior to the upgrade, Terra Luna formed few major bull flags in September. Yet to see how it could impact the SOL price once it comes into effect.
Solana Set for New All-Time High While Ethereum Still Has Juice in the Tank – Crypto Analyst
A popular cryptocurrency analyst and trader is outlining the path forward for smart contract platforms Solana (SOL) and Ethereum (ETH).
The cryptocurrency analyst pseudonymously known as Smart Contracter tells his 173,800 Twitter followers that SOL is set to surge to a new record high after a period of accumulation.
"Sol ATH [all-time high] soon anonymous. This re accumulation won't last forever."
Solana, the fifth-largest cryptocurrency by market cap, is trading at $158 at time of writing, according to CoinGecko.
Earlier this week, Smart Contracter predicted that Solana could surge by over 100% against the US dollar (SOL/USD) and Bitcoin (SOL/BTC) after ending wave four of its five-wave uptrend.
"[Wave] four low very close to being put in on SOL/BTC in my opinion. The same low on the USD pair already put in and just in some HTF [high timeframe] re-accumulation. The next move higher will be >100% [in my opinion]."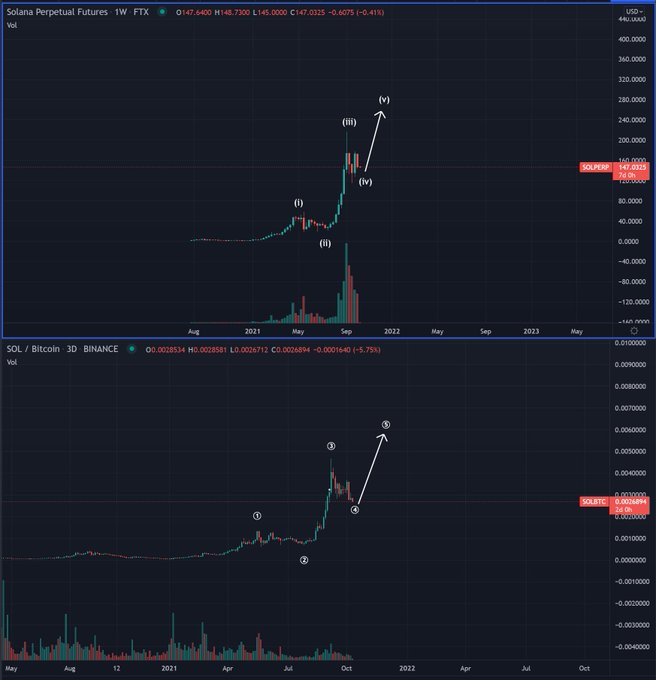 Smart Contract uses the Elliott Wave theory, a technical analysis approach that predicts future price action by following crowd psychology that tends to manifest in waves. According to the theory, Wave four is the final corrective phase before the asset launches the last wave of its cycle.
In the case of ETH, Smart Contracter says that the leading smart contract platform hasn't run out of steam yet after taking out its diagonal resistance at $3,500.
"Solid move. I think there's still some juice in the tank."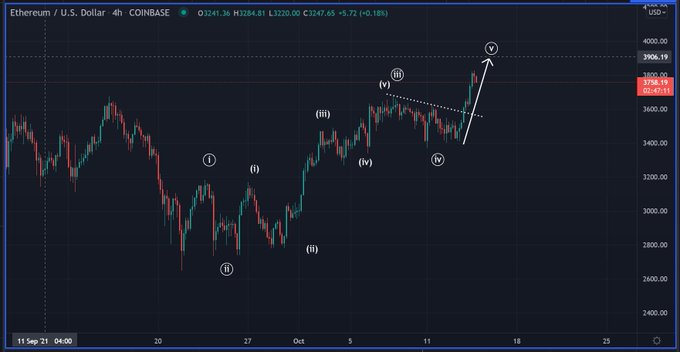 Ethereum is trading at $3,785 at time of trading, according to CoinGecko.
The crypto analyst is also keeping a close eye on Ethereum in its Bitcoin pair (ETH/BTC). According to Smart Contracter, ETH/BTC is currently gearing up for a move to 0.12 BTC ($7,355), representing an upside potential of nearly 100% from its current value of 0.062 BTC, worth $3,800.
"There [are] people out there that actually think ETH/BTC looks bearish."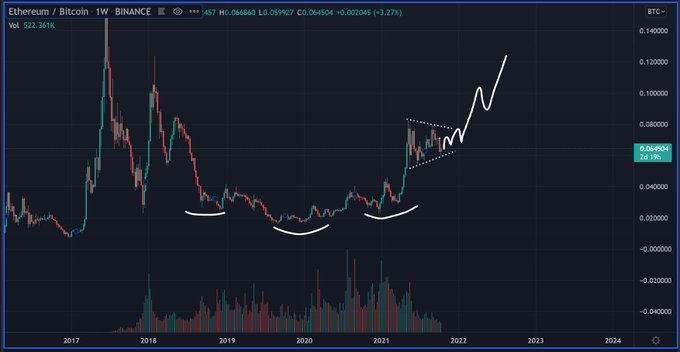 Crypto Traders Most Bullish on Polkadot, Solana, Polygon and 10 Additional Altcoins: Digital Asset Survey
A new survey unveils that crypto traders are most bullish on 13 altcoins including Polkadot, Solana and Polygon.
The Real Vision Exchange Crypto Survey is designed to track sentiment among investors by allowing participants to scan 30 tokens and choose if they want to have an overweight or underweight allocation for each one. The survey was conducted by Real Vision Bot, which was created by two independent developers and boosted by macro guru Raoul Pal.
Results from voting that happened on the first two days of this week indicate traders prefer an overweight portfolio consisting of smart contract platforms Polkadot (DOT) and Solana (SOL), as well as Ethereum-scaling solution Polygon (MATIC).
The scalable and interoperable ecosystem Cosmos (ATOM) is fourth on the list, and smart contract platforms Terra (LUNA) and Cardano (ADA) appear tied for fifth. Traders also have overweight allocations for decentralized oracle network Chainlink (LINK), Ethereum competitor Avalanche (AVAX), Ethereum-based token Enjin Coin (ENJ) and decentralized exchange Uniswap (UNI) for the sixth, seventh and eighth places, respectively.
Tied in ninth place are cross-border payment solutions Stellar (XLM) and XRP, as well as decentralized storage network (FIL).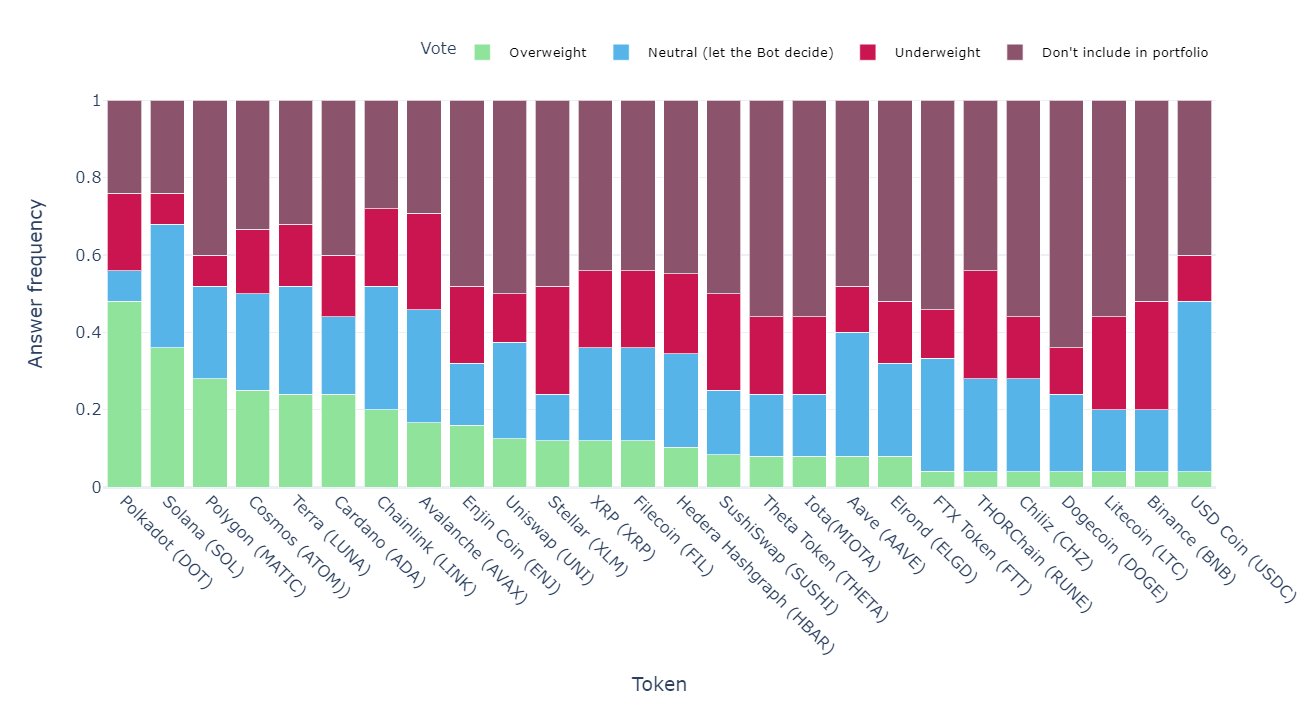 Real Vision Bot clarifies that the participants are not necessarily holding the cryptocurrencies that they voted for.
"They can of course vote according to their own positions, but also just based on their sentiment or forward looking. There are many reasons why the own book might not be 1:1 the preferred allocation."
Bitcoin (BTC) is conspicuously absent from the list. Pal highlights that the community is responsible for that absence.
"It's not us – it's the community who makes the allocation… You guys, to be exact.
Solana [SOL] Ups the Ante as 7th Ranked Crypto Becomes Biggest Gainer
As the week drew closer the cryptocurrency market entered a flux consisting of bearish and bullish trends. Altcoins tried to match Bitcoin's spike rate as new superstars like Solana and Polkadot rule the roost. Solana [SOL], currently holding the 7th rank, was the biggest gainer of the day after fervent activity on the charts.
The SOL community has been waiting with bated breath for a steady price hold with the latest bull run acting as just that. At press time, Solana was trading for $159 with a total market cap of $46.78 billion. Solana's 7 percent price hike over the previous 24-hours was followed by Ethereum, which rose by 3 percent on Friday. Daily volume had touched $3.4 billion after a rousing response from the community.
Solana 1 hour chart:
Three strong green candles changed Solana's hourly dynamic as the cryptocurrency tore away from its immediate support. SOL user sentiment may have begun to swing after witnessing the strong upward push. Immediate support was clocked at $143, a steady marker for the cryptocurrency.
Parabolic SAR: The markers stayed below the price candles as user momentum shifted into the green.
Bollinger bands: Both the bands diverged from each other after registering six consecutive green candles. The size of the Bollinger cloud was a definitive sign of Solana's entry into the bull territory.
Chaikin Money Flow: The graph bounced back from the zero line, mostly enabled by the price hike. This further meant that more capital was entering the SOL ecosystem.
Solana 1 day chart:
Long-term resistance was clocked in at $126 after a tumultuous September. The previous week was a strong sign for price recovery as the market cap shot up in the daily spectrum.
Bollinger bands: The band's moved parallel to each other as the candles constricted themselves within the bandwidth. After a month of slight movement, the last green candle climbed to new levels.
Chaikin Money Flow: SOL formed a k-shaped curve as the capital influx overtook the money leaving the market. The cryptocurrency showed similar patterns displayed at the start of August.
Parabolic SAR: Unlike the short-term yield, the markers here stayed above the candles. This was a sign that the market momentum was shifting after a period of dwindling seed funds.