Ripple Allocates 100 Million XRP, Getting Ready to Send It to Huobi in Lumps
According to recent blockchain-based data, Ripple may be preparing to send another large sum of XRP to the largest Chinese exchange in regular daily transfers
Approximately six hours ago, Ripple DLT decacorn shifted a whopping 100 million XRP to its RL18-VN address used to move XRP from Ripple to its clients, partners and crypto exchanges.
Analytics concerning a previous chain of transactions shared by the Bithomp XRP data website shows that this money is likely to be split in lumps and sent to the Huobi platform on a daily basis.
🚨 🚨 🚨 🚨 🚨 🚨 🚨 🚨 🚨 100,000,000 #XRP (90,518,489 USD) transferred from Ripple to unknown wallethttps://t.co/xrOaRjw20j— Whale Alert (@whale_alert) September 29, 2021
Ripple shifts 100 million XRP
According to the tweet posted by Whale Alert crypto tracking platform, Ripple fintech giant has recently shoveled a staggering 100 million XRP to its RL18-VN address in order to move it in smaller transfers to the largest crypto trading venue in China, Huobi, later on a daily basis.
One hundred million XRP equals approximately $90,518,490 at the present exchange rate of the sixth-largest cryptocurrency.
Ripple sends 1.5 million XRP to Huobi
Huobi receives XRP from Ripple to the r37SFX6FZsxiJGxLrWCdCHm2Cub4jKcxhz wallet. Besides, today, Sept. 29, a transfer of 1,542,780 XRP has been already made from the San Francisco-based distributed ledger tech provider.
According to Bithomp, Ripple's RL18-VN has been sending these 1,542,780 XRP to Huobi since Sept. 27. The daily amount of XRP sent to this crypto exchange changes from one week to another.
Before Sept. 27, the amount of daily XRP lumps sent to Huobi was 3,099,200. Earlier this year, U.Today reported several times that Ripple had been sending large amounts of XRP to Huobi, but the DLT tech provider never clarified the goal of these transfers.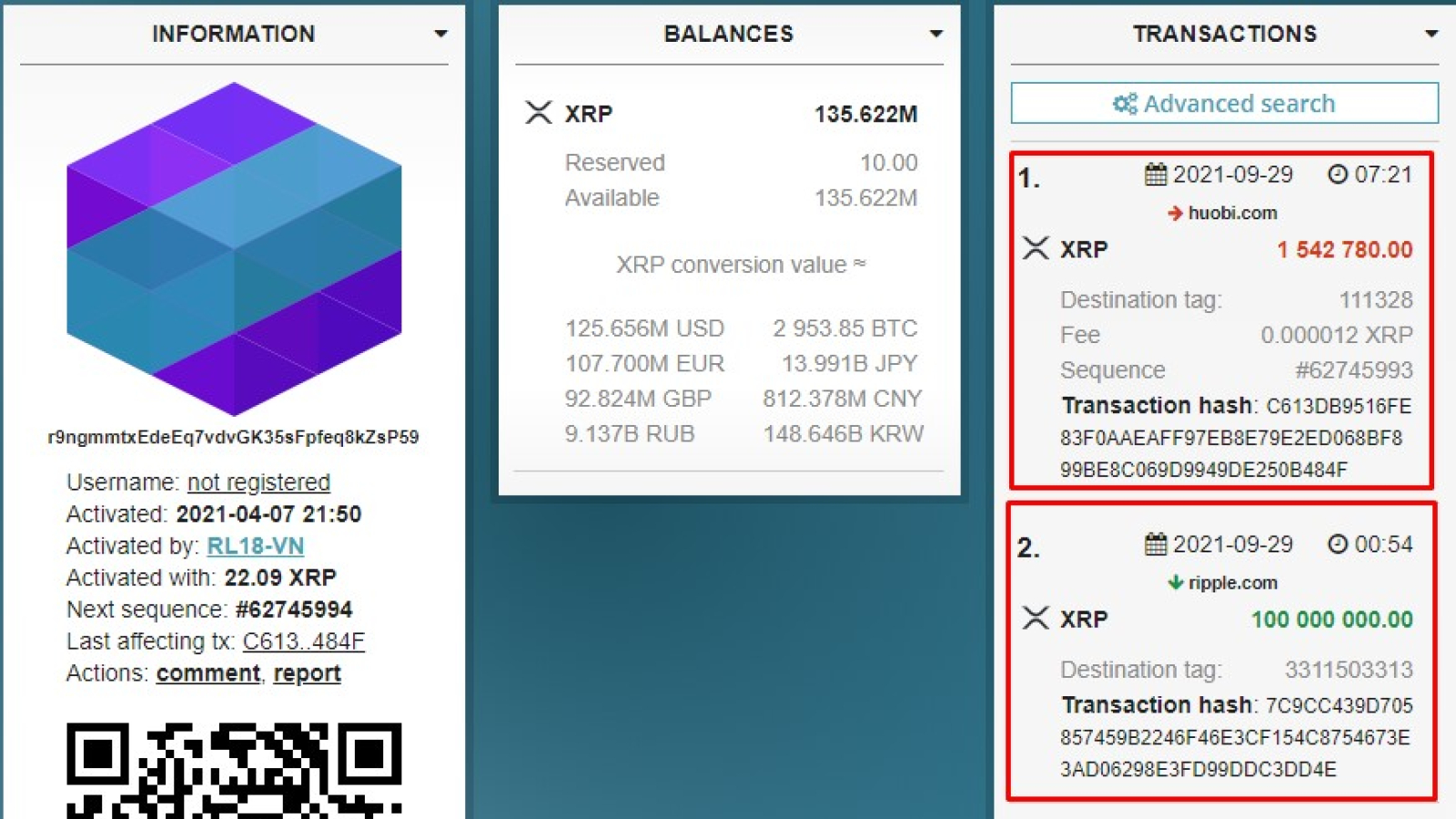 Huobi is banning all users from mainland China
As covered by U.Today earlier, the world's two largest crypto exchanges—Binance and Huobi—as well as other exchanges in China are facing harsh regulatory pressure from the country's authorities.
Huobi first suspended the registration of new users from mainland China and now it plans to ban them gradually but completely. Binance, at the moment, is prohibiting new users from mainland China to open accounts with it and is about to stop offering any services to its customers in Singapore over regulatory pressure.
Reasons for the current China crypto ban suggested by Elon Musk and Kiyosaki
During the recent Code conference on Sept. 28, eccentric centibillionaire Elon Musk suggested that China's recent crypto ban, the harshest to date, is being imposed since Bitcoin and other cryptocurrencies are threatening the power of China's Communist Party.
Well-known investor and author of "Rich Dad, Poor Dad," Robert Kiyosaki, believes that China is posing yet another ban on crypto as it is about to launch its own CBDC, also known as DCEP or digital yuan.
Ripple CEO reinstates SEC bias towards ETH, claiming XRP could've been No.2

It is not news that the ongoing XRP lawsuit has got the better of Ripple's XRP token. Ripple CEO, Brad Garlinghouse recently questioned the SEC's bias towards Ethereum, claiming that XRP would've been at the No. 2 position instead of ETH if it weren't for the commission's partial crackdown. Garlinghouse spoke at the DC Fintech Week virtual conference yesterday, arguing that the U.S. Securities and Exchange Commission alleged Ripple's XRP as unregistered security while granting Ethereum a regulatory free pass, which in turn helped ETH shoot through the roof.
"Within the last few years, XRP was the second most valuable digital asset. As it became clear the SEC had given a hall pass to ETH, ETH obviously has kind of exploded and that clarity has helped."
XRP secured the position of the second-largest crypto asset by market capitalization during the latter half of 2017. However, the token has dropped down to seventh place while Ethereum stands strong as No. 2. Furthermore, Garlinghouse claims that the SEC's exclusively aggressive anti-crypto stance to allegedly protect the consumers is in fact anti-investors. Referring to the XRP lawsuit, Ripple CEO emphasizes that "nearly 50,000 U.S. people who hold XRP who are trying to sue the SEC for 'protecting them'".
XRP Holders left with bearish and frozen funds
Earlier this week, Attorney Deaton Filed a Letter Motion on behalf of the XRP Holders (Movants) that contended SEC's extension request, with the main argument concerning the XRP holders' frozen funds because of the consistent postponement of the lawsuit's final verdict. During the ongoing bull run, XRP remains considerably bear because of the regulatory crackdown on Ripple. However, the court has overlooked the community's concern and granted the extension explaining that in lieu of pending motions, extra time will only facilitate both parties to complete pending fact discovery and thoroughly prepare for upcoming expert depositions.
"The lack of liquidity within the United States, coupled with the mass de-listings prevents XRP Holders from trading, selling, transferring, or converting their XRP. It is because of this de facto in place seizure of their property that XRP Holders took the extraordinary step to seek intervention as defendants… Any delay in the underlying action marks yet another day XRP Holders do not have access to their funds.", wrote Deaton.
XRP Lawsuit: Court Grants Two Motions for both parties each. Here's how it's a win-win for Ripple?

The latest update in the XRP lawsuit explains the need for the formerly granted extension. Judge Netburn partially granted two motions, one for both parties. First, the Defendants' Motion to Compel the SEC to produce interrogatories responses, regarding SEC's Howey Test blanket application theory. Second, the Plaintiff's Motion seeking a protective order under FRCP 26(c)(1), relieving the plaintiff of any obligation to respond to the 29,947 requests for admission (RFAs). Judge Netburn explains that the discovery sought in both motions overlap in certain respects, and therefore these applications are resolved together.
Court grants majority motions from the Interrogatories Dispute
Judge Netburn specified that the parties' conflict over the application of Howey and its progeny do not render Ripple's interrogatory improper and therefore has ordered the SEC to answer Ripple's interrogatory No.2, identifying the specific terms of the "investment contract" from XRP sales, along with Interrogatories 11, i.e., Ripple's move to compel the SEC to state whether it contends that "efforts by Ripple were necessary to effect any increase in the price of XRP."
Followed by Interrogatories 1 & 11, the Court also granted Ripple Interrogatory No. 6, i.e., the defendants move to compel the SEC to state whether it contends that "Bitcoin and/or Ether are securities within the meaning of Section 2 of the 1933 Securities Exchange Act.". Furthermore, Judge Netburn granted most of the Defendants' motions to compel answers on other interrogatories, except Defendants' motion regarding Larsen Interrogatory No. 5 on when XRPL was fully functional. The judge denied it without prejudice for being "too vague".
SEC "irrelevance" argument discarded, while "burdensome" stance gets protection from Court
In the RFAs dispute, where the SEC sought a protective order, Judge Netburn has ordered the SEC to answer most of the RFAs while granting protection from one. Specifically, the Court has discarded SEC's "irrelevance" argument in the case. The court Orders the SEC to produce responses for the Fourth Set requests, seeking to authenticate documents for admissibility under Rule 36(a)(1)(B) that regards the use of RFAs to establish the authenticity or genuineness of a document.
Furthermore, Judge Netburn denies SEC's "irrelevant" contention to the Fourth Set of Requests regarding Defendants' "fair notice" argument. The judge stated that disputes over interpretations of law are not a proper objection to a request for admission. Additionally, the court suggested the responding party either admit or deny the statement presented. The court orders the SEC to make a "reasonable inquiry" to secure such information "as are readily obtainable", further denying the motion for a protective order to the Fourth Set of requests.
However, the court granted a protective order to the SEC for the Sixth Set of Requests regarding the disputed issue of whether Defendants' sales of XRP constitute "investment contracts" under Howey, where the Defendants required the SEC to consider over 1,500 contracts and answer 13 preliminary questions. The Judge writes "it is hard to view this stunt as anything more than Theatre" to Defendants' extensive 28,849 RFAs and granting protection to the plaintiff on burden grounds.
Once Ripple Settles Its Case, XRP and Crypto Market Will Take Off, David Gokhshtein Says, Here's Why
Crypto influencer Gokhshtein reckons that as soon as the Ripple-SEC case is settled, the whole crypto market is going to benefit, not just XRP
Head of PAC Protocol and Gokhshtein Media, crypto influencer David Gokhshtein, has taken to Twitter to share his take on the potential positive outcome of the Ripple-SEC case.
As soon as it is settled, he reckons, XRP and the whole crypto market will take off.
The reason for that, according to him, is the fact that the SEC will finally provide some clarity regarding crypto. This was a condition on which Ripple chief Brad Garlinghouse would agree to settle with the SEC, according to his recent interview. In particular, he wants to have "absolute certainty about XRP." He warned his readers that the tweet was not financial advice.
Once Ripple settles their case, you'll see now only $XRP take off, but the market as well.

That's because we'll finally have some sort of clarity that will be available.

Personal Opinion.

NFA— David Gokhshtein (@davidgokhshtein) October 22, 2021