Ripple Price Analysis: XRP bounces from $0.90 again, slow move higher to follow today?
Ripple price analysis is bullish today.
XRP/USD saw another test of $0.90 support.
Bulls still reject further downside.
Ripple price analysis is bullish today as another reversal from the $0.90 support was seen this morning following a decline overnight. Therefore, we expect XRP/USD to move higher today and look to set a higher low.
The crypto market traded with a slight gain over the last 24 hours, with the market leader, Bitcoin, up by 1.75 percent. Meanwhile, the top altcoin, Ethereum, has gained 1.05 percent, with the rest of the market following with similar results.
Ripple price movement in the last 24 hours: Ripple still holds above $0.90 support
XRP/USD traded in a range of $0.8879 – $0.9426, indicating a moderate amount of volatility over the last 24 hours. Trading volume has declined by 9.86 percent and totals $2.5 billion, while the total market cap trades around $43.3 billion, ranking the coin in 6th place overall.
XRP/USD 4-hour chart: XRP is set to rally today?
On the 4-hour chart, we can see Ripple price action seeing bullish momentum return as a further downside was rejected again.
Ripple price action has continued to trade in a bearish momentum this week. XRP/USD continued to trade in an increasingly tighter range, with the $0.90 mark as support.
This Ripple price action development resulted from a substantial spike lower on the 20th of September, which resulted in a drop of more than 15 percent. From there, XRP initially spiked to $0.86 and, after several rejections, a move to $1.02.
Since then, the Ripple price action has traded in an increasingly narrow range, with the last swing high set at $0.98 on Monday. Overall, as long as the $0.90 support holds, we expect a reversal to the upside to follow later this week.
Ripple Price Analysis: Conclusion
Ripple price analysis is bullish for today as any further downside was prevented by bulls earlier this morning at the $0.90 support. Therefore, we expect further upside to follow later today.
While waiting for Ripple to move further, read our guides on NFT Games, CoinJar, as well as Exodus wallet review.
XRP price on edge of cliff as Ripple faces imminent collapse
XRP price falls below key Ichimoku levels on the weekly chart.
Key oscillator divergence may hint at near-term support.
The threat of a 34% drop, however, remains likely.
XRP price followed the rest of the cryptocurrency market lower over the weekend. The US Thanksgiving holiday gave cryptocurrency traders and investors some early Black Friday deals, but downside risks remain.
XRP price drops below weekly Ichimoku Cloud, threatening flash crash conditions
XRP price completed the most bearish weekly candlestick close within the Ichimoku system since the week of February 28th, 2020, last week.. The candlestick closed below its final Ichimoku support level, the Kijun-Sen ($0.957). XRP now has very little support structure remaining and will now rely on the Chikou Span as its final hope of support.
The saving grace for XRP bulls is where the Chikou Span is positioned. For an Ideal Bearish Ichimoku Breakout entry to occur, the Chikou Span must be below the bodies of the candlesticks and in open space. Open space is a condition where the Chikou Span won't intercept the body of any candlesticks horizontally over the next five to ten periods. For the open space condition to be accurate, XRP price would need to close at or below $0.59.
Some bullish warning signals are flashing, however, and could trigger some covering by short-sellers. Currently, XRP price has bounced off the 38.2% Fibonacci retracement at $0.84 to return above the Kijun-Sen. Another factor contributing to the bounce is the Chikou Span moving above the body of the candlesticks for the first time since the August 13th weekly candlestick.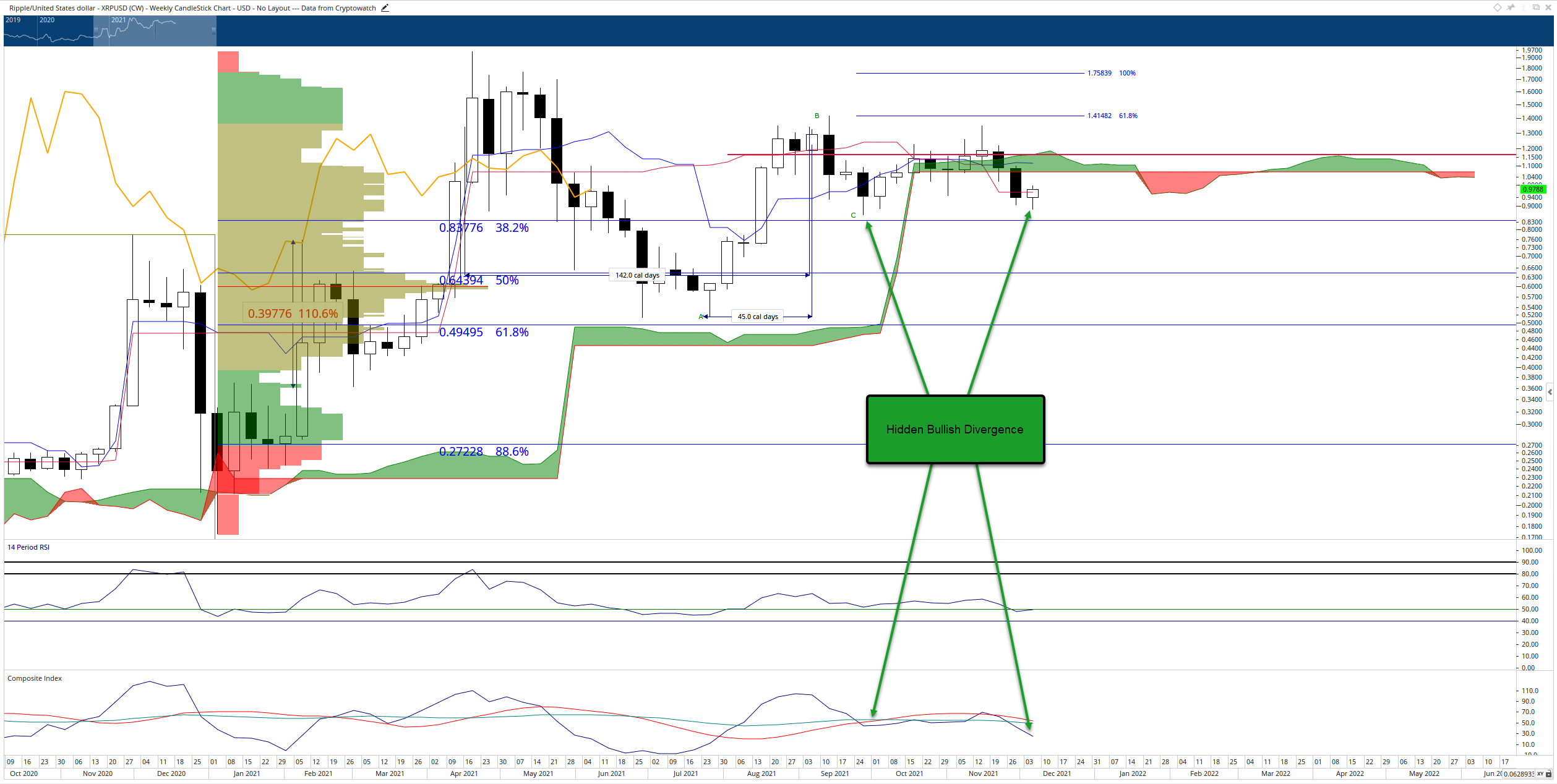 XRP/USDT Weekly Ichimoku Chart
There is an almost imperceptible hidden bullish divergence between the candlestick chart and the Composite Index. Hidden bullish divergence is when an oscillator creates lower lows while the price chart creates higher lows. Only valid if the prior trend was up – hidden bullish divergence is an early indicator that the prior uptrend will continue. Contributing further to some near-term support is the Relative Strength Index holding the oversold levels of 50 and 40 as support.
Bulls ultimately need XRP price to close at or above the $1.18 level to establish a clear and renewed bull market.
Ripple (XRP) Marketing Narratives No Drama Bells and Whistles
Ripple XRP Marketing Narratives are not Impressing Long-Term Holders in terms of profits.
Worry Wort Investors who have been holding XRP are like: It's $0.9 from $1.96. what is the point of all the success story posts, partnerships, and projects. XRP price is not going higher. Are you using distraction tactic? Investors have been waiting for several years for the price to go up.
There is no doubt that Ripple is a great project and they are successful in what they do in terms of cross-border payments. Did they ever over promise that the price of XRP will go very high? Or, Are the community assuming that the company implied the price of XRP will sky rocket?
Ripple Technology is great. It is not a scam like many other projects out here. It is doing a lot of good in terms of real-time use.
It just looks like not all cryptocurrencies or tokens are about profit making. Some tokens are about facilitating use cases that are applicable real time. Perhaps XRP is one such token with no drama, bells and whistles.
The kind of services delivered by Ripple requires some stability with the token they use as a mode of exchange. So, investors anticipating high profits need to rethink and know that high profits mean high risk and high volatility. This might not be true about XRP in terms of the kind of services it facilitates for Ripple. May be the expectations of investors is not as realistic.
Some Interesting Stories about Ripple: Making an Impact with the Asian at Ripple Community: In an effort to help Ripple employees bring their most genuine selves to the job, Dushyant Acharya took on a global co-lead role for our Asian ERG. Know more by reading the exhaustive story.
Careers and Jobs at Ripple: This holiday weekend, while everyone else sleeps off their food coma watching the 'big game' why not browse open positions at Ripple? From engineering to finance to marketing, we've got a winning line up of roles.
Ripple's Top Lawyer Says the SEC has declared war on Crypto: The key to developing an effective policy framework for crypto? Clear communication and collaboration between private and public actors. There is a breakdown of the protocol details published.
Citi CEO Fraser: 'We're Building the Infrastructure for Retail, Real-time Payments': Real-time payments are gaining momentum and digital currency is positioned to play a significant role in its future.
Creator Fund:  In collaboration with our agency partners, Mintable, MintNFT & VSA Partners, we're helping creators and brand clients create and sell their NFTs. Explore to know more about the Ripple Creator Fund.
News Source
40 Million XRP Moved to Binance Exchange and Sold Immediately
Anonymous wallet moves a large number of coins to exchange while the cryptocurrency market recovers
While others decide to keep their coins in cold or hot wallets instead of exchanges, this XRP whale has moved a large volume of funds to a centralized exchange and, most likely, sold immediately.
According to transactional activity on the chain, an anonymous wallet ending in "kskkhi" has moved 40 million coins to a wallet owned by Binance centralized exchange.
Currently, the unknown wallet holds almost 13 million coins. The wallet received 40 million coins just a day before a large transaction from another unknown wallet that holds significantly more XRP.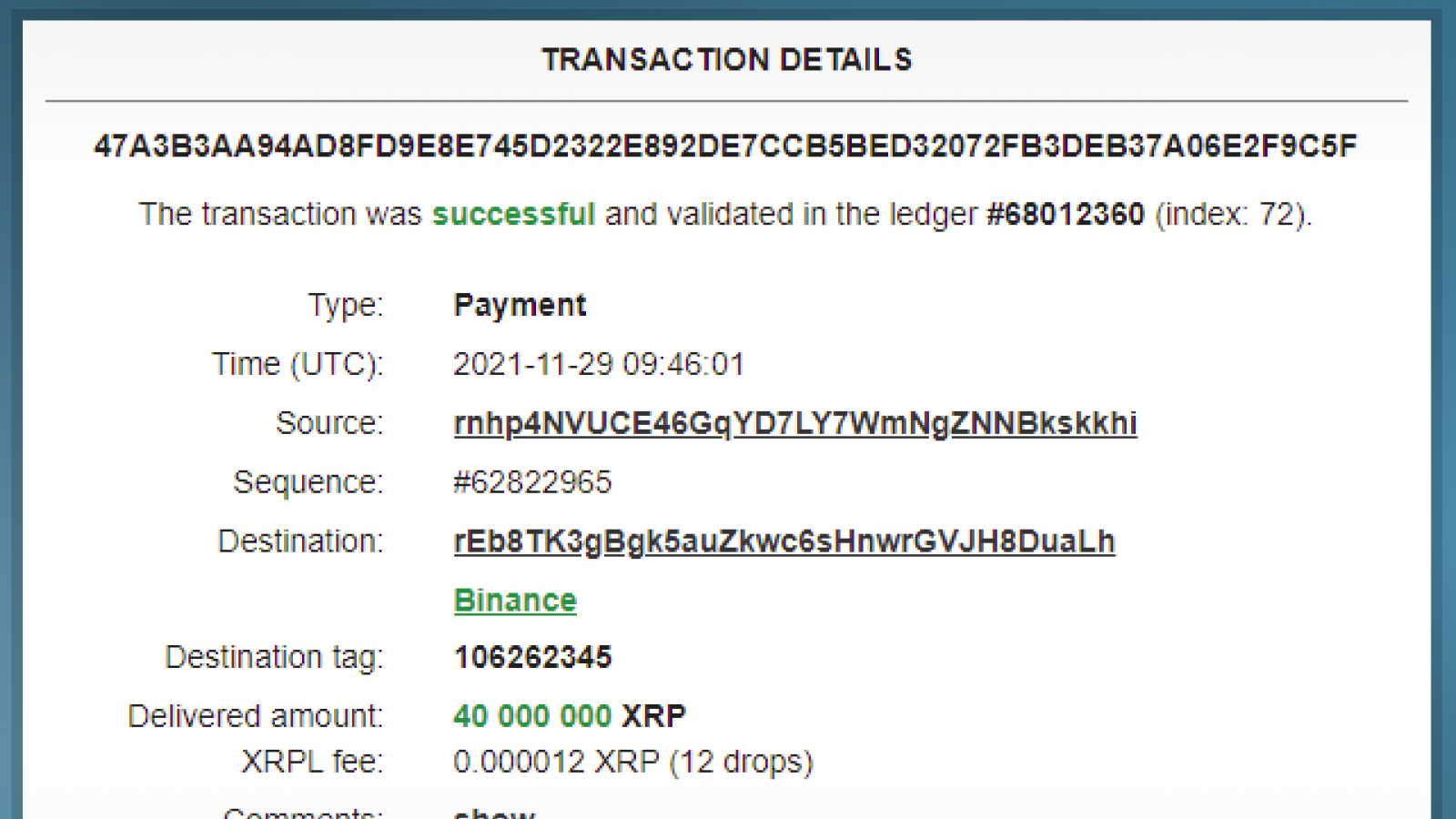 The exchange between undisclosed whales is purely anonymous and has not been known to the public. The second wallet, which initially transacted 40 million coins to the wallet that sold it on Binance, is currently holding 156 million XRP coins.
The larger wallet might somehow be connected to another centralized exchange since it has been constantly receiving a large number of funds from it, including those 40 million coins.
The realization of coins on the Binance exchange could have led to the rapid retrace of XRP that has been moving with a 2.5% profit today. The current daily XRP volume on Binance is at 156 million coins. The transacted amount represents approximately 25% of the current daily trading volume on the exchange.
At press time, XRP is trading at $0.97 with 0.17% of daily growth that has peaked at 2.5%. Previously, Ripple faced a strong recovery by dropping below the $0.90 zone and then spiking back up to $0.96 in one day.