XLM Price Prediction: Stellar bulls on quest for 20% gains
XLM price dropped below the 70.5% Fibonacci retracement level at $0.267 to collect liquidity.
Market makers are likely to propel Stellar to the trading range's midpoint at $0.315.
If the selling pressure leads to the production of a swing low below $0.235, it will invalidate the bullish thesis.
XLM price was on a downtrend as it sliced through the trading range's midpoint on September 19. Stellar appears to be forming a swing low just below the 70.5% Fibonacci retracement level after collecting liquidity from the July 27 low. Going forward, investors can expect the altcoin to rally and retest the midpoint of the trading structure formed.
XLM price looks to make a comeback
XLM price has dropped roughly 40% since its September 7 swing high at $0.432. This downswing slices though the 50% Fibonacci retracement level at $0.315 on September 19 and has not looked back since.
The recent leg sliced through the 70.5% Fibonacci retracement level at $0.267 to collect liquidity resting below the July 27 swing low in the form of sell stops. While this move is not complete yet, investors can expect the XLM price to start its uptrend here.
A successful reclaim of $0.267 will confirm a new bull rally's start. In total, market participants can expect Stellar to climb 20% and retest the 50% Fibonacci retracement level at $0.315.
If the buying pressure persists, XLM price could make a run at the buy stop liquidity resting above the swing high at $0.342.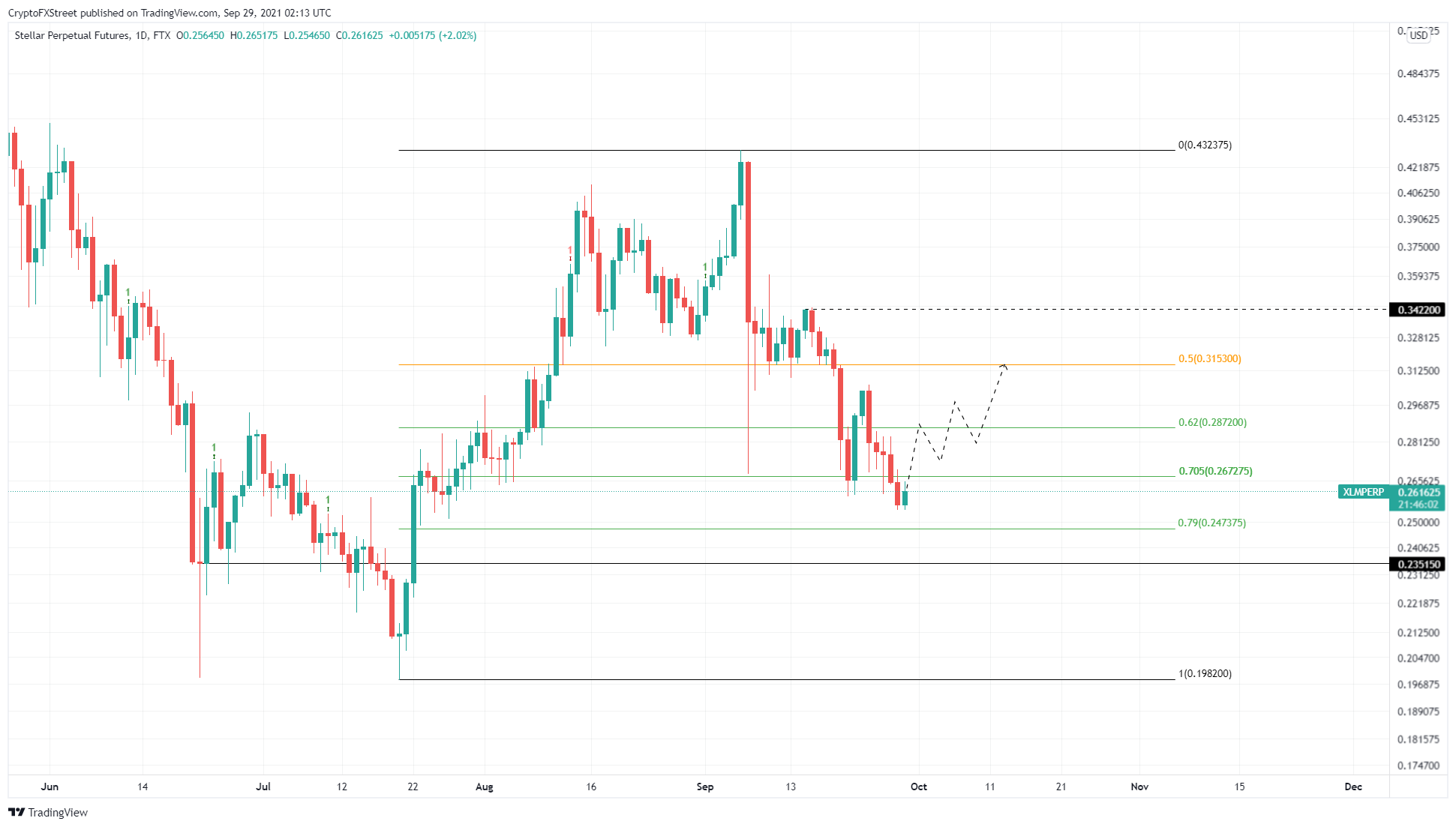 XLM/USDT 1-day chart
On the other hand, if XLM price fails to muster up the bullish momentum to restart an uptrend, the downswing is likely to continue.
After a retest of the 79% Fibonacci retracement level at $0.247, XLM price will likely head toward the last line of defense at $0.235, a breakdown of which will invalidate the bullish thesis. In such a case, investors can expect Stellar to reach for the range lows at $0.198.
Here's how Ripple rival Stellar aims to disrupt Africa's enormous remittances market
A new Europe-Africa payment corridor will be enabled in a partnership between Stellar and Flutterwave. The announcement shows a very strategic and crucial step for Stellar in expanding cross-border services and growing the ecosystem.
This partnership means a lot for those who need remittance corridors between the two regions, especially those African citizens who work in Europe. The result of the partnership is the launch of two new corridors between Europe and African on the Stellar blockchain.
Cross-Border Payments Solved
One of the best solutions of blockchain technology for financial systems is cross-border payment. Sending and receiving money between countries has always had many challenges due to regulations and infrastructure burdens.
Now, the decentralized architecture of blockchain and numerous products on it makes it possible to have cross-border payments very easier. There are some blockchains that mainly focus on this solution and have been successful in serving many users worldwide. One of the most popular ones is Stellar.

The new partnership with Flutterwave helps Stellar expand its ecosystem to more countries. Two new corridors are launched between Europe and Africa on Stellar. These corridors will help businesses that plan to build remittance services. The new services will be more efficient and cost-effective because of using the Stellar infrastructure.
Flutterwave plans to expand the partnership with Stellar gradually. The company is focused on adding new services to more countries in Africa. Besides, more currencies will be supported to complete the services.
Sending and receiving cross-border payments in African countries has many challenges and is often very expensive. The new solution by Stellar and Flitterwave may solve many of the challenges. Olugbenga Agboola, CEO at Flutterwave, said: 
"It is more expensive to send money to sub-Saharan Africa than to any other region in the world. Our new payment corridors on Stellar will allow us to continue expanding the Flutterwave network to bring all-important, cost-effective money transfer services to African business owners."
The new partnership can be more useful when more Stellar-based companies are connected to each other. For example, TEMPO can now connect with Flutterwave and create an affordable, efficient payment infrastructure in the region.
These partnerships surely support the vision of Stellar Development Foundation in providing easy access to financial services for everyone. Unbanked citizens worldwide are always a target group for organizations like SDF. New blockchain-based services can help these people by providing easy access to financial services. It's the reason SDF supports initiatives from companies like Flutterwave and partners with them.
XLM price eyes 55% breakout if Stellar bulls can flip one crucial barrier
XLM price shows that it is approaching a massive supply zone, ranging from $0.39 to $0.43.
A decisive daily close above $0.43 will confirm the start of a new uptrend to $0.60.
A breakdown of the $0.36 support floor will invalidate the bullish thesis.
XLM price has been stuck trading under a crucial blockade for nearly five months. The situation is set to change soon, however, as Stellar coils up for an explosive breakout.
XLM price to explode soon
XLM price is taking a second jab at the $0.43 resistance barrier after failing on September 6. This inability of buyers to break through led to a 41% correction. Stellar seems to have made a bold comeback, however, as it is currently retesting the $0.39 to $0.43 supply zone, harboring the said resistance level once again.
A decisive daily close above $0.43, followed by a successful retest of this hurdle will confirm the start of an uptrend. In this situation, investors can expect XLM price to target the $0.50 level at first, after a 15% ascent.
Clearing that hurdle will propel the remittance token to $0.60, constituting a 55% ascent from the current position. While some market participants might book profits there, there is a possibility for XLM price to extend its climb even further to $0.71.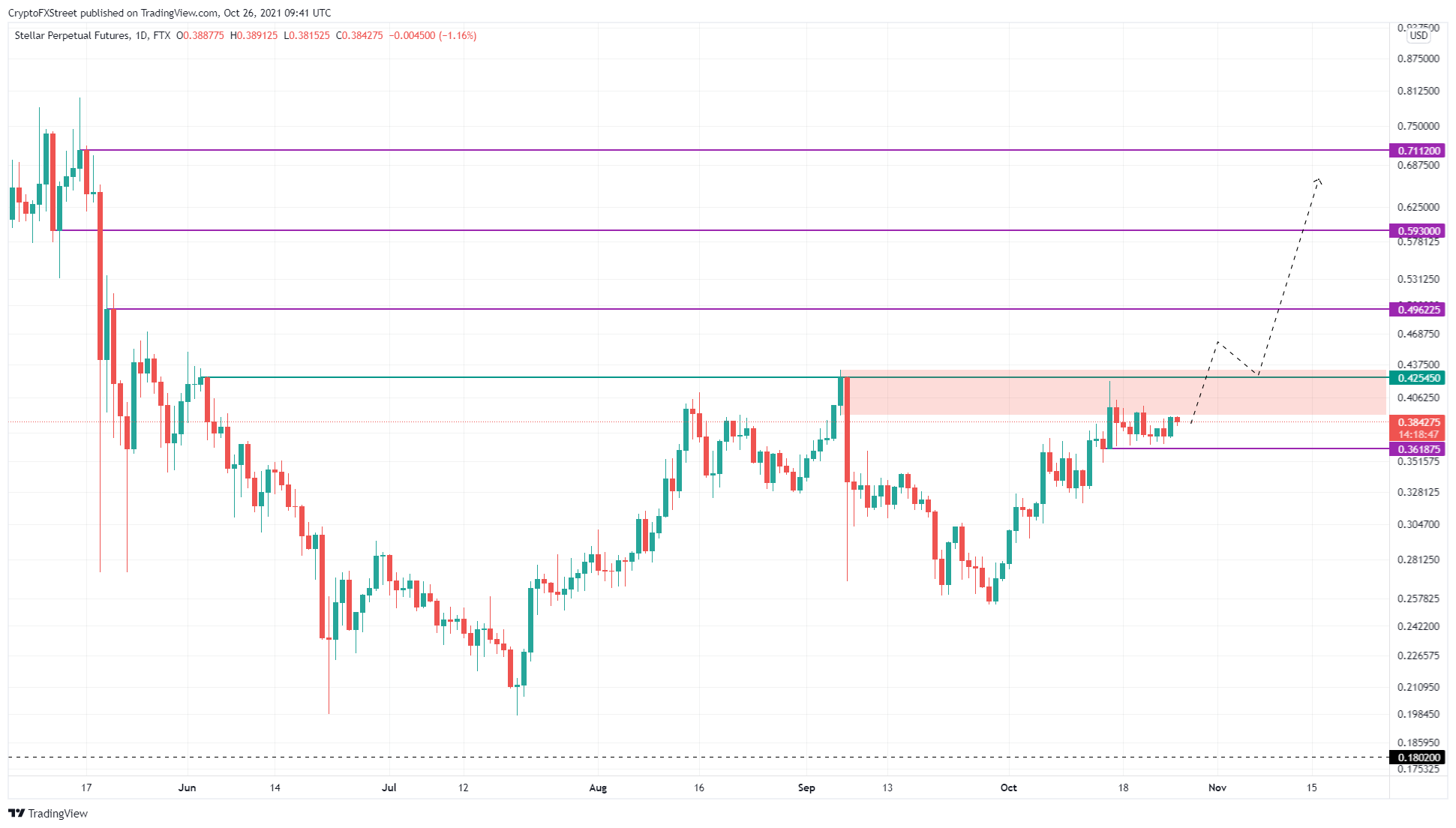 XLM/USDT 1-day chart
Regardless of the optimism around XLM price, a failure to push through the $0.39 to $0.43 supply area will signal weakness among the bulls. It could also indicate that the majority of holders are booking profits.
If this selling pressure pushes XLM price to produce a decisive close below $0.36, it will create a lower low, invalidating the bullish thesis.
Stellar To Launch New Europe-Africa Payment Corridor With This Partner
The Stellar ecosystem continues to expand. Today they have announced a partnership with global payments company Flutterwave to launch two new payment corridors between Europe and Africa.
To be supported by the Stellar network with their main EU anchor TEMPO, a payment institution that offers its services for the corporate sector, the corridors will process transactions with USDC.
In that way, the partners seek to provide a simplified way of sending remittances between the two continents. Thus, the collaboration could create a positive impact throughout the African region as it provides businesses with friction and accessible digital payment method.
To achieve this objective, the XLM-based companies Flutterwave and TEMPO will create an "affordable Pan-African payments infrastructure".
In doing so, the partners expect to gain more adoption and acceptance as an alternative payment system as opposed to the more expensive and restricted payment companies in the traditional sector.
The CEO at Flutterware Olugbenga Agboola claimed in a press release shared by the Stellar Development Foundation (SDF) that sending money to the Sub-Saharan region is one of the most expensive processes worldwide.
In that sense, their partnership with the SDF tries to make the process more cost-efficient and accessible. Agboola said the following:
Our new payment corridors on Stellar will allow us to continue expanding the Flutterwave network to bring all-important, cost-effective money transfer services to African business owners.
Africa And The Future Of Payments Power By Stellar
Africa and the Sub-Saharan region have one of the larger unbanked populations in the world. The partners attempt to bring inclusivity and financial access to the millions of people living under these circumstances by reducing remittance costs and proving access to financial services.
Suren Ayriyan, CEO at TEMPO, said the partnership is an exciting step into their expansion using Stellar rails. Ayriyan added:
Customers across Europe will be able to send funds faster and at a lower cost to support their families and conduct business in Africa, landing funds right into their local bank account. We hope to continue working with Stellar anchors to exponentially increase our currency corridors and offerings, providing cheap, secure and fast global money transfers to all TEMPO customers, both existing and new.
Finally, Denelle Dixon, CEO and Executive Director of the SDF called the collaboration with TEMPO and Flutterwave a new advancement to leverage crypto-based technology to improve the financial system. Dixon said:
Flutterwave is doing important work in a region that has been historically underserved, and SDF is committed to helping them create a tangible impact on financial access and inclusion across the African continent and beyond.
As of press time, XLM records 2.2% and 36.2% profits in the and monthly charts, respectively. The cryptocurrency has seen an important price surge due to the constant expansion of its ecosystem.