Gold-backed stablecoins to launch on Cardano, sending analysts bullish on ADA
Cardano's project catalyst holds a decentralized fund of over $1 billion to promote solutions.
After unveiling Djed, the ecosystem is now preparing for the launch of a gold-backed stablecoin.
The number of ADA holders hit a new all-time high of 243,000 in September, 70% of addresses are currently profitable.
Cardano has more decentralized applications and projects joining its blockchain network. MELD – a DeFi protocol that allows users to lend, borrow and stake capital on Cardano – is preparing to launch a gold-backed stablecoin network on the network.
Arrival of gold-backed stablecoin to further increase demand and utility of native asset ADA
ADA's rise to the top five cryptocurrencies by market capitalization is likely triggered by the increase in the decentralized applications joining Cardano's network.
COTI, a decentralized payment platform that acts as a payment gateway of Cardano, revealed the launch of Djed, an algorithmic stablecoin. Now a gold-backed stablecoin is arriving on the network. 
A Cardano-based protocol MELD has announced plans to launch the stablecoin as the first step to democratize cryptocurrencies and make them further accessible. 
Ken Olling, co-founder and chairman of MELD, states that the "goal here is simplicity and clarity. Gold will be stored in a vault, tokenized and then fractionalized and divided so we can sell it."
David Taylor, head of marketing at Cardano Foundation, shared the announcement on Twitter
Announcement from @MELD_labs and Tingo Mobile looking to bring 9m customers across Nigeria to Cardano.

As part of this partnership, there will also be a gold-backed stable coin to the protocol.#CityAMSummit @CityAM_Crypto #Cardano #CardanoCommunity @tingomobileng #Blockchain pic.twitter.com/G6zqggzBLF— DT (@I_Am_DTaylor) September 30, 2021
Cardano network's on-chain activity has hit a high in September after the latest developments in the ecosystem. Native asset ADA has 243,000 holders, and 70% of the wallet addresses holding the token are profitable.
The number of $ADA Hodlers reached a new ATH this month of 243 thousand addresses holding an aggregated volume of 5.49b ADA.

And at the current price, over 70% of the addresses currently holding ADA are in a state of profithttps://t.co/8ME8STegu5 pic.twitter.com/MnghWKB66X— IntoTheBlock (@intotheblock) September 27, 2021
FXStreet analysts have evaluated the Cardano price trend. The altcoin's price is at a strong support level, and analysts believe that the price will continue its upward trend to the next target at $2.7. 
Cardano introduces ERC-20 converter testnet with AI tokens for trial
ERC-20 tokens have been going places for some time now. However, at this point in time, they're a step closer to going native on Cardano. At press time, the sixth-biggest blockchain by market cap had some big news to share, courtesy of its developer arm IOHK.
Time for a test
Cardano founder Charles Hoskinson revealed that an ERC-20 converter testnet is now up and ready for the community to try. Using the AI service provider SingularityNET and its AGIX token, testnet users can make the most of a permissioned bridge to transfer these tokens between Ethereum and Cardano.
Update on the ERC20 Converter https://t.co/D80E5AsAeO— Charles Hoskinson (@IOHK_Charles) December 7, 2021
The statement from IOHK highlighted the need for blockchain interoperability. It added,
"We are currently building out and collaborating on multiple bridges to connect Cardano to other blockchains, and this first converter is a vital artery in this system. The more these connections grow, the higher the network effect to boost the flow of liquidity within the Cardano ecosystem."
According to IOHK's release, a user can put their converted tokens into the Daedalus or Yoroi wallets. Furthermore, reconversion to the ERC-20 standard is possible. This process might sound technical but readers shouldn't worry, according to the company. IOHK explained,
"Users do not need technical expertise or coding experience to use the converter. They simply access the tool through a URL and then proceed by creating a new account or configuring an existing Metamask account."
That being said, the developer also warned that the testnet is still being monitored for issues and performance optimization isn't complete yet.
In fact, one user reportedly tried the testnet and shared their gas fees for reference.
pic.twitter.com/G5eZHkYqTX— cardistack(CSK) pool **Cardano SPO** (@cardistack) December 7, 2021
Get an 'AI'-ful of this
So, what is SingularityNET? It describes itself as a "decentralized platform allowing AIs to cooperate and coordinate at scale." However, readers might be more familiar with the robot Sophia. The AI robot's creator is David Hanson, who is also the co-founder of SingularityNET.
According to a whitepaper, the company wants to use smart contracts to decentralize AI technology. It stated,
"At its core, SingularityNET is a set of smart contract templates that AI agents can use to request that AI work be done, to exchange data, and to supply the results of AI work."
The question of the hour – Is Cardano exploring AI or is crypto itself coming closer to this technological sector? Only time will tell.
Agile AGIX
At press time, Cardano's ADA was still in the red, but SingularityNET's AGIX was trading at $0.2575.
AGIX's price also rose by 14.04% in the past 24 hours. What's more, the token had a market cap of $225,073,797, making it the 298th biggest blockchain by market cap.
Cardano Sees 7% Growth in Unique Addresses, With More Than 1 Million Currently Staking ADA
According to data from Staking Rewards, the number of unique addresses currently staking ADA has increased by roughly 7% in the last 30 days.
According to Staking rewards data, unique addresses currently staking ADA have grown nearly 7% in the last 30 days. The recent growth matches the 1 million milestone reached in the number of staking addresses.
According to the Cardano tracking website pool.pm, there are currently 1,008,241 wallets staking the coin, with 71.4% staked.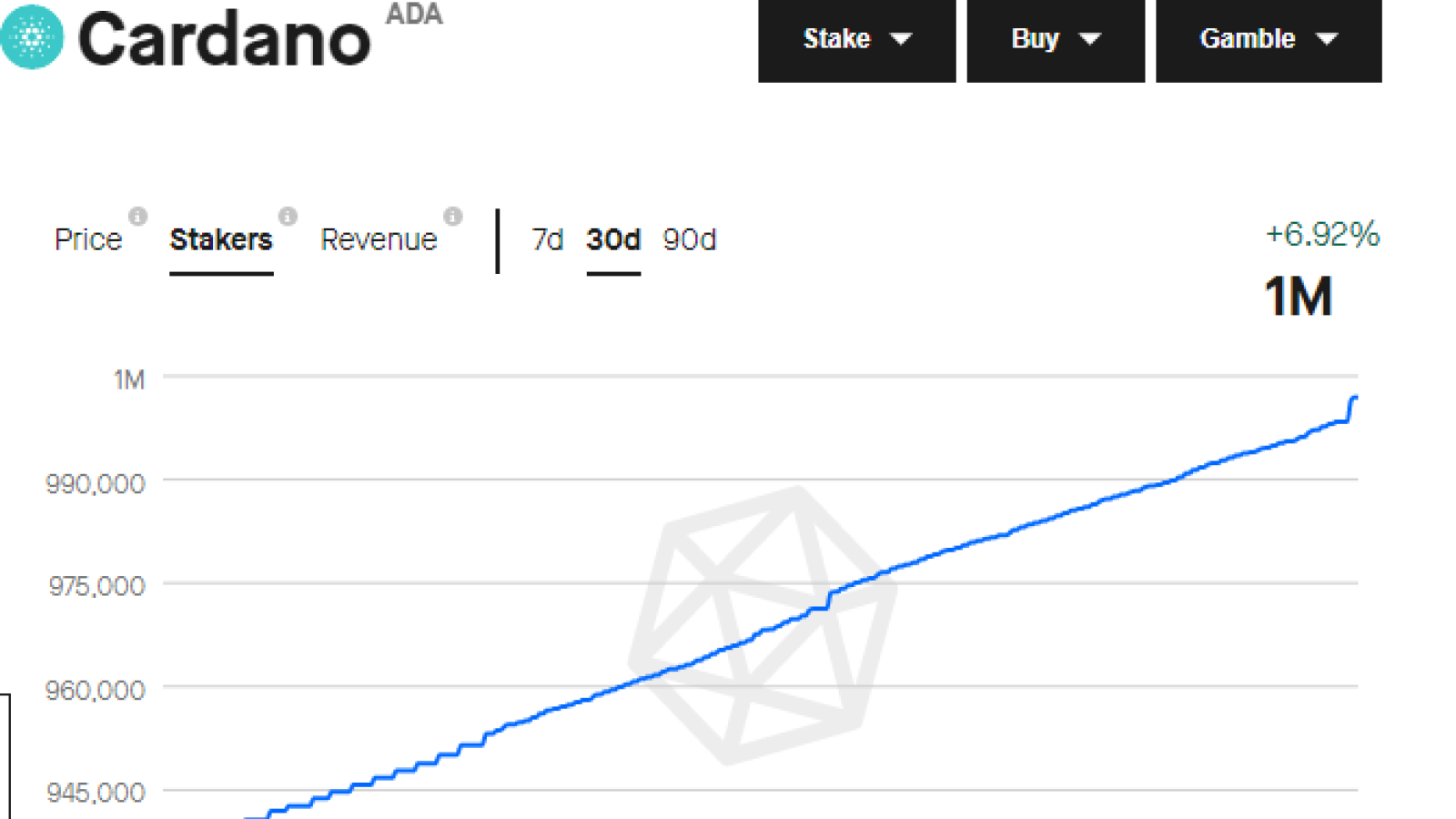 Cardano continues to gain traction, with new features and capabilities being added to the blockchain regularly. The Ouroboros algorithm is used in Cardano's decentralized setup to achieve proof-of-stake consensus. At the center of it all are 3,100 stake pools managed by operators who are in charge of the network's distributed nodes.
IOHK, Cardano's parent company has announced the kickoff of a new initiative to support its ongoing drive toward full decentralization with the launch of a new peer-to-peer (P2P) testnet.
The price of ADA soared to an all-time high of $3.09 in September, just days before the Alonzo hard fork, which introduces smart contracts to the network and allows it to compete with the likes of Binance Smart Chain, Ethereum and Solana.
According to CoinGecko data, Cardano (ADA) is up 820% on a yearly basis having started off the year 2021 at barely $0.18. The price of ADA trades at $1.41 at press time.
Cardano's Community Media Launchpad Flickto (FLICK) Teases IDO and Beta Infrastructure Release
Flickto (FLICK) Cardano-based launchpad brings together the concept of ISPO and decentralized media funding
Flickto, a Cardano-based project with real-world utility, addresses the problems of content creators with ADA-centric instruments.
Here's how Flickto leverages Cardano (ADA) to promote content creators
Decentralized media launchpad Flickto (FLICK) announces an initial decentralized exchange offering on leading Cardano-based launchpad, Kick.io. This tokensale will introduce FLICK tokens to the majority of retail investors and allow Flickto to raise funds for next phases of its progress.
🚨🚨 Exciting Announcement: Flickto will IDO on @kicklaunchpad! 🚨🚨
The first Cardano media launchpad partners with the leading Cardano project launchpad.
More details to follow soon#cardano #ido #launchpad pic.twitter.com/N3ujIxRHfo— Flickto (@FlicktoMedia) November 30, 2021
Flickto provides the technical basis for crowdfunding for media content promotion. Crypto enthusiasts are able to support the promotion and distribution of their favorite media products with digital assets.
For such sophisticated products, there is a strong need for a low-cost, fast and resource-efficient blockchain. As such, the Flickto (FLICK) team has chosen Cardano for its high-performance and novel technical design.
Also, Cardano (ADA) has a large and vibrant global community that is crucial for real-world decentralized projects. ADA holders are a backbone focus group for Flickto's progress and the distribution of FLICK tokens.
FLICK rewards are the main incentive for users to take part in Flickto's activities associated with content and staking. Then, FLICK will be listed on centralized exchanges and Cardano-based DEXes to allow holders to trade and stake it in third-party mechanisms.
Dissemination of FLICK tokens will be yet another trigger for mass adoption of Flickto solutions in the Web3 ecosystem.
What is FLICK: Tokenomics and future plans
Initial Staking Pool Offering (ISPO) is the main way for the Flickto ecosystem to raise funds for project supporters. Not unlike Cardano's staking pool for ADA, Flickto's ISPOs should be considered an instrument for tokenholders to support their favorite products.
Besides FLICK rewards, participants in ISPOs will be able to receive non-fungible tokens as additional bonuses from the projects listed by Flickto. Receiving staking rewards is the only way to obtain FLICK before its official listings on CEXes and DEXes. So far, Flickto's ISPOs have amassed 1,500,000 ADA in total value locked (TVL).
The aggregated supply of FLICK is 5,000,000,000 tokens. 40% of this supply is allocated to ISPO rewards, 20% are reserved for sales and the initial decentralized exchange offering (IDO), while liquidity and treasury initiatives will be fueled by 15% of the FLICK supply.
The team, its advisors and partners will receive 15% of FLICK, while the remaining 10% will be transferred to marketing and operations needs.
Spreading the word about its mission, Flickto partnered with media veterans Ben Morris and Geraint Harvard Jones.
In 2022, Flickto is going to organize NFT airdrops, a token pre-sale and DEX liquidity incentives, as well as a beta launch of the main product and its associated retail application.