Shiba Inu ready to rally after launching 10,000 NFTs on ShibaSwap
Shiba Inu announces sale of 10,000 randomly generated NFTs available for sale on ShibaSwap.
Buyers will be able to name their Shiboshis by burning SHIB tokens, further reducing the tokens in circulation.
Dogecoin millionaire Glauber Contessoto currently holds nearly $2 million worth of DOGE tokens and is reluctant to sell.
Analysts have noted declining interest in Shiba-Inu-themed cryptocurrencies: Dogecoin and Shiba Inu token. However, the latest developments in the Shiba Inu ecosystem are set to drive scarcity in the circulating tokens. 
Shiba Inu jumps on the latest crypto trend, announces launch of NFTs
Shytoshi Kusama, developer and leader of the Shiba Inu token ecosystem, announced the launch of 10,000 NFTs on decentralized exchange ShibaSwap. The collection of randomly generated NFTs is named "Shiboshis."
The new product release in the Shiba Inu ecosystem is only available for LEASH holders. The sale ends within 24 hours.
Further, each buyer has the ability to change the name of the Shiboshi they buy by burning SHIB. Shytoshi refers to SHIB, BONE and LEASH tokens as the "Shib Token Trifecta." The announcement drops hints of another launch in the gaming or play-to-earn ecosystem. 
Shiboshis are coming. Learn more about them, why you might want some $LEASH for the drop, and why I'm so pumped about @NOWPayments_io making Shib available in this new MEDIUM! https://t.co/gQhIdUJqVN— Shytoshi Kusama (@ShytoshiKusama) September 24, 2021
With further burning of SHIB, proponents expect a drop in the circulating supply of SHIB tokens, implying an upward climb in the token price.
Alongside SHIB, analysts are bullish on Dogecoin. The Shiba-Inu-themed cryptocurrency produced several millionaires. Glauber Contessoto, a Dogecoin millionaire with nearly $2 million worth of DOGE, is not keen on selling his holdings. 
Contessoto is a long-term holder and argues that DOGE price will increase in the future. The millionaire is of the opinion that capitalizing on the dips is key.
There is a drop in the social interest surrounding DOGE and SHIB. Social engagement of DOGE, considered a metric for identifying the demand of the token, has noted a 90% drop since May 2021.
Despite the drop, the ecosystem updates are expected to trigger a rally in Dogecoin and Shiba Inu. Over 660,000 holders in the SHIB network are awaiting an update in October 2021. The launch of Shiboshis is the first step in the direction of new updates in the SHIB network.
SHIB ranked in the top 10 trending coins in Asia last week, based on data from CoinGecko, a crypto data-provider platform.
FXStreet analysts have evaluated the SHIB trend and predicted that there is one last chance for the token to break out. Addresses that purchased SHIB in the past 30 days are currently sitting on unrealized losses, if the price drops further, the downside target is $0.00000300. 
With Shiba Inu (SHIB) Reportedly Gearing up for a Listing on the Robinhood Platform, Expect the Wider Altcoin Universe to Benefit From a General Bullish Wave
Shiba Inu (SHIB), a Dogecoin spinoff that has come to the limelight recently on the back of its outsized year-to-date gains, might just be about to kick its ongoing bullish momentum into high gear.
As per the news that is just breaking across the proverbial waves, Shiba Inu's SHIB coin is reportedly nearing a listing on the Robinhood platform:
$SHIB reportedly coming to Robinhood— Market Rebellion (@MarketRebels) October 18, 2021
This comes as a petition on Change.org has already garnered 265,152 signatures (at the time of writing) to list Shiba Inu on Robinhood.
The coin is up at least 5 percent on the back of this news. So, why is a potential listing of the SHIB coin on Robinhood such a big deal? Well, the brokerage platform remains popular with retail investors trying to gain exposure to prominent crypto names. Dogecoin, a cryptocurrency that experienced a similar momentum outburst earlier this year, had also registered outsized gains in the runup to its listing on the popular brokerage platform. Given that Shiba Inu's SHIB coin is already up 5 percent on this news, investors might be pricing in the prospects of a similar bull run.
At the time of writing, Shiba Inu's SHIB token is trading at $0.000029, a mere spitting distance away from its all-time high of $0.00003389 recorded back in April. Interestingly, the current price level corresponds to year-to-date gains of over 40 million percent!
As a refresher, the Shiba Inu token is based on Ethereum's ERC-20 protocol for smart contracts and utilizes a proof-of-stake (PoS) mechanism. SHIB is the project's foundational currency and, after having endured a series of epic supply burns, there are currently only 394.796 trillion SHIB coins in circulation out of a max supply of 1 quadrillion. With a max supply of 107,646 coins, LEASH is the project's second token. Investors can purchase LEASH via Uniswap, a decentralized finance protocol that is used to exchange cryptocurrencies. BONE, with a maximum supply of 250 million tokens, is the third coin under the Shiba Inu project. This token can be obtained by staking SHIB coins on the project's native crypto exchange, dubbed ShibaSwap.
We had noted in a previous post that predictions for Shiba Inu's SHIB coin to hit the 1 cent price level have been gaining momentum as the project continues to pursue supply burn schemes. Against this backdrop, a Robinhood listing would only further boost the ongoing bullish mania.
Moreover, as we've noted recently, a transition in crypto leadership might also be in the cards now. Over the past few bull runs, Bitcoin has always led the initial bullish leg with outsized gains. This phase has been followed by a more general crypto mania under the leadership of altcoins. Given that a futures-based Bitcoin ETF would commence trading on Tuesday, the most immediate bullish impulse for the world's premier cryptocurrency has now been realized. This scenario favors a gradual transition toward altcoins, including well-established names such as Ethereum as well as the nascent ones, such as Shiba Inu's SHIB coin.
Shiba Inu Spikes 8 Percent on Fake News About Robinhood Listing
No, Robinhood doesn't intend to list Shiba Inu (for now)
A fake headline about Robinhood listing the Shiba Inu cryptocurrency posted by a squawk account on Twitter has managed to make the meme cryptocurrency's price spike over 8% in minutes.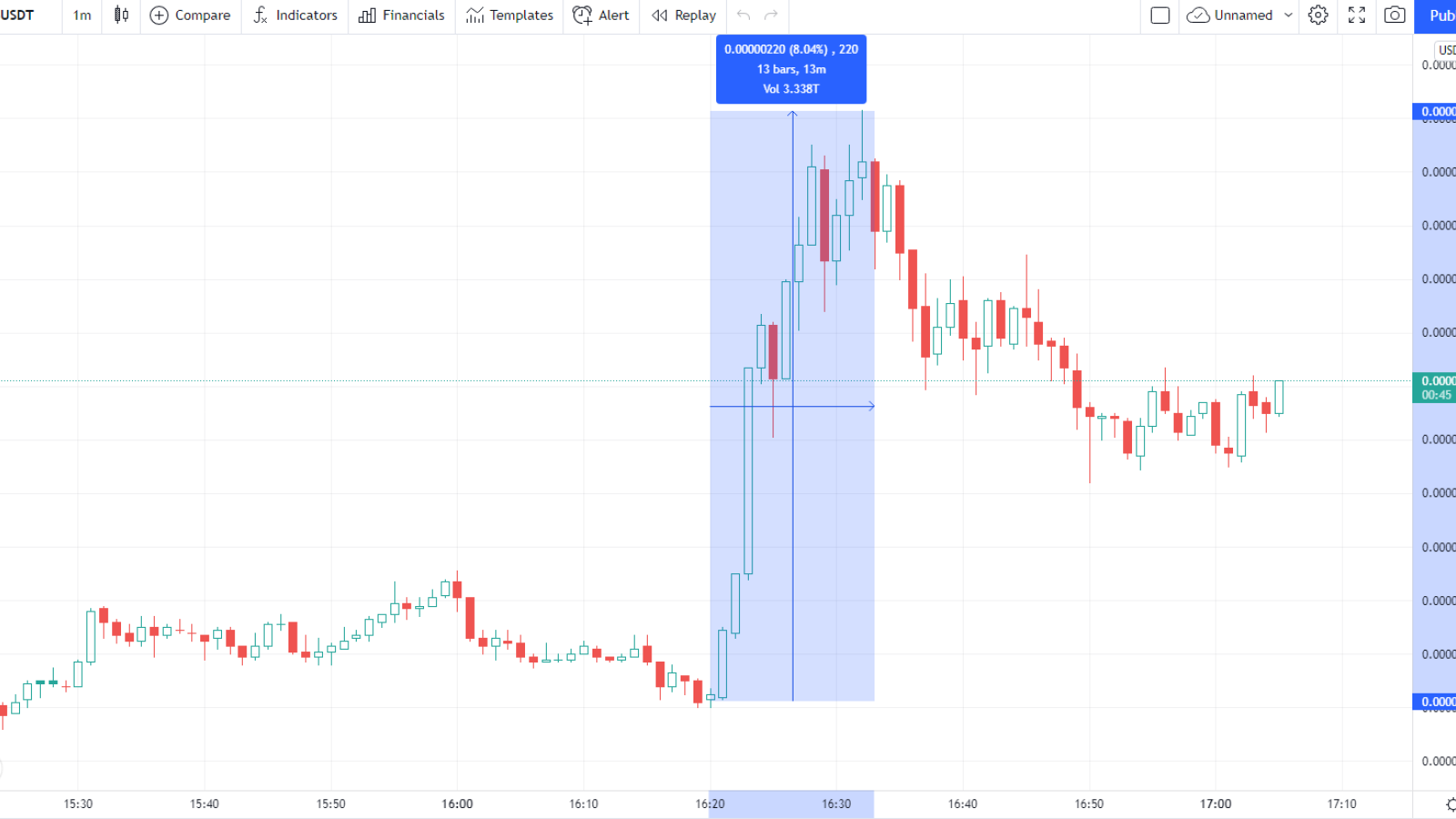 The rally, however, was very short-lived. Shiba Inu quickly gave up its gains after Robinhood debunked the news.

"First Squawk," the account that posted the headline, is yet to delete the tweet that has accrued over 1,400 likes at press time.
ROBINHOOD SAID TO LIST SHIBA INU TO ITS PLATFORMS: SOURCE— First Squawk (@FirstSquawk) October 18, 2021
As reported by U.Today, the account in question also spread a false rumor about Musk being investigated by the U.S. Securities and Exchange Commission over his Dogecoin tweets.
In the meantime, a Change.org petition to list the "Dogecoin killer" has now surpassed 250,000 signatures.
Shiba Inu is currently the 19th biggest cryptocurrency with a market capitalization of $4.4 billion.
Shiba Inu warns of lower prices as SHIB might test $0.000022
Shiba Inu price continues to consolidate after making massive gains.
A false breakout above an ascending triangle could trigger a deeper corrective move.
Strong support exists if a deeper pullback does occur.
Shiba Inu price has, in a surprise to many, maintained the majority of its huge rally. While Dogecoin killer Shiba Inu has made gains over 340% from the October open, it is still up over 280% despite the recent pullbacks. However, it could dip a little lower.
Shiba Inu price faces more profit taking and short selling if it fails to hold above the Tenkan-Sen
Shiba Inu price is up against a reasonably strong resistance area at $0.000028. $0.000028 is the daily Tenkan-Sen and the close of the end of the first rally at the beginning of October. This level represents the first roadblock to new higher highs, but a close below that level on the daily chart could trigger some further downside pressure.
The only support level below the Tenkan-Sen in the Ichimoku Kinko Hyo system is the Kijun-Sen at $0.000022, which shares that value area with the 61.8% Fibonacci retracement. Therefore, this would be a perfect support area for Shiba Inu price to find more buyers and for short sellers to profit. In addition, the 50% Fibonacci retracement at $0.000024 could also provide some near-term support.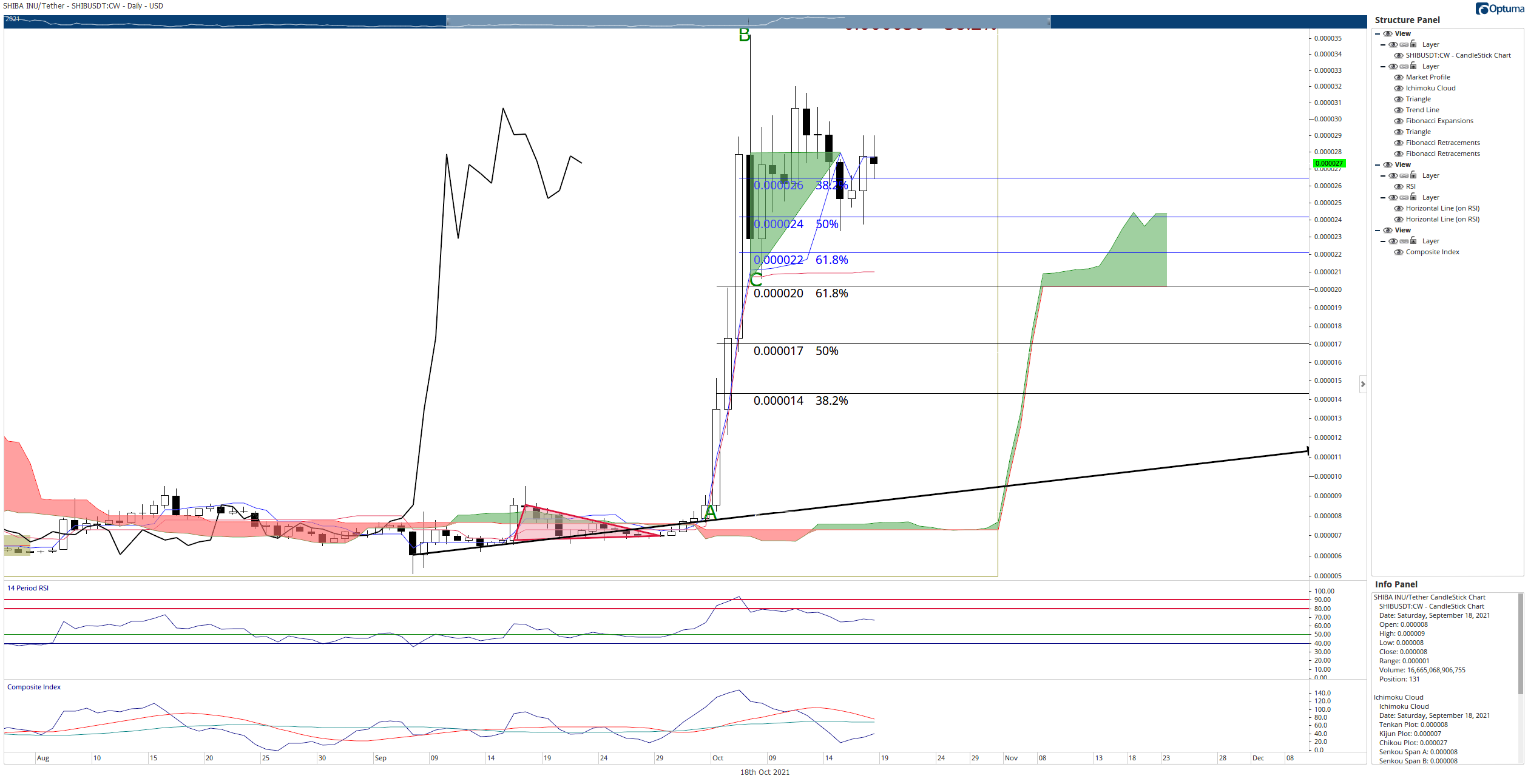 SHIB/USDT Daily Ichimoku Chart
A close above yesterday's and today's daily highs ($0.000029) would likely invalidate any short-term bearish price action for Shiba Inu price. The Relative Strength Index has returned to neutral territory while the Composite Index is sloping at an angle, suggesting a cross above both of its averages is incoming. If Shiba Inu bulls can push for a close at or above $0.000029, then a retest of the recent all-time highs is likely.