Crypto Analyst Predicts Altcoin Market Heading for Major Rally, Tracks Current Demand for Bitcoin
A top cryptocurrency analyst is predicting that altcoins are about to surge based on technical analysis.
The crypto analyst known as Capo tells his 169,000 Twitter followers that based on the 5-wave Elliott Wave indicator, a lot of altcoins have completed the first two waves and are about to begin the third wave which is characterized by a "big pump."ADVERTISEMENT
"Many altcoins are starting the macro w3 (third Elliott Wave of an impulse, which is usually the stronger)
Also, some of them have already done the w1 [Wave one] and w2 [Wave two] of that w3 [Wave 3], so the big pump is coming."
The Elliott Wave theory states that the first wave is a run up, followed by a correctional second wave that does not rise above Wave 1's highest point. Wave 3 is typically the biggest and most powerful and rises above the highest point that Wave 1 reached.
Capo says that his bullish thesis is supported by the fact that bearish sentiment is weak across the crypto sector. He offers a Bitcoin (BTC) chart showing support that has held strong for the flagship cryptocurrency, having failed to fall below a key level several times.
"Mid-term bearish structure is already broken. This happened in all coins. They are also bouncing from a strong support."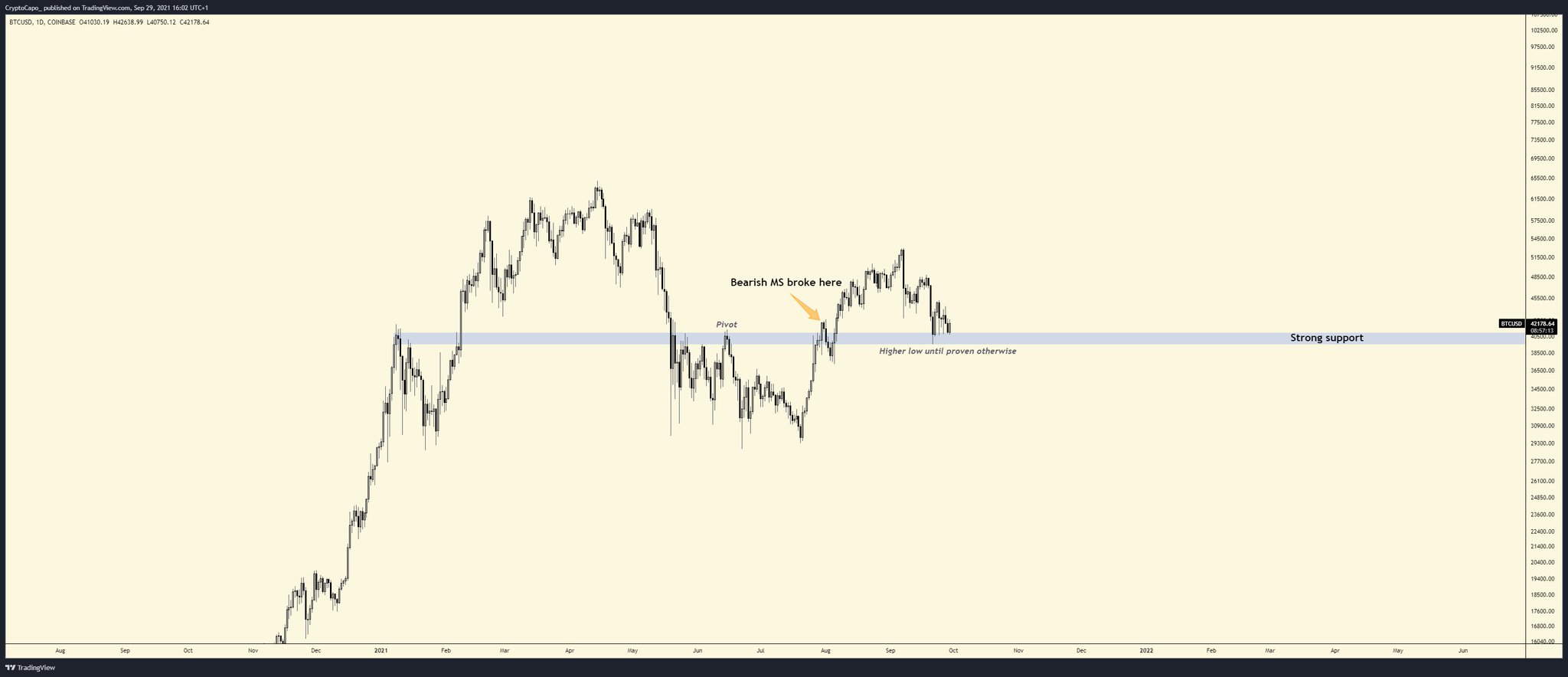 The top crypto analyst also says that heatmaps from the Bitfinex and Binance crypto exchanges demonstrate strong buying pressure at key Bitcoin support levels.
"Heatmaps are showing strong demand here, especially Bitfinex and Binance."


This Altcoin Project Could Scale to the Magnitude of Ethereum, Says Crypto Billionaire Sam Bankman-Fried
Sam Bankman-Fried, CEO of crypto derivatives exchange FTX, thinks one altcoin project could potentially surpass Ethereum (ETH) and become a dominant force in the crypto space across the world.
Bankman-Fried says in a new interview with Kitco News that he examines what it would take to have 1 billion people use cryptocurrency and blockchain infrastructure. He says if people end up using blockchain infrastructure at the same level they use social media or finance today, it will probably create millions of transactions per second.
"One thing that I've thought about a lot is what are the blockchains that could scale to that level? That could scale to millions of transactions per second in a composable, native way. I've been on the record a lot saying that I think Solana has a real shot at doing so, which I think is really exciting."
Solana (SOL) is a blockchain focused on being scalable while remaining secure and decentralized. The smart contract platform's native token, SOL, is trading at $195.60 at time of writing and is down more than 5.31% on the day.
When asked if he thought Solana could exceed Ethereum's market cap, Bankman-Fried leaves it up in the air, saying, "It could happen. It could never happen." However, the FTX CEO also notes that Solana's infrastructure is poised to provide financial services to billions of users around the globe.
"[Solana] has the potential to host DeFi (decentralized finance) applications for hundreds of millions to billions of people on top of it with a giant composable ecosystem. Again, that's not saying it necessarily will happen, but it could happen, and I think that's really exciting."  
Crypto Trader Tyler Swope Is Bullish on Several Altcoin Projects As End of 2021 Approaches
Crypto investor Tyler Swope is unveiling his top altcoins as volatility rattles the overall crypto markets.
In a new video, Swope tells his 298,000 YouTube subscribers that his number one altcoin is decentralized reserve currency OlympusDAO (OHM).
"In a short amount of time, it's become one of the most diversified, non-protocol token treasuries in crypto… Purchasers of OHM are incentivized to HODL and stake as the APYs [annual percentage yields] for staking are insane. Currently over 7,300%!
Olympus has started a DeFi revolution, which is apparent from the amount of forks created based on the protocol… OHM is the most-forked protocol of the year, and the amount of forks based on its code is reaching levels only seen by three [other] projects: Bitcoin, Ethereum, and Uniswap. This is pure validation that OHM has created something special."
Olympus has also attracted the attention of high-profile investor Mark Cuban, who bought and staked OHM back in July.
At time of writing, OHM is down 8.23% on the day and trading for $752.65.
Next on Swope's list is REN, an open protocol that provides inter-blockchain liquidity access for decentralized applications (DApps). REN is an Ethereum-based token that powers a protocol enabling crypto transfers between different blockchains.
The analyst says,
"This token has slid, and in my opinion, is ready for a pump… I have a feeling REN is going to recapture the top 100 cryptos and possibly even capture its old March rank and even further. Why? REN announced that Host-to-Host was coming to their protocol.
[REN ecosystem advocate] Maximilian Roszko put out a tweet explaining it. Max said, 'H2H means RenVM will be able to bridge native coins and tokens between the chains it supports, becoming a full-scale bridge… RenVM will go from supporting seven assets, mostly legacy coins such as BTC and DOGE, to being also able to support most of the tokens in the crypto space, which is in the thousands.'
Major interoperability is coming."
REN is currently priced at $0.89, down 6.68% for the day.
Wrapping up his analysis, Tyler looks at Energy Web Chain (EWT), an enterprise-grade blockchain platform built to serve the energy sector's logistical demands. The platform's native token EWT provides network security and validator compensation.
Tyler highlights two positive catalysts for EWT.
"Energy Web recently updated their validator code of conduct, and in it, they have a section on obvious rent-seeking…
'Rent-seeking is defined as validators liquidating greater than 10% of their block reward balance within any given 30-day period.'
Validators who have been rent-seeking are no more. Those who have been dumping a lot when the price goes up.
You should also know that something big is coming for Energy Web by the end of the year: staking. Last week, they announced a booster period for early stakers, over 21% APY."
EWT has been mostly flat on the day, trading for $9.73 at time of writing.
Six Crypto Airdrops Could Be Coming to Savvy Altcoin Traders, According to Coin Bureau
Pseudonymous Coin Bureau host Guy says that worthwhile crypto airdrops could be on the horizon while explaining a short history of the phenomenon.
Guy tells his 1.67 million subscribers that although most airdrops today are giving away tokens that will likely be worth very little, a few well-established blockchains are handing out coins for traders willing to meet the required interactive bounties.
"The truth is, there are no doubt a lot of other projects that are giving away their tokens for free right now but that's because most of them are pretty worthless…
However, it's those airdrops that are distributed by popular projects in ecosystems that are the most lucrative, those that are worth more than a few thousand. These are the ones that you're most likely to hear about it.
Most of these high profile airdrops have been in the decentralized finance (DeFi) space, where people will have had to have interacted with a protocol or DApp in some way, shape, or form."
Arnold speculates that crypto wallet MetaMask, layer-2 Ethereum scaling solutions Arbitrum and Optimism, and popular NFT marketplaces such as OpenSea, the Bored Ape Yacht Club, and Solana's decentralized exchange Solanart are the next token-less blockchains that may host airdrops in the future.
"There are a plethora of low-value airdrops out there that give you virtually nothing… I think if you really want to increase your chances of a lucrative airdrop, use those services and protocols that are actually adding value. Those that you would use anyway and not solely for the chance of an airdrop…
On top of this, those projects that are providing the value are more likely to have a valuable token if it were to drop, it's only logical. The same goes for anything in the NFT space."