Dogecoin Price Prediction- Will DOGE Mania Burst Price To $1 In 2021?
In today's world where digital currency is gaining the place it demands, Bitcoin is the only crypto most people know. dogecoin was launched in December 2013, Popularly known as the meme coin. Read further to know everything about Dogecoin Price prediction for 2021 and beyond.
Dogecoin 2021 was in an overextended bull run powered by sheer volumes from day traders, institutional investors, celebrities, and DOGE whales.
Impressed by the currency's growth and waiting to make an investment? But worried about what the future holds for this meme coin, why dogecoin is going up? Is dogecoin a good investment?
Here is a detailed study, stating the latest Dogecoin updates and price forecast.
Overview
| | |
| --- | --- |
| Cryptocurrency | Dogecoin |
| Token | DOGE |
| Price | $ 0.2070 |
| Market cap | $ 27,164,916,913.0000 |
| Circulating Supply | $ 131,515,107,336.0050 |
| Trading Volume | $ 484,320,333.0000 |
| All time high | $ 0.7316 May 8, 2021 |
| All time low | $ 0.0001 May 6, 2015 |
What is Dogecoin (DOGE)?
Following the massive success of bitcoin, dogecoin was launched in December 2013. Within one month there were over a million visitors to the official website. It started with a price of $ 0.006. Today, the coin has made over 5000% in 2021.
Dogecoin was created by Billy Markus, Oregon, and Jackson Palmer. It was introduced as a joke, but who knew it would become so significant in the crypto world. It is also used by retailers to receive payments anywhere in the world!
Fundamental Analysis
Dogecoin is a user-friendly cryptocurrency project launched on December 06, 2013. It uses its own blockchain and is widely supported by many wallets and Exchanges. The main use case is for making payments and recently it has also been used as a tipping coin for rewarding small tokens to people during social media interactions.
DOGE was made to be user-friendly and it is now said to have a higher inflation rate. Dogecoins are inflationary coins while Bitcoins are deflationary coins, this is because Bitcoins have a limit on the number of coins that will be produced and used for mining. On the flip side, dogecoin does not have any such limits and so, is inflationary, which adds to its advantage.
Are you thinking about "should I buy dogecoin right now"? This guide provides all the details needed to avoid any pitfalls if you do decide to invest, and what the potential upside or downside may be.
Dogecoin Price Prediction 2021
On a bullish note, DOGE continued to trade at $0.007 during the start of 2021. Further, it maintained a consolidated trend until the mid of April. The altcoin traded at $0.34 when it entered May. Subsequently, Elon Musk's appearance on the famous Comedy Show, SNL, and his tweet regarding the same coupled with the tagline 'Dogefather' set the price to surge by more than 15,000% from the start of the year to an all-time high of $0.74 on 8 May!
The meme-inspired cryptocurrency plunged to $0.22 on 19 May due to the market crash. The price continued to fall due to increased selling pressure, sliding to $0.25 on 23 May. On 2 June, it traded up to $0.44 but was unable to hold the gains and dropped back to $0.16 on 22 June. The meme coin rebounded to $0.29 on 25 June but then declined over the next month, returning to the $0.16 level on 20 July.
During the Q3 of 2021, the meme coin was consolidating within 0.2 So, is dogecoin dead? Let's find out
The price range tightened heading into September, with dogecoin trading between $0.19 and $0.21. Dogecoin price has been on a downward sloping consolidation since September 8 but broke out to the downside as of September 20, slicing through the $0.230 support floor. Currently, DOGE is hovering above the $0.213 demand barrier and shows signs of recovery..
Overall, the fact that the altcoin has a strong community base indicates that DOGE prices can reach new highs. On this note, the Dogecoin price may hit a Potential high of $0.974 by the end of 2021. On the downsides, DOGE has always been having a Plump and Dump scenario in space. If this or some external force impacts the meme token, the DOGE price may trade at a potential low of $0.201 by end of 2021.
Dogecoin Price Prediction 2022
If the altcoin closes this year hitting the highs, then 2022 might start bullish at $0.99. On the other hand, if a bearish trap engulfs, then the 2022 trade might resume at a similar trend at $0.21.
The fact that Dogecoin is easy to mine has always kept the altcoin on the front seat. Moreover, this year the most popular crypto exchanges like Gemini and eToro have listed DOGE, causing the price to soar. If the currency gets listed in other familiar exchanges in the coming year, the DOGE price can soar again and strike at $2.382 by the end of 2022. However, considering the regular buying and selling pressures, the average Dogecoin price may be near $1.639.
On the other hand, the fact that the digital currency does not still have a great value drives a negative impact on Dogecoin. Many believe it is just to be speculation and if this belief remains unaltered, then the price can slump to $0.474.
5 Years Dogecoin Price Prediction
An increasing FOMO with Elon Musk towards Dogecoin may impact the price to heat up reaching a high of $7.833 in the next five years. Secondly, if DOGE could survive with a substantial growth rate in a highly competitive space in the future, the averages shall strike at $5.497.
On the other hand, in the coming years, if aspects of the crypto like Zero staking rewards and not much functionality impact the market, then its price may fall. Thus, on the downside, the potential low might be around $4.123.
Market prediction
Digitalcoinprice
According to Digitalcoinprice, Dogecoin's price will rise in the coming years. It may trade within $0.3589 by the end of 2021. By 2023, The Meme Token might trade around $0.5154 and by the end of 2025, the price may trade close to $0.7102.
WalletInvestor
According to WalletInvestor, Dogecoin is a good long-term investment. In subsequent years, It will grow steadily within the $0.329 trading range in 2021.
Cryptonewz
According to Cryptonewz, the Dogecoin price shall cross $1 by the end of 2021. However, with an extremely bullish trend, the price may reach $1.7 and on the contrary, if the bears take over, then the price may close the yearly trade at $0.91.
Further by 2023, the price may reach $1.4 and attempt hard to maintain above these levels throughout 2024 by trading at $1.7 and eventually by 2025 close the trade around $1.96.
Capital.com
Capital.com predicts that Dogecoin may trade within the same levels as $0.3 to $0.33 by the end of 2021. Following a slow and steady uptrend, the price may rise up to $0.75 by 2025 and surpass $1 by 2026.
Our Dogecoin Prediction
The fact that Marketers are quite optimistic about the project and celebrities hopping legs can drive Dogecoin into a value that everyone would awe at.
According to Coinpedia's formulated Dogecoin price prediction 2021, if its trading volume rises further (Note that it is already soaring), then we can expect the DOGE price to surge to $0.97 as the year ends.
on the other hand, if the market is hit by external forces like regulations or negative statements by influencers the meme coin might trade at a potential low of $0.20.
For a long-term forecast, the technological developments to improve the scaling feature can cause a DOGE price spike to $7.83. But if FUD rises among investors with the price switching into a volatile triangle, the altcoin might trade at $4.91.
Using the table below understand what is possible in terms of highs and lows.
| | | |
| --- | --- | --- |
| Year | Potential High | Potential Low |
| 2021 | $0.974 | $0.201 |
| 2022 | $2.382 | $0.474 |
| 2025 | $7.833 | $4.911 |
Historic Market Sentiments
2013
Dogecoin made its debut in December 2013 at $0.0006 with a $3.5 million market capitalization. For a year, Dogecoin was on an upward trajectory and doubled exponentially.
2014
But the year 2014 was not as good for Dogecoin, New cryptocurrencies emerged on the market, such as NEO, Stellar, and Monero, and traders turned their attention to them. DOGE's price fell to $0.0001.
2015
Co-founder Jackson Palmer quit the project unexpectedly in 2015. He explained that he preferred to concentrate on the technical aspects of the blockchain. With the news, the world began to speak of DOGE's impending death, but this did not happen. DOGE managed to trade at $0.00014 by the end of December 2015.
2017
Dogecoin, however, did not cross the $0.0002-0.0003 price range until 2017. Yet consumers purchased coins for personal payments, and the capitalization of the altcoin rose steadily. Then the value of the coin increased dramatically to $0.003 in the spring of 2017 and further continued to vary.  Surprisingly, DOGE surged to $0.007 at the end of 2017.
2018
Many altcoins started to decline in price already at the beginning of 2018, as several Southeast Asian countries began tightening state regulation on the cryptocurrency sector. Dogecoin was no different, but it recovered quickly to hit $0.017 and the price became steady. Later the price declined to $0.002 during April. The price slightly recovered to $0.006 by September. DOGE dropped again to $0.002 to end the year 2018.
2019
The altcoin though traded sideways in 2019 for much of the year. A little bit of surge escorted the market price up to around $0.004 around July, but later lost much of these returns by the end of the third quarter. Dogecoin was back tethering at $0.003 in late 2019. At the end of December 2019, Dogecoin was trading at $0.0020.
2020
Dogecoin continued its trade at $0.002 during the start of January. With a steady improvement, the price managed to reach $0.003 by mid of February and further declined to $0.0015 by mid-March. With certain price variations, Dogecoin hit $0.004 by July. DOGE started an upward trajectory as the expansion of Bitcoin's price rally in November and carried on the trade at $0.003. Dogecoin ended the year 2020 at $0.004.
FAQ
Is Dogecoin a good investment?
Yes, Dogecoin might definitely be a good investment, if you are looking to invest for a long-term.Will DOGE Price ever reach $1?
Some analysts believe that Dogecoin is on a bull run and could hit $1 by the end of 2021. Now that more people are seeing the potential in the currency, more will be inclined to purchase, which in turn means a run to $1 is imminent.Where to trade Dogecoin?
Dogecoin can be traded on exchanges like Binance, OKEx, HitBTC, Thodex, VCC Exchange and many more.Is Dogecoin worth buying in 2021?
Dogecoin has the potential to be a lucrative short-term investment.Will Dogecoin DOGE Price Increase?
Dogecoin (DOGE) Price fluctuations depend on the fundamental analysis, technical analysis charts, and expert price predictions and forecasts. However, nothing is certain in the cryptocurrency space.Is dogecoin dead?
Dogecoin is not dead right now, the peaks and troughs are normal in the cryptocurrency industry, but it seems that crypto traders have moved on to the many Dogecoin imitators that have flooded the market in recent weeks.
Ethereum and Dogecoin Primed for Breakouts As Crypto Markets Gear Up for Bullish December, According to Analyst Justin Bennett
Crypto analyst Justin Bennett says that December could bring rallies to the digital asset markets, with Ethereum (ETH) and Dogecoin (DOGE) potentially at the forefront.
The analyst tells his 91,000 Twitter followers that the dollar index (DXY), which compares the USD to a basket of other fiat currencies, is flashing a bullish signal for the crypto markets.
A weaker DXY often signals higher prices for many assets. Bennett notes that DXY may have just had a failed breakout, and could now be facing downward momentum.
"DXY looks good for a crypto rally heading into December.
Friday's close back inside this channel indicates weakness. Now for a close below 95.80.
Let's see."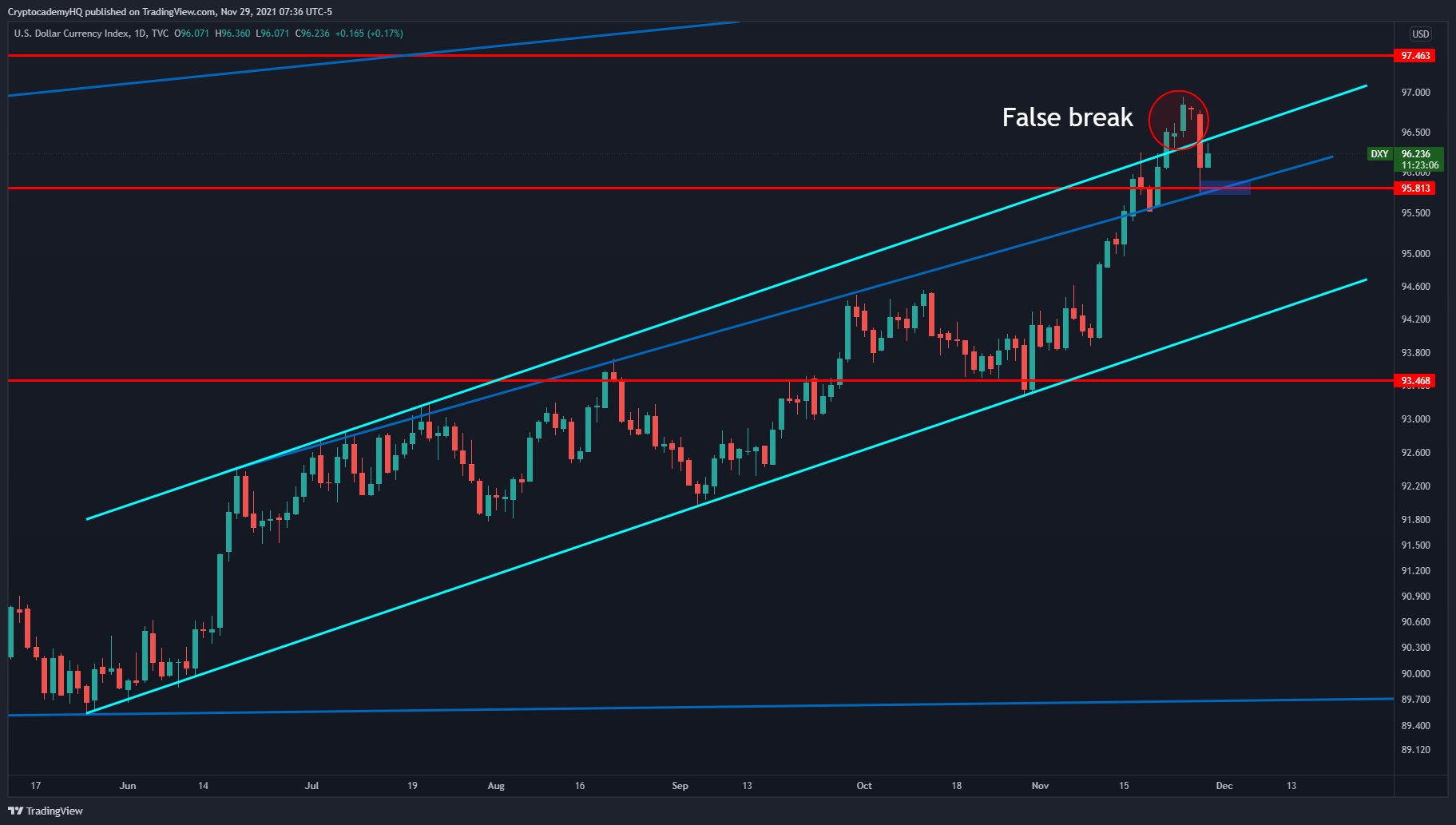 Bennett also has his eye on the chart for the total market cap of crypto (TOTAL). According to him, TOTAL is nearing the end of a large bullish descending wedge. He also notes a divergence between the rising relative strength index (RSI) and the downward price movement. A rising RSI during a downtrend is often interpreted as a hint of a bullish reversal.
"TOTAL falling wedge and bullish divergence developing on the intraday charts.
Something to keep an eye on."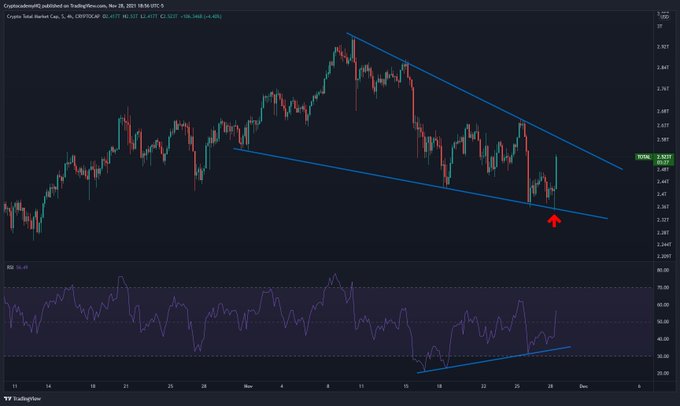 Looking at Ethereum, the analyst says that next month looks good for the world's second-largest crypto. Bennett says ETH is "poised to do well in December," and could already be jostling for a breakout, as long as it sees more volume.
"ETH approaching a breakout level.
Just add volume."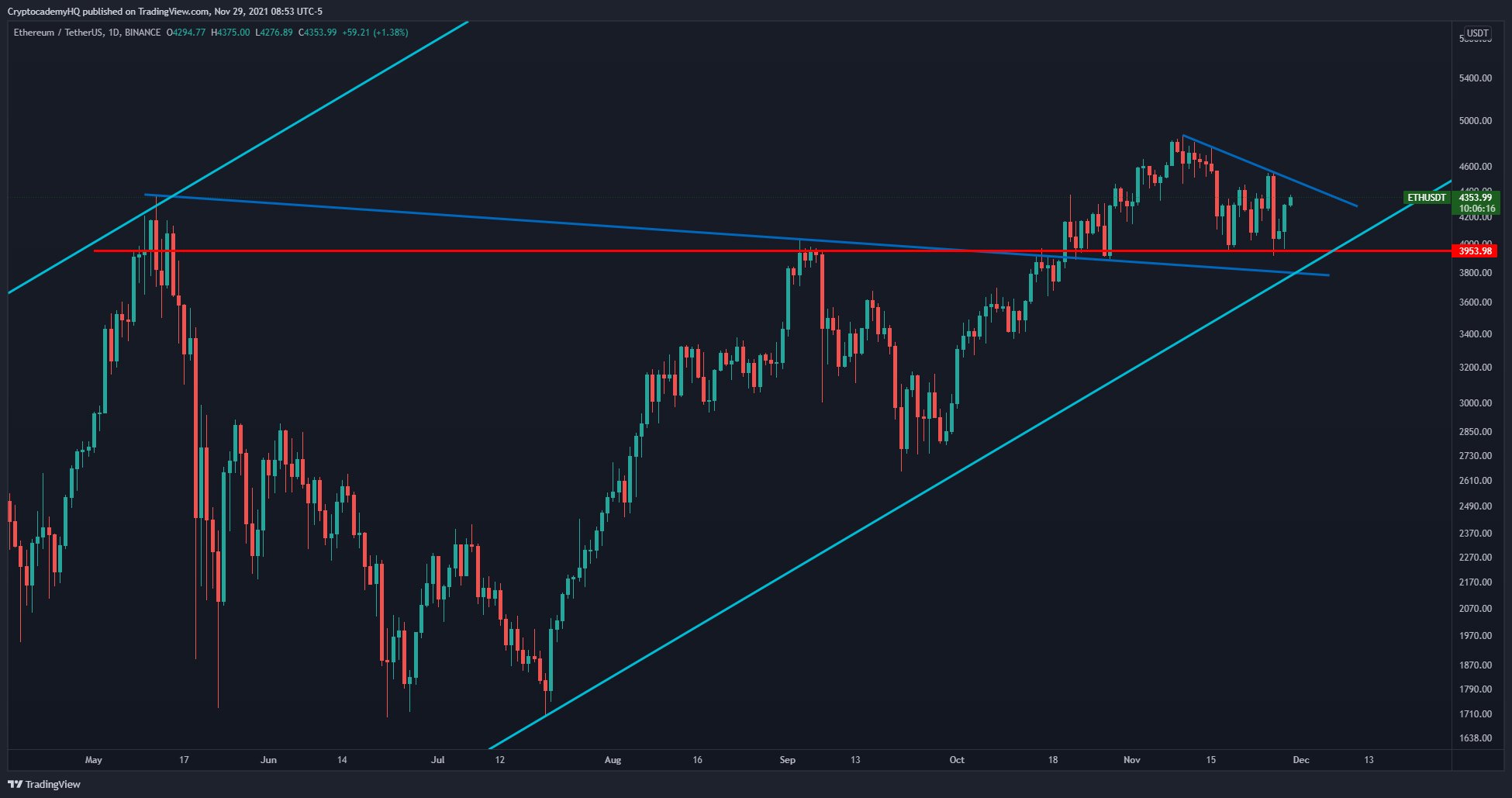 Also joining the rallies, according to Bennett, is leading memecoin Dogecoin (DOGE). He says DOGE is in the middle of a breakout, with its first key resistance at $0.25, and a final resistance level at all-time highs above $0.75.
"DOGE is breaking out."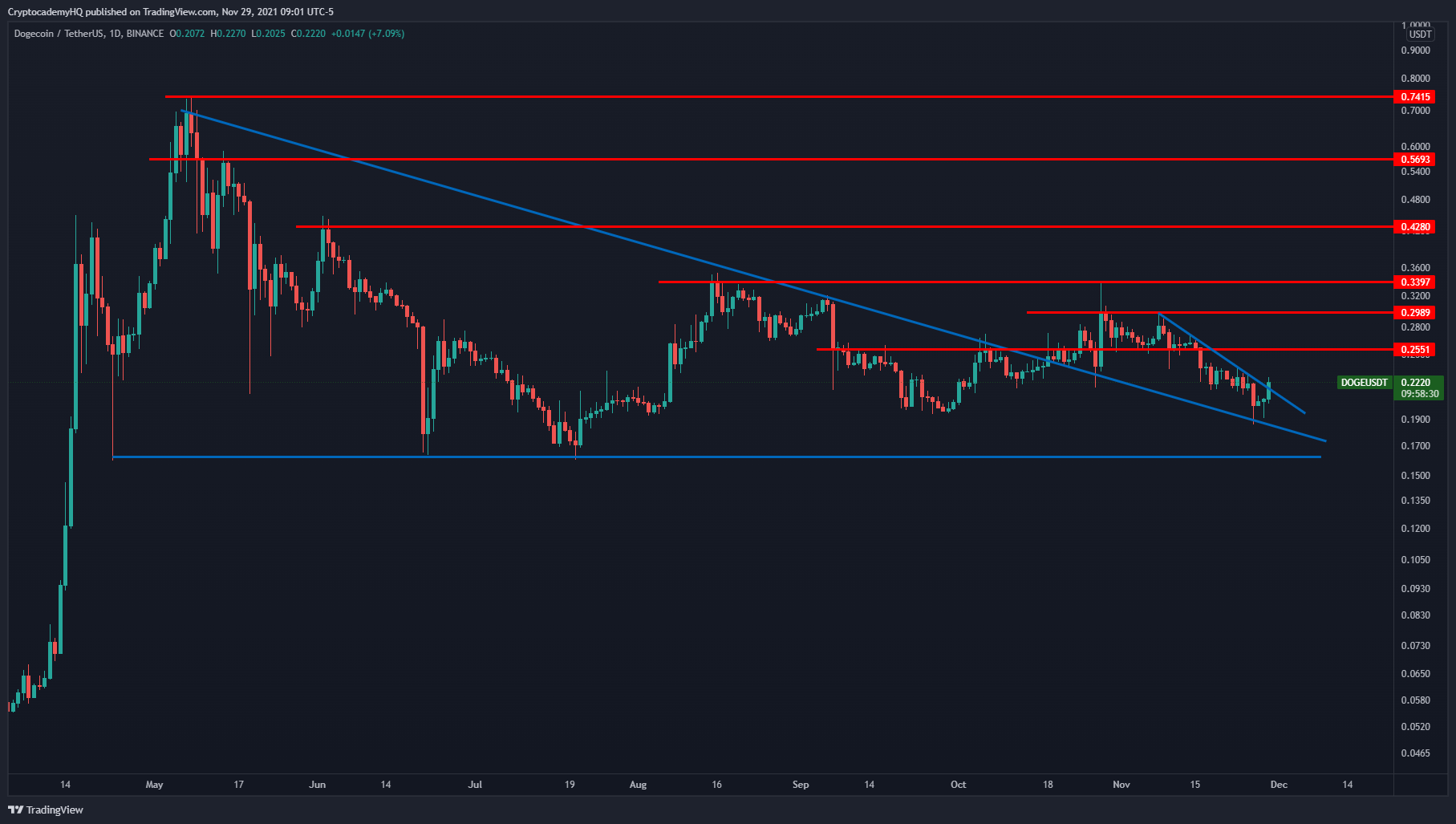 Binance Exchange Resumes Dogecoin (DOGE) Deposit and Withdrawal
Dogecoin deposit and withdrawals and now opened on Binance exchange.
All the deposits and withdrawal crises have been resolved on Binance.
Binance team just announced that they have now resumed all Dogecoin deposits and withdrawals services on their exchange. According to them, they have resolved all the disheartening network problems that occurred during their DOGE wallet upgrade with Dogecoin Core maintainers. This means that DOGE holders can now experience a new level of Dogecoin-related services from today.
After the quarrel between musk and cz, Binance announced today that all the problems have been resolved, and DOGE has resumed deposits and withdrawals. 1634 users have received duplicate transactions. https://t.co/kF73YT75Mi— Wu Blockchain (@WuBlockchain) November 29, 2021
Citing from the report, as soon as Binance exchange and Dogecoin Core maintainers resolved the problem, more than 1634 users received a duplicate DOGE transaction in their wallets.
In a separate announcement, the Binance team explained that the issue wasn't from their side and moreover, they never intended for such an unforeseen issue to occur. Additionally, the team even gave quick scenarios on some factors that could lead to this kind of issue.
Your platform had listed DOGE all the way back in 2019, at v1.14.0 2) had transactions stuck in the wallet 3) had upgraded the wallet to v1.14.2 4) and then updated to v1.14.5 — you can have an issue.
The announcement further assured users that Binance and the Dogecoin Core team will work together to diagnose, solve, and prevent similar issues from occurring in the future. Furthermore, this Dogecoin withdrawal issue caused a slight clash between Elon Musk and Binance CZ.
Dogecoin price analysis: DOGE rejected at $0.207. What's next?
The Dogecoin price analysis is bearish.
Resistance is found at $0.209.
Support is present at $0.203.
The Dogecoin price analysis is bearish today. After the 26th November flash crash and hitting November's low, DOGE recovered slowly for two days and again faced rejection at $0.207 today, which is already a quite lower price level for DOGE/USD. Overall, DOGE is on the decline from 29th October and has not been able to break out of the bearish cycle.
The broader cryptocurrency market has been bullish for the last 24 hours, along with Bitcoin and many altcoin's turning green reporting handsome profits. However, many coins are observing a reversal today, and even Bitcoin, after swinging high, has reverted back to some degree which may also turn negative in the coming hours.
DOGE/USD 1-day price chart: DOGE needs to consolidate to stop further downside
The 1-day Dogecoin price analysis shows the coin has covered a downwards range today again after recovering a little for the last two days, but the recovery was not sufficient enough to change the trend, and the coin continued downside today again. Doge has not been able to enter consolidation as the market sentiment continues to be negative. DOGE/USD is trading hands at $0.205 at the time of writing.
However, due to the positive price function for the last two days, the coin reports a 2.89 percent increase in value over the last 24 hours, the only reason being the last spike in price just four hours ago. The real picture is that the coin has lost 7.86 percent over the last week. The trading volume has also turned down by a little more than four percent.
The volatility is high for DOGE, with the Bollinger bands covering more area, the upper band is present at the $0.273 mark, and the lower band is at the $0.191 mark representing a support zone for DOGE. The mean average of the indicator at $0.232 represents the resistance zone for DOGE.
The moving average (MA) continues to trade above the price level at the $0.214 level complementing the bearish trend. The relative strength index (RSI) is also at a lower level of index 35, trading on a downwards slope indicating more selling activity in a low momentum market.
Dogecoin price analysis: Recent developments and further technical indications
The 4-hour Dogecoin price analysis shows a countable decrease in price as well. The overall trend on the 4-hour chart is also downwards, with a clear pattern of smaller steps upside followed by steep plunges on the downside; however, a high spike was observed during the last four hours of yesterday's session, which helped in marking a green candlestick on the 1-day chart as well, indicated by a longer second last green candlestick on the 4-hour chart.
The MA here is below the price level at the $0.202 mark, and the RSI is also at a better score of 45 due to the price spike observed recently but still in the lower half of the neutral zone and again trading on a downwards slope.
Dogecoin price analysis: Conclusion
The Dogecoin price analysis concludes the DOGE has followed Bitcoin's pattern pretty basically. If Bitcoin tanks which is already on a decline since 9th November, then all crypto follows. DOGE has spiked high whenever Bitcoin breakouts to ATH, as is obvious from May, June, and then from October bull run of DOGE, so if Bitcoin continues downside towards $48k range, then we see DOGE test $0.170 range. For intraday trading, the coin is expected to continue downside for the next 20 hours.