Ethereum's Triple Halving is happening as circulating supply plunges
Downtrend in Ethereum reserves across exchanges continues, supply shock is brewing in ETH.
Active addresses holding ETH for less than 30 days are rising.
Social volume is on the decline, analysts conclude that it is conducive for a bullish breakout in the short term.
Visa revealed the concept of Universal Payment Channel through a layer-2 network powered by Ethereum. As "The Merge" draws closer, Ethereum reserves across exchanges are dropping. A brewing supply shock is likely to trigger a bull run, pushing the altcoin closer to "Triple Halving."
Ethereum price crosses $3,000 again on path to Triple Halving
Ethereum reserves across exchanges have plunged consistently over the past few months. With declining reserves, analysts predict a brewing supply shock in Ethereum. Historically, a drop in the circulating supply of a cryptocurrency is associated with a spike in its price.
Regardless of the altcoin's price action, its supply on exchanges has taken sharp dips since mid-September 2021. It has hit the lowest level in the past six months, based on data from crypto market intelligence platform Santiment.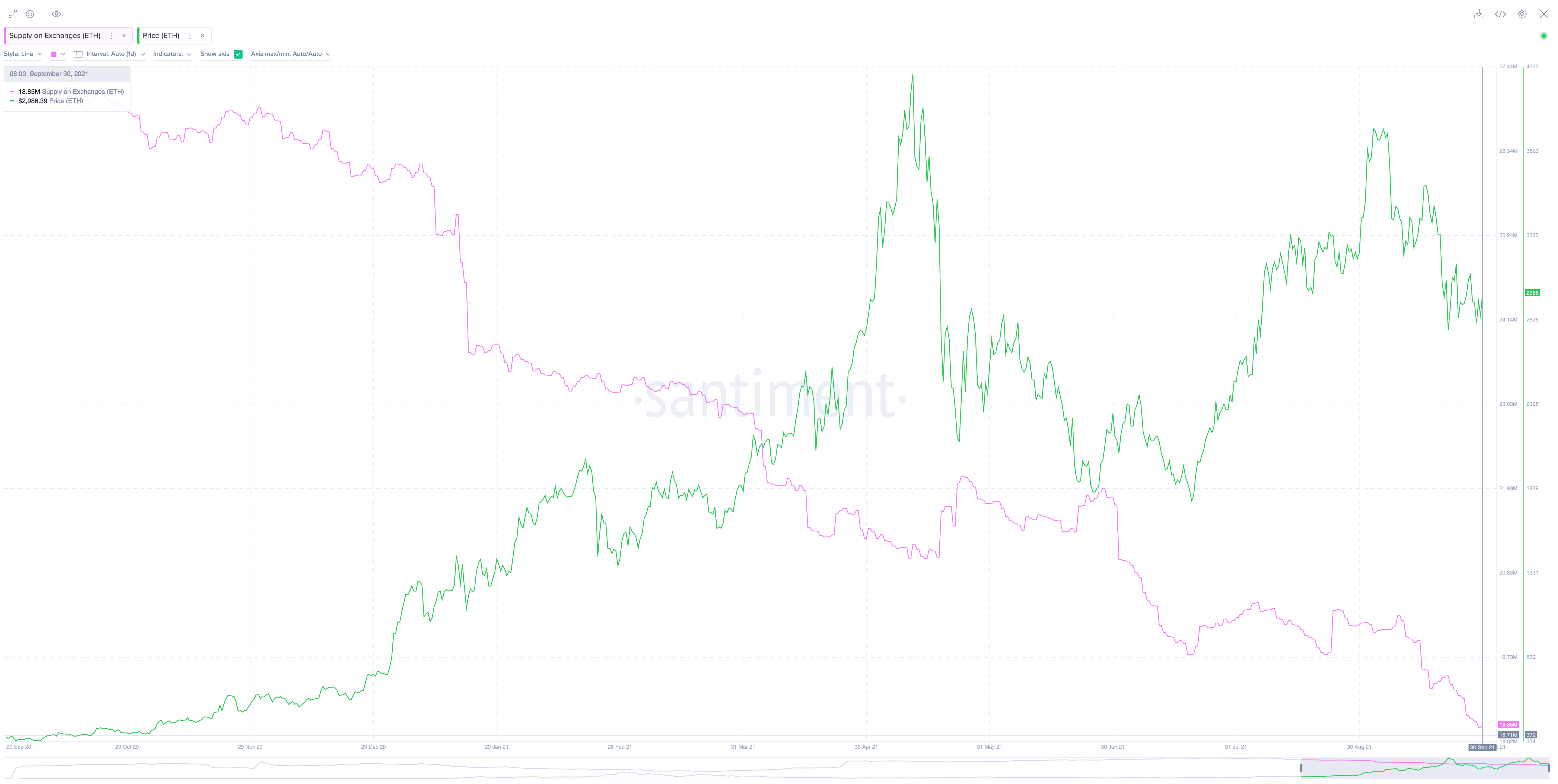 Ethereum supply on exchanges.
Ben Armstrong, Youtuber and creator of BitBoyCrypto.com, recently commented on the dropping supply of ETH,
1/3 of #Ethereum in supply has been moved off exchanges in the past year. Institutional investors pile into $ETH futures.

I don't know what to tell y'all, but this is all bullish sentiment and fundamentals for this bull run. #Bullish – Let get it 🤜💥🤛 pic.twitter.com/1PuMmNhTEm— Ben Armstrong (@Bitboy_Crypto) September 30, 2021
A downtrend in supply further indicates that market participants are accumulating Ethereum and holding. The wallet addresses holding Ethereum for less than 30 days are on an uptrend. Since July 2021, there has been a 43% spike in wallet addresses holding Ethereum for less than a month.
Currently, there are 3.87 million wallet addresses holding 19.44 million Ether based on data from blockchain intelligence platform IntoTheBlock.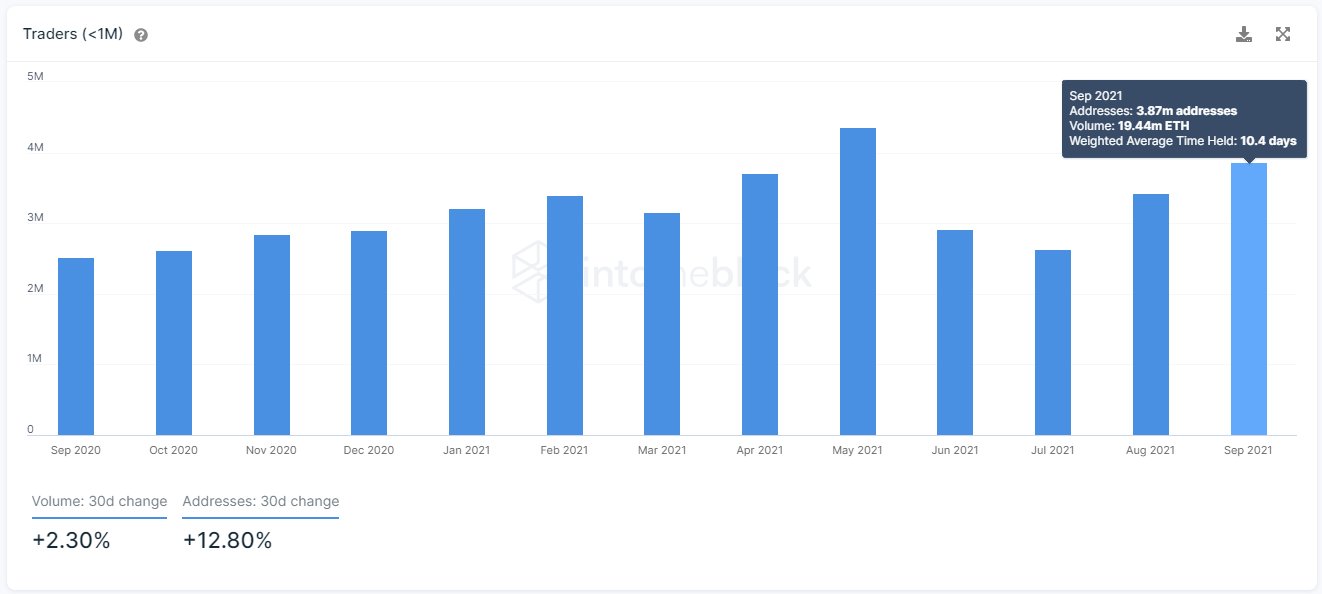 ETH supply held by 3.87 million wallet addresses.

Another key factor for the altcoin's rally is its social volume.
Social volume, or the mention of the coin on social media channels, is declining for Ethereum. This metric is considered as an indicator of traders' interest in the cryptocurrency. An uptick in interest is followed by a drop in price, based on historic trends.
In the case of Ethereum, the social volume has dropped, this makes it conducive for a price rally.
Since the last week of July 2021, ETH social volume has waned and capital rotation into L1s took center stage. As we get closer to ETH2, or "The Merge," when transition from proof-of-work (PoW) to proof-of-stake (PoS) is taking place, proponents expect a spike in social volume.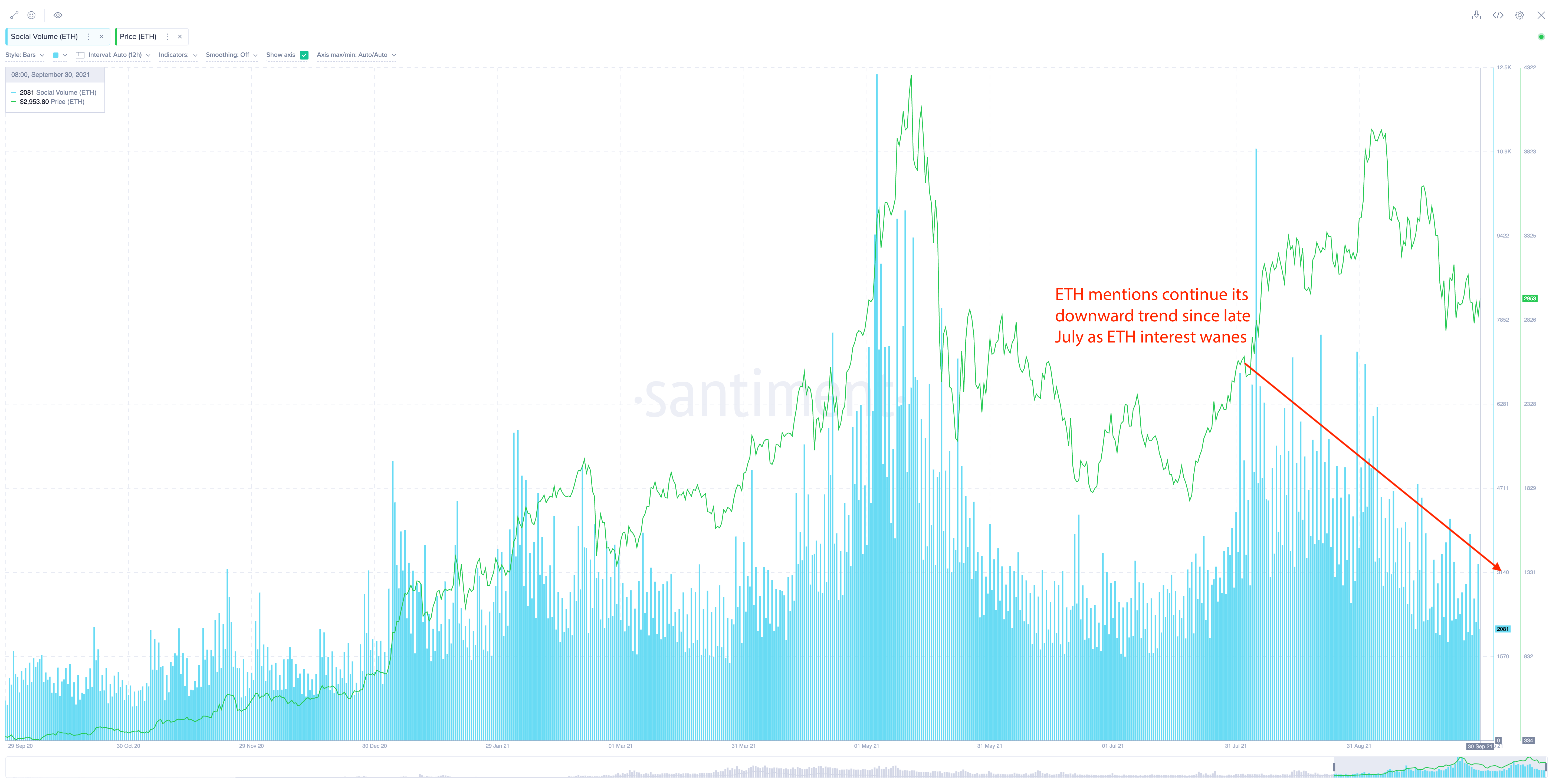 Ethereum social volume since September 2020.
Payment giants and financial institutions worldwide are accepting the Ethereum network as a base layer to build innovative concepts in DeFi and traditional finance.
Visa's concept of "Universal Payment Channel" that enables payments through Central Bank Digital Currencies (CBDC) on different blockchains relies on Ethereum. The concept will be developed as a layer-2 solution on the Ethereum blockchain.
Nikhil Shamapant, the analyst behind Ethereum's "Triple Halving" narrative, acknowledged the bullish developments in the altcoin's ecosystem. Shamapant tweeted through his investing handle on Twitter, @SquishChaos:
If @Visa is building on $ETH … how long can @Mastercard afford not too?

If @TikTokInvestors is building on $ETH … how long can @instagram afford not too?

If we are building on $ETH, how long can they afford not too?— Squish (@SquishChaos) October 1, 2021
FXStreet analysts have evaluated Ethereum's price trend. Analysts have predicted that the altcoin will rally to a $3,200 target with a probability of 61.8%. 
Rich Dad Poor Dad Author Issues Dire Warning on Inflation, Says He's Buying Bitcoin, Ethereum and Two Additional Assets
Rich Dad Poor Dad author Robert Kiyosaki is concerned that working-class Americans will be wiped out by rising inflation unless they invest in several key assets.
In a YouTube video on The Rich Dad Channel, the widely known author says that true capitalism has been abandoned, and the government instead intervenes on behalf of banks.
"The reason they're talking about inflation or deflation is because, way back when, in the 70s, a true capitalist would let a business fail. According to [Austrian political economist Joseph] Schumpeter, capitalism destroys inefficient companies.
If you look at one example, not too long ago there was Blockbuster Video. Then Netflix came along and they're toast. They're just gone. A true capitalist wipes out the inefficient or the obsolete.
But for the last so many years, since 1907 really, they've been saving the banks. The banks are so corrupt, and the reason the Federal Reserve had to come in was to protect the rich bankers.
And what they did was, back in 2008 there was quantitative easing, which is a very complex subject, but basically the Fed just prints money and gives it to banks to prevent them from failing. That's not capitalism, that's Marxism. That's socialism, that's communism. It's called central banks."
Kiyosaki warns that unlimited money printing as part of official government policy will eliminate the working class.
"The reason inflation is going to wipe out people is because the average person is a consumer. Everybody talks about, 'T-bone steak [costs] this now, and gasoline's this and toilet paper is that.'
That's because… Everything's to protect the bankers. And that's why I feel for the working-class people. I think it's criminal that our school system is part of Marxism. There's no financial education in the schools and it's not a mistake.
To the people who are complaining about inflation, just know it's because the Federal Reserve Bank, the U.S. Treasury… they're as corrupt as they come."
The author tells his 1.8 million followers on Twitter that the recent 25% price increase at discount retail chain Dollar General is a bellwether event signaling that investors should protect themselves by picking up some cryptos like Bitcoin (BTC) and Ethereum (ETH), as well as gold and silver.
"Dollar Tree becomes $1.25 Tree. Inflation is a tax on the poor and middle class. Inflation makes the rich richer.
Get smart. Get richer. I am buying more gold, silver, Bitcoin, Ethereum, rental real estate, and oil. What are you buying?"
CNN Business reported this week that Dollar Tree cited rising inflation and the ongoing supply chain crisis as reasons why it planned to permanently abandon its longstanding $1 price point on all products.
At time of writing, Bitcoin is valued at $55,190, Ethereum is exchanging hands for $4,367, gold is going for $1,781, and silver is worth $22.44. Kiyosaki also issued a warning in September that a major stock market crash would occur in October of this year.
Ethereum is a better store of value than Bitcoin, academic research shows
Recent research conducted by four Australian researchers concludes that Ethereum is a better store of value than Bitcoin.
"Ethereum provides better inflationary hedging properties than Bitcoin, and Ether may therefore offer superior long-term value storage than Bitcoin, " said the report.
---
Ethereum, the second-largest crypto by market cap, has been tipped by several experts including billionaire investor Mark Cuban, as second to none in terms of utility. Its smart contract has been used to power several blockchain-based projects like Decentralized Finance (DeFi), and Non-Fungible Tokens (NFTs). But in terms of a store of value, there has been a divided opinion among experts as Bitcoin is largely viewed as a better alternative to Ethereum and other cryptocurrencies.
Recent research conducted by four Australian researchers concludes that Ethereum is a better store of value than Bitcoin. According to the research paper, the recent EIP-1559 upgrade in August has been the reason for this conclusion. The EIP-1559 upgrade saw over one million ETH out of the 118,583,580 circulating supply burnt, and a portion of its transaction fees burnt as well.
The report stated: 
Annualizing the rate of Ethereum creation since EIP-1559, the expected increase in the total Ethereum supply is only 0.98%, being less than half the 1.99% increase in Bitcoin supply which is almost certain in the same period.
Roughly 50 percent of the transaction fees of the 12,000 newly minted ETH per day were burnt according to the report. It was further stated that more ETH will be burnt as its robust ecosystem of decentralized finance sees increased demand.
If Bitcoin is "sound money", Ethereum is " Ultra-sound money"
The rampant money printing linked to the COVID-19 pandemic has recently led to higher inflation rising to 6.2 percent in the US by October. Bitcoin has during this period seen higher interest among institutional investors as it is believed to be a perfect hedge against inflation. However, the research states that ETH has a better store of value, and institutions are beginning to choose digital asset for this purpose.
Ethereum provides better inflationary hedging properties than Bitcoin, and Ether may therefore offer a superior long-term value storage than Bitcoin.
According to Shark Tank investor and now an ambassador for FTX exchange Kevin O'Leary, if Bitcoin is considered as a "Sound Money", then Ethereum is "UltraSound Money".
If Bitcoin is sound money because of the 21 million coin supply ceiling, Ethereum enjoys the same benefit now. It's ultra sound money because there's no supply floor […]. Ethereum will be thought of like a traditional business and can be analyzed like one, sort of like using a cash flow model
Nikhil Shamapant, an independent ETH analyst, trader and medical doctor from New York City. He believes that ETH will be inflationary as it will spend most of its movement in the medium term in the inflationary environment. 
Ethereum Breaks New Record Amid 13% Rally, Options OI Reaches $7 Billion
Ethereum breaks another market prior to end-of-year rally
Ethereum options hit a new all-time high as Ethereum continues to move in the local bullish rally started at the end of November, Wu Blockchain reports.
Contracts open interest spikes
Ethereum options currently remain at the historical peak in open interest that is currently staying at $7 billion. On Dec. 31, almost 700,000 options are going to be delivered with a "bullish" Put/Call ratio of 0.47. The approximate max pain price is $2,500 for the currently open Ethereum contract with expiry on Dec. 31.
ETH option holdings are at a historical peak. The largest option delivery date this month is December 31. 689,653 options for delivery, with 469,486 calls and 220,167 puts, and the Put/Call ratio is 0.47. The number of call options with an exercise price of $5000 is the largest. pic.twitter.com/xUaG3aMmBw— Wu Blockchain (@WuBlockchain) December 3, 2021
Increased options open interest closer to the end of the year is not something new for Ethereum. Ethereum open interest usually spikes near the end of the year as volatility on the cryptocurrency market increases and traders tend to hedge their positions.
What does high open interest tell traders?
Usually, options are utilized as a reflection of current market conditions. Since Ethereum is moving in both short and long-term bullish trends, call (buy) options are prevailing on the market with the majority of traders betting on the asset's price spike to $5,000.
But while some traders may use options for speculative trading, others utilize them for hedging their positions. By opening put options on values like $4,300, traders hedge their positions in cases of unexpected market volatility.
Ethereum's previous ATH currently remains at $4,880, and more analysts are expecting the second-largest cryptocurrency on the market to reach the long-awaited milestone by the end of the year when most altcoins have historically reached new highs.