Uniswap Price Prediction: UNI bulls saddle up for 20% ascent
Uniswap price is traversing a downward sloping parallel channel, suggesting a bullish breakout soon.
A decisive close above the upper trend line of the technical formation at $25.24 will confirm the start of an uptrend.
If UNI fails to hold above $17.99, it will invalidate the bullish thesis.
Uniswap price has been on a massive downtrend since September 2 but shows signs of making a U-turn as it approaches an inflection point. However, UNI needs to overcome this critical hurdle to manifest the 20% run-up.
Uniswap price ready for a move higher
Uniswap price set up three distinctive lower highs and lower lows since August 17. When these peaks are connected using trend lines, it reveals the formation of a descending parallel channel.
Coupling the overall bullish structure of the market and the technical formation's breakout characteristics, which is also optimistic, investors can expect UNI to trend higher.
Therefore, it is crucial for Uniswap price to produce a convincing close above the $25.24 resistance barrier. Doing so will give UNI a free pass to ride the bullish wave and tag the $29.43 hurdle. This move marks a 20% ascent from the current position. 
However, clearing this blockade could push Uniswap price to make a run at the next resistance level at $33.34, constituting a 38% advance.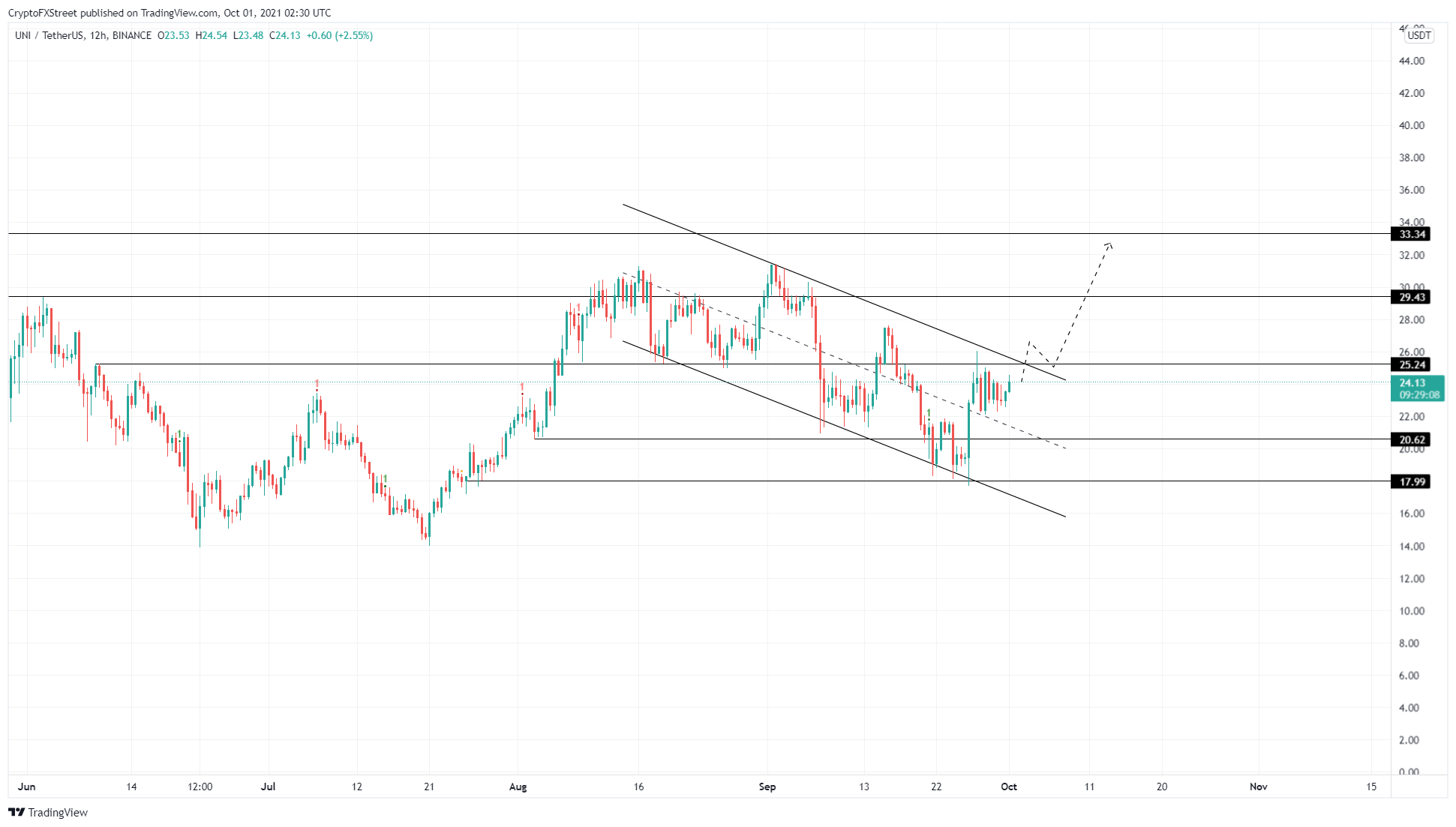 UNI/USDT 12-hour chart
On the other hand, Uniswap price might get rejected at $25.24, leading to a downswing toward the immediate support floor at $20.62. A breakdown of this barrier will indicate that the upswing scenario is unlikely to manifest.
However, as a confirmation, market participants can wait for UNI to slice through the $17.99 demand level, which will serve as an invalidation of the bullish thesis.
Analyzing what exactly is the state of Uniswap's investors
Uniswap [UNI], despite being a top-20 cryptocurrency, has been going on without an entire cohort of investors in its bag. However, even though investors managed to turn that around, the altcoin has been relentless and investors are losing patience due to UNI's ongoing price action.
Uniswap going down?
Uniswap is one of the biggest DEXs on Ethereum and in the market. And yet, its performance week-on-week has made investors concerned about their investments.
According to a Crypto.com report, Uniswap was the worst-performing DEX over the previous week with almost 24.36% of its market cap and 14% of its average weekly volumes observing a depreciation.
While the month of October wasn't as harmful thanks to its consolidation, all of that safety was stripped away after UNI finally fell through the $23-support level. At the time of writing, it was looking at the critical support of $18.9.
On the other hand, thanks to the ongoing market movement, volatility has fallen to its all-time low. This could prove to be essential for a sustainable recovery on the charts.
50% of Uniswap Liquidity Providers Are Losing Money Compared to HODLers: Survey
A new report on liquidity providers shows that half of the users providing liquidity on Uniswap V3 are losing money compared to HODLers. 
The belief that all liquidity providers (LPs) make lucrative gains for depositing funds across various decentralized protocols like Uniswap and Compound, among others, has been refuted by a new study conducted by Topaze Blue and decentralized liquidity platform Bancor.
Liquidity Providers Make Losses
According to the survey shared with CryptoPotato, nearly half of the users providing liquidity on Uniswap V3 always end up losing money as against making gains from just holding the crypto assets.
This is as a result of the impermanent losses (IL) incurred on trading fees across various pools, the report added.
The study focused on activities on Uniswap V3, an Ethereum-based DeFi protocol, between May 5, 2021, and September 20, 2021.
During the study, over 17,000 wallets belonging to liquidity providers on the platform were analyzed. Furthermore, a total of 17 pools, including MATIC/ETH, COMP/ETH, and USDC/ETH, were also observed in the study.
Impermanent Losses Surpasses Trading Fees
Of the $108.5 billion trading volume recorded across these pools, trading fees accounted for $199 million. While this could have been major gains for LPs, impermanent losses wiped out fee income in more than 80% of the pools, with $260 million incurred in IL alone.
Based on this, users were left with a net loss of over $60 million, while 49.5% of liquidity providers had to settle for a loss.
The report noted that for every $100 worth of fees, users suffered an impermanent loss of $180, representing a net loss of $80.
Per the study, the pools that saw the major impermanent losses are MATIC/ETH (51%), COMP/ETH (59%), USDC/ETH (62%), COMP/ETH (59%), and MKR/ETH (74%).
"Our core finding is that overall, and for almost all analyzed pools, impermanent loss surpasses the fees earned during this period," the report noted.
All Trading Styles Affected
The study also examined whether some LPs made more profit than others in terms of their trading style.
For this segment, the researchers made comparisons between active users, traders who adjust their positions more frequently, and passive users, and traders who prefer to hold their assets for a long term.
However, there was no statistical evidence that active traders made more gains than their passive counterparts, as IL surged more than the fees in all categories.
Interestingly, the only group of users who made more gains were just-in-time (JIT) traders, who benefitted from providing liquidity for a single block and quickly removing their deposits before impermanent losses set in.
Uniswap Price Analysis: UNI returns above $25, further recovery to follow?
Uniswap price analysis is bullish today.
UNI/USD set a higher low at $24.5 over the weekend.
Uniswap currently tests the $26 mark.
Uniswap price analysis is bullish today as we saw a strong recovery after a spike lower to $24.5 over the weekend. Therefore, we expect UNI/USD to continue higher with the next major resistance at $27.5
The overall market traded with bullish momentum over the last 24 hours. Bitcoin gained 6.43 percent, while Ethereum 2.68 percent. Meanwhile, Avalanche (AVAX) is among the top performers from the major altcoins, with a gain of 9 percent.
Uniswap price movement in the last 24 hours: Uniswap returns above $25, prepares to move higher
UNI/USD traded in a range of $25.15 – $26.03, indicating mild volatility over the last 24 hours. Trading volume has increased by 29.48 percent and totals $237 million, while the total market cap trades around 16.24 billion, ranking the coin in 14th place overall.
UNI/USD 4-hour chart: UNI set to move higher?
On the 4-hour chart, we can see the Uniswap price action testing the $26 mark as bullish momentum has resumed today.
Uniswap price action saw bearish momentum return by the end of October. After several tests of the $27.5 mark during the second half of last month, a slightly higher high was set at $28.4 before a strong spike lower followed on the 27th of October.
Last week, UNI/USD started to recover, reaching the $27.5 mark again on the 4th of November. Another strong retracement followed over several days, leading UNI to spike to $24.5.
Uniswap started to recover over the weekend, returning above $25 previous support. Overnight, a slight upsurge took UNI/USD back below $26, with further upside likely to be seen over the next 24 hours after a brief pause.
Uniswap Price Analysis: Conclusion
Uniswap price analysis is bullish today as a higher low was set at $24.5 over the weekend, with further upside following over the last 24 hours. Therefore, we are bullish for UNI/USD as more eupside should follow later today.
While waiting for Uniswap to move further, read our guides on NFT tokens, Gemini Exchange Review, and Sunacrip.