Huobi China Exit Plan: Here's When the Crypto Exchange Would Shut its Door

Huobi, one of the largest crypto exchanges serving Chinese customers has decided to shut its door on mainland China customers after the recent crackdown guidelines from the People's Bank of China. The latest crypto ban guidelines prohibit foreign crypto exchanges from offering any services in the country and also threatened local firms from offering any help to these foreign crypto platforms.
Huobi announced it would shut all spot trading services by December 15 while all deposit functions will be disabled by December 14. The CNY deposits will be shut down by December 31st. This makes Huobi the first major crypto exchange to eliminate the Chinese user base.
The Chinese Central Bank last week issued a new set of crypto crackdown guidelines which many called the sternest one till now. The new guidelines instructed authorities to shut all existing crypto mining operations. It also deemed all crypto-related transactions illegal.
Will Other Crypto Exchanges Follow Huobi's Lead?
Most of the foreign crypto exchanges serving the Chinese customers started disabling new customer registration including OKEx, Huobi, and Binance. However, none of these crypto exchanges have announced a complete shutdown like Huobi.
During the May-June crackdown phase, most of the foreign exchanges disabled their crypto derivatives offerings in the market owing to the regulatory crackdown. However, this time around even though it's the 19th time that the Chinese government has banned crypto, market insiders beleive this time around it's different because the ban originated from the current power crisis in China.
The crypto market unlike May-June was not impacted by the crypto ban and only registered a correction of about 5% and has bounced back in double digits with the start of October. The impact of the Chinese ban on the crypto market is slowly gaining and the crypto market has become more resistant to such market FUDs.
Huobi Global Is Giving 500M SHIB as Trading Reward
Huobi Global is doing a 500 million SHIB trading promotion.
Trading promotion starts on October 11, 10:00 (UTC) to October 16, 10:00 (UTC).
Everyone needs to pass the trading rules mechanics to be qualified for the event.
Shiba Inu has had a massive price surge in the past weeks and that has made it attract much attention in the crypto space. Amid this price sensation, Huobi Global has disclosed that it is offering 500 million SHIB as a trading reward for traders. Timely, the promo period ends on October 16, 10:00 (UTC).
🤩Trade to win 500 Million $SHIB!👇— Huobi (@HuobiGlobal) October 12, 2021
Moreover, the trading event has two phases which are trade to win and also a lucky draw. To take part, traders are obliged to meet the qualifications before joining. Otherwise, joining the event becomes impossible.
Also, the user needs to fill the registration form before they will be eligible to participate in trading. To clarify, there are five rounds in total, with 50 million SHIB each round. These trading perks will only last for 24-hours.
Notably, a user with a minimum spot trading volume of 500 USDT of any tokens in a single round will be eligible for a share of 50 million SHIB.
On Huobi Futures, anyone who hit Futures trading volume of 10,000USDT can win a 100 million SHIB prize pool.
The instructions to anticipate the event are:
Follow the Huobi Global page.
Share the link on Twitter and tag your friends.
Hit the minimum spot trading volume of 500 USDT or Futures trading volume of 10,000 USDT of any token in a single round.
Meanwhile, the lucky draw has a total of 150 million SHIB rewards. Above all, about ten lucky winners will be drawn every round to win 3 million SHIB each in addition to the qualified ones.
Ripple Shifts Whopping 101 Million XRP, Sending Part to Huobi Platform
Ripple DLT company shifts 101 million XRP to its alternative wallets and moves part of it to Huobi in regular daily transactions
Blockchain Twitter bot Whale Alert, which regularly publishes data on recent large crypto transactions, has announced that the San Francisco fintech service provider Ripple has made several transfers to move a whopping 101 million XRP.
One-fifth of this amount has been sent to Huobi trading giant over the past 10 days.
83.5 million XRP transferred by Ripple
The aforementioned blockchain tracker reported that, over the past 14 hours, Ripple distributed ledger tech provider made three transactions, carrying 50,000,000, 20,000,000 and 13,500,000 XRP tokens. The transfers were made to its alternative wallets: RL18-VN and RL43-EE.
The former is often used by the company for pushing XRP beyond Ripple – to crypto exchanges and financial institutions that are on the RippleNet network or have partnered with Ripple.
The total amount of XRP transferred constitutes $90,276,470 in fiat.
A day earlier, as reported by U.Today, crypto whales and major exchanges—Binance, Bittrex—transferred a similar amount of crypto, 98.4 million XRP ($106,517,732).
Ripple sends 17.5 million to Huobi
XRP analytics website Bithomp shows that, over the past 10 days, Ripple has sent more XRP to the Huobi exchange, which is leaving the Chinese market at the moment, dropping all of its current users in mainland China.
According to the data provided, since Sept. 29, the company has shifted 17.5 million XRP to this popular global crypto exchange. Today, Ripple is expected to move another lump of XRP to it as well.
Since Sept. 29, when Ripple allocated an astounding 100 million XRP to be moved to that platform, it has already made four transactions of 1,542,780 XRP each and sent six lumps of 2,309,580 XRP.
Prior to Sept. 29, the daily amount of XRP sent to Huobi by Ripple was 3,099,200 coins. The goal of these transfers has not been mentioned by Ripple Labs anywhere, so a likely reason could be to support XRP's liquidity, as CEO Brad Garlinghouse explained in a Twitter thread a couple of years ago.
Huobi's Grayscale Rival in Asia Sees 21% Surge with 5 Crypto Trusts Running
Share price of Huobi's Hong Kong company aims to become Asia's Grayscale with five crypto trusts already working for local investors
According to Chinese crypto blogger and journalist Colin Wu, a subsidiary of Huobi—Huobi Tech—sees a rise of its share price by 21% today, aiming to become the largest crypto custody company in Asia, a local rival of Grayscale.
Wu did not name the company directly, but he most likely meant Huobi Tech's Huobi Trust Hong Kong.
Huobi Tech shares soar 21%
Journalist Colin Wu has tweeted that today the share price of Huobi's Hong Kong-listed Huobi Technology Holdings Limited (Huobi Tech) grew 21%.
Huobi's Hong Kong-listed company's share price rose 21% today. It aims to become a grayscale in Asia and has already issued 5 funds. pic.twitter.com/xIQRRVRO5t— Wu Blockchain (@WuBlockchain) October 6, 2021
A press release published about two weeks ago states that the company intends to become the flagship platform for virtual asset services and was working on its crypto trust and custodian business. The services will be provided by Huobi Trust Hong Kong and Huobi Trust US.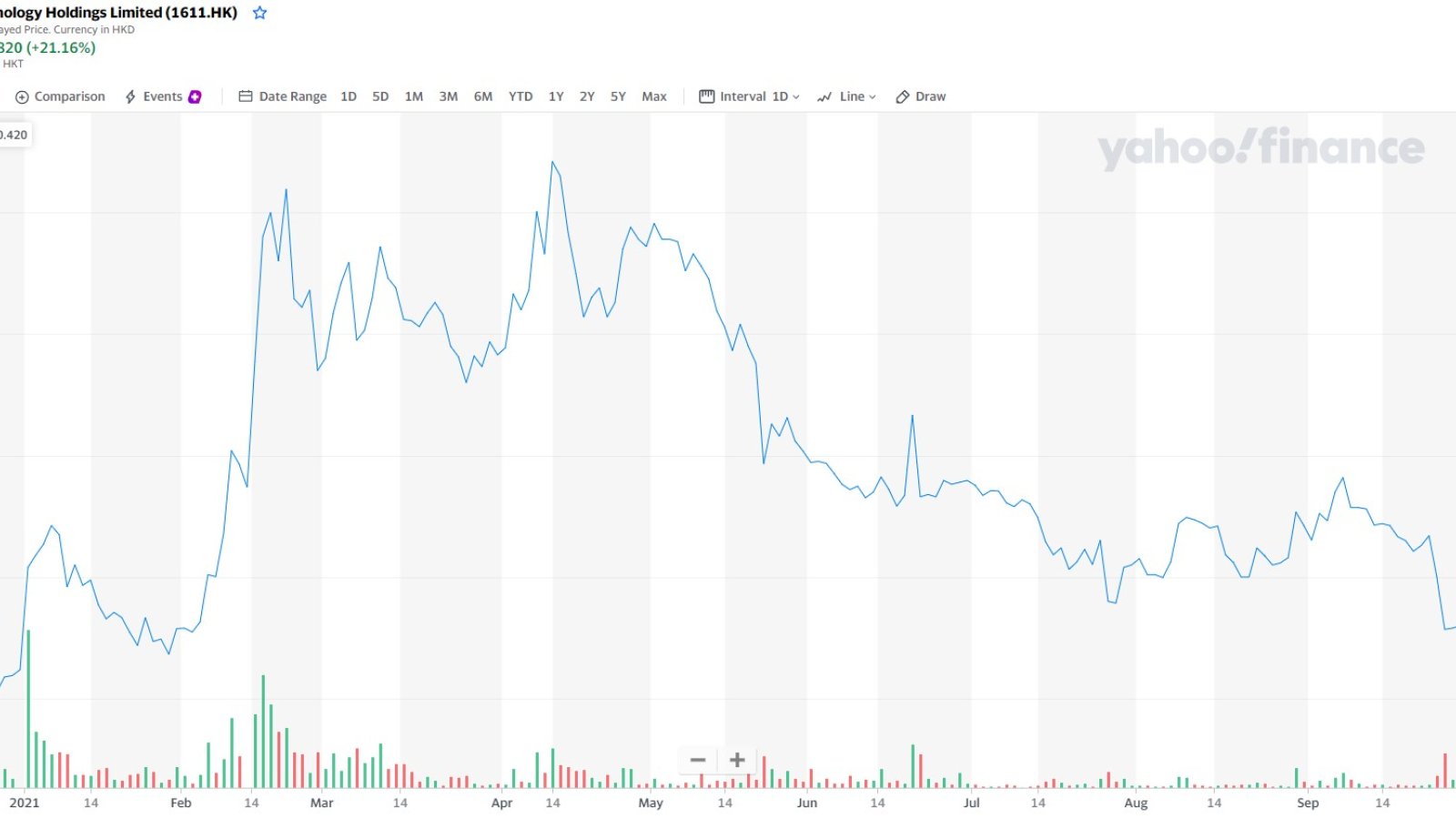 Huobi Trust Hong Kong holds over $1 billion in crypto
Huobi Trust Hong Kong will provide regulation-compliant crypto custody services to Asian investors. In late August, the company held over $1 billion in digital assets.
Huobi Trust Hong Kong was registered in HK on April 29 of this year, gaining the necessary licenses from local regulators.
Colin Wu tweeted that, by now, the company has five cryptocurrency trusts running and intends to become a Grayscale rival in Asia.
Besides, now that Huobi exchange is withdrawing from mainland China and dropping all of its customers in the region, Wu believes that its regulatory-compliant business in Hong Kong may gain more attention.
Grayscale holds $44.8 billion in crypto
According to a tweet published by Grayscale on Oct. 5, the Barry Silbert-affiliated asset management company holds a whopping $44.8 billion worth of cryptocurrencies.
The company offers investors exposure to crypto assets via 13 cryptocurrency trusts. It also runs a DeFi Fund and a Digital Large Cap Fund.
10/05/21 UPDATE: Net Assets Under Management, Holdings per Share, and Market Price per Share for our Investment Products.

Total AUM: $44.8 billion$BTC $BAT $BCH $LINK $MANA $ETH $ETC $FIL $ZEN $LTC $LPT $XLM $ZEC $UNI $AAVE $COMP $CRV $MKR $SUSHI $SNX $YFI $UMA $BNT $ADA $SOL pic.twitter.com/ja0eZp7CdD— Grayscale (@Grayscale) October 5, 2021