Meet The Graph (GRT): the "Google" of cryptocurrencies
The Graph GRT Cryptocurrency. Bitcoin coin growth chart on the exchange, chart
Known as the "cryptocurrency Google", the cryptoactive The Graph (GRT ) tries to solve several blockchain search and indexing problems.
See the video below for an introduction to GRT or/and continue on to the article to understand more deeply about the topic:
The Google of cryptocurrencies? That makes sense?
Have you ever needed to research a bitcoin or other crypto-asset transaction? So you know that it is often necessary to go to centralized sites or download hundreds of gigs in blockchain.
These solutions are problematic for companies and developers of decentralized applications for several reasons, including:
For Dapps: Centralizing data on a website can become a point of failure in decentralized applications that need complete information.
For startups: relying on a centralized solution can also be a point of failure, and storing terabytes of data is often unfeasible for startups.
Blockchains have a serious scalability issue: if all transactions are added in blocks, how costly would it be to maintain a block chain of transactions from around the world?
Although some blockchains have limits, they end up getting huge. This is the case of Ethereum, a platform that has more than 900 GB of data. Saving, validating and searching transactions can become a herculean task.
How to solve this problem? The Graph development team created an architecture for validating, indexing, and fetching blockchain data in a distributed fashion.
What is The Graph GRT?
The Graph is an infrastructure protocol for web3.0 that allows the decentralization of API calls and queries.
"Today, developers can run a graphical node on their own infrastructure, or they can build on our hosted service. On The Graph network, any Indexer can bet on Graph Tokens (GRT) to join the network and earn rewards for indexing subgraphs and fees for serving queries on those subgraphs."
Subgraphs are data categories that nodes interested in providing the data query service can keep. Subgraphs are part of the total data of a blockchain, being a subset of data.
Paying in GRT, data consumers will be able to query the subgraphs of interest using the GraphQL language via API.
How does GRT work?
The Graph uses a complex architecture to mitigate security risks and data integrity issues. This is done with an alignment of interests between different network participants.
There are 6 categories of participants:
Consumer: Consumers pay Indexers per API call. Regular users, as well as businesses and Dapps, are likely to be consumers.
Indexer: they are operators of us, they keep the data and categorize it, receiving GRT for the work.
Trustees: Trustees use $GRTs as indicators of the quality of a given subgraph. Curators are rewarded according to their ability to predict which subgraphs will be in demand.
Delegates: stake GRTs to indicate node quality and receive a percentage of fees without running a node.
Fishermen: Earn money by noticing wrong data in indexers.
Arbitrators: they are chosen by the protocol's governance process and resolve conflicts between fishermen and indexers.
To guarantee the availability of data, an Oracle was created that searches for the graphs and us, and indexers not available will not earn rewards.
Payments:
To facilitate payments from various API calls, The Graph development team is developing a layer using payment channels, technology similar to that used by Bitcoin's Lightning Network.
"Our payments layer is designed to minimize trust between the consumer and the Indexer. Payment channels are a technology that was developed for scalable, off-chain and trust-minimized payments.
It involves two parties that lock funds in chain in a deposit where the funds can only be used to exchange funds outside the chain between them until a transaction is chained to withdraw funds from the deposit."
Payments are made according to data submission conditions, so the data consumer has more security.
GRT price and savings
The Graph's economics revolve around the GRT token, which is used to pay indexers, trustees, and other stakeholders.
There will be at most a maximum total of 10 billion GRT issued, of which 4.7 billion are already in circulation. New tokens are generated at an inflation of 3% annually and 1% of fees earned from payments to indexers are burned.
Despite the healthy inflation policy, adoption of 2,300 subgraphs, 200 indexers and 400 curators, prices are falling, as shown by Coingolive data on GRT:
Where to buy GRT?
To buy and trade GRT you can access Novadax, deposit in Brazilian currency via PIX and buy the token directly.
Exchanges like Binance also offer GRT, however, on other pairs like GRT/USDT.
Brazil imported BRL 23.3 billion in cryptocurrencies this year show data from the Central Bank
Brazilians have already bought nearly R$ 23.3 billion in cryptocurrencies this year. The data was released by the Central Bank in a report on Friday (14) and the numbers were presented in dollars, totaling US$ 4.270 billion since January.
In August, the purchase value was US$ 496 million. The purchase of cryptoactives reached its peak in May, when Brazilians bought US$ 756 million.
Since then these numbers have been falling (US$695 million in June and US$583 million in July), but they are still much higher than what was seen at the beginning of the year: in February cryptoactive purchases were US$386 million and in March, $357 million.
See below the numbers (underlined in yellow) of the purchase of cryptoactives by Brazilians since January (values ​​in dollars):
one-hand flow
The BC's director of monetary policy, Bruno Serra, said on Friday (15) that Brazilian investments in cryptoactives abroad are potentially three times greater than in American shares.
The executive points out that there is a potential to reach R$ 50 billion in cryptoactives purchased by Brazilians.
But Serra, who spoke in a videoconference organized by the company Upon Global, made a reservation: "It's a one-way flow. Due to the cost of energy, Brazil does not produce cryptoactives, it is just an importer".
Cryptoactives enter BC balance sheets
In August was the first time that the Central Bank of Brazil on import and export of cryptoactives in external sector statistics.
On the occasion, BC president Roberto Campos Neto said at the time that "a great increase in demand for cryptocurrencies was taking place," when he participated in a meeting of the FGV's National Financial System (Neasf) study group.
Campos Neto said that at that time there were around US$ 40 billion (R$ 209 billion) in cryptocurrencies in the hands of Brazilian citizens.
peak in may
BC import data confirm that May was the month with the largest purchase in Brazil, with R$ 4.127 billion in cryptocurrencies entering the country (values ​​adjusted to the current dollar exchange rate).
That month, the Brazilian market broke a record by trading R$ 826 million in bitcoin in a single day.
BC's view on cryptoactives
As of August this year, the transfer of ownership of cryptoactives between residents and non-residents began to be disclosed by the BC in the balance of payments assets account.
Following a methodological recommendation from the IMF, the Central Bank understands cryptocurrencies as goods (non-financial and produced assets), in such a way that they need to be registered in external sector statistics. Because there are no customs records for cryptocurrencies such as bitcoin, they are not included in commodity statistics.
Transactions with cryptoactives are estimated based on foreign exchange contracts — a legal instrument that records the negotiation between buyer and seller of foreign currency, following the requirements of the Central Bank.
Crypto Traders Most Bullish on Polkadot, Solana, Polygon and 10 Additional Altcoins: Digital Asset Survey
A new survey unveils that crypto traders are most bullish on 13 altcoins including Polkadot, Solana and Polygon.
The Real Vision Exchange Crypto Survey is designed to track sentiment among investors by allowing participants to scan 30 tokens and choose if they want to have an overweight or underweight allocation for each one. The survey was conducted by Real Vision Bot, which was created by two independent developers and boosted by macro guru Raoul Pal.
Results from voting that happened on the first two days of this week indicate traders prefer an overweight portfolio consisting of smart contract platforms Polkadot (DOT) and Solana (SOL), as well as Ethereum-scaling solution Polygon (MATIC).
The scalable and interoperable ecosystem Cosmos (ATOM) is fourth on the list, and smart contract platforms Terra (LUNA) and Cardano (ADA) appear tied for fifth. Traders also have overweight allocations for decentralized oracle network Chainlink (LINK), Ethereum competitor Avalanche (AVAX), Ethereum-based token Enjin Coin (ENJ) and decentralized exchange Uniswap (UNI) for the sixth, seventh and eighth places, respectively.
Tied in ninth place are cross-border payment solutions Stellar (XLM) and XRP, as well as decentralized storage network (FIL).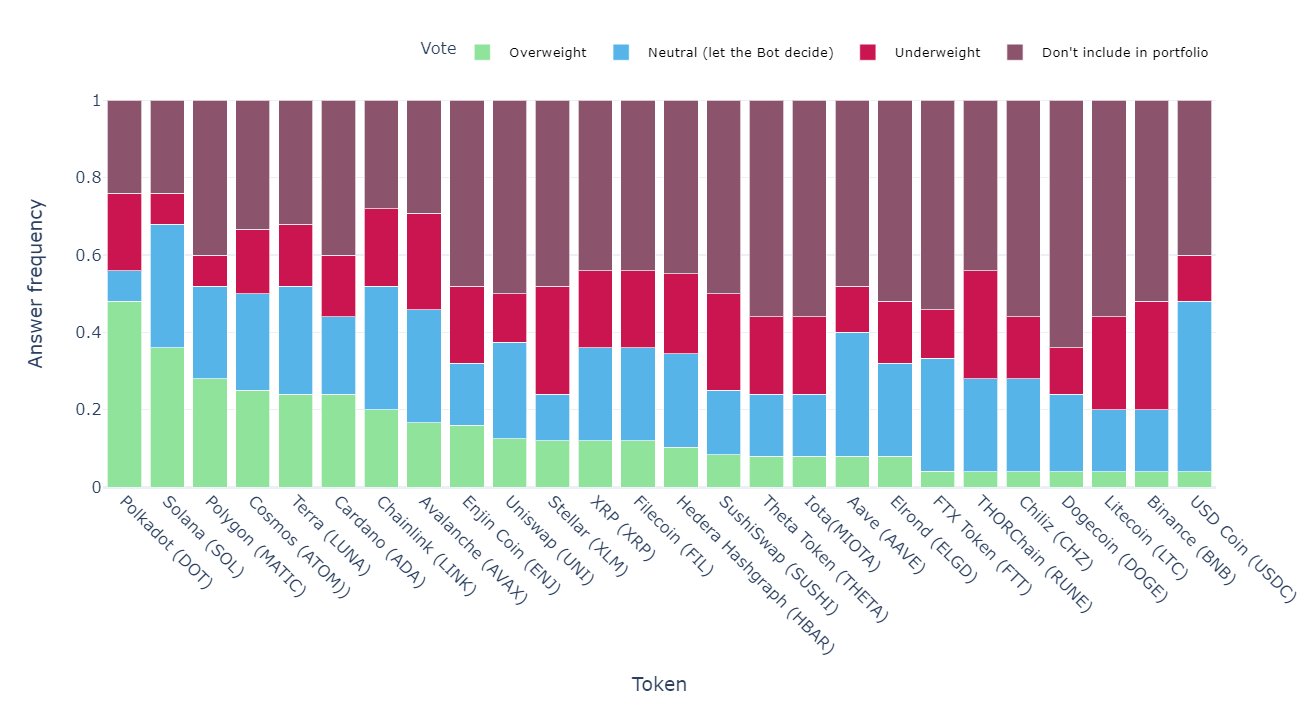 Real Vision Bot clarifies that the participants are not necessarily holding the cryptocurrencies that they voted for.
"They can of course vote according to their own positions, but also just based on their sentiment or forward looking. There are many reasons why the own book might not be 1:1 the preferred allocation."
Bitcoin (BTC) is conspicuously absent from the list. Pal highlights that the community is responsible for that absence.
"It's not us – it's the community who makes the allocation… You guys, to be exact.
Bitcast: How would Diem be affected by a Facebook downfall?
Last Wednesday (13) the 13th episode of Bitcast Lite, a Brazilian podcast about cryptocurrencies and blockhain, was aired.
In the program, the crash of Facebook's servers was addressed, which caused an interruption of the platform for 6 hours.
In this context, the presenters analyzed the controversial project Diem (formerly Libra), led by Facebook.
In addition, they debated how the lives of users of the future cryptocurrency — still without an official release date — would be affected by a server crash similar to the one that occurred on October 4th.
The podcast was presented by José Domingues da Fonseca, lawyer and cryptocurrency enthusiast, Paulo Aragão, specialist in cryptocurrencies and co-founder of CriptoFácil, and Gwin, the "good hacker" of Bitcast.
Facebook crashed. What if Libra/Diem existed?
As Aragon pointed out, if Diem were adopted globally, as was its initial proposal, a system crash would result in a collapse.
According to the expert, this would be equivalent to a Pix drop in Brazil, or worse:
"Can you imagine if a country's economy was based on the late Libra, now Diem? Nowadays, in Brazil, half of electronic transactions are already based on Pix. If Pix goes down today, it would be pandemonium. Now, imagine if it was 100% based on a kind of Pix, and it fell off?"
Thus, Aragon concluded that it is not feasible for an economy to rely on a centralized digital currency like Diem.
Also read: Bitcast: Asset tokenization in sport is crypto podcast theme
Also read: Bitcast: Celebrity scam promotion is crypto podcast theme
Also read: Bitcast: Axie Infinity and disruption in gamer world is crypto podcast theme