Solana (SOL) Community on Decentralized Indexing of alpha_im
Solana continues to build apps that scale. It is fast, censorship resistant and the blockchain that provides for global adoption.
Aleph.im provides Cloud Computing for DeFi and Web3 Simplified. This will Allow your blockchain enabled app to securely access trusted off-chain data or computation within a couple lines of code. It is Blockchain agnostic, lightning fast, low cost, trustless. It provides for use cases like DEX order book, document certification, KYC Metadata, NFT Metadata, Document Management System, Cloud Storage, Real Time dApp.
Moshe, Aleph.im lead developer & CEO. Blockchain developer and enthusiast. Python lover expressed: Totally agree with this. Solana is doing a great job at scaling high quality writes in a decentralized way. Now, on the read side, the real deal is keeping this scaling decentralized and that's what we are working on.
Let's have a look at the data: it's huge. And it keeps getting bigger every second. Yep. My best analogy to Solana indexing is trying to index the internet data. In the early days, you could. A few years later, you could too, but it is already a lot of data, that's where we are.
Now, try it today. Google does it, for the web, not for the bigger data flow: this one is a tricky problem even for nation states. And Solana stream will grow bigger. Even today you need highly centralized solutions, with big data storage using highly centralized providers.
What is our angle on it? We don't index everything. Yes, we miss some data. It's like searching for a needle in a haystack, with the good tools (a powerful magnet, an electron microscope or whatever!), you can.
And we do it in a swarm way: every protocol, every analytic has its own smaller indexer, that listens to on chain actions (to get the state now! that's the most important for end users) and then tries to go back in time.
These indexers run inside micro virtual machines (the same kind that are powering aws lambda!), running on a decentralized network of supervisors, our computing nodes. And yes, you'll soon be able to run one yourself! (even today, actually, it's just not yet paid)
These virtual machines have access to our storage solution (or ipfs, and soon others through gateways!), decentralized database, blockchain nodes (here Solana), and the internet. They also have access to different kind of storage.
Now what if you want data that is scattered accross multiple indexers? That's where an aggregator comes handy. Thankfully, graphql aggregators exist and are quite common. We just need to make it run in its own microVM!
The best part? If you want to run a bot on telegram, send transactions, or whatever, based on that data, you can do it inside another microVM.
If you want to play with data from an indexer today, head to raydium analytics powered by aleph.im and many others are to be announced soon.
News Source
Solana And Cardano Are Heading To The Moon Amidst Huge Institutional Inflow
The crypto market is seeing the most significant weekly institutional inflow in history, according to official data from CoinShares.
The online publication the Daily Hodl notes that the crypto firm says that digital asset investment products have shattered the record for both weekly and yearly capital flows by a considerable margin.
"Digital asset investment products saw inflows last week totaling US$1.47bn, the largest on record by a significant margin. The previous weekly record was seen earlier this year in February with inflows totaling US$640m."
The notes continue and say:
"Inflows year-to-date now sit at US$8bn, far surpassing the record in 2020 of US$6.7bn."
CoinShares also said that Bitcoin (BTC) accounted for the overwhelming majority of the funds. This has been happening following the positive sentiment stemming from the launch of the new ProShares Bitcoin futures exchange-traded fund (ETF).
"Bitcoin saw 99% of the inflows totaling US$1.45bn last week. The record inflows were a direct result of the US Securities & Exchange Commission [SEC] allowing a Bitcoin ETF investing in futures and the consequent listing of two Bitcoin investment products with inflows totaling US$1.24bn."
The same notes reveal that "Inflows into Bitcoin products were also seen in other regions totaling US$138m, although there was evidence of profit-taking with some older investment products seeing outflows."
Cardano (ADA) and Solana (SOL) are exploding
The same crypto firm is also looking at altcoins, and they said that the most notable coins seeing inflows were smart contract platforms Solana (SOL) and Cardano (ADA), as well as crypto exchange Binance's BNB.
Solana and Cardano saw $8.1 million and $5.3 million in inflows.
Regarding the prices of the coins, at the moment of writing this article, both of them are trading in the green. ADA is currently trading at $2.18, while SOL is priced at $210.
Stay tuned for more news and make sure to keep your eyes on the crypto market.
Ethereum killer Solana hits $13.65 billion in TVL as SOL price locks in on $300
Solana price is hovering around $208.76 after a new all-time high at $219.27.
A minor retracement to the $185.30 to $204.44 demand zone is likely before a 16% advance.
The total value locked on the SOL ecosystem hits a record high of $13.65 billion.
Solana price seems to be unaffected by Bitcoin as it set up a new all-time high on October 25, and so did the Total Value Locked (TVL) on the SOL ecosystem. With the altcoin currently retracing to a support zone, investors can expect another leg-up to kick-start a new uptrend.
Solana TVL goes through the roof
Solana has been a buzzing ecosystem with NFT projects, yield aggregators, liquidity mining and more. This massive ecosystem, which is set to rival Ethereum, has reached two new milestones, a new all-time high for Total Value Locked and the market value of SOL hitting a record high.
The top six projects on Solana have more than $1 billion in TVL. Saber leads the pack with $2.06 billion worth of SOL locked in its ecosystem.
Moreover, the Ethereum-killer narrative for Solana seems to be working out well, as plenty of projects have jumped ship. As a result, SOL has rallied a whopping 14,665% in 2021, reflecting the demand for an ETH alternative in the cryptocurrency space.
With Bitcoin slowing down, altcoins, especially Solana and a handful of other DeFi coins, are rallying. Moreover, Ignition saw 5,879 projects sign up for the 4th global hackathon on Solana. The prize pool is hovering around $5.1 million with a grand prize of $75,000 and famous faces in the cryptocurrency ecosystem like FTX founder and CEO Sam Bankman-Fried, Coinshares' CSO Meltem Demirrors, Circle founder and CEO Jeremy Allaire and so on judging these projects.
SOL price prepares for lift-off
Solana price rose 43% from October 19 to October 25 and created a new all-time high at $219.27. This run-up was an explosive one with minor retracements. Therefore, investors can expect SOL to undergo a short-term corrective action before embarking on a new leg-up.
The support area ranging from $185.30 to $204.45 is where the pullback finds a cushion and receives enough buying pressure to reverse its trend. Assuming the reversal occurs here, SOL needs to flip the $216.91 resistance barrier into a support floor. Doing so will allow Solana price to take aim at the new all-time high at $238.67 or the 161.8% Fibonacci extension level.
In a highly bullish case, Solana price could extend its run-up to $301 after a 50% ascent to the 261.8% Fibonacci extension level.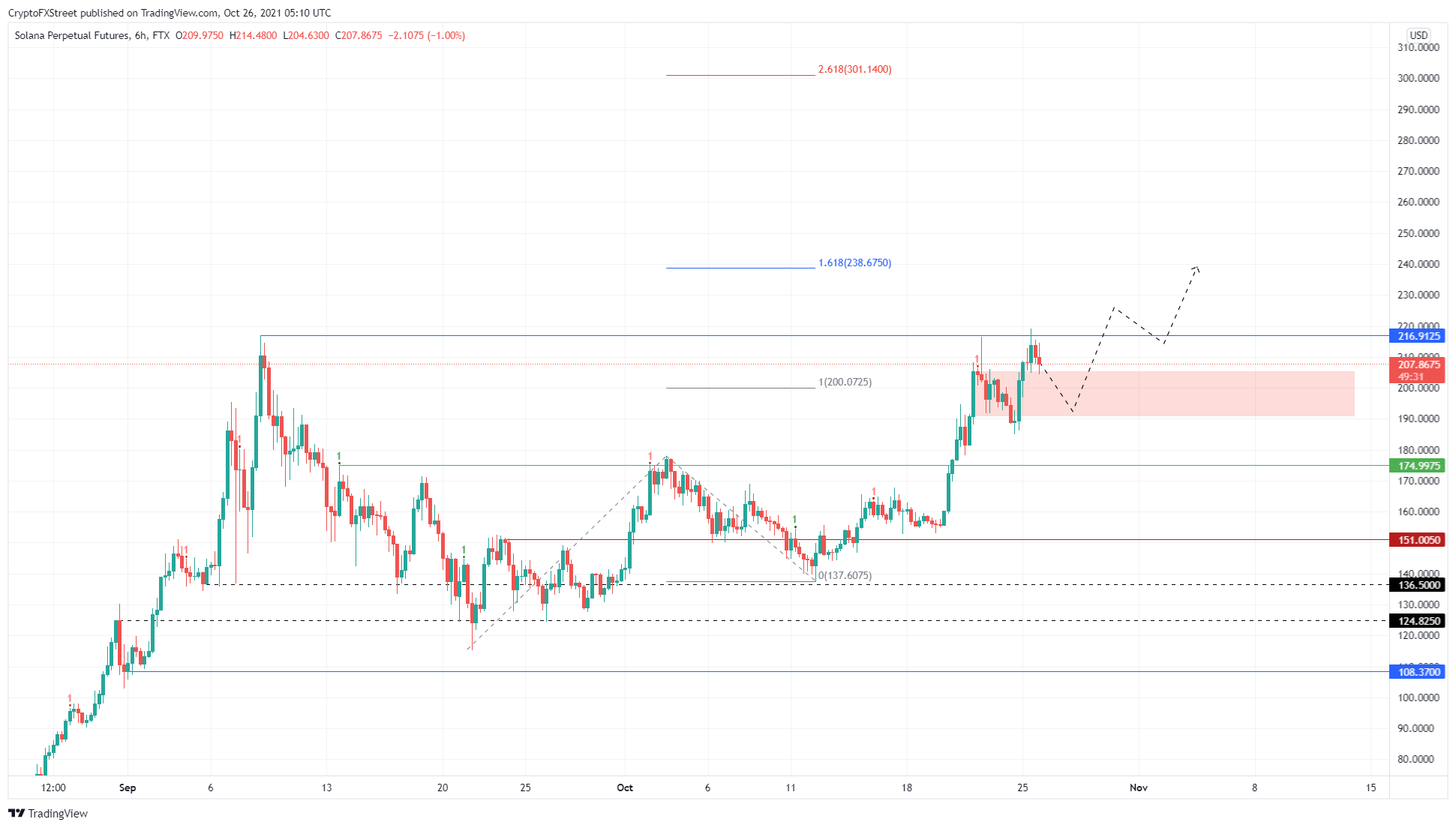 SOL/USDT 6-hour chart
While things are looking good for Solana price, a breakdown of the demand zone ranging from $185.3 to $200.37 will be catastrophic. In this situation, SOL could retrace to the $175 support floor and, in dire cases, $151.05. While this downswing does not invalidate the bullish thesis, it will delay it.
Solana (SOL) Hits All-Time High, Extending Lead Over XRP
Solana is leading the crypto market recovery, logging a new all-time high.
Solana (SOL), the native token of the high-performance network of the same name, has hit a new all-time high of $218.92 at 3:47 p.m. UTC on the FTX exchange.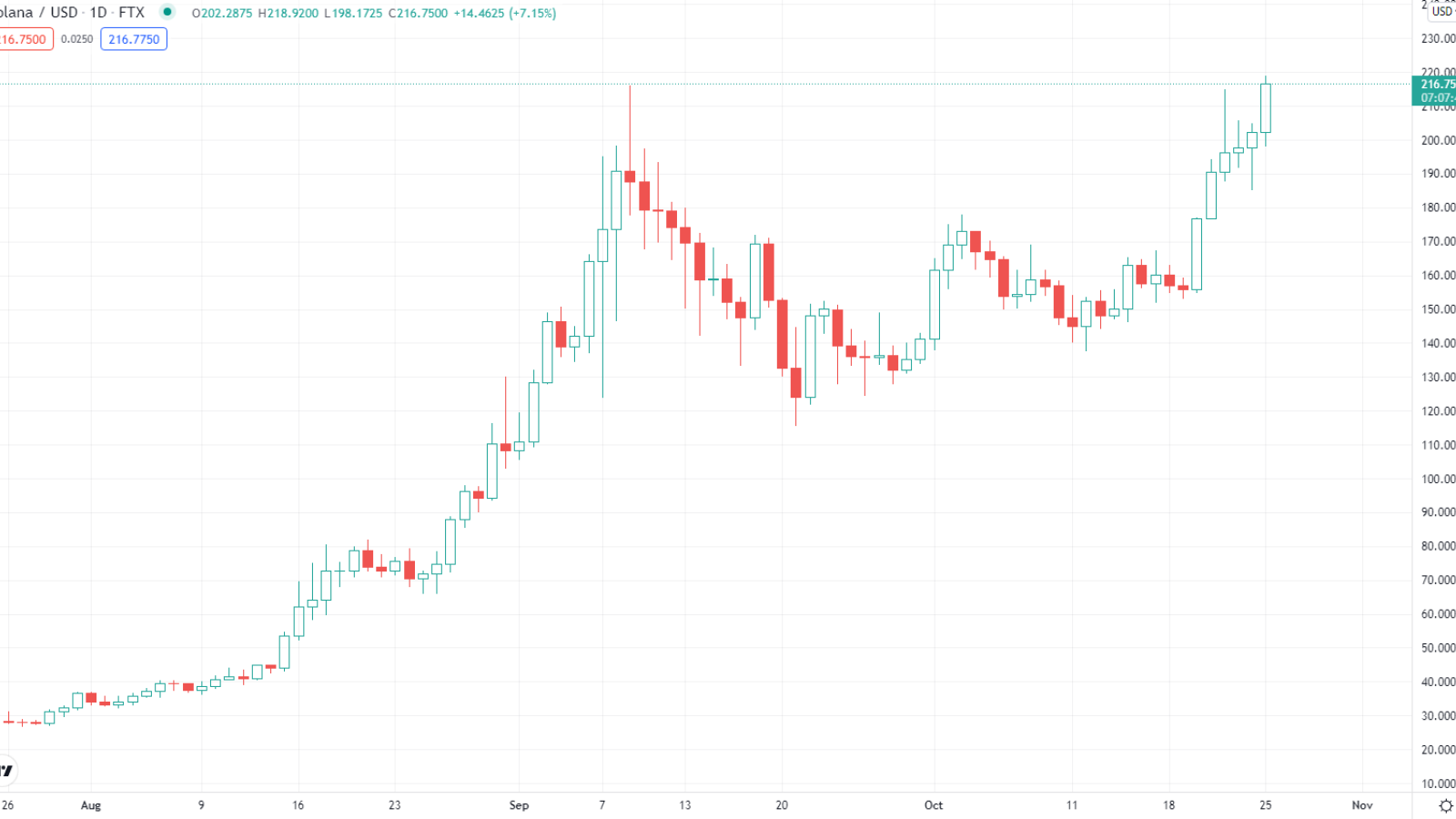 The cryptocurrency's market cap has now eclipsed $65 billion, building a commanding lead over XRP's $51 billion.    

SOL captivated the minds of the cryptocurrency community with its monstrous gains in early September, doubling its price in just 9 days.      

However, the increasingly popular blockchain came under fire in mid-September after it essentially switched off for 17 hours due to an outage.

Because of the double-whammy of technical difficulties and the broader market woes, the token ended up dipping to a local bottom of $115 on Sept. 21, which marked a 46% correction from the top.

Over the past seven days, the cryptocurrency is up 37%.
The growth of the Solana ecosystem
Presently, Solana's decentralized finance ecosystem has over $13.86 billion in total value locked (TVL).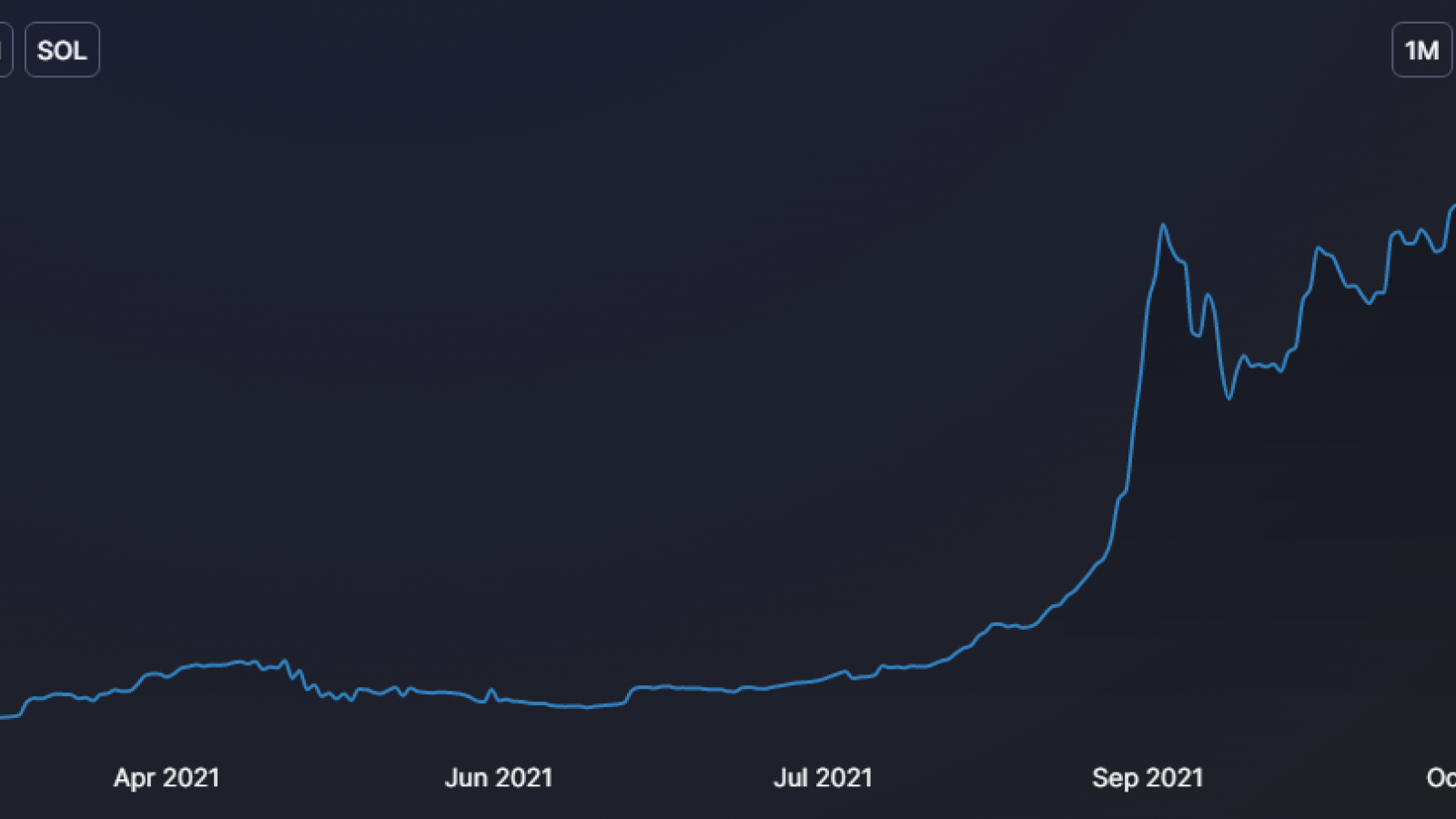 There are six projects whose TVL exceeds the $1 billion threshold.

Still, Solana has a lot of catching up to do in order to edge out Ethereum, whose DeFi projects recently surpassed $100 billion in total value locked.