Solana Price Prediction: SOL needs to clear one hurdle to retest all-time high
Solana price broke out of a symmetrical triangle on October 1 and rallied 23%,
However, SOL is struggling with momentum as it hovers above the $170.72 support floor.
A decisive close above $18.21 will open a resistance-free path to retest the all-time high at $216.91.
Solana price slid into consolidation from September 21 to September 31, forming a symmetrical triangle pattern. A spike in bullish momentum led to a breakout, pushing SOL by 23%. However, the altcoin can go higher, but it needs to clear a crucial resistance barrier.
Solana price needs to rally against odds
Solana price set up two lower highs and three higher lows since September 21. Connecting these swing points using trend lines shows the formation of a symmetrical triangle pattern. This technical formation forecasts a 24% breakout, determined by measuring the distance between the first swing high and swing low.
On October 1, Solana price sliced through the upper trend line at $143.95, leading to a breakout. Since then, SOL has rallied through the $150.34 and $170.73 resistance barriers. However, it did not hit the intended target at $79.43.
AS Solana price currently consolidates above this support floor, the Momentum Reversal Indicator (MRI) flashed a red 'one' sell signal on the six-hour chart.
This technical formation forecasts a one-to-four candlestick correction. While Solana price has already created one red six-hour candlestick, it is unsure if the downswing is over.
If SOL manages to produce a decisive close above $188.20, it will open a resistance-free path for Solana price to retest the all-time high at $216.91.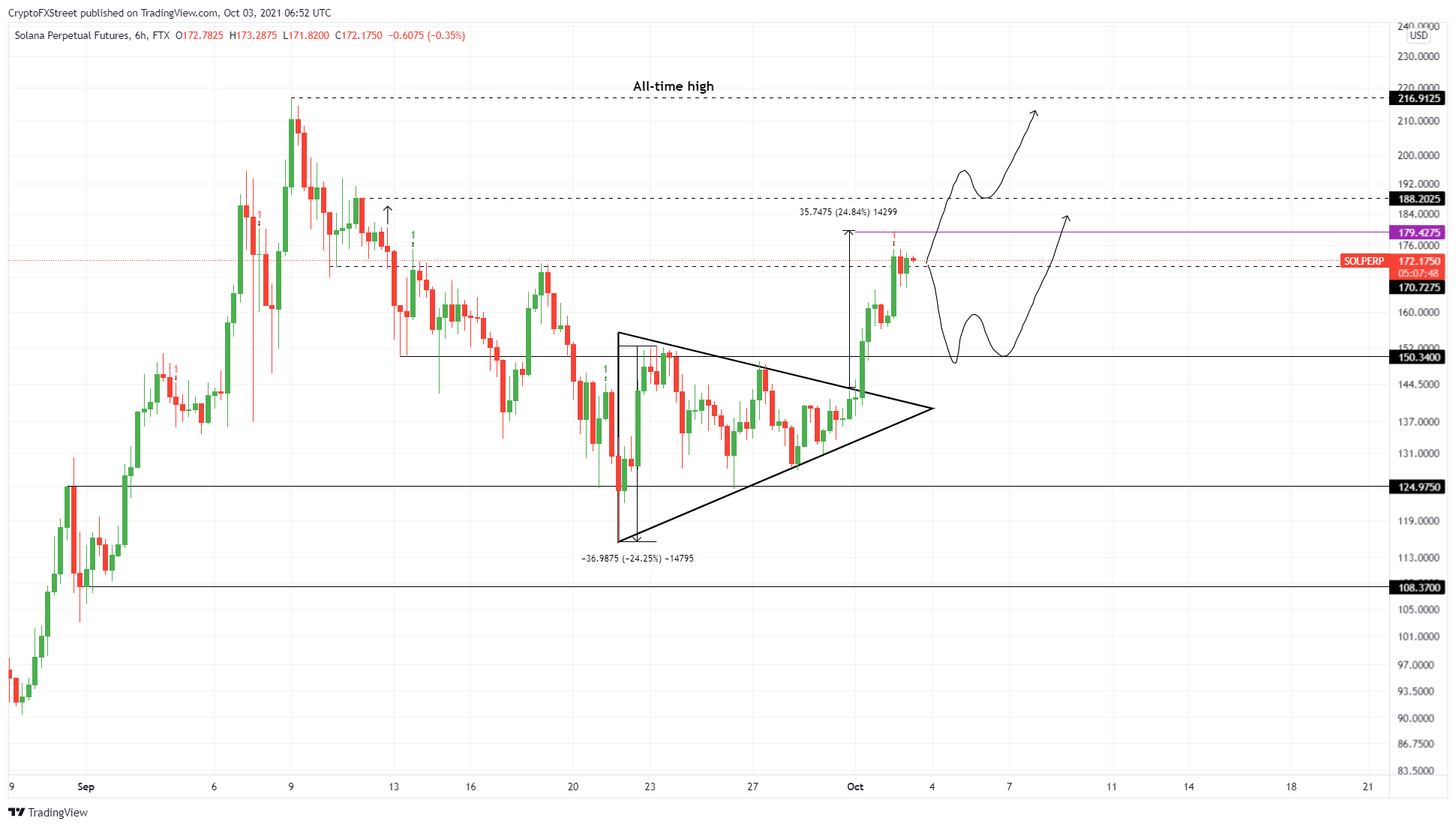 SOL/USDT 6-hour chart
While things are on the fence for Solana price, a breakdown below $170.73 will confirm that the investors are booking profits.
In such a case, SOL price will likely retrace to $150 before giving the uptrend another go. However, a breach below this support floor will invalidate the bullish thesis.
Top Crypto Analyst Unveils Massive Polkadot Prediction, Issues Cardano, Solana and VeChain Price Alert
Crypto strategist Michaël van de Poppe is extremely bullish on Polkadot (DOT), while warning several popular altcoins may face further corrections.
The trader and analyst tells his 442,000 Twitter followers that DOT appears "programmed" to rise above $100 in the current market cycle.
Using a Fibonacci extension model, he outlines $75 and $115 as potential targets.
"If we assume that the area around $37 is going to hold as we are into a bull cycle, you could wonder whether you could be getting into the markets already or whether there's a retest. So you derive a potential scenario of potential lows and potential gains. So for you, the [upside] targets are $75 to $115…
If you analyze the fact that we are going to sustain at around $38, then the potential loss and invalidation is this previous low at $32."
As for Cardano (ADA), Van de Poppe says the fifth-largest crypto asset by market cap is sending bearish signals on the Bitcoin (BTC) chart.
"Cardano against Bitcoin is showing heavy run-up, bearish divergence here, and currently showing weakness resulting in overall downwards momentum."
The cryptocurrency analyst says that a buying opportunity may present itself if support around 0.00002930 BTC holds, which is worth about at $1.75 at time of publishing.
"The crucial area that I want to see sustained is overall this level [at $1.75]. If that is going to hold here, which I might find tricky, then I'm looking for anything in these regions for potential long entries.
If that one is lost, I think we're going to look at the area around 0.0000150 BTC [$0.90] and 0.00002 [$1.19] BTC before we're going to get bullish all over again."
Next up, Van de Poppe says he expects Solana (SOL) to experience "heavy correction." According to the crypto analyst, the ideal opportunity would be after Solana corrects by about 67%, falling to around the 0.00135 BTC level on the SOL/BTC chart, which is currently valued at $80.40.
"Solana, same picture. Heavy correction most likely going to take place.
I practically have one area that I'm looking at to buy Solana at this point. It's this region (0.00135 BTC). I'm not interested in Solana until there. That's a corrective move of 67%."
The cryptocurrency analyst also looks at supply chain management blockchain VeChain (VET), which he says is trending downwards.
"What we can see in this cycle too is that we are making lower highs [and] lower lows. And we are also rejecting previous support for resistance all the time."
According to Van de Poppe, the "best potential entry point" on the VET/BTC chart is either the 0.00000110 BTC level or at 0.00000150 BTC, worth $0.066 and $0.089, respectively.
"Best potential entry point for me is around 0.00000110 BTC [$0.066]. I'm looking at an entry point in this region. If we get there in November and December, that would be absolutely amazing if that is going to be hit.
Second one – that's this entire zone that we have here. We dipped in it already and that is the zone around 0.00000150 BTC [$0.089]."
Cardano and Solana Continue to See Inflows While Ethereum Records Outflows
Ethereum funds and products saw $14 million worth of outflows last week, while Cardano and Solana are in the green
According to a report published by CoinShares, cryptocurrency funds have extended their streak of inflows, raking in over $226 million last week.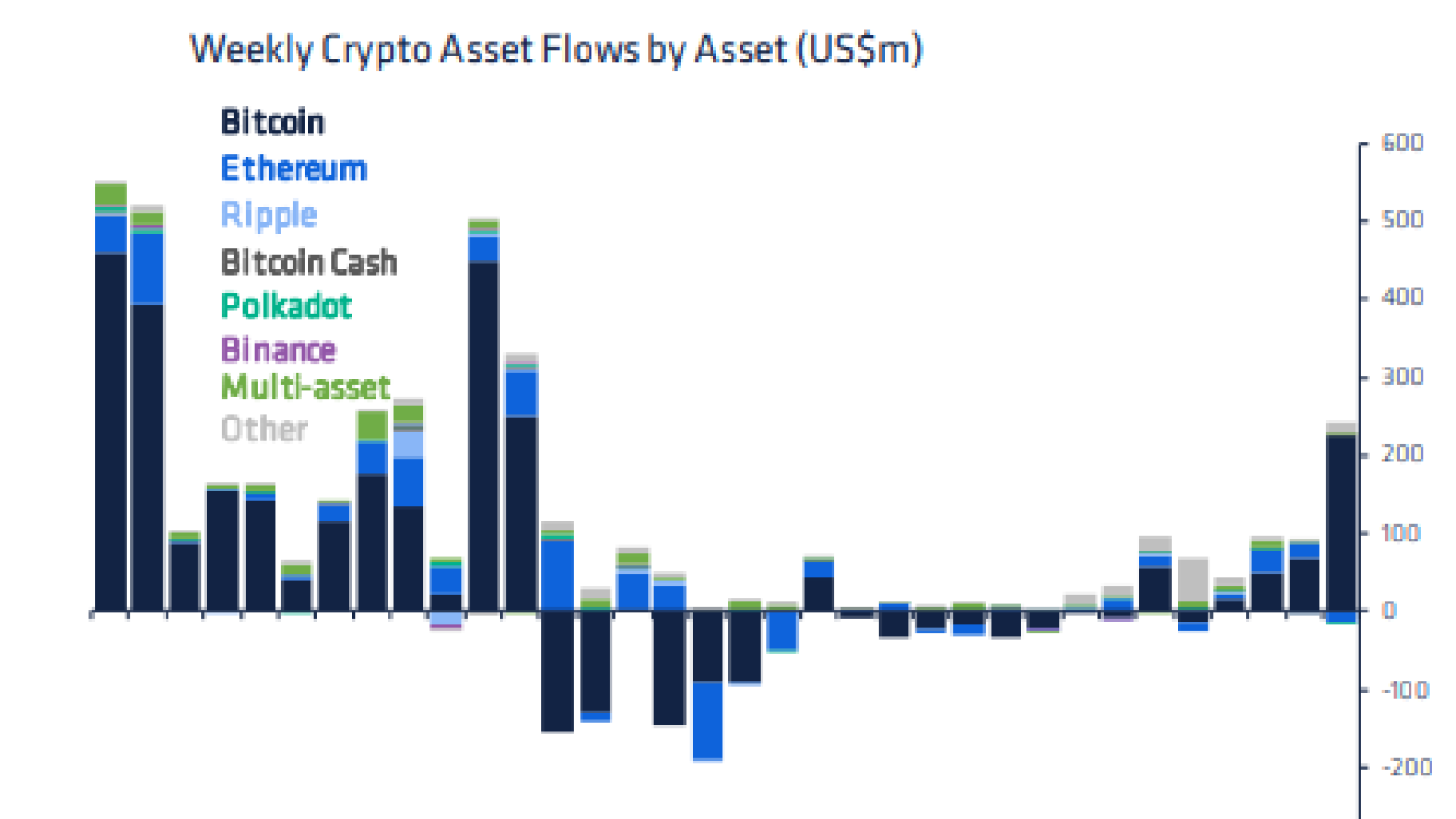 Bitcoin accounted for the lion's share of the aforementioned figure with $225 million. This development is not surprising since the narrative about U.S. securities regulators potentially approving a futures-based Bitcoin exchange-traded fund has been driving the cryptocurrency's prices higher.
Solana and Cardano recorded minor inflows of $12.5 million and $3 million, respectively.
Ethereum funds, on the other hand, hemorrhaged $14 million. The second-largest cryptocurrency is down nearly 25% from the start of September.
XRP, Polkadot, Litecoin are also in the red.
Leading cryptocurrency money manager Grayscale has $49.5 billion worth of assets under management, according to its latest update.
Solana (SOL) IGNITION Global Hackathon Coming to an End
The IGNITION Global Hackathon is almost coming to an end. When asked what projects you are watching?
For those who missed the details, IGNITION is a virtual hackathon with up to $5 million in prizes and seed funding. It is about launching the future with Solana.
Solana is the world's most performant blockchain. With high speeds and low fees, it's designed to help projects take off and quickly scale to billions of users around the world. Solana is already used for a plethora of projects, including DeFi (decentralized finance) apps, games, Web3 products, art projects, collectables, and much more. The sky's the limit. What will you launch?
The hackathon offers up to $5 million in global prizes and seed funding. The event covered for Web3 Track, DeFi Track, Gaming Track, Art and Collectibles.
Web3 Track is presented by Microsoft to Launch the web of tomorrow. Build decentralized apps, DAOs, and other infrastructure to cut the middleman out of popular Web2 platforms.
DeFi Track presented by Jump Trading and Standard Chartered, focused on Leaving traditional finance behind. Design DEXs, lending platforms, and new decentralized applications to free consumers.
Gaming Track presented by FORTE to create the future of gaming. Shape blockchain-based games, NFTs, and more to allow players to directly interact with p2p markets.
Art and Collectibles track presented by Metaplex to make something beautiful. Create NFTs and platforms that directly connect artists with their fans around the world.
Each track will have five winners, with a Grand Prize of $75k USDC and 3 passes to the Solana Breakpoint Conference in Lisbon.
The Solana Ignition Hackathon is a competition where projects will be evaluated by judges on their technological merits without consideration of legal viability. All participants were requested to comply with applicable laws and regulations when releasing any software that they develop as part of the Hackathon.
The ideas and developer resources were for inspirational and educational purposes. And, Solana Capital LLC does not sanction deployment of any of such applications in violation of laws or regulations.
Ultimately, Solana is about Building Crypto Apps that Scale. Solana is a fast, secure, censorship-resistant blockchain built for global adoption.
Community response: Element4ls are ready to take over the world. Meanfinance is a good project to keep watch on. Meanfinance is where money flows like water.
Where can we find a list of submissions? They will be available for the community vote. The only ones anyone would know about are the ones that have self-announced.