US Lawmakers Want to Know Powell's Plans to Support Crypto

As many as 7 lawmakers from the United States Congress have sent an open letter to the Federal Reserve Chairman, Jerome Powell, demanding to know how the American apex bank aims to support innovations bordering on digital currencies.ADVERTISEMENT
Spearheaded by Reps Tom Emmer, Ted Budd, Ro Khanna, Darren Soto, Frank Lucas, Glenn "GT" Thompson, and Eric Swalwell, clarity on earlier positions by the Fed Chairman on how the proposed US Digital Dollar will undermine the need for digital currencies were sought. 
"On July 14, 2021, you appeared before the House Financial Services Committee and provided insight on the Federal Reserve's work on developing a central bank digital currency (CBDC), your concerns about stablecoin regulation, and your view that a CBDC would undermine the need for decentralized digital assets," the lawmakers wrote. "In light of these comments, we would like to know if and how you and the Federal Reserve Board of Governors intend to support domestic innovation and widespread adoption of decentralized digital assets."
Based on the needed clarity, they put forth four crucial questions directed at Chair Jerome Powell to gain insight into the apex bank's plans across multiple aspects of crypto innovation.
The Hard Questions?
The lawmakers demanded to understand the role the Federal Reserve is playing to coordinate with other lawmakers including but not limited to the US Securities and Exchange Commission (SEC), and the Commodity Futures Trading Commission (CFTC) in order to provide the much-needed policy guidance for the cryptocurrency industry.
Powell was also requested to provide insights into the form of guidance the Federal Reserve is providing to Federally Chartered banks who wish to provide cryptocurrency custody and other related services. This inquiry according to the lawmakers was prompted by the moves from Texas and Wyoming banking authorities who have laws backing financial institutions to provide Bitcoin custody services.
The Federal Reserve's plans to introduce a discussion paper this summer on its Central Bank Digital Currency (CBDC) was also highlighted by the members of Congress, who wish to know the exact timing the paper will be published. Lastly, Chairman Powell was requested to clarify his contradictory stance on the need for private cryptocurrencies with the advent of a Digital Dollar.
Race to Maintain Leadership in Financial Innovation
According to the lawmakers, the primary reason for the questions put forth is to understand what the country's apex monetary watchdog is doing to maintain leadership in financial innovations. From the increasing pressure to approve its first Bitcoin ETF product to the fast track of its CBDC development, aspects many nations are advancing in.
Crypto Traders Most Bullish on Polkadot, Solana, Polygon and 10 Additional Altcoins: Digital Asset Survey
A new survey unveils that crypto traders are most bullish on 13 altcoins including Polkadot, Solana and Polygon.
The Real Vision Exchange Crypto Survey is designed to track sentiment among investors by allowing participants to scan 30 tokens and choose if they want to have an overweight or underweight allocation for each one. The survey was conducted by Real Vision Bot, which was created by two independent developers and boosted by macro guru Raoul Pal.
Results from voting that happened on the first two days of this week indicate traders prefer an overweight portfolio consisting of smart contract platforms Polkadot (DOT) and Solana (SOL), as well as Ethereum-scaling solution Polygon (MATIC).
The scalable and interoperable ecosystem Cosmos (ATOM) is fourth on the list, and smart contract platforms Terra (LUNA) and Cardano (ADA) appear tied for fifth. Traders also have overweight allocations for decentralized oracle network Chainlink (LINK), Ethereum competitor Avalanche (AVAX), Ethereum-based token Enjin Coin (ENJ) and decentralized exchange Uniswap (UNI) for the sixth, seventh and eighth places, respectively.
Tied in ninth place are cross-border payment solutions Stellar (XLM) and XRP, as well as decentralized storage network (FIL).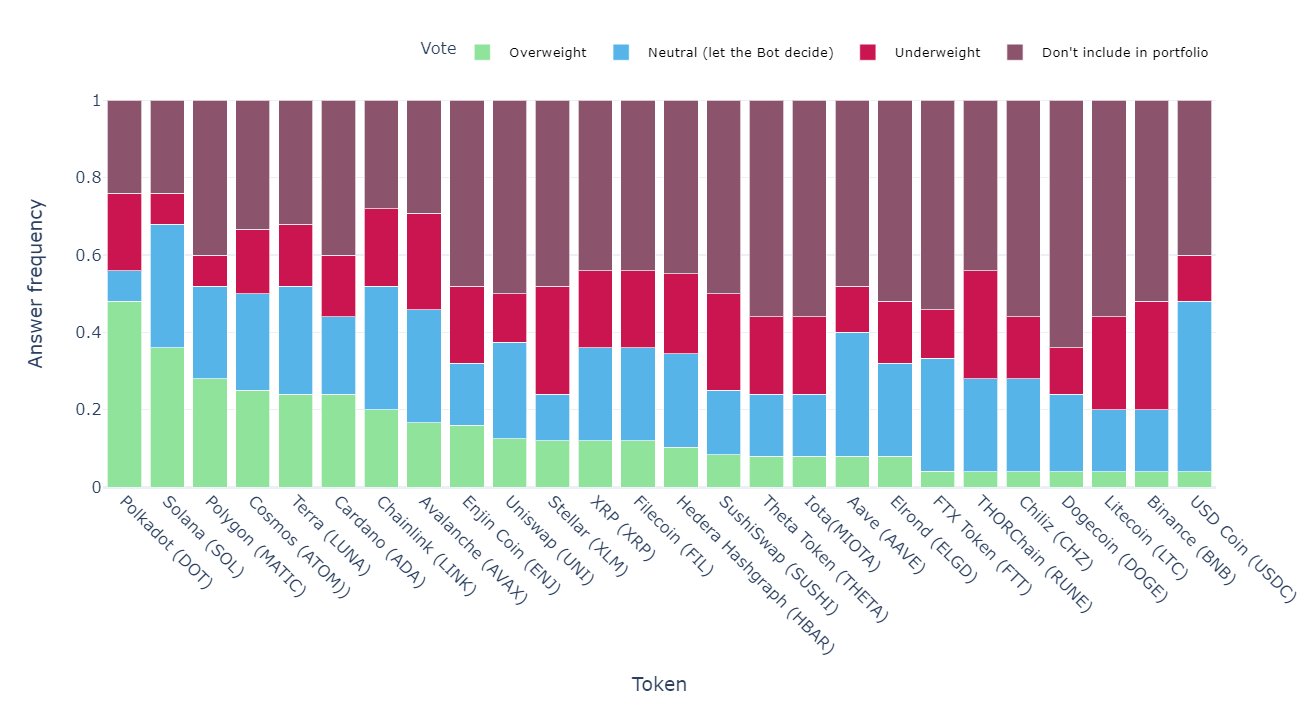 Real Vision Bot clarifies that the participants are not necessarily holding the cryptocurrencies that they voted for.
"They can of course vote according to their own positions, but also just based on their sentiment or forward looking. There are many reasons why the own book might not be 1:1 the preferred allocation."
Bitcoin (BTC) is conspicuously absent from the list. Pal highlights that the community is responsible for that absence.
"It's not us – it's the community who makes the allocation… You guys, to be exact.
Morgan Stanley CEO: Crypto Won't Go Away
Morgan Stanley's boss is bullish on cryptocurrency but says that demand is scanty so far
Morgan Stanley CEO James Gorman sounded upbeat about cryptocurrencies during the bank's third-quarter earnings call, claiming that the industry will not go away:
I don't think crypto's a fad. I don't think it's going to go away.
Morgan Stanley was the first major U.S. bank to grant its wealthy clients access to Bitcoin funds in March.

So far, Gorman does not see a lot of client demand for Bitcoin, but he does not rule out that crypto may start playing a bigger role in its business:
For us, honestly, it's just not a huge part of the business demand for our clients. That may evolve and will evolve with it, but certainly it's not what's driving our economics one way or the other.
Shares of Morgan Stanley (MS) are up 44% since the start of 2021.

The bank's investment revenue crushed analysts' estimations in the third quarter of 2021, reaching $2.85 billion.
Not siding with Dimon
Gorman's views on Bitcoin diverge from those of JPMorgan CEO Jamie Dimon. While the Morgan Stanley head refrained from making specific price predictions, he opined that the largest cryptocurrency would be here to stay:
I don't know what the value of Bitcoin should or shouldn't be. These things aren't going away.
As reported by U.Today, Dimon caused quite a stir by claiming that Bitcoin is worthless.

While the Bitcoin price is already immune to Dimon's oft-repeated critiques, his caustic comment certainly did not go unnoticed by the crypto community and market observers.
A divisive comment
There are some powerful Wall Streeters who share Dimon's sentiment. Larry Fink, CEO of asset management juggernaut BlackRock, recently said that he was more in the Dimon camp.

Gorman is not the only banker who disagrees with Dimon on Bitcoin. Bill Winters, CEO of Standard Chartered, recently opined that cryptocurrency assets could serve as a hedge against inflation:
There's a role for non-fiat currencies, especially when parts of the market are concerned about inflation—and there's good reasons to be concerned about inflation.
China Crypto Ban: World's largest Bitcoin mining pool to block IP access from mainland China

The latest update in the Chinese crypto ban saw the world's largest Bitcoin mining pool, Ant Pool give in to the regulatory crackdown and announced blocking IP access in mainland China, effective from 15th October. Additionally, amid a global crypto takedown, Ant Pool has also revealed the upcoming launch of its exclusive KYC verification system to further comply with crypto regulations of various countries.
Ant Pool, the world's largest Bitcoin mining pool, announced that it will stop IP access in mainland China from the 15th and launch the KYC system to comply with the laws of various countries.— Wu Blockchain (@WuBlockchain) October 14, 2021
Since the reveal about the Chinese government's tracking of IP addresses to filter out illicit crypto mining activities in the country, there have been several shutdowns of unregistered mining farms along with registered giants taking steps to comply with the authorities. Earlier this week, the largest Bitcoin mining equipment manufacturer in China, Bitmain announced that it will stop shipping any more Antimers to the country from October 11, in lieu of the ongoing crypto crackdown, that is specially focused on Bitcoin mining.
"Actively responding to the local government policies of the company's entities has been Bitmain's business strategy all along…Strictly abide by the laws and regulations of the locations of the company's entities is the operating principle that Bitmain has always adhered to. From October 11, 2021, Antminer will stop shipping to mainland China (excluding Hong Kong and Taiwan). For customers in mainland China who have purchased long-term products, our staff will contact them to provide alternative solutions.", stated the Press Release.
China Crypto Ban nears end as government succeeds shutdown of crypto businesses
However, the Chinese government has no plans to stop unless the crypto industry has completely vanished from the face of China. According to CoinGape's recent coverage, China's authoritarian government is now planning to add crypto mining to the "Negative List" of industries. This would mean that the crypto mining industry will be banned or restricted from any investment from both, mainland China investors as well as foreign investors.
The Chinese crypto ban appears to be near the end as more than 20 crypto firms and exchanges announced the suspension of crypto services in the country. Furthermore, foreign crypto exchange giants including Huobi, OKEx, and Binance have also announced the closure of all services by December.