$40 Million in One Day, Bitcoin Mining Is More Profitable Than Ever
Bitcoin miners now earn more profits even after halving
According to data provided by Glassnode on-chain data provider, the total value paid to miners in USD has increased by 275%, totaling $40 million paid to miners per day. The gradually increasing profits are almost completely fueled by the major price increase of Bitcoin. The ATH in revenue was hit back in April when Bitcoin was trading at $60,000.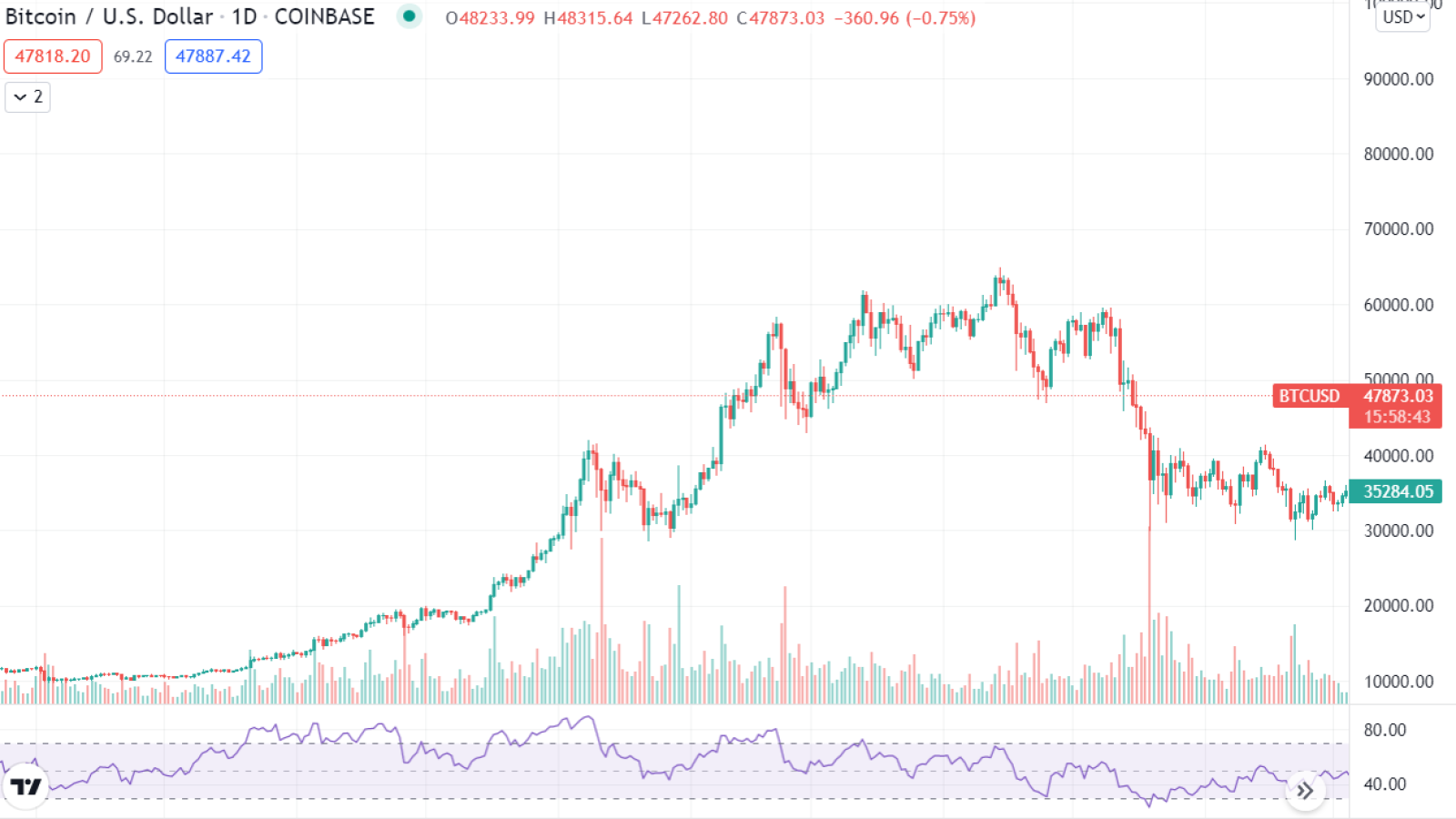 Comparing current profits with the halving that took place in 2020, current miner revenue is significantly higher with a 275% increase pre-halving and a 630% increase post-halving. After a block reward cutting, Bitcoin's price jumped significantly, compensating miners' losses.
Various Bitcoin market analysts note that halving events are quite welcome by market participants and usually make miners hold their rewards in order to sell them for a better price. Each halving event previously led to an increase in the value of Bitcoin.
Billionaire Mark Cuban Identifies Altcoin With 'Most Upside' As Bitcoin Blasts Above $60,000
As Bitcoin shoots above $60,000, business magnate Mark Cuban says one altcoin stands above the rest in terms of investment potential.
In a new interview with CNBC Make It, the billionaire says that Ethereum (ETH) is the best crypto prospect on the market.
"As an investment, I think Ethereum has the most upside."
Cuban, who previously stated that smart contracts on Ethereum's blockchain have revolutionized the cryptocurrency market, believes that the second-largest crypto by market cap is the digital asset which most resembles legal tender.
"I wish I had bought [Ethereum] sooner. I think it's the closest thing we have to a true currency."
Cuban went on to reiterate his position that Bitcoin (BTC) is superior to gold because not only is its supply scarce, but it's easier to transfer, store, trade, and fractionalize. That sentiment is shared by fellow billionaire CEO Chamath Palihapitiya of Social Capital and Virgin Galactic.
Cuban's comments come on the heels of him saying that customers prefer making payments in Dogecoin (DOGE) rather than BTC at his venues because Bitcoin tends to be a highly appreciable asset.
Ethereum is exchanging hands at $3,839 at time of writing, an 11% increase from its seven-day low of $3,431, according to CoinGecko.
ProShares Set for Bitcoin Futures ETF Launch on Monday After Apparent SEC Approval
The US Securities and Exchange Commission has reportedly greenlit the country's first Bitcoin futures exchange-traded fund (ETF).
ProShares, an ETF provider, filed a post-effective amendment prospectus on Friday that states the company plans to launch the BTC Futures ETF on Monday, a sign that the SEC has approved the product.
The fund doesn't invest directly in Bitcoin, but it provides price exposure to Bitcoin futures contracts, a first in the US.
Both Bloomberg and CNBC, citing people "familiar with the matter," reported earlier in the week that the SEC planned to approve BTC futures ETFs from ProShares and the independent investment firm Invesco Ltd.
Invesco's ETF is also set to provide exposure to a collection of exchange-traded products (ETPs) and private investment trusts that hold Bitcoin, rather than direct investments in BTC itself.
Last month, SEC Chairman Gary Gensler said he was open to ETFs for Bitcoin futures, noting that they are filed under mutual fund guidelines which provide "significant investor protections."
Bitcoin is trading at $61,549.38 at time of writing and is up 6.6% in the past day and more than 40% in the past two weeks, according to CoinGecko.
BTC hit its all-time high of $64,804.72 in mid-April.
Bitcoin May See Real Peak If ETF Is Approved and I May Cash Out Half My ETH: CNBC's Jim Cramer
Jim Cramer shares a common view that Bitcoin has the opportunity to reach a short-term peak or even a real peak if Bitcoin ETFs are approved next week.
Host of CNBC's Mad Money, Jim Cramer, has talked to Andrew Sorkin from CNBC's Squawk Box show about the prospects of the Bitcoin price if or when four Bitcoin futures ETFs get the SEC's approval next week.
Cramer also stated that he may cash out half of his Ethereum stash.
SEC approval for ETF may push Bitcoin up, Cramer says
Answering Sorkin's question, Cramer stated that a lot of people believe there is a high chance that the senior cryptocurrency, Bitcoin, may hit a short-term or even a real price peak if four BTC-based ETFs are approved by the SEC next week.
He corrected the host and said that the regulatory agency may approve not just one but four Bitcoin futures ETFs next week.
However, he stated that people are running ahead of a possible ETF approval.
"There's a possibility a lot of people feel that you can get a short-term peak, or maybe a real peak as people just run ahead of the ETFs," says @jimcramer on a #Bitcoin ETF approval. "I might cash out half my $ETH." pic.twitter.com/48MJP047yK— Squawk Box (@SquawkCNBC) October 15, 2021
Bitcoin spikes to $59,500 as chance for ETF approval emerges
Earlier today, the flagship digital currency, Bitcoin, soared to a multi-month high of $59,500 on the Bitstamp exchange. It happened after Bloomberg released a report, saying that so far the Securities and Exchange Commission has not objected to approving multiple Bitcoin futures ETFs that were submitted to it earlier this year.
The Bloomberg article stated that the information had been confirmed by multiple sources close to the SEC and to the matter in question.
The media giant's ETF analyst, Eric Balchunas, believes that the likelihood of Bitcoin ETFs getting the green light has now risen to more than 90%. Still, he is not ready to "close the case" yet.