Algorand Price Analysis: ALGO rallies above $2, a slow retracement to follow before further upside?
Algorand price analysis is bullish today.
ALGO/USD saw a strong advance overnight.
Resistance at $1.90 clearly broken.
Algorand price analysis is bullish today as a strong advance was seen over the last 24 hours, and the previous resistance at $1.90 was broken in a clear way. Therefore, we expect ALGO/USD to see further upside later today, likely after a retest of the $1.90 mark as support.
The overall market traded in the red over the last 24 hours. The market leader, Bitcoin, lost 1 percent, while Ethereum was down by 2.86 percent. Meanwhile, Algorand (ALGO) is among the best performers, with a gain of 11 percent.
Algorand price movement in the last 24 hours: Algorand breaks $1.90 major resistance
ALGO/USD traded in a range of $1.81 – $2.09, indicating strong volatility over the last 24 hours. Trading volume has spiked by 91.11 percent and totals $1.24 billion. The total market cap trades around $11.9 billion, ranking the coin 16th place overall.
ALGO/USD 4-hour chart: ALGO to retest $1.90 as support?
On the 4-hour chart, we can see the Algorand price retracing over the past hours as the market looks to retest the $1.90 previous resistance as support and move higher from there.
Algorand price action traded in a steady bearish momentum over the past weeks. After a sharp drop below the $1.90 support on the 20th of September, support was found above $1.50.
Over the following week, ALGO/USD traded in an increasingly tighter range, with two clear lower highs set. Meanwhile, the $1.55 mark offered support, preventing further downside.
Ultimately, this price action development resulted in a reversal over the weekend. Yesterday, the Algorand price approached the $1.90 resistance, with breakout following during the second half of the day.
Algorand Price Analysis: Conclusion
Algorand price analysis is bullish today as a strong advance continued overnight and took the market above the $1.90 resistance. Currently, a slight retracement can be seen as the $1.90 mark will be retested as support. From there, we should see ALGO/USD move higher over the next 24 hours.
While waiting for Algorand to move further, read our guides on Mycelium Wallet, Next Cryptocurrency to Explode in 2021, as well as our BitMEX review.
Algorand (ALGO) Makes Music Royalties possible through Opulous and Republic
Algorand expressed: Excited to see Opulous and Republic leveraging Algorand to disrupt the music industry model.
This offering will enable fans to invest directly in their favorite artists and earn royalties, first wave of releases include artists Lil Pump and KSHMR American Musician.
Opulous is a music industry first, launching the next generation of NFTs and peer-to-peer DeFi loans to change how artists get funding and connect with fans.
Opulous: "We are thrilled to announce that we are working with Republic for our very first Music NFT sales, featuring THREE streaming giants!"
Republic is for you to invest in the future you believe in. Access startups, real estate, crypto, and video games. You can sign up to start investing.
You can become an investor in Republic to support private startups. Republic is highly selective, mission-driven, free for investors, Accessible, Trusted by pros, and your co-investor.
Less than 3% of startups that apply pass through the due diligence and investment committee of the Republic. Republic is investor-friendly by design with no hidden fees and top-rated customer service. They have launched to level the playing field for entrepreneurs and investors.
Industry-lowest minimums starting as low as $10 also help build a more diversified portfolio. Famed angels and VCs invest in Republic alongside. Just like a small retail investor, Republic is invested in the success of all startups listed on the platform.
Community response: This will go down in history as the first one who used blockchain technology to completely disrupt an existing industry with Opulous. This will radically change how artists engage with their fans, creating a new era for fan experiences.
Only Algorand can solve the track of olive oil, empower musicians and provide the best +`block chain infrastructure for the future of finance at the same time.
Algorand should bullish signs and is considered a good investment. For those who are new, Algorand is the greenest blockchain with a carbon-negative network. The technology is bold in a way modernizing the creator economy. It empowers national initiatives, fast and final Defi at scale.
The featured use cases, hundreds of organizations which consist of fintech, startups, financial services, institutions, and defi. All of these are currently building on Algorand. The robust community, however, is progressing successively creating a healthy ecosystem of organizations, which are aligned with Algorand's longer-term vision for the future of finance.
The number of use cases are increasing day by day. Music royalties is just the beginning.
ALGO Price Analysis: Bulls Gearing Up For A Rally to New ATH

The Algorand proof-of-stake [PoS] blockchain platform recently launched its Algorand Virtual Machine, which quickly draws new money into the ecosystem. Let's analyze the ALGOUSDT chart following a top-down approach, starting from the daily time frame, and wrapping it up on the 4HR time frame.
Algorand (ALGO) Daily Chart Analysis
A bullish campaign started on the daily time frame of the ALGOUSDT upon entering the RSI overbought area [level-75], indicated by the green label of the on-chart RSI indicator. The bulls continued to scale into their buy position as the RSI continued to hover above the level-25 and finally dipped below level-25 on 21 Sep '21.
Although the RSI dip below the level-25 may send a bearish outlook towards the pair, the recent price close above bearish inside bar resistance and bullish divergence on 21 Sep '21 hint that the bulls are still lurking around the corner.
An entry of the RSI above the level-75 would confirm a bullish comeback as the ALGOUSDT exchange rate break above the bearish divergence trend line.
Algorand (ALGO) 4HR Chart Analysis
Coming down to the 4HR time frame, ALGOUSDT plunged into a downtrend after a collapse of bullish inside bar support [2.3242] on 12 September '21 at 16:00, setting new resistance on the bearish engulfing candlestick pattern [2.5574].
As old short sellers take profit off the table and join new bulls, the ALGOUSDT signaled its first regular bullish divergence on 21 Sep '21 at 20:00.
We observe a buildup of demand for the ALGO token, following the recent announcement of the Algorand virtual machine on 29 September '21.
A bullish divergence on 28 September 20:00 serves as a trigger confirming that the AVM news is a positive one for the PoS Altcoin.
In addition to the bullish divergence, the price breach of the bearish divergence trend line also shows massive demand brewing for the ALGO token.
Conversely, a price slump below the 1.5211 support is possible, a black swan event that could signal a takeover by bears across the crypto market.
Algorand (ALGO) Intraday Levels
Spot rate: 1.7445
Mid–Term Trend [H4]: Uptrend Starts
Volatility: Low
Support: $1.5211 and $1.5529
Resistance: $1.7707, $1.8570, and $2.3242
Algorand price on a steep decline, with bears looking at $1.50
Algorand price action caught in a steep bearish triangle.
With already five failed attempts, bulls look weak to break the downtrend.
A break of the baseline would bring ALGO price action towards $1.40
Algorand (ALGO) price action is under severe pressure from bears who are aggressively protecting the downtrend. A retest of the baseline in the bearish triangle looks inevitable,with $1.49 as the next target. Expect more room for the downside as market sentiment does not look too bright. 
Algorand price bulls in no shape of overcoming downtrend, need to be patient
Algorand price is in a very steep bearish triangle. Although steep, the descending side has been very well respected, which shows the large interest bears have in ALGO. A retest of the baseline at $1.149 looks inevitable. With the R2 monthly resistance at $1.54 already tested four times, the next push looks to be the right one for the bears. 
Bulls in ALGO price action have already tried several times to break the downtrend, but failed each time massively. With five rejections on the descending trendline, the signal should be clear for bulls that this trend will not reverse anytime soon. It might be better for bulls to wait to pick up Algorand price action below $1.49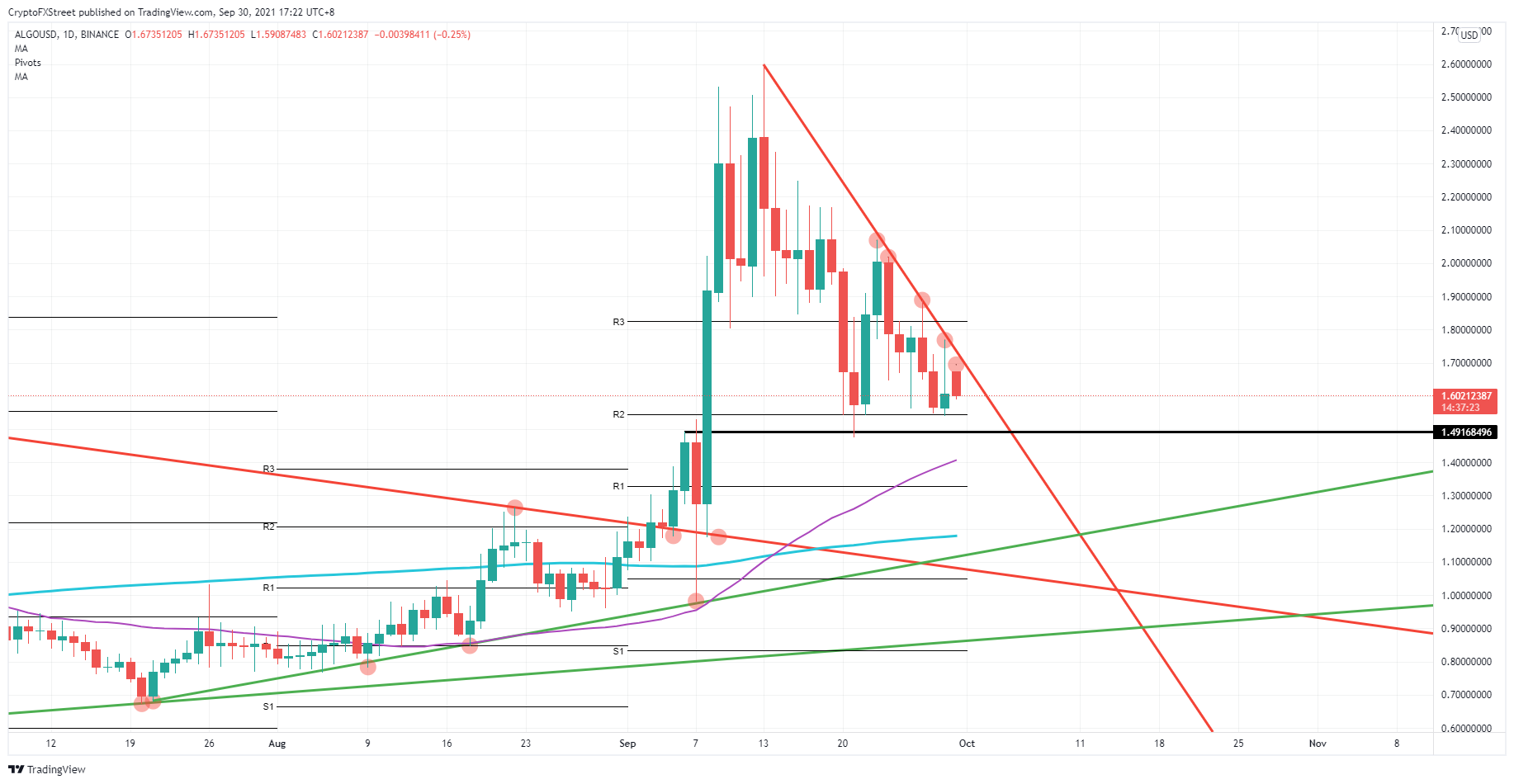 ALGO/USD daily chart
Once the breakdown Algorand price action is below $1.49, expect a further leg lower towards $1.4. That level should be the first support as the 55-day Simple Moving Average (SMA) comes into play. Should price action in ALGO overshoot, expect the monthly R1 at $1.33 to do the trick, making it an interesting area for sellers to lock in their profit.
Algorand bulls will await the above-described moment or jump on the shift in sentiment in global markets. A positive catalyst could quickly turn the tide in favor of the bulls and make them go for a retest of the descending trend line. A break would see a quick correction towards $1.8, with the monthly R3 resistance level around there.