AVAX price could drop to $55 despite recent Bitcoin adoption
AVAX price shows a grim outlook as it breaches below the parallel channel's lower trend line.
A 17% descent is likely for Avalanche price if it slices through the $61 support floor.
The markets have failed to react to the recent adoption of Bitcoin.
AVAX price rose 153% from September 7 to September 23, which was an amazing run-up. However, the popularized Avalanche is currently facing a setback and looks ready for a downswing.
Texas takes Bitcoin adoption to a new level
Texas appears to be the safe zone for migrating miners from across the world after the recent China ban. Moreover, Texas Governor Greg Abbott seems to be a fan of the space. Abbott has met twice with the Texas Blockchain Council, which is launching a summit that will host speakers like Senator John Cornyn (R-TX), Ted Cruz (R-TX) and Senator Cynthia Lummis (R-WY).
While the US regulators are taking their time regulating cryptocurrencies, stablecoins and their issuers, El Salvador President Nayib Bukele teased a Bitcoin mining facility powered by volcanoes.
First steps…

🌋#Bitcoin🇸🇻 pic.twitter.com/duhHvmEnym— Nayib Bukele 🇸🇻 (@nayibbukele) September 28, 2021
Bitcoin's adoption rate is like never before, yet the big crypto and altcoins like Avalanche show no signs of a sustained bullish move. In fact, after the October 1 pump, both BTC and AVAX are looking to head lower.
AVAX price shatters crucial support floor
AVAX price rose a whopping 150% in 16 days, but the ascent slowed down after a September 23 swing high at $79.68. This ascent set up two distinctive higher highs and two higher lows. When these swing points are connected using trend lines, it results in the formation of an ascending parallel channel.
Since the local top on September 23, Avalanche dropped 13% as it retested the parallel channel's lower trend line. However, the increased selling pressure pushed it below it, leading to a breakout.
As AVAX price tags the $65 support floor, the bearish momentum likely continues to build. Moreover, Bitcoin price is also looking weak, adding a tailwind to the pessimistic scenario. Therefore, a breakdown of $65 and subsequent barrier at $61.1 will retest the $55.36 demand barrier.
This move would constitute a 17% downswing from the current position.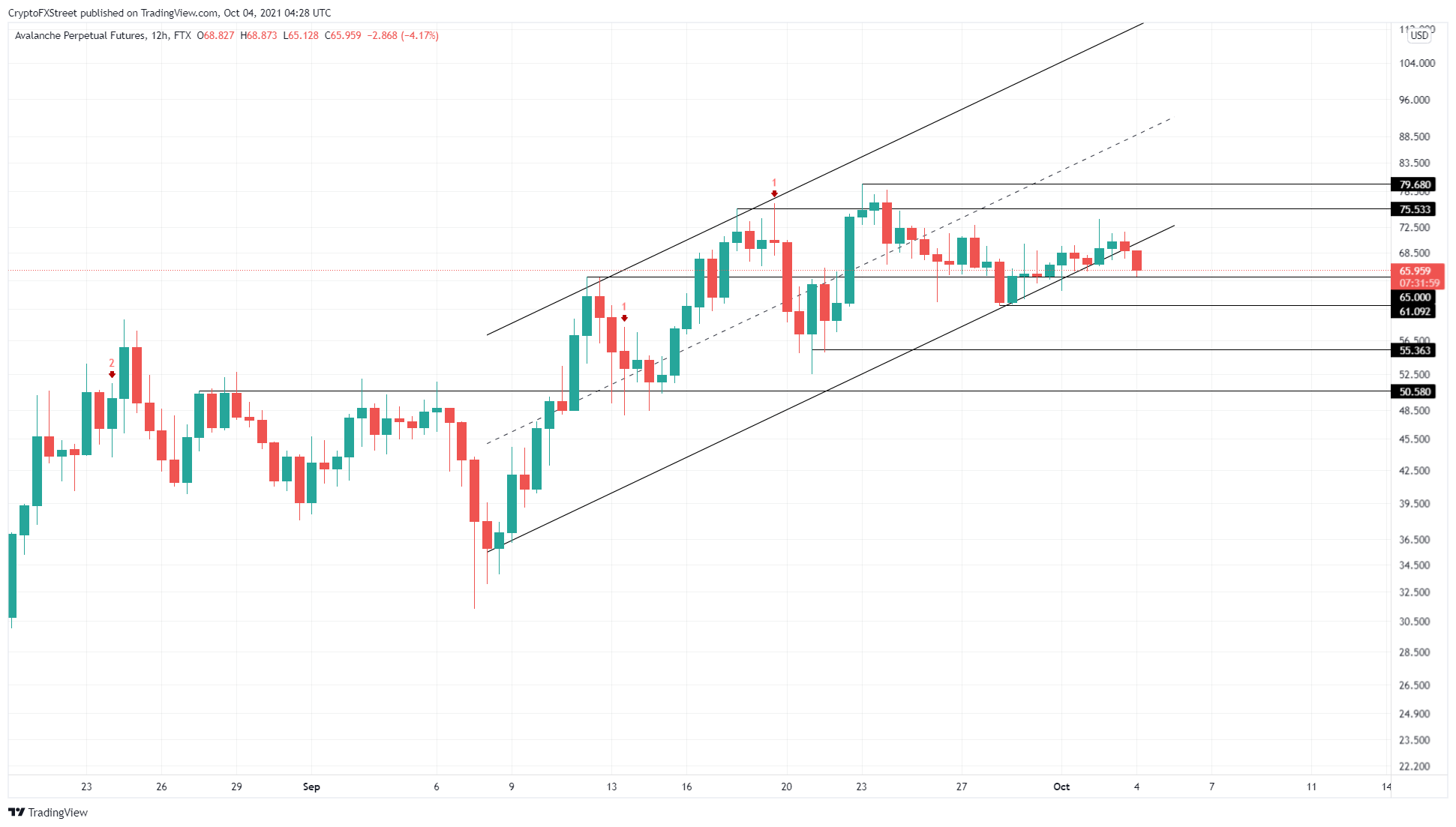 AVAX/USDT 12-hour chart
On the other hand, if AVAX price manages to bounce off the $65 support floor and reenter the parallel channel, it could signal a resurgence of buyers. Such a move could hold the key to a new uptrend if it can produce a swing high above $79.68.
Avalanche (AVAX) is the Son Goku fighting against Freezer vs. Super Saiyajin Goku
Avalanche is the only network with new tech that gets rid of the problems of Classical Consensus and Nakamoto Consensus.
When someone asked explain Avalanche like I'm five, Twitter Handle Avalunch opined, it is the Son Goku fighting against Freezer vs. Super Saiyajin Goku against Freezer. Much faster and efficient. The number of his opponents are irrelevant scaling.
For clarity, Son Goku is a fictional character and main protagonist of the Dragon Ball Manga series created by Akira Toriyama. Manga — Dragon Ball is a Japanese media franchise created by Akira Toriyama in 1984.
The story follows the adventures of Son Goku, from childhood to adulthood, as he trains in martial arts and explores the world in search of the Dragon Balls, seven magical orbs which summon a wish-granting dragon when gathered. Along his journey, Goku makes several friends and battles villains, many of whom also seek the Dragon Balls.
Community response: I very basically understood how the principles of the tech stack ushered in an entirely new paradigm in crypto. It meets the needs of the next 'mainstreaming era'. A must-own digital asset.
Jokes aside. It would be very beneficial in my opinion to actually see some legit L1 comparisons so we demonstrate AVAX's superiority.
Emin Gun Sirer opined: "Working with governments and large foundations is critical to continue to bring blockchain tech to mainstream institutions. The Avalanche Foundation is looking forward to helping the UK develop innovative and competitive digital currency solutions."
Emin stated this in response to a news which read, "A group of crypto advocates and firms are forming a new coalition to push the United Kingdom to issue a central bank digital currency (CBDC)"
The Digital Pound Foundation have announced their launch and they are focusing on supporting "the implementation of a well-designed digital Pound and digital money ecosystem." The member firms in the process consist of Accenture, Avalanche, Billon Group, CGI Group, Electroneum, Quant and Ripple.
Community: Why are you pushing for the further centralization of power? Why not choose the path of separation of money and state?
Aren't CBDCs largely against the ethos of crypto i.e. against centralized power?
It is perfectly normal for every clear-headed state to take advice about blockchain from Avalanche.
Have they given an indication of timescale when we could expect I central-bank digital currency? You guys are doing great work.
I think before issuing their own CBDCs they can buy large amounts of AVAX and use that for test purpose. Then they will ban every crypto that is not under control.
News Source
Avalanche Price Analysis: AVAX rallies back to $58-$59 previous support, reversal to follow?
Avalanche price analysis is bearish today.
AVAX/USD rallied back to previous support.
Bearish momentum is likely to reverse Avalanche today.
Avalanche price analysis is bearish today as strong previous support has been reached after a strong rally earlier today. Therefore, we expect AVAX/USD to reverse and continue lower later today along with the overall bearish momentum.
The overall market traded in the green over the last 24 hours with Bitcoin up by 4.78 percent. Meanwhile, Ethereum is up by 8 percent, while Polkadot (DOT) leads the market with a gain of almost 18 percent.
Avalanche price movement in the last 24 hours: Avalanche looking to retest previous support at $59 as resistance
AVAX/USD traded in a range of $53.33 – $58.19, indicating substantial volatility over the last 24 hours. Trading volume has declined by 22.4 percent and totals $560.9 million, while the total market cap trades around $12.72 billion, ranking the coin in 14th place overall.
AVAX/USD 4-hour chart: AVAX to reverse today?
On the 4-hour chart, we can see Avalanche price action approaching a strong resistance area, likely resulting in a reversal later today.
Avalanche price action has seen bearish momentum return so far in October after a strong increase over the second half of September. Over the past two weeks, several lower lows and highs have been set, leading AVAX/USD to the $51 current low.
Currently, Avalanche retraces higher as bulls look to set another higher low. Likely resistance will be found at the previous support at $59, and another push lower will follow.
Alternatively, if AVAX/USD breaks above the resistance, we could see a further upside, indicating that a major reversal to the upside might be in play later this week. However, until then, we remain bearish for the Avalanche price and expect it to decline to the $50 mark next.
Avalanche Price Analysis: Conclusion
Avalanche price analysis is bearish today as a strong resistance area was reached over the last 24 hours. Therefore, AVAX/USD will likely reverse over the next 24 hours and look to test the $50 support next.
While waiting for Avalanche to move further, read our guides on the Best NFT marketplaces, NFT history and development, as well as NFT Music.
Shiba Inu outranks AVAX and Chainlink as SHIB becomes the 12th largest crypto by market cap
Shiba Inu has posted nearly 367% in weekly gains, beating cryptocurrencies like UNI, AVAX, LINK and LTC.
The jump in SHIB price comes at a time when the token's ecosystem has 10,000 NFTs, Shiboshis launch lined up.
Shytoshi Kusama has revealed that SHIB is ready to enter the crypto gaming universe with the launch of Shiboshis.
Shiba Inu is ready to overtake Dogecoin with its rapid growth in market capitalization. The memecoin is currently the most traded cryptocurrency on Binance, Coinbase and Huobi.
Shiba Inu ranks 12th among cryptocurrencies, beats Ethereum-killers and Chainlink
Shiba Inu, a memecoin created anonymously by Ryoshi in August 2020, is now trending as the most traded cryptocurrency across top exchanges. The three tokens SHIB, BONE and LEASH from Shiba Inu's ecosystem have observed a spike in demand over the past two weeks. 
The launch of Shiba Inu's decentralized exchange platform ShibaSwap and implementation of the "burn mechanism" triggered a rally in the memecoin's price. The memecoin currently ranks 12th in market capitalization on CoinGecko, the world's largest independent crypto data aggregator.
Several developments in the SHIB ecosystem have contributed to the ongoing rally. The key factors are the implementation of the burn mechanism, the announcement of the launch of 10,000 Shiboshis on ShibaSwap and the rise in the number of token holders. 
Analysts have compared SHIB's ongoing rally to DOGE's run to its all-time high. @HsakaTrades, a pseudonymous cryptocurrency analyst, recently tweeted, 
Screenshot from what happened when DOGE had siphoned of all the volume from alts during its run earlier and it retraced after hitting its first pit stop at $0.45.

Expecting something similar with SHIB.

s/o @cryptoalle pic.twitter.com/SUv1YOkqAB— Hsaka (@HsakaTrades) October 7, 2021
As Shiba Inu prepares to venture into gaming, holders are expecting a boost in its demand. To begin with, SHIB was facing two key challenges – a lack of liquidity and a lack of ecosystem updates.
With its recent listing on Coinbase, SHIB has overcome the challenge of liquidity to a large extent, seeing how its daily trade volume exceeds $15 billion. 
SHIB has overtaken cryptocurrencies like Avalanche (AVAX), Chainlink (LINK), Uniswap (UNI) and Litecoin (LTC) with a market capitalization of $15 billion.
FXStreet analysts have evaluated the token's price trend and stated that SHIB has exceeded expectations with its rally. Analysts have set a target above $0.00003000.