BTC bull run has 'at least 6 months to go' – Five things to watch in Bitcoin this week
Bitcoin (BTC) starts a new week fresh from its first attempt to crack $50,000 in over a month — what's in store next?
After an encouraging weekend, BTC/USD faces an increasingly bullish macroclimate and a host of expectations from analysts who demand that October changes the game.
Q4, they say, should be unlike anything yet seen in the current Bitcoin bull run, and the latest estimates even argue that there is more than six months left to prove it.
With "Uptober" set for its first full week, Cointelegraph takes a look at what factors could be next to move the market in the coming days.
Markets brace for "tumultuous ride" this October
Stocks may have had a flat September, but the first few days of the new month have already shown how just a little good news can see Bitcoin outperform the macro pack.
While the S&P 500 fell 5% in September, BTC/USD closed the month around $4,000 below where it closed out August.
Since Oct. 1, however, the pair's fortunes have firmly set a different tone, and against expectations for stocks to rally at the expense of the United States dollar, positive headwinds for Bitcoin may well continue.
"Q4 2021 will likely record a higher-than-average return," CNBC quoted Sam Stovall, chief investment strategist of research firm CFRA, as saying over the weekend.
"However, investors will need to hang on tight during the typically tumultuous ride in October, which saw 36% higher volatility when compared with the average for the other 11 months."
Last week's sentiment was driven by the vote on the U.S. infrastructure bill, this now being pushed back until, at the latest, Oct. 31.
As it stands, USD is at its highest in over a year, as measured by the U.S. dollar currency index (DXY). A reversal in recent days — traditionally a bullish catalyst for Bitcoin — is on traders' radar.
For popular Twitter trader Crypto Ed, a DXY correction could even last months rather than weeks.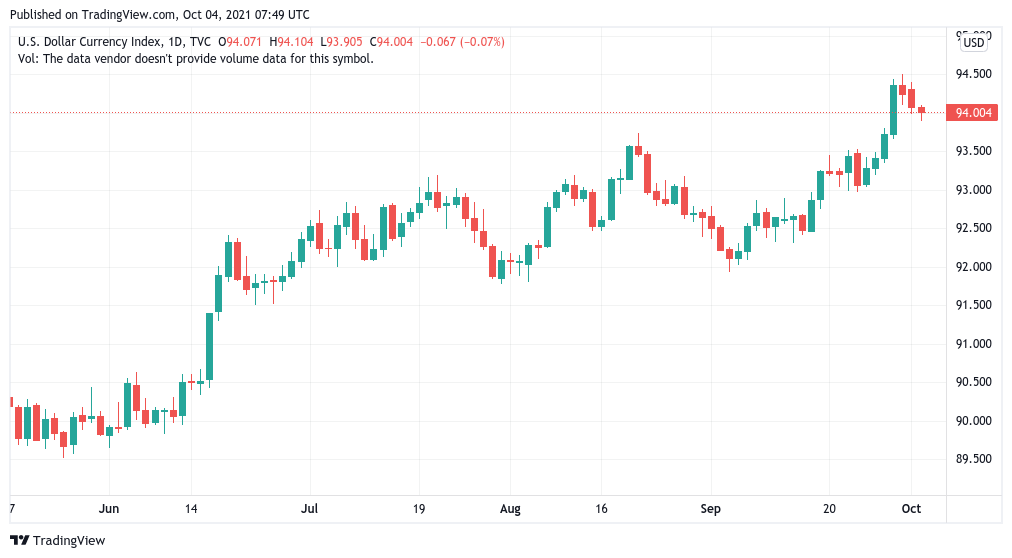 DXY 1-day candle chart. Source: TradingView
$50,000, but not yet
After clipping $49,000 over the weekend, Bitcoin is clearly lining up an attack on the all-important $50,000 mark — just not quite yet.
Despite bullish impulses, Sunday's latest break to the upside ended with a hefty rejection and subsequent drop of almost $2,000.
Commentators broadly dismissed this as being a bearish signal, however, maintaining that any BTC price weakness will be temporary.
Among them is Cointelegraph contributor Michaël van de Poppe, who on the day repeated his recent theory about brief consolidation followed by a fresh bullish breakout.
Fellow trader Pentoshi, meanwhile, likened the situation to last year's Q4 activity when it was $20,000, not $64,500, that Bitcoin needed to beat.
"I don't really care for low time frames. I care about the macro market structure," he said in accompanying Twitter comments.
Drop or no drop, BTC/USD likewise put in a solid weekly close of $48,234 — and in so doing, canceled out its previous two weeks' action entirely.
Trader and analyst Rekt Capital additionally noted the Pi Cycle 111-day moving average holding as support, fuelling the recent rally.
New hash rate all-time highs trickle in
You can never know for sure, but by some estimates, Bitcoin's hash rate has already hit new all-time highs.
Less than five months after China sparked a mass migration of miners and equipment due to a regulatory crackdown, data sources are showing that the fundamental metric has fully compensated for the upheaval.
Not only that, but the hash rate may have even hit 200 exahashes per second (EH/s) in recent days — a full 32 EH/s above its previous peak.
Measuring the hash rate is difficult — mining power dedicated to Bitcoin is impossible to ascertain exactly, and so any depiction can only be a guess.
While different sources vary widely — CoinWarz recorded 201 EH/s on Oct. 2, while MiningPoolStats currently shows just 138 EH/s — the overall trend is undebatable.
Bitcoin network fundamentals are firmly in "up only" mode, reflecting the continued long-term conviction miners have on profitability.
"China kicked out nearly 90% of bitcoin miners in the country earlier this year. Hash rate fell approximately 50% as a result," Morgan Creek Digital co-founder Anthony Pompliano commented on the data.
"Only a few months later and we are almost back to an all-time high. Economic incentives drive further network decentralization."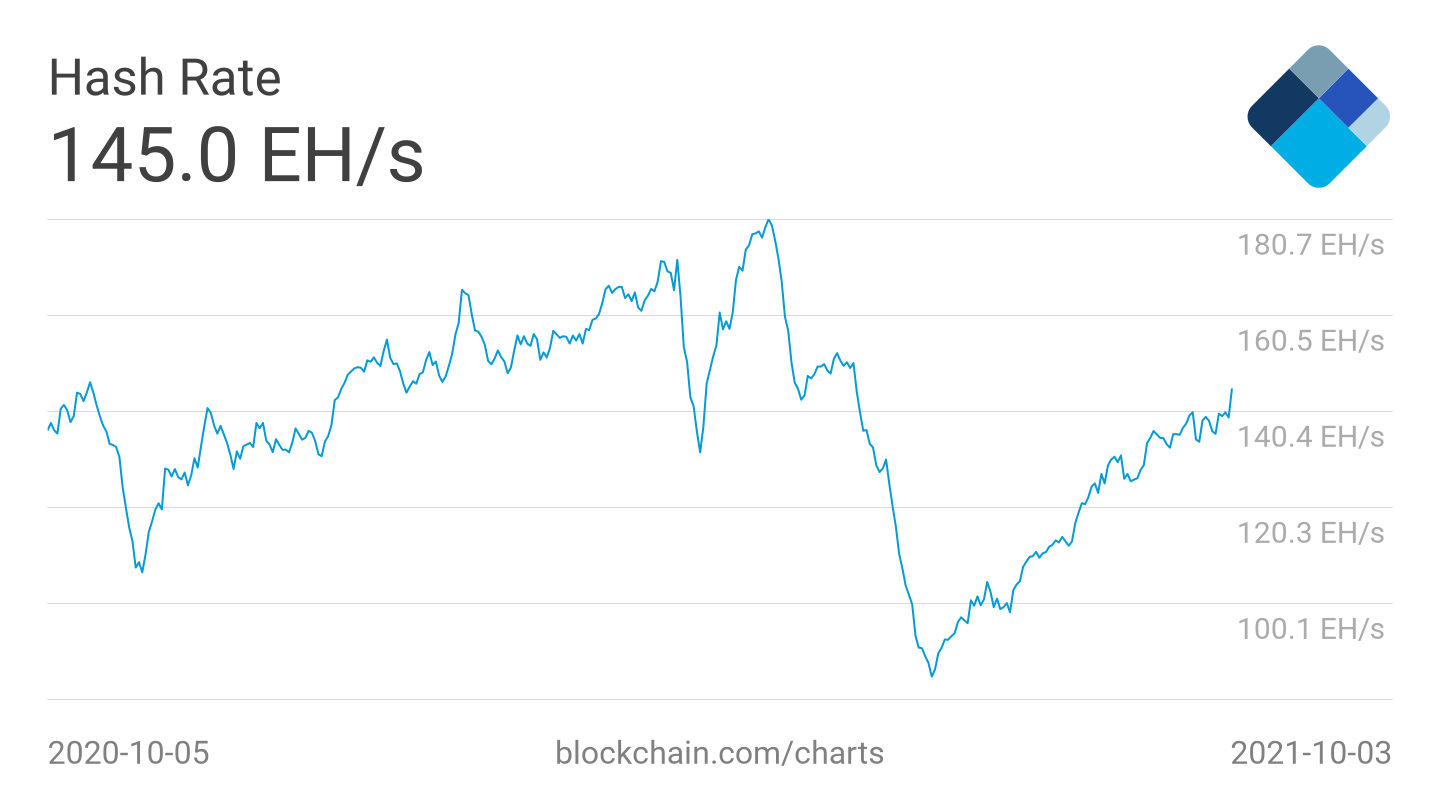 Bitcoin 7-day average hash rate chart. Source: Blockchain.com
As Cointelegraph reported last week, the difficulty is also set to challenge records this week, with the next adjustment likely being the seventh increase in a row.
This has not happened since 2019, while difficulty remains around 20% below its all-time highs seen in May.
Halfway through?
It's no secret that Bitcoin's best-known analysts are calling for a spectacular Q4 performance from BTC price action.
For PlanB, creator of the stock-to-flow model family, the "worst case scenario" for Bitcoin has come true two months running.
His floor estimates now call for $63,000 by the end of October — and a whopping $98,000 for the November close.
Zooming out, however, the picture remains even rosier for Bitcoin bulls, he says. In his latest stock-to-flow cross-asset (S2FX) update, PlanB showed price behavior being roughly 50% through its bull cycle, leaving the door open for rapid gains.
"IMO we are midway, no sign of weakness (red) yet. Note color overlay is not months to halving but an on-chain signal," he commented on the chart.
"My guess: this 2nd leg of the bull market will have at least 6 more months to go."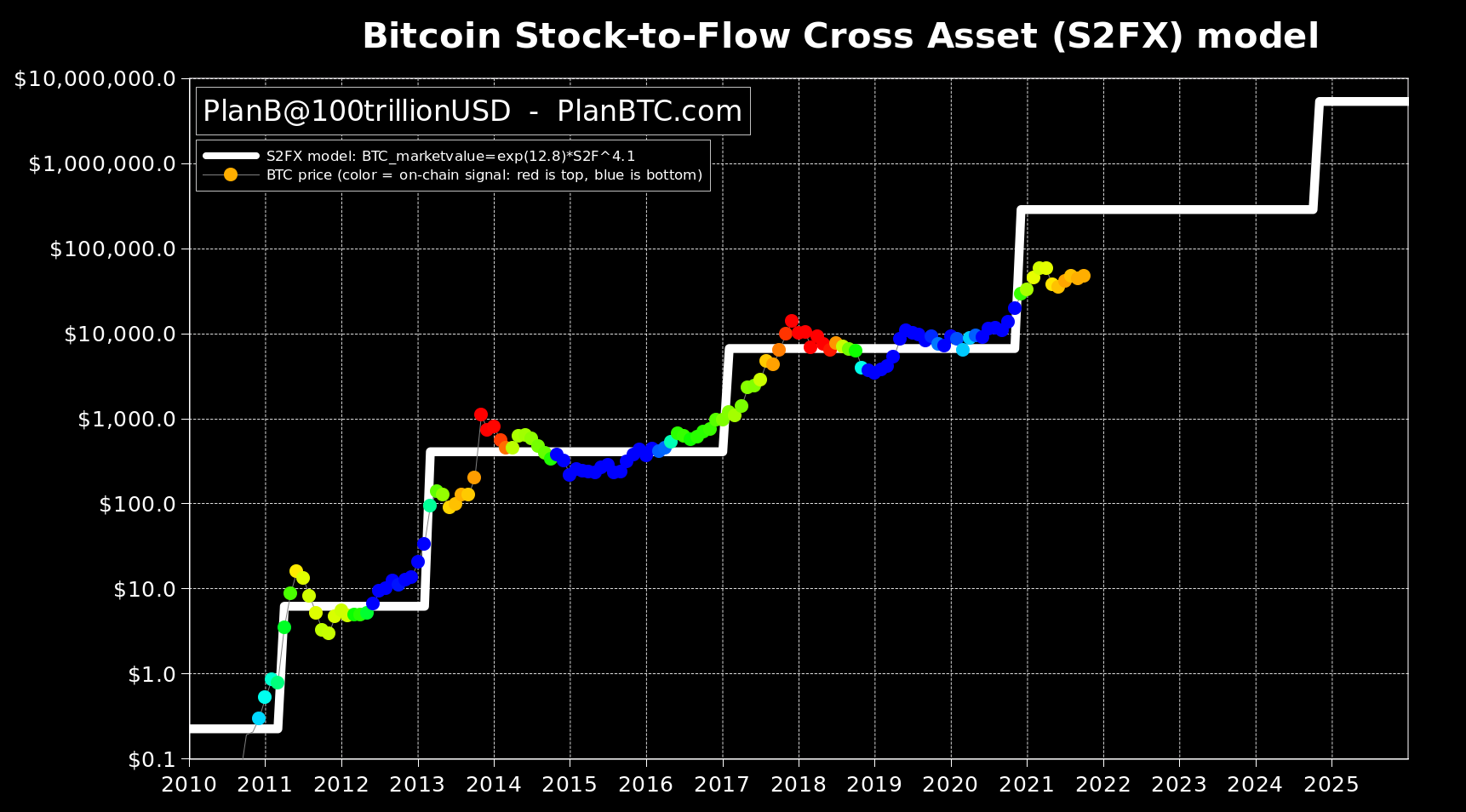 Bitcoin S2FX chart as of Oct. 3. Source: PlanB/Twitter
Bitcoin still has to play catch-up with stock-to-flow's daily estimates, with spot price having deviated by record proportions in recent months.
For Monday, according to monitoring resource S2F Multiple, BTC/USD should be trading at just over $100,000.
Pricing in a Bitcoin ETF
As Cointelegraph reported, the odds are on for some sort of Bitcoin exchange-traded fund (ETF) to get U.S. regulatory approval this month.
A futures-based ETF go-ahead is likely first, as the Securities and Exchange Commission "kicked the can" regarding a decision on a traditional product until at least November.
The market has been pricing in the landmark moment for some time, but a decision could nonetheless upend sentiment and, with it, the current state of play in the Grayscale Bitcoin Trust (GTBC).
Despite price action in recent weeks, the fund's discount to spot price has remained significant, currently lingering near 14%.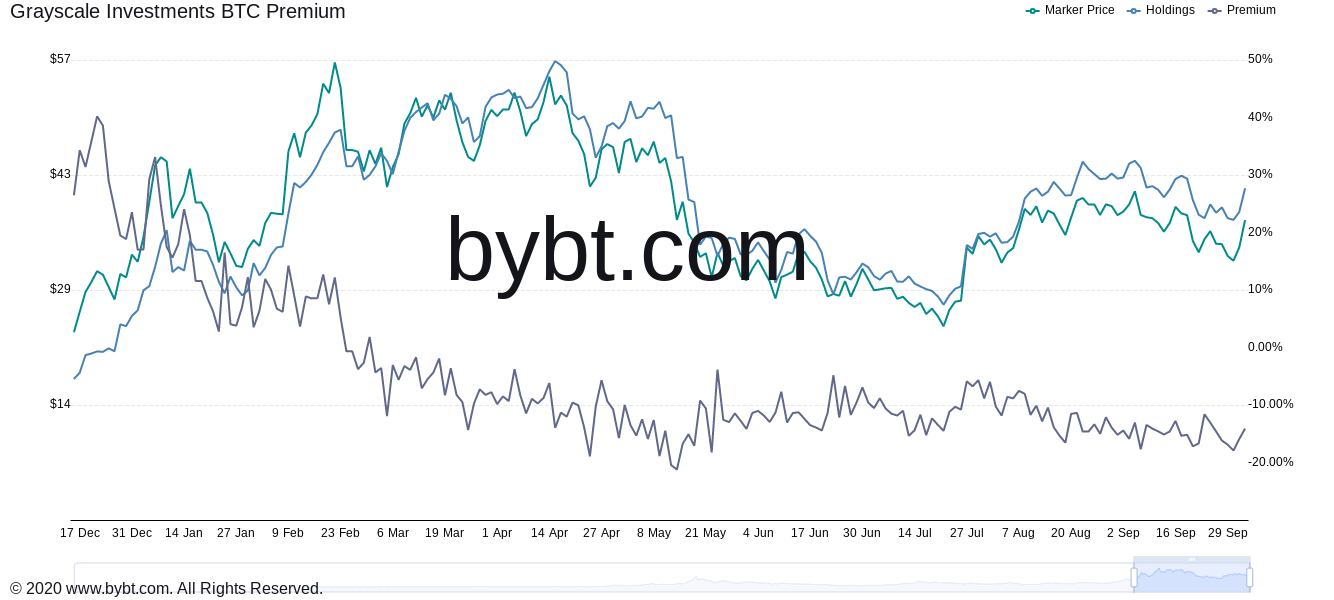 Grayscale premium chart. Source: Bybt
Grayscale has said that it intends to convert its flagship crypto funds to ETFs when circumstances allow, while data shows that business is anything but suffering.
"GBTC utterly dominates in volume vs bitcoin fund peers trading 10x more than any other in $ terms," Bloomberg ETF analyst Eric Balchunas noted last week.
"If it were an ETF it would also rank in top 5% most active."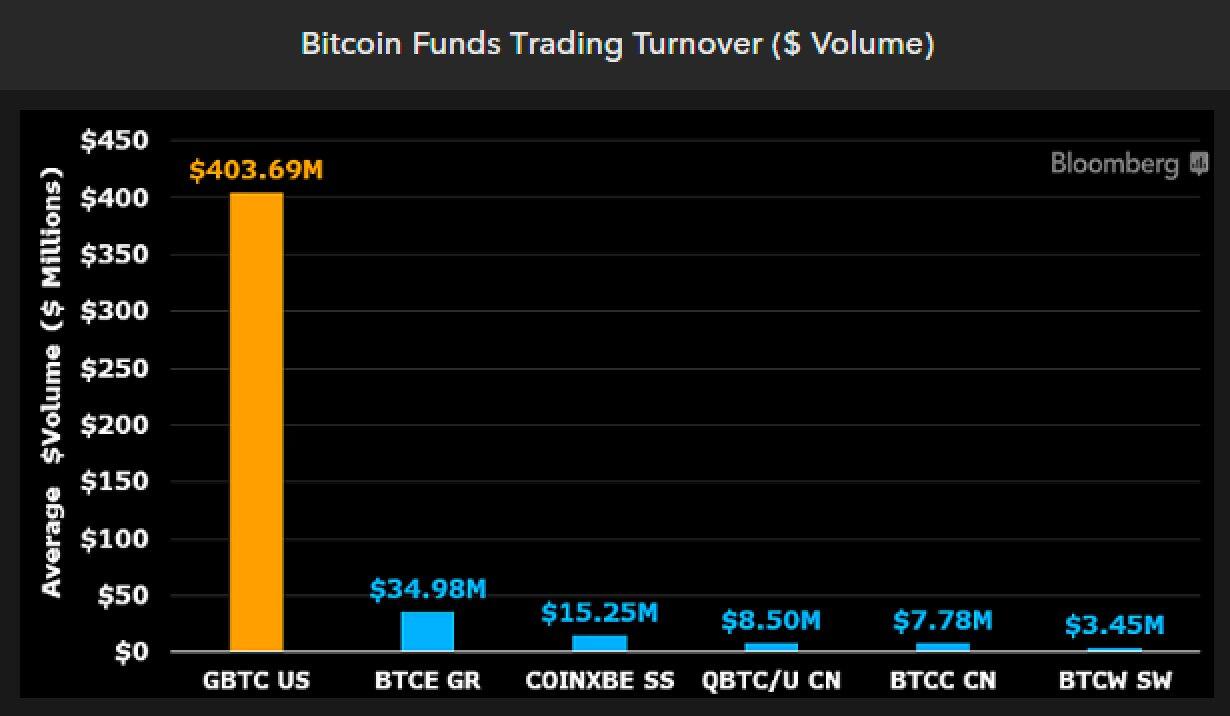 Bitcoin funds trading turnover comparison. Source: Eric Balchunas/Twitter
Bitcoin Will Significantly Underperform Altcoin Market As New Crypto Price Era Unfolds: Pantera Capital's Dan Morehead
The founder and chief executive officer of Pantera Capital says that investors can expect altcoins to outperform Bitcoin (BTC) in the long term.
In a recent edition of Pantera's Blockchain Letter, the head of the digital asset management firm outlines Dan Morehead's key quotes from the SALT 2021 conference in New York. During the conference, Morehead said that even though his company has greatly profited from BTC, he emphasized that most future crypto gains will come from altcoin investments.ADVERTISEMENT
"My perspective is: Bitcoin has been amazing – Pantera Bitcoin Fund is up 67,000% since inception. However, I think the majority of future gains will be from tokens outside of Bitcoin. I know that sounds heretical to some people here, but that's my professional opinion."
Morehead compares the rise of Bitcoin and its competitors to that of the tech industry boom during the late 1990s.
"It's like saying in 1998 that [the] majority of future tech gains would come from outside Microsoft.
At the time, Microsoft was worth $218 billion, Apple $3.5 billion, Amazon was $2.2 billion. Google and Facebook were zero – they didn't even exist. In the years since Microsoft did great – it went up 10x. However, 80% of the tech gains in these five stocks came from outside Microsoft.
That's the view I have here – I think BTC is going to go up a ton – like 10x. It's a great investment…[but] I think the broader portfolio is going to outperform."
At time of writing, BTC has a market cap of $1.156 trillion while all altcoins combined have a market cap of $1.327 trillion, according to CoinMarketCap.
s are now selling 'way more' US Dollars to buy Bitcoin
El Salvador's mainstream Bitcoin (BTC) adoption gains momentum during the ongoing bull run as citizens increasingly exchange their United States dollar savings for Bitcoin. 
President Nayib Bukele shared this new development on Twitter based on the data acquired from El Salvador's in-house wallet service, Chivo. President Bukele said:
"People are inserting way more USD (to buy #BTC) than what they are withdrawing from the Chivo ATMs."
He also urged media outlets to independently confirm the above information by visiting the ATMs. President Bukele further stated that Chivo has reported 24,076 remittance requests "adding up to $3,069,761.05 in one day."
2 new Chivo Facts:

1. People are inserting way more USD (to buy #BTC) than what they are withdrawing from the Chivo ATMs (any media outlet can independently confirm this by visiting the ATMs).

2. Today, we received 24,076 remittances, adding up to $3,069,761.05 (in one day).— Nayib Bukele 🇸🇻 (@nayibbukele) October 16, 2021
The increase in USD to Bitcoin conversions within the jurisdiction reflects a change in investor sentiment, which initially faced resistance during adoption from the general public. Moreover, the Salvadorean government offers various subsidies for using Bitcoin such as fuel subsidies and tax exemptions. 
El Salvador has installed over 200 ATMs after adopting Bitcoin as a legal tender, making it the third-largest network of crypto ATMs after the United States and Canada.
A Cointelegraph report shows that El Salvador exceeded United Kingdom's crypto ATM count after deploying 205 crypto ATMs, mainly to facilitate local Bitcoin transactions and Bitcoin to U.S. dollars conversions.
Recently, the Salvadorean government announced to build a $4 million veterinary hospital using the profits attained during the Bitcoin bull market. According to President Bukele, the veterinary hospital will host four operating rooms, four emergency clinics, 19 offices, and a rehabilitation area: "We decided to invest a part of that money in this: a veterinary hospital for our furry friends."
Why Bitcoin ETF Is Such A Big Deal and May Push Bitcoin Above $100k?

Amid a global regulatory crackdown on cryptocurrencies, the U.S. SEC's approval of a Bitcoin (BTC) Exchange-Traded Fund (ETF) has come as a pleasant surprise to the Bitcoin community. The most awaited ProShares Bitcoin Strategy ETF is reportedly launching as early as Monday, October 18. This ETF is going to be traded with a ticker symbol of BITO and will track Bitcoin futures.
Bitcoin rallies towards $100K
Instead of achieving regulatory green light, Bitcoin price crossed $62K this morning with a slight correction, BTC continued to stand strong at $61.5K, at the time of reporting. The market is raging with speculation of Bitcoin crossing $100K with this ETF. The timing could not have been better as the fourth quarter has commenced the holiday season bull run, with trader bonuses flooding in as cryptocurrencies take to an upward graph. Since the beginning of October, when the potential BTC ETF began gaining mass traction, the impact on Bitcoin prices also became evident.
According to a Bloomberg report, this Bitcoin ETF will further the institutional adoption of the decentralized sphere, specifically focused on Bitcoin. "An ETF should provide greater ease-of-use for retail investors looking to ride Bitcoin's often hair-raising ups and downs. Like securities tracking oil and gold, it will change hands on relatively familiar U.S. stock-market venues, rather than in cryptocurrency or futures exchanges whose workings are imposing to some users."
Regulatory approval can make or break a token
The frequently validated fact that regulatory approval radically helps the growth of cryptocurrencies, despite it being a decentralized and unregulated market, continues to gain credibility. XRP is one of the most prominent examples of how drowning in a regulatory puddle may keep certain tokens into a bear rut, while the rest of the industry leaps into the bullish phase. Due to the ongoing XRP lawsuit against Ripple, the XRP community continues to suffer as the fourth quarter has not helped XRP so far. The community blames the SEC for stretching the lawsuit intentionally so that XRP skips this bull run.