China's Ban Made Bitcoin Even Stronger, Says Edward Snowden
Bitcoin's price is up by more than ten-fold since the last time Edward Snowden posted about it – he wondered if anyone bought back then.
The popular whistleblower Edward Snowden has joined the list of people believing that the Chinese ban on Bitcoin will actually benefit the cryptocurrency. He also recently wrote about BTC's price, which is roughly 10x higher than the last time he did.
The Chinese Ban is Good for Bitcoin
Although the world's most populated nation has been against the cryptocurrency industry for almost a decade, the country took its hostile stance a step further this year. Back in May, it reiterated its ban but also intensified it by going after miners, many of whom had to close their services or relocate to other, more friendly environments.
Later in September, China's central bank also prohibited all local organizations from dealing with companies associated with the digital asset space. Somewhat expectedly, these developments led to short-term price drops for BTC and the rest of the market, even though they are not exactly new.
Edward Snowden, perhaps the most famous whistleblower of our generation, weighed in on the matter. He took it to Twitter to indicate that this Chinese ban has "just made Bitcoin stronger."
Sometimes I think back to this and wonder how many people bought #Bitcoin then.

It's up ~10x since, despite a coordinated global campaign by governments to undermine public understanding of—and support for—cryptocurrency.

China even banned it, but it just made Bitcoin stronger. https://t.co/pbnOFGfaVf— Edward Snowden (@Snowden) October 3, 2021
Snowden also spoke about the price movements for BTC since last March when it dipped below $4,000 during the COVID-19-induced market crash. Back then, he tweeted about buying more portions of the asset as this 50% daily drop was "too much panic and too little reason."
Being more than 10x up since then is an impressive milestone of its own, especially given the fact that BTC was banned (again) in China within this timeframe.
Thus, the number of people believing that the Chinese ban would actually benefit bitcoin continues to increase, with some even asserting that other nations, like the US, could take advantage of this.
Snowden's BTC History
Snowden made headlines back in 2013 when he stole and leaked numerous classified documents from the National Security Agency, which was his workplace at the time. Those included proof of mass government surveillance, espionage, computer hacking, phone tapping, and more.
Later on, he admitted that he used bitcoin to help him reveal the stolen documents. He noted in an interview, "the servers that I used to transfer this information to journalists were paid for using bitcoin."
However, he has also criticized BTC's blockchain as it "sucks in many ways, such as financial privacy."
Dogecoin Looks Ready To Rip As Bitcoin Finds Critical Support, According to Crypto Analyst Justin Bennett
Crypto analyst Justin Bennett says that Dogecoin (DOGE) could be ready to make a run for its next critical level about 37% above current prices.
The popular analyst tells his 88,000 Twitter followers that DOGE is attempting to break out of a long descending resistance line that it has been up against since May.
"DOGE looks ready (as long as $BTC cooperates).
Just needs to get above 0.27 on a daily closing basis to open up 0.34+."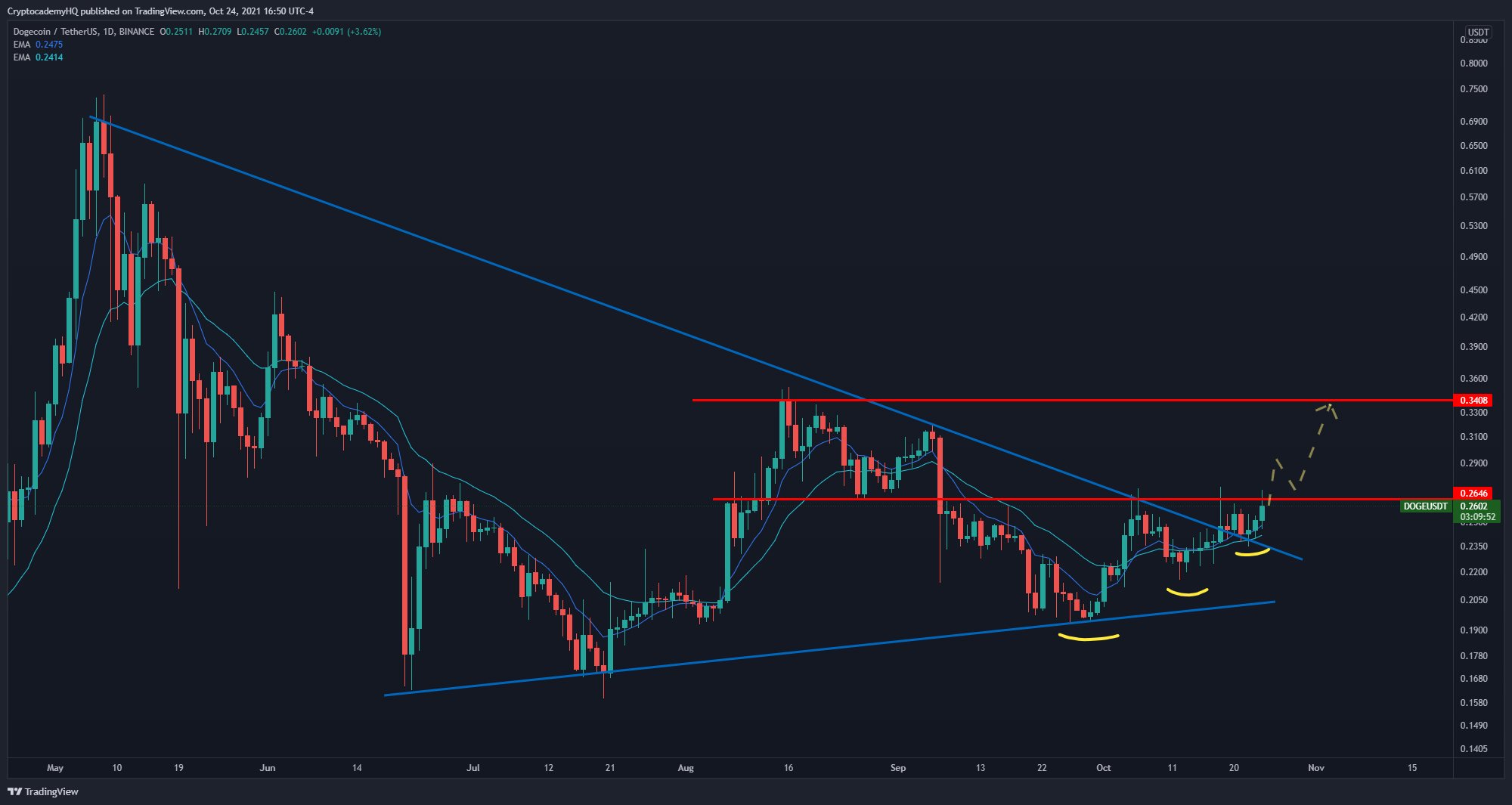 In the near term, Bennett says DOGE needs to turn the $0.26 level into support and close above $0.27 before continuing higher to his initial target of $0.34. At time of writing, Dogecoin is trading at $0.26 according to CoinGecko.
Looking at Bitcoin, the analyst says BTC's ability to maintain the $60,000 level is a major show of strength that could have big implications in the broader markets.
"Although the BTC weekly candle might not look great, it still held above $60k.
That's what I was looking for. Doesn't mean we can't see more pullback before further upside, but it does mean $60k is holding as support on a weekly closing basis.
That's huge."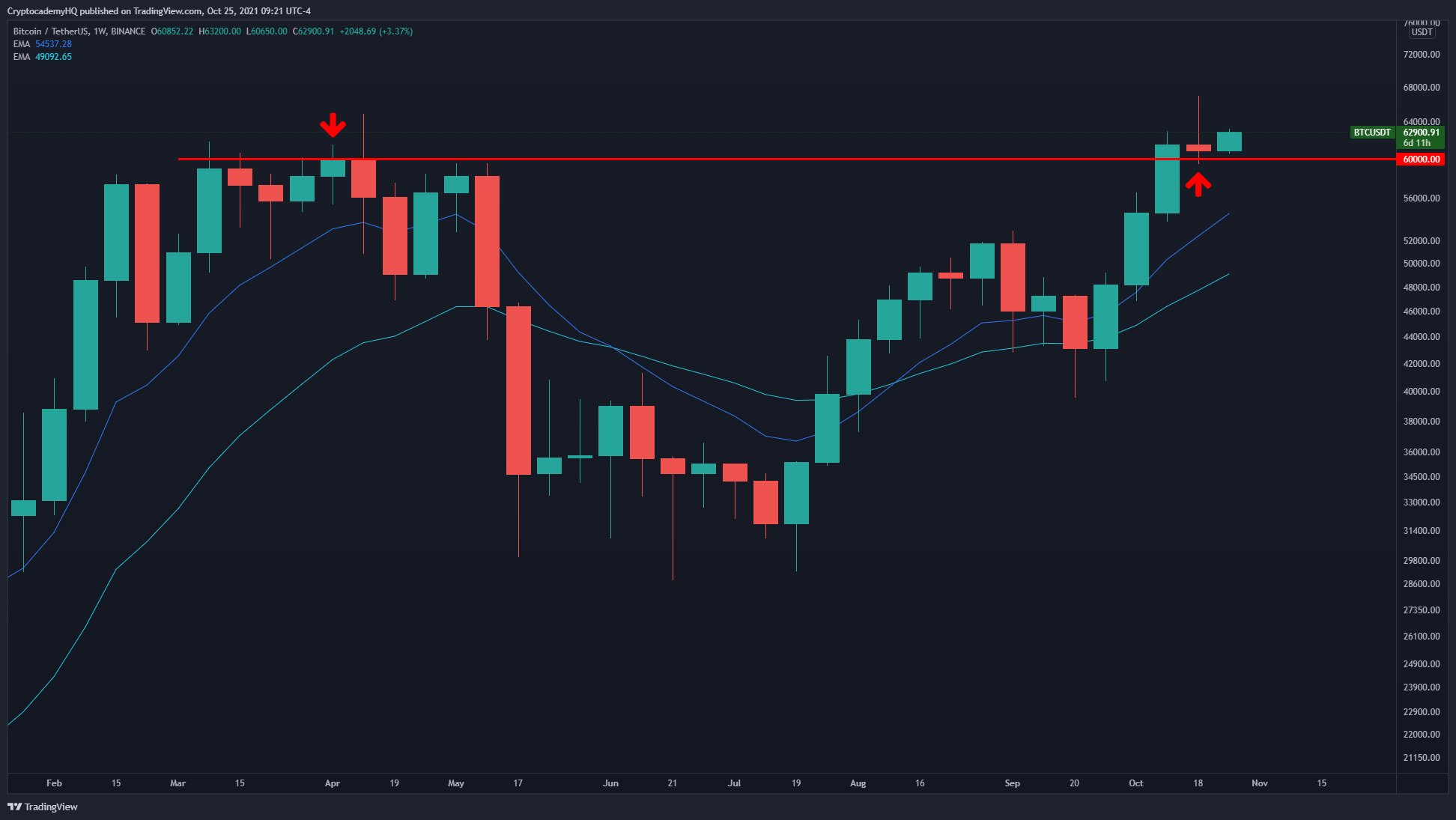 Bennett also has his eye on Bitcoin dominance, which compares BTC's market cap to the rest of the crypto markets. He says it's bounced off a support level and is currently on its way up.
"BTC.D is bouncing from 44.5% support.
Surprise, surprise."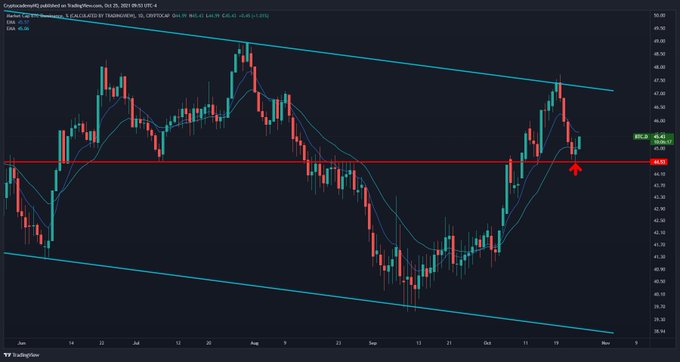 While surging Bitcoin dominance often suggests that altcoins will underperform, Bennett says this may only hold true in the short term. He says if the king crypto is looking healthy, then altcoins might take it as a signal to move up.
"This isn't necessarily a bad thing for altcoins.
Will they suffer if BTC.D heats up again?
In the short term and against BTC, yes.
But Bitcoin strength now is massively bullish for alts over the next few months.
Anybody That Does the Homework Eventually Invests in Bitcoin: SkyBridge Capital's Scaramucci
Founder of SkyBridge Capital believes that anyone who starts looking into Bitcoin seriously will end up buying
Antony Scaramucci, founder and CEO of SkyBridge Capital venture fund that has a branch investing in Bitcoin, has told CNBC that Bitcoin can eventually convert anyone who "does their homework" to invest in it.
He named several billionaires who used to be skeptical on BTC but have been into it since 2020.
Those who do their homework end up investing in bitcoin, Scaramucci says https://t.co/tDL2KPi8wJ— CNBC (@CNBC) October 25, 2021
Ray Dalio, Paul Tudor Jones, etc, have turned to Bitcoin
According to Scaramucci, Bitcoin has the power to attract even its opponents – if they begin to study BTC carefully and "do the homework" they get convinced of the great potential Bitcoin has.
He has referred to billionaire investors, such as Ray Dalio, Paul Tudor Jones and Stanley Druckenmiller – they used to be opposed to the flagship cryptocurrency and now are holding BTC in their portfolios.
Among these former Bitcoin skeptics are Shark Tank's co-hosts – Kevin O'Leary (widely known as Mr. Wonderful) and Mark Cuban, billionaire and owner of the Dallas Mavericks baseball team. He now considers Bitcoin a store of value and believes that Dogecoin is a perfect crypto for payments. The Mavericks online store accepts DOGE for tickets and merch, and, according to Cuban, people are spending thousands of USD in Dogecoin on every month. He also likes Ethereum because of smart contracts.
Here's how much Bitcoin Scaramucci holds
As part of studying BTC, Scaramucci recommended reading the BTC white paper written by Satoshi Nakamoto, the mysterious person or a team of them that created Bitcoin back in 2008-2009.
As for his own crypto holdings, Anthony Scaramucci holds over one billion USD worth of Bitcoin. He believes BTC to be digital analogue of gold.
He also believes that Ethereum and Cardano have a large potential and are going to keep rising in the future.
Bitcoin Is the Apex Property of the Human Race, Says MicroStrategy's Michael Saylor – Here's Why
MicroStrategy CEO and Bitcoin bull Michael Saylor says Bitcoin (BTC) is second to none in the history of humanity in terms of property.
In an interview on mixed martial arts YouTube channel Tristar Gym, Saylor unveils what he believes is the big value proposition behind Bitcoin. ADVERTISEMENT
"Bitcoin is property rights. It's technology to deliver property rights to eight billion people for the first time in the history of the human race and that's life, liberty, and property. That's what John Locke was all about: property rights.
People diminish property rights saying, 'Well they don't matter.' They sort of do, because if I can steal your life's work from you, like that, what was your life worth? I mean it's completely and utterly demoralizing. You've stolen someone's sovereignty and their freedom and their liberty, so property rights does matter.
Half the world doesn't have any hope of accumulating property and the other half has property at risk, and Bitcoin is technology that gives you back a right to your own personal sovereignty and your own property."
Saylor also says Bitcoin beats gold, fiat currency and even real estate when it comes to storing value.
"Bitcoin is more efficient than gold. It's more efficient than fiat money. It's more efficient than storing your money in an Airbnb rental apartment. It's just the most efficient energy system and rational people everywhere in the world, they're looking at it saying 'Why wouldn't I want to store my money in a property that is the apex property of the human race?'"ADVERTISEMENT
The head of the business intelligence firm also highlights a number of advantages in storing your wealth in BTC.
"If you put your money in Bitcoin, no property tax. It'll last a million years, a thousand years. It's not going to decay. It doesn't get rained on.
You can loan it to anybody in the world. Any bank in the world might give you a loan against it, so you can use it as collateral anywhere in the world. You can generate rent on it anywhere in the world, and in the day when you need to sell it, every wealthy person on Earth is going to want it. That's why it's apex."