Macro Guru Raoul Pal Says He's Extremely Bullish on Crypto Markets, Predicts Massive Acceleration for Altcoins
Real Vision CEO and macro guru Raoul Pal is predicting that Bitcoin and the crypto markets will see parabolic growth in the coming months.
The former Goldman Sachs executive tells his 658,600 followers on Twitter that he believes crypto assets are gearing up to kick start new bull cycles after going through a corrective period.ADVERTISEMENT
"I'm finding it very hard to not get extremely bullish about the next few months. Almost every crypto chart looks coiled and ready for a big move after months of consolidation."
Pal says he's looking at the Total Market Cap chart, which tracks the market capitalization of all cryptocurrencies. According to Pal, the market capitalization can grow by as much as 500% next year.
"This is total market cap. It is likely ready to move from two standard deviations oversold vs trend to overbought. That looks to me that the entire space can 3x into year-end and 6x into next year (I think the cycle extends)."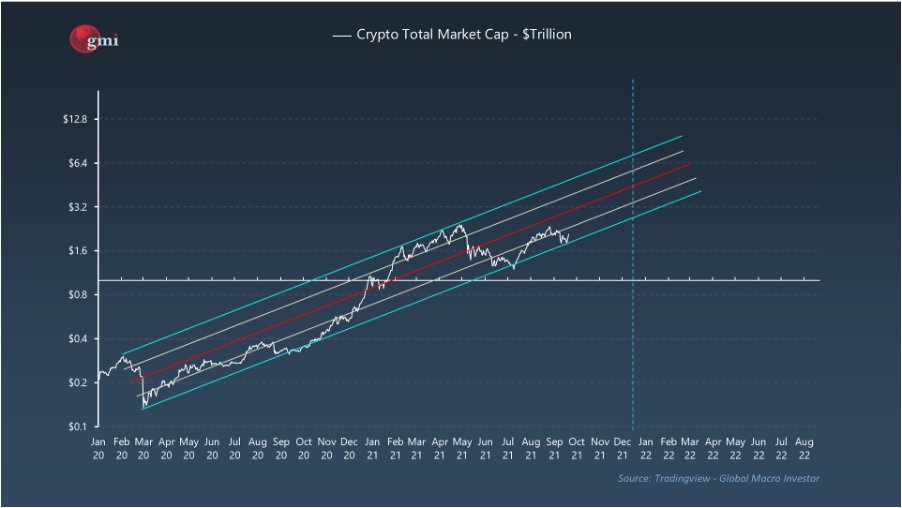 According to Pal's chart, the entire crypto market can soar to a capitalization at $6.4 trillion as soon as January 2022.
Looking at the altcoin market, Pal is looking at a chart that shows the market capitalization of all crypto assets excluding Bitcoin (BTC) and Ethereum (ETH). According to the macro guru, the chart looks poised to start wave three of its cycle as it threatens to take out its final resistance at $900 million.
"The outright chart of market cap is ludicrously bullish once it crossed $900 million in market cap and will be an acceleration point. Wave 3 in technical analysis term ushered in by this giant cup and handle/wedge."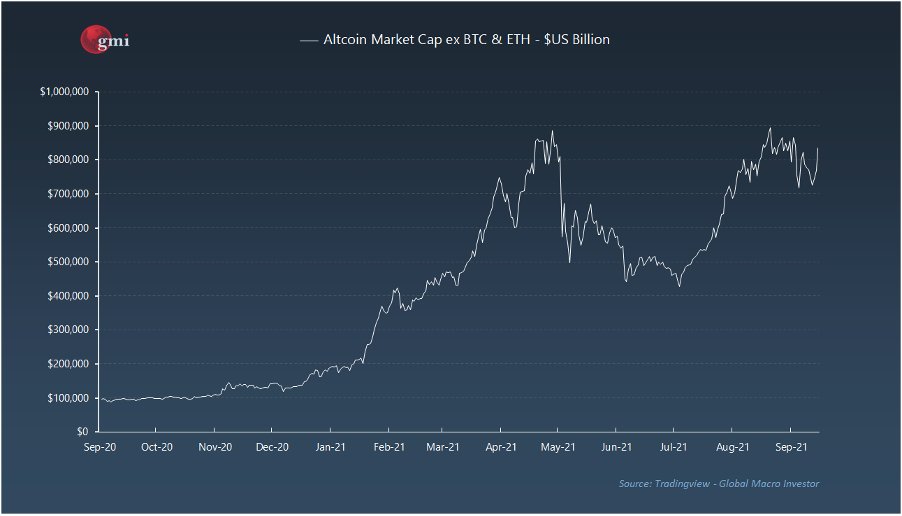 Pal is looking at the chart from an Elliott Wave perspective, a technical analysis approach that predicts price action by following crowd psychology that tends to manifest in waves. According to the theory, the third wave is the longest impulse move up in a five-wave bull cycle.
Garlinghouse Speaks About XRP Based ETF ! XRP Price Sees no Action!
Ripple Price Action
The price of Ripple has been static for the previous week, disappointing investors. The price of XRP bounced between $1 (support) and $1.16 (resistance) multiple times, forming a descending triangle. 
Nonetheless, due to the compression against the downtrend resistance line, the approaching week offers more intriguing price movement. The anticipation is that price will break away from the blue apex of this formation, signalling a shift in trend.
Until then, XRP will be caught between the resistance and support levels. Due to the MACD moving to the negative side this week, the indicators predict a bearish bias.
However, it is too early to predict that XRP would plummet to lower levels unless the price breaks below the $1 support level.
At the time of writing, XRP is trading at $1.08 down by 2.3% in the last 24 hours.
An XRP based ETF?
The chief executive, while speaking to Fox Business with Charles Gasparino, among other things also spoke about the possibility of having an XRP based ETF.
When asked about the possibility of an XRP ETF in the United States, he simply stated
Garlinghouse, on the other hand, gave an indirect response to the issue rather than explicitly answering it.
The Securities and Exchange Commission (SEC) has finally approved Bitcoin Futures ETFs in the United States. More ETFs of this type are expected to appear in the near future, according to experts.
According to Garlinghouse, because Bitcoin consumes so much energy, prioritising it is incompatible with the SEC Chair's climate objective. The executive, who has often criticised Bitcoin's energy use, believes that XRP is 100,000 times more energy efficient than Bitcoin.
Finally, Garlinghouse expressed his dissatisfaction with Gensler's reticence on Ethereum's regulatory status. Particularly considering Ether ETFs are expected to be popular once they are legalised. 
Bitcoin Price Flash Crashed 87% to $8200 on Binance US
Several flash crashes occurred in the crypto markets today, with the most considerable one being BTC dropping to $8,200 on Binance.US.
After yesterday's new all-time high at $67,000, bitcoin corrected today with a steep decline to below $64,000. On some exchanges, though, the crash was significantly more violent as BTC dropped as low as $54,000 on Kraken and to four digits on Binance.US.
October 20th was a historic day for the primary cryptocurrency as it finally skyrocketed above its previous all-time high and peaked at $67,000. It happened on the wings of the recently approved Bitcoin Futures ETF in the US.
After a brief correction hours later, BTC was closing down on its new record earlier today, when the situation rapidly changed.
In a matter of minutes, bitcoin went from $66,700 to $63,600 on most exchanges (including Bitstamp).
On others, though, such as Kraken and FTX, the price decline was significantly more severe.
In an apparent flash crash event, meaning the price of the asset dumped by a large percentage and spiked back up immediately, BTC went to a low of $58,500 on FTX.
On the veteran US trading venue, Kraken, bitcoin dumped all the way down to $54,100 before recovering to its current level of roughly $65,000.
However, none had it worse than Binance.US. The American branch of the largest crypto exchange saw BTC nosediving to $8,200 – a massive 87% drop in a matter of seconds.
Overall, the entire market retraced in a matter of minutes. Ethereum was closing down on its own ATH at $4,400 before losing more than $200.
Somewhat expectedly, the enhanced volatility in a short period of time caused pain for overleveraged traders. Data from Bybt shows that the liquidations have jumped to $500 million on a 24-hour scale.
The largest single BTC liquidation order occurred on Bitmex and was worth $10 million.
VeChain Price Analysis: VET swiftly moves above the previous high, targets $0.135 next?
VeChain price analysis is bullish today.
VET/USD saw further advance today.
Closest resistance at $0.135.
VeChain price analysis is bullish today as more upside was seen over the past hours after a slight pause overnight for the rally that started yesterday. Therefore, we expect VET/USD to continue higher and reach the $0.135 mark next.
The cryptocurrency market traded in the green over the past 24 hours, with Bitcoin up by 3.36 percent. Ethereum saw an even better result, with a gain of 11.82 percent, while Solana (SOL) is the top performer, with a 21 percent increase.
VeChain price movement in the last 24 hours: VeChain breaks above the previous high at $0.128
VET/USD traded in a range of $0.1164 – $0.1321, indicating strong volatility over the last 24 hours. Trading volume has increased by 94.63 percent and totals $640.6 million, while the total market cap trades around $8.46 billion, ranking the coin in 23rd place overall.
VET/USD 4-hour chart: VEt targets $0.135 next?
On the 4-hour chart, we can see the VeChain price action still pushing higher, likely leading to a test of $0.135 resistance later today.
VeChain Price Analysis: VET spikes above the previous high, targets $0.135 next?
VET/USD 4-hour chart. Source: TradingView
VeChain price action has slowly moved higher over the past weeks as bearish pressure frequently has returned, preventing clear higher highs set. After an initial rally on the 1st of October, VET/USD reached $0.115.
From there, a week-long consolidation was seen around $0.11 until a quick spike higher to $0.123 was followed by a sharp retracement of more than 15 percent to the $0.103 mark.
Early last week, VeChain price rallied back to the $0.123 high, with further slight higher highs set over the week. Over the weekend, VET/USD retraced and set a higher low, around $0.115.
Consolidation followed until a rapid push higher began yesterday, resulting in a move towards $0.128. After a slight pause overnight, more upside followed today, quickly pushing VET to a new higher high above $0.128.
VeChain Price Analysis: Conclusion
VeChain price analysis is bullish today as a strong advance over the last 24 hours pushed VET above $0.128 previous high without much hesitation. Therefore, we expect VET/USD to test the $0.135 next resistance later today.
While waiting for Fantom to move further, read our guides on LTC wallets, Gero wallets, and DeFi wallets.