Mastercard highlights that it will work with CBDCs, stabelcoins and cryptocurrencies
Mastercard, one of the largest payment companies in the world, revealed this Thursday (30) that its network is already working with the integration of digital currencies, whether they are Central Bank Digital Currencies (CBDCs), stablecoins or cryptocurrencies.
According to the company, integration with different types of digital currencies is an important part of its plans. After all, Mastercard works to provide more freedom to its partners in offering products. In addition, for users, it works by providing several possibilities for payments with Mastercard cards.
In the case of CBDCs, the company highlighted that it has already been working with central banks around the world. The objective is to enable the official digital currencies of countries within their ecosystem.
As Walter Pimenta, the company's vice president of Products and Innovation, pointed out, the integration of Mastercard with CBDC in the Bahamas is a great laboratory on how this integration can be conducted to improve services provided to the population.
"It is time to research and work together so that the design (of coins) is effective", he said.
Stablecoins and cryptocurrencies
Also according to Pimenta, in the case of stablecoins, the company already has a partnership in this endeavor. In the US and UK, Mastercard offers this service through stablecoins USDC.
Therefore, users from these countries can use Mastercard's network through stablecoin for payments and other functions.
"We are already enabling USDC processing in some countries and for all of them the plan is the same. As long as there is regulation, we are open to working with stablecoins", he said.
Also according to the executive, in the case of cryptocurrencies, they are not directly integrated into Mastercard's network as is the case with CBDCs and stablecoins.
In this case, there is a program called "Crypto Card" in which companies that work with cryptocurrencies can request authorization to issue cards with the company's brand.
With the authorization granted, companies can issue a Mastercard card that will allow payments with cryptocurrencies. However, it is necessary that the certified company and card issuer convert the crypto balance into fiat before sending the values ​​to the network.
"We don't sell Bitcoin and cryptocurrencies. But the customer card issuer can do this and enable the fiat balance on the Mastercard customer card. We already have several companies running this service on our network", he said.
Read also: Coinbase plans to enter Brazil and is hiring director
Also read: Aureo Ribeiro says Bitcoin will be currency in Brazil
Also read: Rich Dad and Poor Dad predicts the biggest crash in history and says it will affect Bitcoin as well
Crypto Traders Most Bullish on Polkadot, Solana, Polygon and 10 Additional Altcoins: Digital Asset Survey
A new survey unveils that crypto traders are most bullish on 13 altcoins including Polkadot, Solana and Polygon.
The Real Vision Exchange Crypto Survey is designed to track sentiment among investors by allowing participants to scan 30 tokens and choose if they want to have an overweight or underweight allocation for each one. The survey was conducted by Real Vision Bot, which was created by two independent developers and boosted by macro guru Raoul Pal.
Results from voting that happened on the first two days of this week indicate traders prefer an overweight portfolio consisting of smart contract platforms Polkadot (DOT) and Solana (SOL), as well as Ethereum-scaling solution Polygon (MATIC).
The scalable and interoperable ecosystem Cosmos (ATOM) is fourth on the list, and smart contract platforms Terra (LUNA) and Cardano (ADA) appear tied for fifth. Traders also have overweight allocations for decentralized oracle network Chainlink (LINK), Ethereum competitor Avalanche (AVAX), Ethereum-based token Enjin Coin (ENJ) and decentralized exchange Uniswap (UNI) for the sixth, seventh and eighth places, respectively.
Tied in ninth place are cross-border payment solutions Stellar (XLM) and XRP, as well as decentralized storage network (FIL).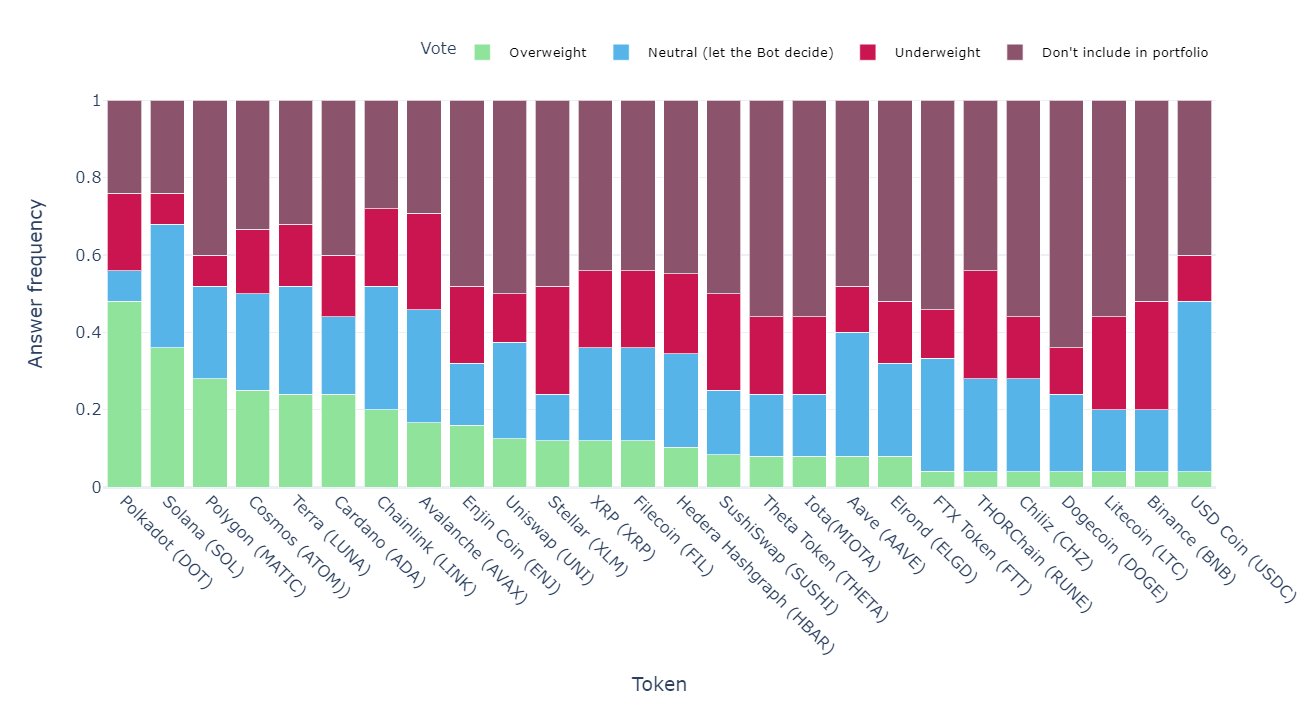 Real Vision Bot clarifies that the participants are not necessarily holding the cryptocurrencies that they voted for.
"They can of course vote according to their own positions, but also just based on their sentiment or forward looking. There are many reasons why the own book might not be 1:1 the preferred allocation."
Bitcoin (BTC) is conspicuously absent from the list. Pal highlights that the community is responsible for that absence.
"It's not us – it's the community who makes the allocation… You guys, to be exact.
Bitcast: How would Diem be affected by a Facebook downfall?
Last Wednesday (13) the 13th episode of Bitcast Lite, a Brazilian podcast about cryptocurrencies and blockhain, was aired.
In the program, the crash of Facebook's servers was addressed, which caused an interruption of the platform for 6 hours.
In this context, the presenters analyzed the controversial project Diem (formerly Libra), led by Facebook.
In addition, they debated how the lives of users of the future cryptocurrency — still without an official release date — would be affected by a server crash similar to the one that occurred on October 4th.
The podcast was presented by José Domingues da Fonseca, lawyer and cryptocurrency enthusiast, Paulo Aragão, specialist in cryptocurrencies and co-founder of CriptoFácil, and Gwin, the "good hacker" of Bitcast.
Facebook crashed. What if Libra/Diem existed?
As Aragon pointed out, if Diem were adopted globally, as was its initial proposal, a system crash would result in a collapse.
According to the expert, this would be equivalent to a Pix drop in Brazil, or worse:
"Can you imagine if a country's economy was based on the late Libra, now Diem? Nowadays, in Brazil, half of electronic transactions are already based on Pix. If Pix goes down today, it would be pandemonium. Now, imagine if it was 100% based on a kind of Pix, and it fell off?"
Thus, Aragon concluded that it is not feasible for an economy to rely on a centralized digital currency like Diem.
Also read: Bitcast: Asset tokenization in sport is crypto podcast theme
Also read: Bitcast: Celebrity scam promotion is crypto podcast theme
Also read: Bitcast: Axie Infinity and disruption in gamer world is crypto podcast theme
President Putin: Cryptocurrencies may be used in the future for hoarding
Cryptocurrencies may be hoarded in the future, but they are presently too volatile and energy-hungry for trading commodities.
The US is in itself weakening the dollar by massive printing.
---
Russian President, Vladimir Putin, is not completely buying into cryptocurrencies, despite talks of Moscow hedging against the weakening US dollar. Speaking in a Thursday interview following the 20th Russian Energy Forum in Moscow, the president criticized the Washington monetary policy as crippling the dollar's position as the world reserve currency. He said countries are being driven away from the dollar due to its use as a sanction instrument. The policy was also causing rising debt and inflation, he added.
That said, Putin still thinks it is "somewhat early" to make a decisive opinion on digital currencies. They may be used as a means of hoarding in the future if the market matures. However, using them in commodity trading is out of the question, he said.
In economics, hoarding refers to the purchase and warehousing of large quantities of a commodity, such as gold. The buyer usually intends to profit from future price increases of the commodity. Some cryptocurrency enthusiasts, such as the one famed for the "hodl" term, admit to holding digital assets awaiting price surges in the long term.
Cryptocurrencies are too volatile and unsecured for commodity trading
The Russian president admits the possibility of oil and gas settlements being done in cryptocurrencies in the country. However, he still thinks they are too unstable and unsecured to be used in the oil and gas trade. He added;
It's too early to talk about this, because cryptocurrency, of course, can be a unit of accounting, but it is very unstable. It can be used to transfer funds from one place to another, yes, but to trade, let alone trade in energy resources, in my opinion, is still premature,
Additionally, Putin was of the opinion that cryptocurrencies are not backed by anything. They are presently too volatile on the open market and it is "too soon" to talk about them as a means of trading any raw materials, he added.
Nonetheless, he noted that numerous developments are taking place and they should be allowed to grow.
But everything develops, everything has the right to exist. We will see how it will go further, maybe someday it may also be a means of accumulation,
Bitcoin energy consumption
Another objection to crypto as a means of payment is their "huge amount of energy" expenditure. Putin noted that energy-hungry crypto mining operations mainly rely on traditional energy production methods, which have a high carbon footprint. This is the same reason Tesla boss Elon Musk gave in June after ceasing electric vehicle payments in Bitcoin.
However, nations such as El Salvador are finding environmentally-friendly ways to mine the digital asset that is now legal tender. The nation is generating geothermal energy from volcanoes to power BTC mining. Earlier this month, Salvadoran President Nayib Bukele announced that the operation has successfully generated 0.00599179 Bitcoin.