Polkadot is one of hedge funds' favorite altcoins as DOT on-chain activity points to massive gains
Polkadot is the most commonly held altcoin by hedge funds, according to crypto data platform Messari.
Altair Network is being onboarded as the tenth parachain on Kusama.
The third batch of parachain auctions begins on October 6.
Polkadot's staking rate is steady, and development activity is rising, confirming a bullish breakout in DOT.
Polkadot's recovery from the 20% drop in the last week of September is accompanied by developments in the token's ecosystem.
Analysts are bullish on DOT recovery with latest updates in Polkadot ecosystem
After stunted growth in the last week of September 2021, several new updates have been posted in the Polkadot ecosystem. Altair Network, a Centrifuge-powered project, is the tenth parachain to win a slot at the auction. 
The winner of the highly contested slot on Kusama gathered over $61.7 million worth of KSM tokens from 11,200 contributors. The project enables users to tokenize real-world assets and finance them on the Kusama network. 
And just like that, Altair is now a Parachain on @kusamanetwork 🔥

BIG thank you to our absolutely incredible community, this would not have happened without you ❤️ pic.twitter.com/dRIL9glbUH— Altair (@altair_network) September 29, 2021
The tokenized assets then go live on the Centrifuge chain. Altair and Centrifuge are similar to Kusama and Polkadot: the former are testnets for the latter. 
Parachain slot auctions have gained popularity to the extent that they are now integrated into the world's largest cryptocurrency exchange, Binance. 
Kusama Network announced the third batch of parachain auctions, set to go live on October 6. 
Motion 362 has passed my council to open an 11th parachain auction immediately after the 10th auction ends next week. The 11th auction is scheduled to kick off next Wednesday, October 6th at 11:30am CEST.

.ꙅoɒʜɔ ƚɔɘqxɘhttps://t.co/woGKgT6oi3 pic.twitter.com/8aQ3qsrs4T— kusama (@kusamanetwork) October 1, 2021
Alongside the developments in the ecosystem, the token's staking rate is now holding steady at approximately 63.5% at press time. Kusama's staking rate is nearly stable above 43%. A steady staking rate has historically increased the quantity of tokens staked, triggering a breakout.
Development activity in the DOT ecosystem is on the rise, consistent with bullish network updates. Developers and contributors to the Polkadot network have remained steady and active for over a year, fueling the growth narrative.
Cryptocurrency analyst on Twitter @Pastore1314 tweeted about DOT's popularity among hedge funds. 
Friendly reminder that $DOT is the most commonly held #altcoin by hegde funds pic.twitter.com/3493RosStp— Alejandro ™🌹 .DOT (@Pastore1314) October 2, 2021
FXStreet analysts have evaluated the DOT price trend. Analysts predict that the DOT price faces stiff resistance at $30.50 but say the token is preparing for a breakout. 
Institutions pour $3.6M into Polkadot ahead of parachain auctions, pushing DOT to breakout
The 12th auction on Kusama is set to commence on October 23.
The staking rate on Polkadot has dropped to 58.5%; it has relatively stayed constant for Kusama at 42.8%.
Kraken announced support for Parachain auctions.
The platform empowered clients to invest $35 million in Kusama auctions.
The DOT founder recently announced a $774 million development fund for DeFi.
Digital asset managers have reported a rise in the institutional capital inflow in Polkadot as the overall cryptocurrency market capitalization climbs higher. A Polkadot founder announced $774 million dedicated for developing DeFi projects. 
Polkadot is a top choice among institutions, investment flow in DOT spikes
Over $80 million in institutional investment flowed into cryptocurrency funds last week. Of the $80 million, $3.6 million was dedicated to Polkadot products.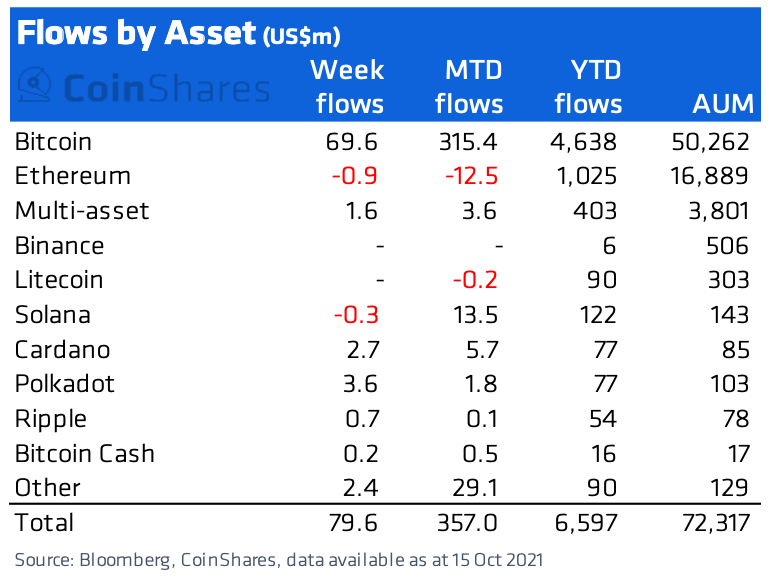 Institutional inflow by assets as of October 15, 2021.
The Polkadot ecosystem has been abuzz with new updates since the announcement of the Parachain launch. The 12th Kusama auction is set to go live on October 23. The new proposal on Kusama aims to schedule 1 auction per week for the next 48 weeks. Winning parachain projects will be onboarded at the beginning of the following lease period as per the proposal. 
Based on the community's response to the Polkassembly post "The Case For Continuous Auctions", a council member submitted a motion for council to vote on scheduling the next auctions. If passed, the first auction will be at block #9777777 [Oct. 23, 2021].https://t.co/Av8OpeMxY8— kusama (@kusamanetwork) October 18, 2021
Proponents expected the staking rate on Polkadot to remain steady; in contrast, there was a drop to 58.5%. Kusama's staking rate remained steady at 42.8%. The news of the Polkadot-Kusama bridge project led to a bullish outlook on KSM price since it boosts the interoperability of assets on both blockchains. 
Leading cryptocurrency exchange Kraken announced support for Parachain auctions. Last week there was an announcement that the world's largest cryptocurrency exchange, Binance, supporting the auction. Clients on Kraken's platform invested over $35 million in Kusama parachain auctions.
Gavin Wood, the founder of Polkadot and Kusama, recently announced $774 million slated for a development fund for DeFi. Wood teased that the fund is ready to spend on innovative ideas. Instead of burning slowly, the network's governance is keen on investing in anything it believes is valuable. 
The @Polkadot treasury currently has 18,936,300 DOT (DOT, not USD – do the math) in it ready to spend on *your* ideas for building, improving, educating and indeed, anything else that the Polkadot governance believes valuable.— Gavin Wood (@gavofyork) October 17, 2021
FXStreet analysts have evaluated DOT price and predicted that the altcoin is primed to hit higher highs after cracking $40. 
Polkadot DOT Price Analysis: Bearish Divergence on the Weekly Chart Could Slow Down Upside Momentum on the Intraday Level

Polkadot's Parachain auction is set to launch on 11 November '21 with speculations around which five projects will win the available slots.
The Moonbeam project an EVM compatible blockchain is the first project believed to get the first slot launch on the Polkadot ecosystem.
Acala project is the next project that analysts believe is almost guaranteed a slot on the Parachain, as the project is expected to provide financial applications such as a multi-collateralized stablecoin [aUSD], a trustless staking derivative [liquid dot], and an AMM DEX.
The last two notable projects also worthy of slots are the Bit. Country and Phala Network projects.
Read on as we dive dip into the price charts of the DOTBTC and DOTUSDT.
Polkadot vs Bitcoin BTC – DOTBTC Weekly Chart Analysis
The DOT vs. BTC was faced with a second bearish divergence pattern after recovering from an earlier 64% price slump from high demand for BTC.
Bear-trap candlestick formation seems to mark an end to the current price correction and we may see the DOTBTC shoot above the bearish divergence trend line and resistance level on 13 September '21.
Polkadot DOT Weekly Chart Analysis
The ADAUSDT flags a regular bearish divergence pattern after setting a new ATH at $44.78. We should expect the DOT price to dip towards the $25.50 support and a continuation of the uptrend if the price stays above the 20 September support.
Further breakdown of the $25.50 support should see the price collapse to the lower $10.37 support.
Polkadot DOT Daily Chart Analysis
The daily time frame of the DOTUSDT shows the pair entering back into an uptrend on 07 October and continues to trade above the level-25 at press time.
The current DOT price continues to trade within the bearish and bullish divergence trend lines established on 14 and 21 September '21 [$38.77 and $25.50].
Meanwhile, a second hidden bullish divergence is building up at press time and we can expect a price surge above the $44.78 resistance.
Polkadot DOT 4HR Chart Analysis
The RSI dipped below level-25 on the 4HR time frame signaling a wide range hidden bullish divergence when we compare the RSI level-21 to level 23 [12 October 08:00].
This bullish divergence should be sufficient for us to see a bullish trend continuation. However, a breakdown of the $39.52 support could send the DOT price tumbling down to the $32.25 support.
Polkadot DOT Intraday Levels
Spot rate: 41.35
Mid–Term Trend [H4]: Bullish
Volatility: Medium
Support: $32.25 and $39.52
Resistance: $44.78
Polkadot and Solana lead the altcoin rally, SOL price likely to double
78% of Solana's circulating supply is staked, fueling a bullish narrative for SOL price.
Solana ecosystem's top five projects have over $1 billion in TVL each, driving higher utility for SOL.
Using the Nakamoto Coefficient, Solana scores higher in decentralization than Bitcoin and Ethereum.
Solana, also popularly known as the "Ethereum-killer', has emerged as one of the fastest-growing cryptocurrencies in the ecosystem. The altcoin move into NFTs has attracted capital rotation from Bitcoin and Ethereum onto the SOL ecosystem. 
Analysts expect SOL to rally based on developments in the Solana network
Solana's Ignition hackathon concluded with 568 new projects formed on the network's blockchain. The new projects are expected to launch the next wave of cryptocurrency applications and web3 infrastructure on Solana. 
🔥 Submissions for the IGNITION Hackathon are closed, with 568 projects formed 🔥

Probably nothing https://t.co/TmZqEB8O5e pic.twitter.com/UUyaUvMZUy— Solana (@solana) October 18, 2021
While Solana's total value locked (TVL) was $1 billion in late July; the ecosystem's top 5 projects each have now over $1 billion in total value locked. The network has attracted several non-fungible token (NFT) projects and customized applications with varying degrees of rarity. 
Matty Tay, head of growth at Solana, reflected on the growth of the top five projects on the SOL network in a recent tweet:
In late July, the entire @Solana DeFi ecosystem had $1 billion in TVL. Now, there are 5 individual projects each with over $1 billion in TVL.

Congrats to team @orca_so, along with @Saber_HQ, @SunnyAggregator, @RaydiumProtocol, and @ProjectSerum.

Up Only. https://t.co/j53hiLZigg— Matty Tay☀️ (@mattytay) October 14, 2021
Analysts argue that Solana is not as decentralized as other cryptocurrencies in the top 10. The "Nakamoto coefficient" outlined by Balaji Srinivasan, former CTO of Coinbase, is used to estimate the decentralization of a blockchain network.
Using the Nakamoto Coefficient, higher scores correspond to higher levels of decentralization. When measuring Solana using the Nakamoto Coefficient, it scores higher than Bitcoin and Ethereum, contrary to popular belief. 
Interestingly, 78% of Solana's circulating supply is staked, based on data from Solana Beach, an SOL ecosystem statistics platform. Rise in the staked supply of SOL is fueling a bullish narrative for SOL price.
Pseudonymous cryptocurrency analyst @CanteringClark is bullish on SOL price and expects the altcoin to outperform the rest. He states:
​​There are so many reasons to have been long SOL to this point. Are you seeing the trend yet? Even on a day where Bitcoin is the main show, SOL is outperforming. Fast horse.
Elliot Laybourne, a cryptocurrency analyst, is bullish on SOL price for when capital rotation from BTC to altcoins begins. Polkadot and Solana were the top two cryptocurrencies leading the altcoin rally before Bitcoin started trading closer to an all-time high.
Laybourne shared his analysis in a recent tweet
I'm liking the $SOL set-up for when capital rotates from BTC back into Alts pic.twitter.com/mBv8YQVA8D— Elliott Laybourne (@fearfultrader) October 19, 2021
Laybourne was recently quoted:
As long as Solana remains above $85.00, I consider the structural bull market intact. Therefore, I expect to see buying on any dip towards $100. As long as Solana respects the rising trend channel, I maintain a long-term bullish price outlook.
FXStreet analysts have evaluated the SOL price trend and predicted that the altcoin is primed to hit a new all-time high at $225.