Bitcoin [BTC] and altcoins' institutional appetite has not gone away
It seems that institutional investors are still interested in cryptocurrencies, and more money is coming from them to the ecosystem. These kinds of investors always have big effects on the market and also can change the atmosphere to a better situation.
The latest report from CoinShares shows that there is still an appetite for buying BTC and altcoins from the institutional sector, and more money is inflowing. The report claims $90m inflows in the week ending October 1st. Although it's not that much compared to the first weeks of 2020, it shows a considerable interest from big players.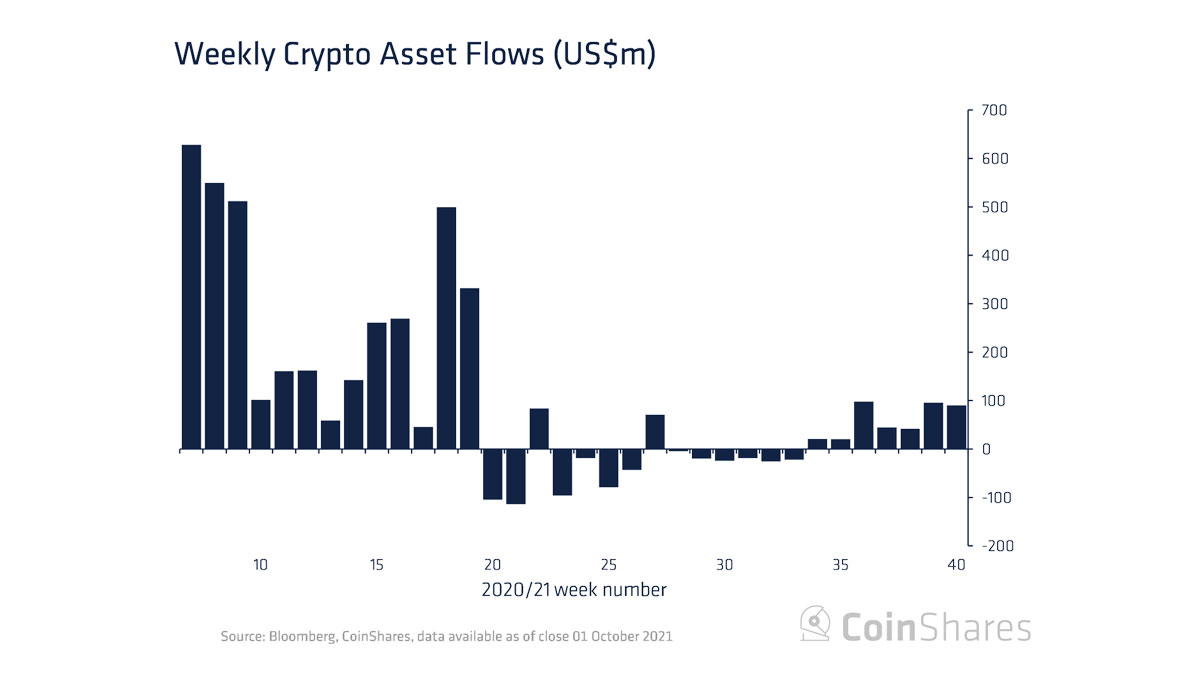 Effect on the Market
Institutional investors affect the cryptocurrency market in various ways. When big companies announce their plans to invest in digital assets, especially BTC and big altcoins, it means a lot for other investors. They somehow trust this market more and believe in the potentials of buying and holding cryptocurrencies.
As a result, more buyers come to the market, and it helps it grow faster. Besides, these investors coming to the market shows a sign for regulators. They will know that this market has demand, and if the regulation follows the interest, they can benefit, too.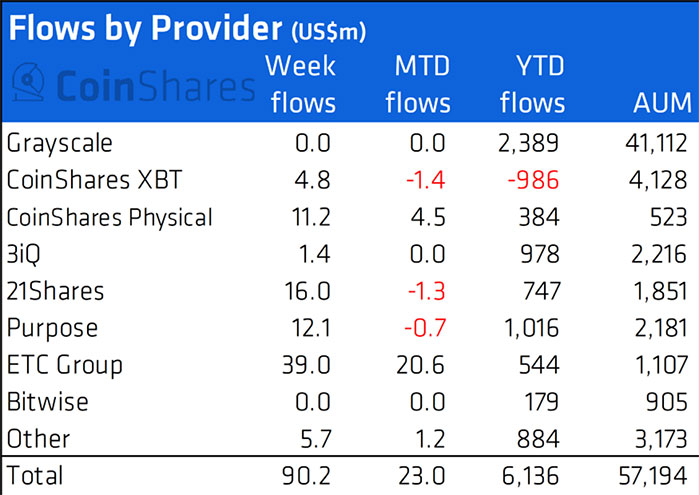 Some people thought that institutional interest in cryptocurrencies decreased after some corrections in the market. But the latest report from CoinShares says a considerable amount of money is still coming from this sector. According to the report, an inflow of $90m happened in the last week in digital investment products. It resulted in a seven-week consecutive pattern that totally bright $411m to the market.
BTC experienced the most investment moves with a $69m inflow in the last week. Ethereum sits in second place with an inflow of $20m. But the improving inflows aren't affecting the volumes in a positive way yet. The volumes are still at $4.2bn compared to 8.4b in May. According to the report:
"It was a mixed week for other altcoins, with Polkadot, Tezos, and Binance seeing minor outflows totaling US$0.8m each. While Cardano and Solana saw minor inflows totaling US$1.1m and US$0.7m respectively."
Grayscale is one of the most famous institutional investors in the cryptocurrency market. But there are other big players like CoinShares, 3iQ, and 21Shares in the list, too. Anyway, all of these players can encourage newcomers and interested users to buy more cryptocurrency that results in good growth for the whole industry.
Mt. Gox Bitcoin Payouts On Horizon After Creditors Approve Plan
The light finally appears to be at the end of the tunnel for the Mt. Gox creditors, who have approved a plan that will let them choose to receive some of the coins they have been waiting years for.
In a translated letter, Nobuaki Kobayashi, the Japanese lawyer and trustee for the now-defunct bitcoin (BTC) exchange, explained that "approximately 99%" of the creditors had voted in favor of an offer that has since been put before a branch of the Tokyo District Court.
A voting process that began back in May this year wrapped up earlier this month.
The court has since confirmed the order, although there was no mention of an exact timescale for the token refunds.
The trustee wrote that an announcement "will be made to rehabilitation creditors on the details of the specific timing, procedures and amount of such repayments."
However, Kobayashi wrote that the process would "finalize" and become "binding" in "approximately one month from" October 20.
The creditors will then be able to file their claims through a website, by filing a proof of rehabilitation claim.
Kobayashi wrote that the trustee "would like to express sincere gratitude to all involved parties for their understanding and support."
The BTC exchange was once the world's biggest, but spectacularly folded in 2014 following a spate of hacking attacks that saw raiders make off with thousands of BTC tokens.
Creditors have been trying to recover their funds ever since, but have been locked in a protracted legal struggle that has rumbled on over the years.
The Fortress Investment Group has previously offered creditors some 80% of claims. But the trustee promised a higher figure, closer to about 90%. The tokens lost in the hacks will likely have to be written off, however, meaning that payouts are going to be a fraction of the original amounts held.
JPMorgan: Inflation Hedge Narrative Propelled Bitcoin's Price to ATH
According to some JPMorgan analysts, bitcoin hit an ATH because people started investing in it as a better hedge against inflation than gold.
Strategists at the financial institution JPMorgan Chase & Co. argued that the reason behind BTC's all-time high price is not the launch of the ProShares Bitcoin Strategy ETF. Instead, concerns about the rising inflation made the digital asset an attractive investment option, and that led to its recent rally.
Gold Failed, BTC Prevailed
The moment, which many people in the cryptocurrency community have been waiting for, finally arrived on October 19th when the ProShares Bitcoin Strategy futures-backed ETF, named BITO, started trading on the New York Stock Exchange. It became the first such product approved in the United States.
During the first day of its launch, it generated massive trading volumes and even became the second-highest traded fund ever. Shortly after, BTC's USD value headed straight north towards a new all-time high at roughly $67,000.
Still, according to JPMorgan strategists, including the managing director Nikolaos Panigirtzoglou, another factor drove bitcoin to that milestone. The specialists indicated that the cryptocurrency had replaced gold as a hedge against inflation in recent months, which had propelled the price north:
"By itself, the launch of BITO is unlikely to trigger a new phase of significantly more fresh capital entering bitcoin. Instead, we believe the perception of bitcoin as a better inflation hedge than gold is the main reason for the current upswing, triggering a shift away from gold ETFs into Bitcoin funds since September."
JPMorgan's team noted that the last couple of weeks were not that successful for the precious metal. Taking a look at a broader period, bitcoin ETF's have significantly outpaced gold ones, as the strategists revealed:
"This flow shift remains intact supporting a bullish outlook for Bitcoin into year-end."
Can BTC Now Change The Stance of The Big Boss?
Jamie Dimon – Chief Executive Officer of JPMorgan – is among the most prominent critics of the leading digital asset. Still, it seems like he has started releasing the tight grip on it.
It all started in 2017 when the top executive called bitcoin a "fraud." Dimon did not stop there and warned that "it's worse than tulip bulbs. It won't end well. Someone is going to get killed." Shortly after, though, he regretted making that comment, and his financial institution became much more accepting of BTC.
Last year, Dimon weighed in on the matter once again. This time he was softer in his comments saying that bitcoin is not his "cup of tea" and that he has no personal interest in it.
A few days ago, the CEO returned to his negative phase, describing BTC as "worthless." Nevertheless, he acknowledged that most of JPMorgan's clients do not share his opinion and show an increasing demand for digital asset services.
With BTC charting a new all-time high, the crypto community is yet to find out whether Dimon will maintain his hostile viewpoint on the matter or rather soften a bit and allow more offerings to his bitcoin-hungry customers.

Another One: Valkyrie Bitcoin Strategy ETF to Commence Trading on Friday
Another futures-backed Bitcoin exchange-traded fund (ETF) is set to begin trading on Friday.
The Valkyrie Bitcoin Strategy ETF is slated to commence trading on the Nasdaq stock market on Friday, Oct 22, just four days after the first-ever BTC futures fund was launched.
Bloomberg senior ETF analyst Eric Balchunas has confirmed that the Valkyrie fund will be launching on Friday after initially stating it would be trading today.
He added that the firm has also changed its ticker from BTFD to BTF, commenting that the Securities and Exchange Commission "probably wasn't a fan" of the former. BTFD is an acronym for "buy the f*cking dip" in crypto circles.
I had said this was launching tmrw it's actually going to be on Friday. sorry about that. https://t.co/fqaGwjgscO— Eric Balchunas (@EricBalchunas) October 20, 2021
Later on, a company representative confirmed to Bloomberg that the ETF is indeed scheduled to launch on Friday.
VanEck Bitcoin Fund on Monday
Just like ProShares, the Valkyrie product will not be investing directly in Bitcoin but will seek to purchase a number of BTC futures contracts. It will attempt to ensure that the total value of BTC underlying the futures contracts held by the fund is as close to 100% of the net assets as possible.