Crypto Analyst Scott Melker Predicts Big Rallies for Several Altcoins – Here Are His New Price Targets
Popular crypto trader and analyst Scott Melker is predicting new rallies for Polygon and two other altcoins while saying that Tezos is cleared for take-off.
Melker tells his 595,300 Twitter followers that Ethereum scaling solution Polygon (MATIC) is primed to move higher after taking out its diagonal resistance that has kept the altcoin in a downtrend last month.
"MATIC target $1.79. Then higher."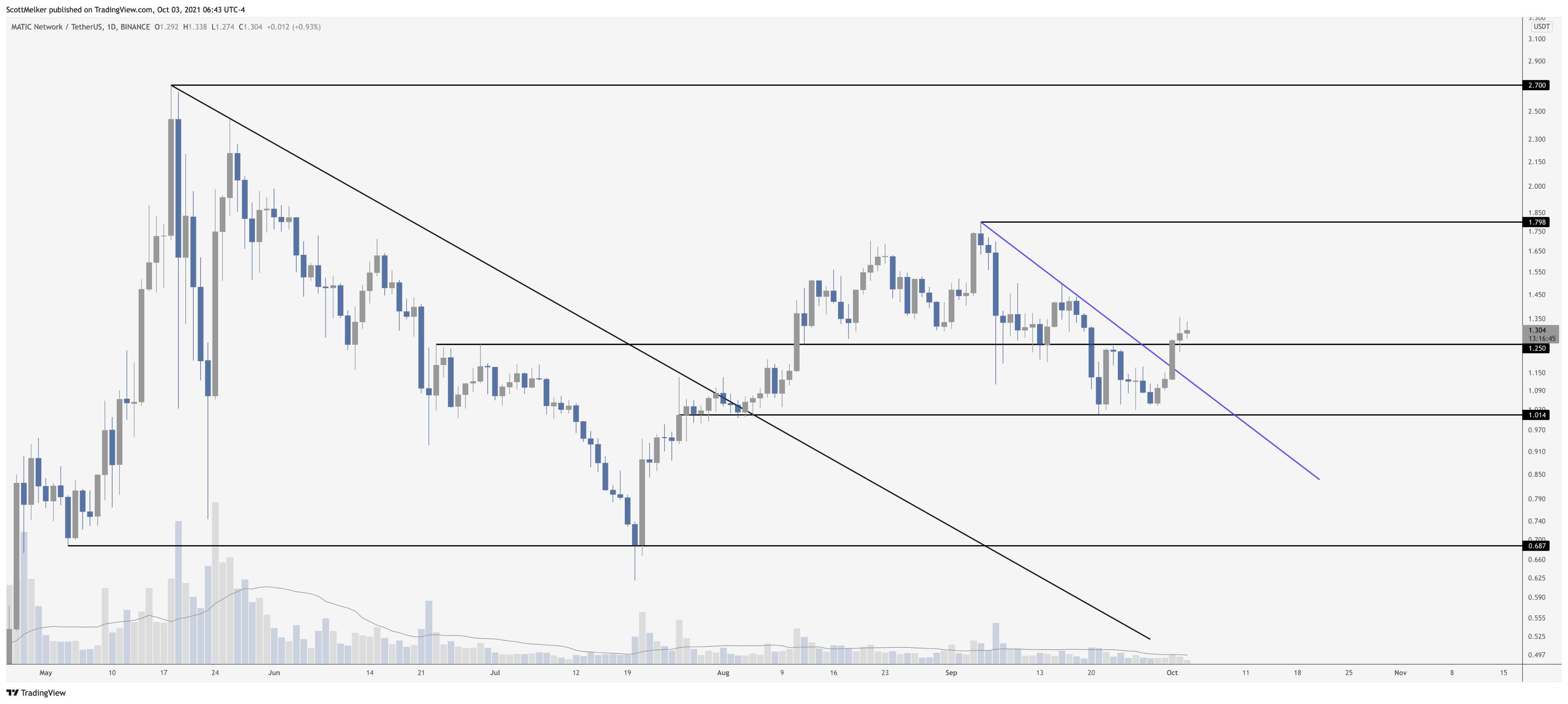 From MATIC's current value of $1.28, Melker's initial target represents an upside potential of nearly 40%.
Another coin on the trader's list is decentralized derivatives exchange Serum (SRM). According to Melker, SRM is following the footsteps of MATIC and appears poised for potential gains of over 50%.
"SRM target ~$13."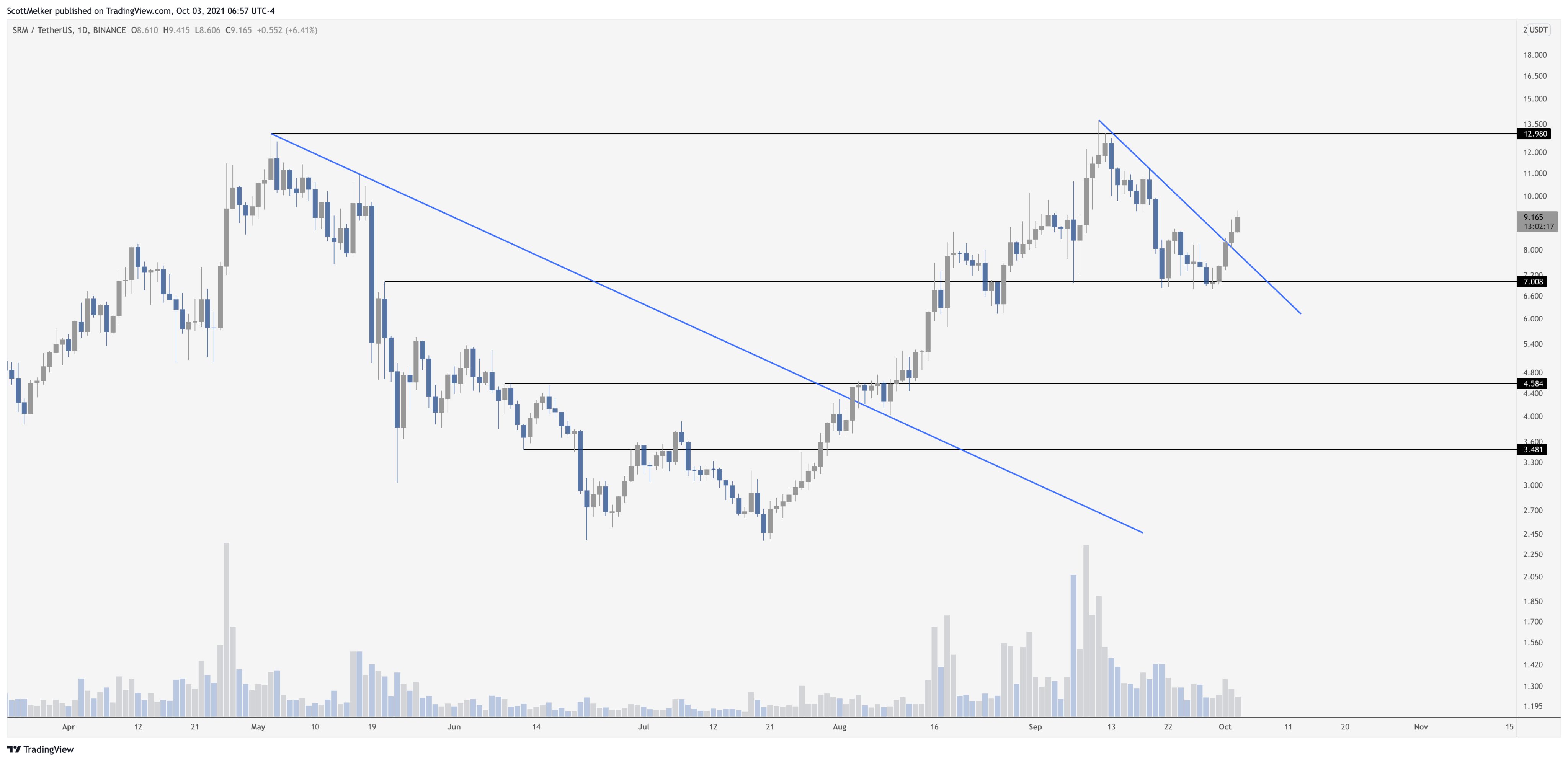 Next up is decentralized cross-chain money market Kava.io (KAVA), which Melker says has also ended its market slump and is gearing up for a 46% surge from its current price of $6.28.
"KAVA Target $9.20."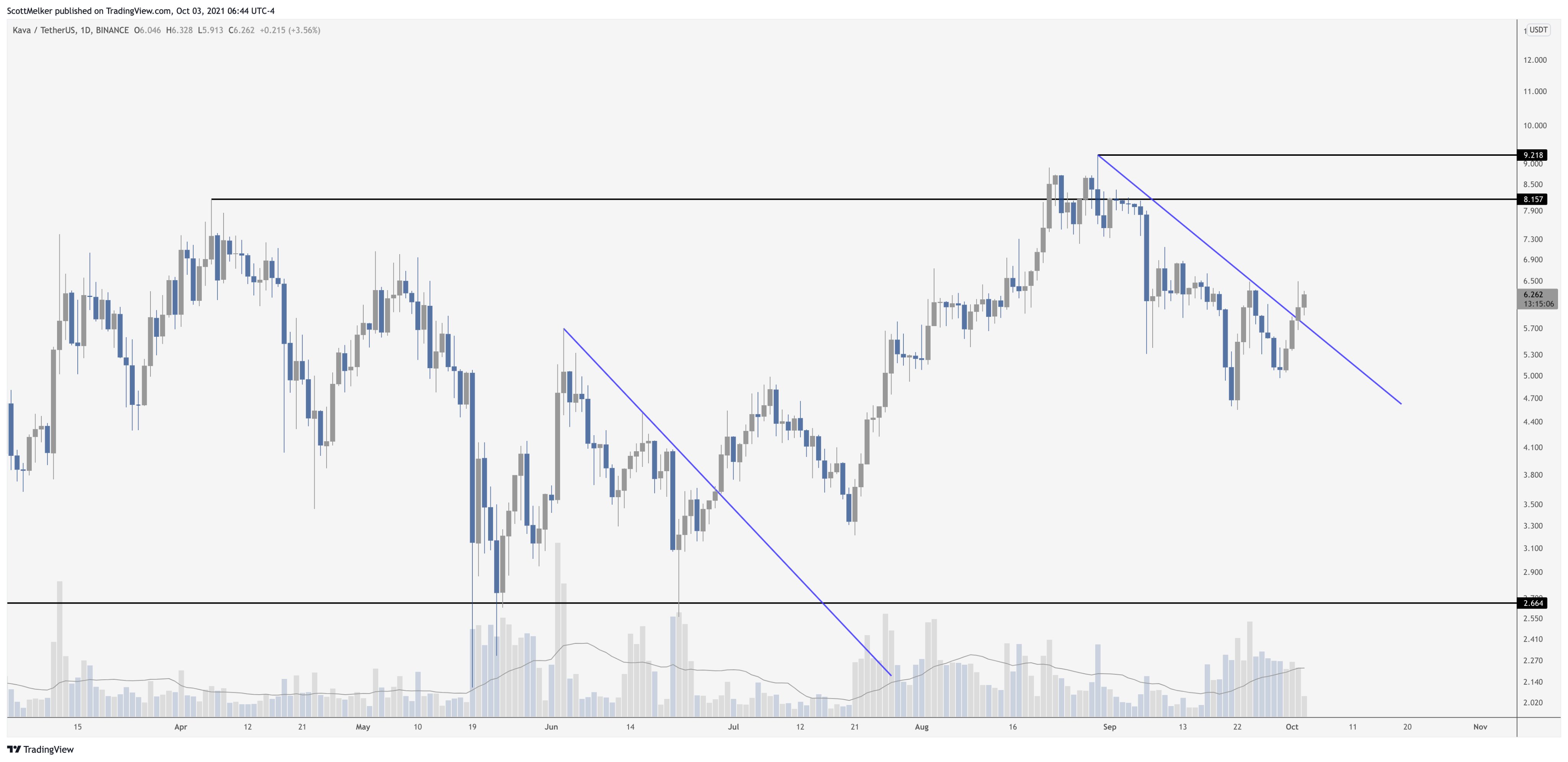 Looking at smart contract platform Tezos (XTZ), the crypto analyst believes that the altcoin is one resistance away from printing a new all-time high and heading into uncharted territory.
"Already almost 3x from first entry and a 2X from second entry (black circles). Flirting with price discovery, currently just the tip. Close above $8.4 and sky is the limit."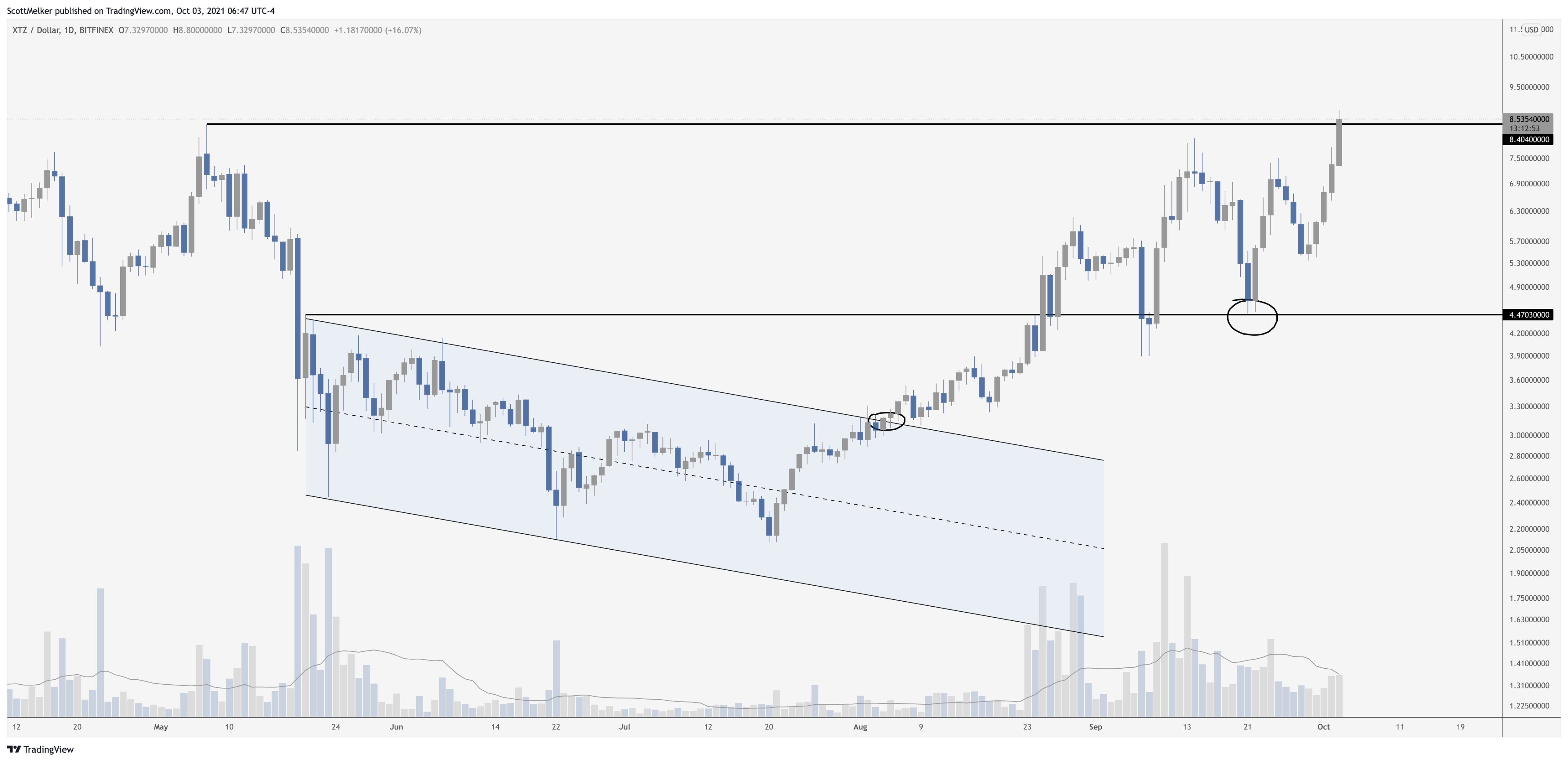 At time of writing, Tezos is exchanging hands at $8.33, according to CoinMarketCap.
Here's How Crypto Investment Helped Facebook Whistleblower

Frances Haugen, the Facebook whistleblower currently in the headlines revealed she has crypto to thank for her survival during her refuge in Puerto Rico. Haugen is a former Facebook product manager who quit over the social media giant's incompetence to stop misinformation and unethical trade practice.
Haugen also claimed to possess sensitive documents that show Facebook prioritized profits over well being of users. She said,
"Facebook prioritizes profit over the well-being of children and all users."
Facebook's unethical practices are nothing new, and it has been fined on numerous occasions for not putting enough measures to curb Facebook-linked violence in various countries. A recent report also accused Facebook of fueling communal tensions in India leading to the death of 53 people.
New: Internal Facebook documents show its services are used to spread religious hatred in India. Company researchers identified calls to violence that coincided with 2020 riots in Delhi that left 53 dead. @WSJ's Facebook Files latest. With @JeffHorwitz https://t.co/y6wEsw65CW— Newley Purnell (@newley) October 23, 2021
During her recent with Washington Post, Haugen was also asked about her finances and how she managed to remain active post-Facebook exit. Haugen thanked her auspicious crypto investments and said,
"For the foreseeable future, I'm fine, because I did buy crypto at the right time."
She also revealed that the shift to Puerto Rico helped her get in touch with crypto friends that led her to make crypto investments.
Bitcoin and Crypto Remains Primary Choice of Whistleblowers
Haugen is not the first whistleblower who has found a friend in crypto at the right time. The decentralized nature and censorship resistance help crypto become a tool for revolution. During last year's protest in Hong Kong, protestors turned to Bitcoin when the government cut banking facilities for these protestors
Similarly, Edward Snowden, one of the most popular whistleblowers has been seen advocating for Bitcoin time and again. Apart from whistleblowers, Bitcoin has also come to the rescue of financially challenged nations and those suffering due to international trade sanctions.
Billion-Dollar Real Estate Firm To Accept Crypto for Ownership Shares of Second Homes
Pacaso, a real estate platform focused on second homes, is now supporting cryptocurrency payments.
The startup, which reached $1 billion in valuation months after its launch in October 2020, partnered with crypto payment service provider BitPay to allow clients to buy ownership shares in second homes using digital assets. 
In a statement, the firm says that homebuyers can settle down payments using crypto and then pay the rest of the balance using fiat and cryptocurrency. Supported coins include Bitcoin (BTC), Ethereum (ETH), Litecoin (LTC), Bitcoin Cash (BCH), Dogecoin (DOGE), Wrapped Bitcoin (WBTC) and five USD-pegged stablecoins.
Pacaso's co-founder and CEO Austin Allison says the firm's new payment option is in response to the growing popularity of crypto and blockchain in the real estate industry.
"Crypto payment option is a recurring topic in our conversations with prospective buyers of second homes.
As we expand internationally and put second-home co-ownership within reach for more people across the globe, we're thrilled to be able to respond to that demand and extend as many payment options as we can to our customers."
BitPay CEO Stephen Pair says they are seeing a growing number of large purchases like real estate being paid in crypto.
"The market potential for crypto is huge, with $55 Billion as the estimated value of purchases consumers will make using cryptocurrency in the next 12 months."
What is the purpose of cryptocurrency? Young folks discuss what pulls them to fictitious money
Cryptocurrency has had a bit of a renaissance recently. But how does it stack up against more traditional investment strategies, and why are so many young people interested in it?
What exactly is cryptocurrency?
Cryptocurrency has had a bit of a renaissance.
Over the last decade, digital currency has progressed from being something solely discussed in the shadows of the internet to a major market mover and viable payment alternative. But what exactly is it? Why is it important to sell bitcoin in Dubai.
In a nutshell, Bitcoin is just another way to save money and pay for goods. "Cryptocurrency is a type of payment that can be exchanged online for products and services," according to Nerd Wallet.
Seems fairly straightforward, doesn't it?
Blockchain technology is used to power cryptocurrency. This system is distributed and decentralized, with computers all around the world recording and managing transactions. Unlike typical banking systems, these transactions may be performed anonymously, which adds to their allure.
This year, in particular, has pushed digital money to the forefront of the public's consciousness. After shocking the investment world in January by successfully raising GameStop's stock to 10 times its expert value, Reddit stock traders went on to a new project: making a joke turned cryptocurrency soar.
Dogecoin, a digital token designed as a joke, has attracted a large number of traders and supporters, owing in part to Tesla Founder Elon Musk's frequent tweets about it. People became aware of a digital currency depicting a Shiba Inu dog with strange inscriptions and phrases around its head.
So, despite the fact that cryptocurrency has gained some popularity since, say, Bitcoin's inception in 2009, people just began talking about it this year. Despite the debate, many people are still perplexed as to why anybody would use, let alone invest in, this new money. This is why four local young individuals chose to discuss what makes them interested in fictitious money.
Bitcoin mania has returned
Bitcoin reached a new high in early January, reaching over $42,000. According to Coin Desk, the price of the famously volatile cryptocurrency was at 32,500 on Friday morning.
Even traditional financial organizations are warming up to the idea: In a January report, JP Morgan predicted that if bitcoin's market value grows large enough to compete with gold, the price might reach $146,000 in the long run. (Bitcoin presently has a market capitalization of more than $600 billion.)
However, bitcoin has become more than simply a cryptocurrency for many people. Here are several behavioral and psychological explanations behind this.
Bitcoin becomes an extension of your identity
In December, millionaire Mark Cuban told Forbes that bitcoin is "more religion than a solution to any problem."
In reality, bitcoin enthusiasts have their own language consisting of acronyms and words ranging from "HODL" to "whale," and (pre-Covid) bitcoin conferences drew hundreds of registrants. The crypto crow even has a favorite automobile to purchase with their bitcoin: the Lamborghini (aka Lamborghini).
"Part of the appeal is the culture surrounding bitcoin," says Finn Breton, professor of science and technology at the University of California, Davis, and author of "Digital Cash: The Unknown History of the Anarchists, Utopians, and Technologists Who Created Cryptocurrency."
"When you purchase bitcoin, you're essentially investing into an entire scene," explains Breton. "And it's a scene that may become a part of you."
Though bitcoin is gaining traction among serious investors and major financial institutions, it remains a rather subversive notion, and those who engage in it may regard themselves as radicals or counterculture participants, according to Breton.
It is influenced by social media
From celebrities investing in bitcoin to a vibrant bitcoin community on Twitter, TikTok, and Reddit, social media plays a role in bitcoin's popularity.
Lana Swartz, associate professor of media studies at the University of Virginia and author of "New Money: How Payment Became Social Media," tells CNBC Make It, "Suddenly, there's like a new way to perceive, fund, and have an identity of oneself as a player in like the financial arena."
According to Utpal Dholakia, a Rice University professor of marketing who researches consumer financial decision-making, these social networks can also influence habits. According to him, research has shown that when individuals talk about their investments in online social spaces, they tend to become more risk-seeking in the sorts of investments they make.
"The same dynamic applies to a lot of investment decisions that are now being made," Dholakia adds.
Volatility may be thrilling.
Many savvy investors, like Kevin O'Leary of CNBC and Jim Cramer of CNBC, have compared buying bitcoin to going to Vegas. Warren Buffett, CEO and chairman of Berkshire Hathaway, has long been a sceptic of bitcoin, claiming that "cryptocurrencies fundamentally have no value" and are a "gambling instrument."
Conclusion
"Money is a technology that permits us to envisage different possibilities," Swartz adds.
The enthusiasm surrounding bitcoin, particularly among young people, demonstrates that individuals feel "locked out of the capacity to hold the type of assets that would allow them to produce any form of wealth," according to Breton. According to Federal Reserve figures, millennials, those born between 1981 and 1996, held only 4.6 percent of U.S. wealth in the first half of 2020 and willing to sell bitcoin in Dubai.
"When we look at the bitcoin craze, we really need to consider it as a manifestation of the reality that this is happening because there are no dependable, non-speculative means by which individuals who don't already have access to a piece of capital might generate wealth over time," he adds. "And it's a terrible criticism of how things are now set up for young people."