Secretum Messenger On Solana – What's Up Killer
Messaging apps are ubiquitous – more than 3.6 billion people worldwide use them, with the average person sending up to 72 messages every 24 hours. Every day WhatsApp alone channels over 100 billion messages, while WeChat transmits205 million video messages.
With this popularity has come a darker side: that ofhacked personal data,cyber theft, and government violations of privacy.
The way messaging apps are designed, work, and are managed exposes them by default to many risks:
Most messaging apps require the user to input sensitive personal data, including name, phone number, and date of birth. 
WhatsApp, due to its database of user phone numbers, has been used to spread misinformation and fake news. 
Your messaging data is stored on the cloud, where it is not encrytped  – leaving it vulnerable to being hacked.
Many apps use your personal data for their own purposes. Facebook is known to share the data of Facebook Messenger and WhatsApp users with advertisers..
Global surveillance operations of citizens with WhatsApp accounts have been undertaken by governments via the use of spyware.
A recent series of high-profile events have highlighted the size and frequency of the problem:
In September 2021, the EU's privacy watchdog fined WhatsApp €255 million for data processing and data sharing violations.
Telegram, considered the safer option to WhatsApp, suffered a massive data leak in August 2020 that exposed the personal data of over 500 million users.
The personal data, including email addresses and phone numbers, of over 530 million Facebook Messenger users was stolen by hackers in April 2021.
Furthermore, newer messaging platforms are not addressing the problem effectively. Signal, considered to be a superior alternative to both WhatsApp and Telegram, still uses cloud-based architecture and allows messages to non-users that are non-encrypted.
Blockchain is tue Solution
A real and viable solution may instead be found in the power of Blockchain technology. A team of Lithuanian communication technology experts has recently developed a solution that specifically eliminates all the problems of global messaging platforms. This solution is called Secretum.
Secretum is the world's first and only decentralized, encrypted messaging app, built on theSolana Blockchain. It offers users a safe, hassle-free, and direct messaging platform, revolving around major technological advantages:
No servers, no moderators, and complete end-to-end encryption for all messages between users.
No message data or file storage in a centralised location or on the cloud – only on trusted and independently verified nodes in the Secretum network.
Users can sign up exclusively with their crypto wallet addresses. No need to share names, birthdates, or any other sensitive data – in other words, total anonymity.
In addition to these advantages as a messaging app, Secretum allows users to trade P2P fungible and non-fungible crypto assets in a cost-effective way, bypassing existing exchanges. Solana, consideredthe fastest Blockchain in the world, allows Secretum to leverage low gas fees and high block speeds, joining a successful crypto ecosystem with 400+ projects worldwide. 
The result is an app that drastically changes the way people communicate via instant messaging, making it safer, more reliable, and more user-friendly than ever before.
Secretum has the potential to grow into a globally known, renowned, and used platform – achieving the ubiquity of WhatsApp or Telegram, only without any of their major weaknesses.
Solana Set for New All-Time High While Ethereum Still Has Juice in the Tank – Crypto Analyst
A popular cryptocurrency analyst and trader is outlining the path forward for smart contract platforms Solana (SOL) and Ethereum (ETH).
The cryptocurrency analyst pseudonymously known as Smart Contracter tells his 173,800 Twitter followers that SOL is set to surge to a new record high after a period of accumulation.
"Sol ATH [all-time high] soon anonymous. This re accumulation won't last forever."
Solana, the fifth-largest cryptocurrency by market cap, is trading at $158 at time of writing, according to CoinGecko.
Earlier this week, Smart Contracter predicted that Solana could surge by over 100% against the US dollar (SOL/USD) and Bitcoin (SOL/BTC) after ending wave four of its five-wave uptrend.
"[Wave] four low very close to being put in on SOL/BTC in my opinion. The same low on the USD pair already put in and just in some HTF [high timeframe] re-accumulation. The next move higher will be >100% [in my opinion]."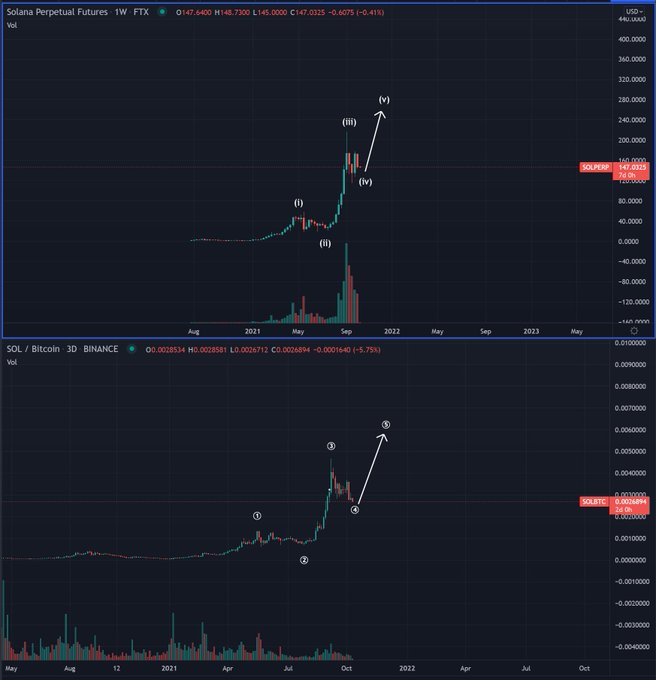 Smart Contract uses the Elliott Wave theory, a technical analysis approach that predicts future price action by following crowd psychology that tends to manifest in waves. According to the theory, Wave four is the final corrective phase before the asset launches the last wave of its cycle.
In the case of ETH, Smart Contracter says that the leading smart contract platform hasn't run out of steam yet after taking out its diagonal resistance at $3,500.
"Solid move. I think there's still some juice in the tank."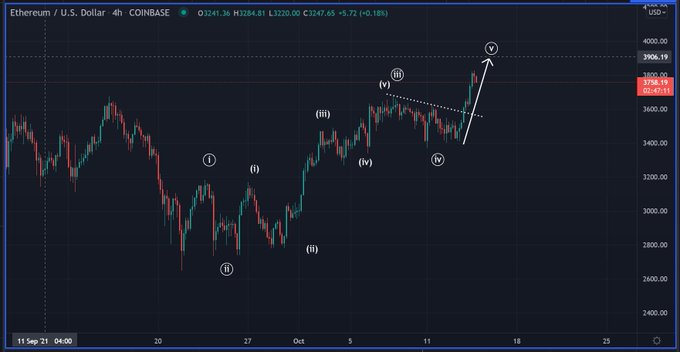 Ethereum is trading at $3,785 at time of trading, according to CoinGecko.
The crypto analyst is also keeping a close eye on Ethereum in its Bitcoin pair (ETH/BTC). According to Smart Contracter, ETH/BTC is currently gearing up for a move to 0.12 BTC ($7,355), representing an upside potential of nearly 100% from its current value of 0.062 BTC, worth $3,800.
"There [are] people out there that actually think ETH/BTC looks bearish."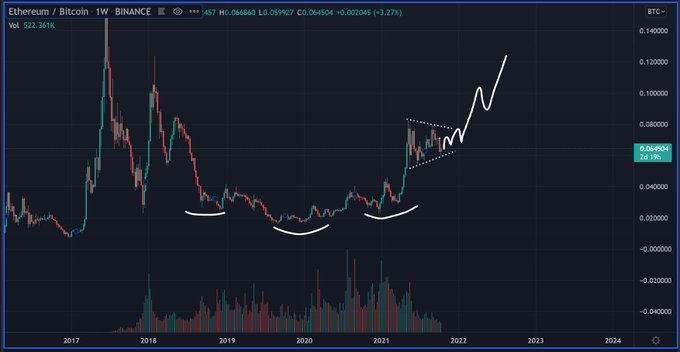 Crypto Traders Most Bullish on Polkadot, Solana, Polygon and 10 Additional Altcoins: Digital Asset Survey
A new survey unveils that crypto traders are most bullish on 13 altcoins including Polkadot, Solana and Polygon.
The Real Vision Exchange Crypto Survey is designed to track sentiment among investors by allowing participants to scan 30 tokens and choose if they want to have an overweight or underweight allocation for each one. The survey was conducted by Real Vision Bot, which was created by two independent developers and boosted by macro guru Raoul Pal.
Results from voting that happened on the first two days of this week indicate traders prefer an overweight portfolio consisting of smart contract platforms Polkadot (DOT) and Solana (SOL), as well as Ethereum-scaling solution Polygon (MATIC).
The scalable and interoperable ecosystem Cosmos (ATOM) is fourth on the list, and smart contract platforms Terra (LUNA) and Cardano (ADA) appear tied for fifth. Traders also have overweight allocations for decentralized oracle network Chainlink (LINK), Ethereum competitor Avalanche (AVAX), Ethereum-based token Enjin Coin (ENJ) and decentralized exchange Uniswap (UNI) for the sixth, seventh and eighth places, respectively.
Tied in ninth place are cross-border payment solutions Stellar (XLM) and XRP, as well as decentralized storage network (FIL).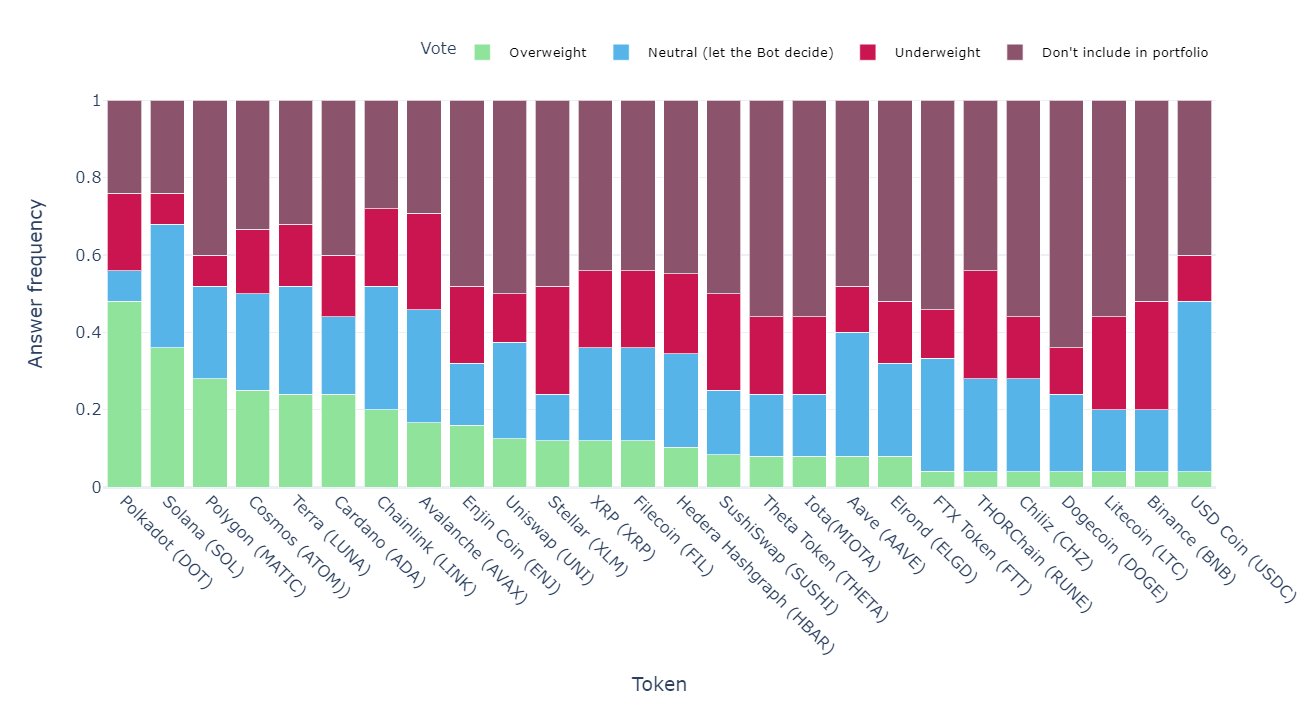 Real Vision Bot clarifies that the participants are not necessarily holding the cryptocurrencies that they voted for.
"They can of course vote according to their own positions, but also just based on their sentiment or forward looking. There are many reasons why the own book might not be 1:1 the preferred allocation."
Bitcoin (BTC) is conspicuously absent from the list. Pal highlights that the community is responsible for that absence.
"It's not us – it's the community who makes the allocation… You guys, to be exact.
Solana [SOL] Ups the Ante as 7th Ranked Crypto Becomes Biggest Gainer
As the week drew closer the cryptocurrency market entered a flux consisting of bearish and bullish trends. Altcoins tried to match Bitcoin's spike rate as new superstars like Solana and Polkadot rule the roost. Solana [SOL], currently holding the 7th rank, was the biggest gainer of the day after fervent activity on the charts.
The SOL community has been waiting with bated breath for a steady price hold with the latest bull run acting as just that. At press time, Solana was trading for $159 with a total market cap of $46.78 billion. Solana's 7 percent price hike over the previous 24-hours was followed by Ethereum, which rose by 3 percent on Friday. Daily volume had touched $3.4 billion after a rousing response from the community.
Solana 1 hour chart:
Three strong green candles changed Solana's hourly dynamic as the cryptocurrency tore away from its immediate support. SOL user sentiment may have begun to swing after witnessing the strong upward push. Immediate support was clocked at $143, a steady marker for the cryptocurrency.
Parabolic SAR: The markers stayed below the price candles as user momentum shifted into the green.
Bollinger bands: Both the bands diverged from each other after registering six consecutive green candles. The size of the Bollinger cloud was a definitive sign of Solana's entry into the bull territory.
Chaikin Money Flow: The graph bounced back from the zero line, mostly enabled by the price hike. This further meant that more capital was entering the SOL ecosystem.
Solana 1 day chart:
Long-term resistance was clocked in at $126 after a tumultuous September. The previous week was a strong sign for price recovery as the market cap shot up in the daily spectrum.
Bollinger bands: The band's moved parallel to each other as the candles constricted themselves within the bandwidth. After a month of slight movement, the last green candle climbed to new levels.
Chaikin Money Flow: SOL formed a k-shaped curve as the capital influx overtook the money leaving the market. The cryptocurrency showed similar patterns displayed at the start of August.
Parabolic SAR: Unlike the short-term yield, the markers here stayed above the candles. This was a sign that the market momentum was shifting after a period of dwindling seed funds.