Shiba Inu Becomes Most-Traded Cryptocurrency on Coinbase
Shiba Inu is taking the cryptocurrency space by storm, becoming the most-traded cryptocurrency on America's largest exchange
Shiba Inu, a Dogecoin knock-off, has become the most traded cryptocurrency on Coinbase in less than a month after it was listed on the leading U.S. exchange.

SHIB's 24-hour trading volume is currently sitting at $1.3 billion, gaining a comfortable lead over Bitcoin with $774 million.
After soaring over 80% within 24 hours, the canine coin has once again entered the top 30 largest cryptocurrencies by market cap.

Overall, its daily trading volume has jumped a whopping 553% in just one day.

Despite its sudden revival, Shiba Inu is still 52% away from reclaiming its all-time high of $0.00003791.

The cryptocurrency was riding the canine coin wave together with Dogecoin back in May. Ethereum co-founder Vitalik Buterin burning 90% of his SHIB tokens added more fuel to SHIB's rally.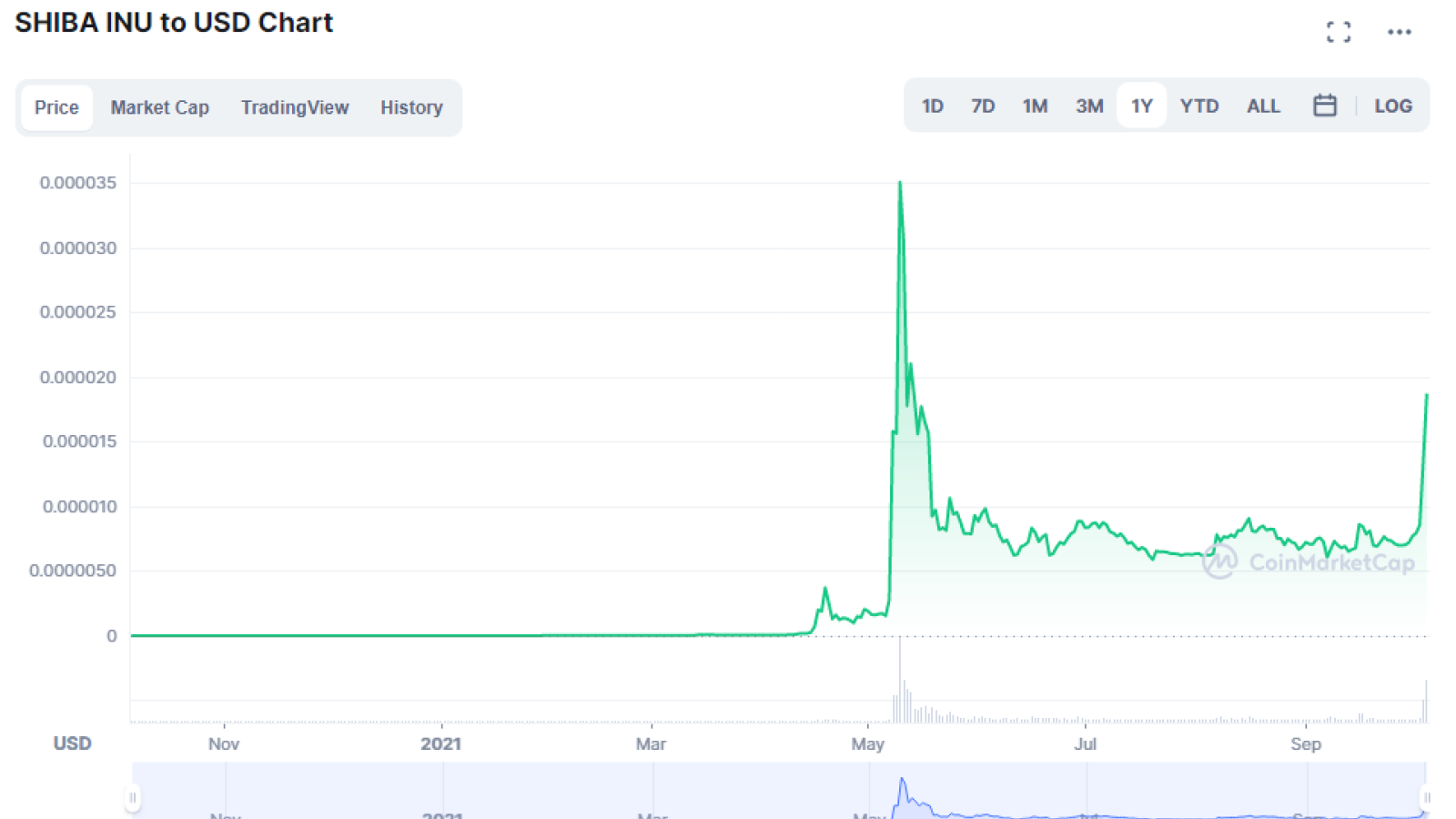 Then, the uptrend came to a screeching halt due to the broader market correction, with the token's price plunging 89% from the top.

Musk's recent photo of his Shiba Inu puppy, as well as Robinhood listing rumors, are believed to be some of the key reasons behind the ongoing recovery.
Traders swap Dogecoin for Shiba Inu on rumors of Robinhood listing
Social investing app Public.com lists SHIB for members with crypto access; the platform is yet to launch crypto wallets.
Brazil's largest cryptocurrency exchange Novadax added SHIB to its fiat-crypto market.
All staking and liquidity mining stablecoin rewards on SHIB will now be distributed through BONE, saving Shiba Inu holders the gas fees paid in Ethereum to claim rewards.
Development of Shibarium and Shiboshi games is underway; launch is expected within a few months.
Shiba Inu coin reached over a million new traders through its listing on Novadax, Public.com and CoinFLEX. A crypto exchange offered traders "Flip DOGE for SHIB" and exchanged Dogecoins for Shiba Inu tokens.
Rumors of Robinhood listing, analysts predict SHIB recovery
Public.com, a social investing app, recently listed the Shiba Inu coin for members who have opted in for cryptocurrency access on the platform. The social app added cryptocurrencies to its list of offerings on October 7. The platform has over a million traders on its app. 
Brazilian traders now access SHIB through the country's largest cryptocurrency exchange, Novadax's fiat-crypto market. Traders on the exchange can buy SHIB using Brazilian Real on Novadax. 
Great news for the #ShibArmy in #Brazil, where the biggest exchange in the country now allows to trade Brazilian Reais (BRL) for $SHIB. https://t.co/WZ4FttnIC0#Crypto #SHIBA— Shib (@Shibtoken) October 20, 2021
ChangeNOW, a non-custodial cryptocurrency exchange platform, recently offered its traders the option to "Flip DOGE for SHIB," effectively exchanging their Dogecoin holdings for Shiba Inu coin. Traders availed this service to accumulate more SHIB tokens ahead of the rumored listing on the zero-commission exchange platform, Robinhood.
An anonymous source close to the exchange revealed that Robinhood had taken notice of the social media support for SHIB, and the platform plans to list SHIB soon.
Shytoshi Kusama, the leader of all Shiba Inu ecosystem projects, recently shared an update on the trifecta SHIB, LEASH and BONE. Kusama addressed SHIB holders' issue with ETH gas fee payment in claiming staking and liquidity rewards. All rewards in stablecoins will now be distributed through BONE.
Kusama confirmed that Shibarium and Shiboshi game development is underway, and there are plans to launch the products in the upcoming months.
Pseudonymous cryptocurrency analyst @army_shiba is bullish on SHIB price. The analyst set a target of $0.00004161 and $0.00005201. 
$SHIB CHART! 🔥

📈 It is forming a bullish triangle for around ten days. It accumulates in .2479 (support) and .3519 (resistance) channel!

Once it breaks the resistance, targets will be .4161 and .5201! 🔥 pic.twitter.com/VUhlu55AdW— $SHIB KNIGHT (@army_shiba) October 22, 2021
FXStreet analysts have evaluated the SHIB price trend and predicted that Shiba Inu has one obstacle to overcome before the Dogecoin-killer hits $0.00006. 
Shiba Inu (SHIB) now listed on Public, Robinhood next?
Trading platform, Public.com has added Shiba Inu to its list of supported cryptocurrencies.
Many SHIB investors are also interested in seeing Robinhood list the dog-themed cryptocurrency on their platform. 
On Wednesday, retail investment platform Public.com announced on Twitter the "Dogecoin Killer" Shiba Inu (SHIB) has been listed for trading on their platform, beating its popular competitor Robinhood to the token listing.
Shiba Inu ($SHIB) is now available for members with access to crypto. pic.twitter.com/hpbGIgHIEX— Public.com (@public) October 20, 2021
Shiba Inu is now traded on Public
Since Public came into the business in 2019, it provided millions of investors the access to investing in stocks and exchange-traded funds (ETF). Early in October, however, it joined the likes of Rohinbood to launch the option for investors to trade 10 digital currencies at the time, including Bitcoin, Ether, Dogecoin, Litecoin, and others. 
Shiba Inu Price Prediction: SHIB at edge of 20% ascent if bulls conquer last hurdle
Shiba Inu price is preparing for a 20% rally once it overcomes one last obstacle.
SHIB needs to slice above the prevailing chart pattern's neckline at $0.00002946 before ascending to the October 7 high.
If Shiba Inu falls below $0.00002712, the token would fall back into a consolidation pattern, continuing to trend sideways.
Shiba Inu price continues to consolidate as it moves sideways following the tremendous bull run earlier this month. SHIB has presented a buying opportunity as it edges closer to a 20% rally following the emergence of a bullish technical pattern.
Shiba Inu price awaits climb toward $0.00003543
Shiba Inu price has formed an inverse head-and-shoulders pattern on the 4-hour chart. The prevailing technical pattern suggests a 20% breakout toward $0.00003543, the October 7 high, once SHIB surges above the neckline of the chart pattern at $0.00002946. Until the dog-themed token is able to slice above this one last obstacle, it may continue to trend sideways.
Adding credence to the bullish outlook is the break above the descending resistance trend line that formed since the swing high on October 7. However, before Shiba Inu price could reach the aforementioned optimistic target, there remain two major hurdles: the October 13 high and the October 11 high at $0.00003073 and $0.00003200, respectively.
Shiba Inu price appears to be also devising a symmetrical triangle pattern, with a measured 42% rally if SHIB makes a decisive move toward the upside. Although the token broke above the resistance trend line, it appears to be hovering around the topside trend line of the triangle pattern.
A spike in buy orders could see Shiba Inu price slice above the inverse head-and-shoulders neckline and eventually prepare for a 20% rally.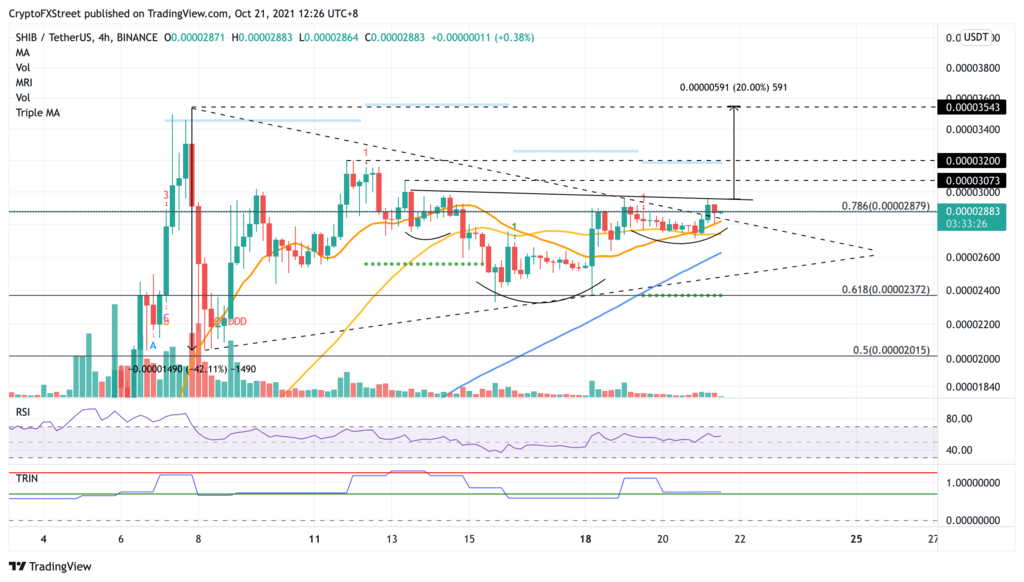 SHIB/USDT 4-hour chart
However, if SHIB suffers weakness and sees its momentum flip to the downside, Shiba Inu price could drop toward the prevailing chart pattern's right shoulder, ruining the bullish outlook.
The first line of defense for Shiba Inu price is at the descending trend line, which coincides with the 21 four-hour Simple Moving Average (SMA) at $0.00002826. Additional support will emerge at the 50 four-hour SMA at $0.00002739, before dropping to the right shoulder's low at $0.00002712. Should SHIB tumble below this level, the token would devastate bulls as the token falls back into the symmetrical triangle pattern, indicating further consolidation.
Additional selling pressure could see Shiba Inu price collapse toward the 100 four-hour SMA at $0.00002626, before descending further, tagging the ascending support trend line at $0.00002497.