Shiba Inu is the real Dogecoin killer, posting 50% gains overnight
Shiba Inu ate a zero, and SHIB price climbed over 85% over the past week to hit a three-month high at $0.00001445.
Analysts state that Dogecoin is in the accumulation zone, and traders are focused on memecoins like the Shiba Inu token.
On-chain activity exploded after a mysterious SHIB whale bought over $43 million worth of SHIB tokens on September 30.
Shiba Inu emerges as one of the top traded tokens by volume on spot exchanges worldwide. Shiba Inu holders await the token's listing on the commission-free exchange Robinhood. 
Shiba Inu on-chain activity is on the rise, community awaits Robinhood listing of SHIB
The Shiba Inu token, popular as a Dogecoin-killer, has made a comeback with a massive recovery, posting greater than 50% gains overnight. The decentralized Shiba-Inu-themed cryptocurrency is prepared to overtake Dogecoin with the updates in its ecosystem and its recent rally. 
Launched in August 2020, SHIB has a market capitalization of $6.4 billion against Dogecoin's $31.2 billion. Analysts are comparing SHIB's current rally to Dogecoin's rise of April 2018. However, a cooling-off period followed, and DOGE price plunged by 75% from its peak of $0.63 since the end of that rally.
Analysts are of the opinion that DOGE is in the accumulation phase, while SHIB is leading the way in unrealized gains for holders. 
SHIB's market dominance is considered a measure of the token's popularity in the community. The metric tracks SHIB's market cap as a percentage of the overall cryptocurrency market capitalization, and this number has increased over 40% over the past three days. The rise in dominance followed the token's spike in price based on the following chart.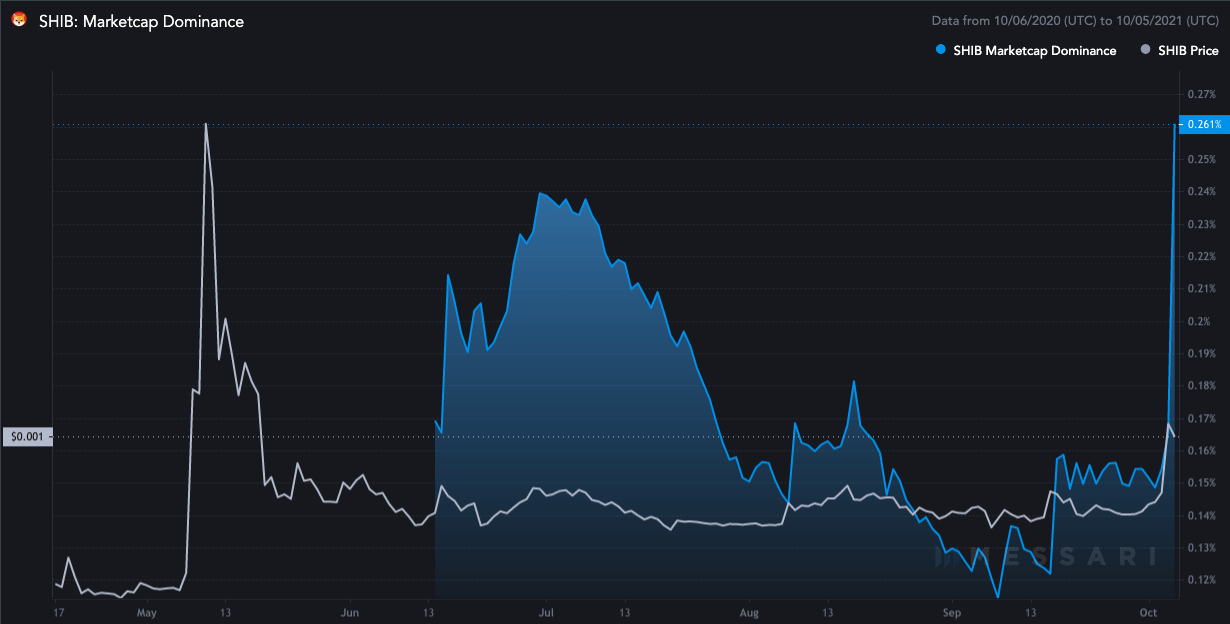 SHIB market capitalization dominance
The memecoin now has 682,031 holders, all awaiting the SHIB listing on the Robinhood exchange. The exchange is yet to announce the listing of the Dogecoin-killer, and rumors of the token's listing on Robinhood do the rounds every few weeks, influencing SHIB price positively.
A major event lined up in the SHIB ecosystem is the launch of 10,000 NFTs, Shiboshis on Shiba Swap. Earlier last week, Shytoshi Kusama, head of Shiba Inu ecosystem projects, announced the NFT sale.
The date of the exclusive NFT sale is yet to be revealed. Since Shiboshis will be available for sale only to LEASH holders in the first 24 hours, there is intense competition for acquiring the NFTs.
Shytoshi Kusama hinted at further utility of the NFTs, the blog post reads,
Finally, at release, the Shiboshi roadmap will explain how we plan to expand on Shiboshis and use these unique NFTs to grow the Shib Token Trifecta. Hint: Gaming.
The Shiba Inu ecosystem is yet to see "play to earn" or NFT gaming metaverse applications. The arrival of Shiboshis is set to change that and boost the utility of SHIB tokens and the NFTs in the token's ecosystem.
SHIB holders expect the ongoing price rally to continue, with events such as the NFT launch lined up. Another key factor contributing to the rally is SHIB whale activity.
A mysterious SHIB whale recently purchased over $43 million worth of SHIB tokens on September 30. The purchase is currently worth $77.2 million, a nearly 45% gain within five days.

Shiba Inu whale purchases $43 million (now $77.2 million) worth of SHIB on September 30,2021.
@FeraSY1, a full-time trader and analyst, has predicted $0.00001550 as the next target for SHIB after the memecoin hit his first two targets. 
$SHIB is breaking out of its 138Days accumulation range
holding above 900 means we see 1100-1270-1550 are next
if it closes inside the range again, we gonna see the range low again#SHIB #shibacoin #doge #dogecoin pic.twitter.com/8qqmcpVFf3— Feras_Crypto (@FeraSY1) October 4, 2021
Shiba Inu still out of Robinhood's interest? CEO Tenev remains mum
Shiba Inu [SHIB] emerged as the rival of Dogecoin [DOGE]. This asset garnered immense attention from the globe with its price fluctuation and swift surge onto the top 20. With this, Shiba Inu managed to amass a spot on an array of prominent crypto exchanges. However, one trading platform didn't show any interest in listing the altcoin.
Robinhood made a lot of news over the last couple of years and this wasn't for all the good reasons. While the platform got back into form, the CEO of Robinhood, Vladimir Tenev spoke all things crypto during a recent interview with CNBC. However, the one thing he decided to leave out or rather ignore was a question about Shiba Inu's listing.
Completely steering away from the question about listing the meme coin, Tenev took a rather long pause. The CEO dodged the question and did not decline or affirm the listing of Shiba Inu now or in the near future.
Furthermore, Tenev noted that the firm intends to focus on safety and has already been upholding the same. At present, Robinhood has a total of seven assets and intends to keep it at this as safety comes first for the platform. He added,
"I think it goes back to safety first. We are not generally going to be the first to add any new asset. We wanna make sure that it goes through a stringent set of criteria."
The demand for Shiba Inu seemed to be taking off. A petition was filed on Change.org urging Robhinhood to list the altcoin. The petition managed to garner a whopping 286,000 signatures. However, this seemed to make no big difference as Tenev decided to stay mum about it.
Shiba Inu [SHIB] price movement
After surging by over 10.81% throughout the week, SHIB was seen riding the bullish wave over the last couple of hours. At the time of writing, SHIB was trading for $0.00002771 with a 2.94% drop over the last 24-hours.
The market cap of the altcoin also endured fluctuations over the past couple of days. Currently, the meme coin was in the 20th position with its market cap at $10.8 billion.
Once SHIB Regains $0.00003, It May Reach New ATH: Candidate for US Senate 2022 Shannon Bray
U.S. politician Shannon Bray joins the Shiba Inu army, wants to push SHIB back to $0.00003 and higher
Looks like the SHIB community has got itself a new powerful member: U.S. politician Shannon Bray.
Politician from Libertarian party touts SHIB
Candidate for U.S. Senate 2022 Shannon Bray has published a tweet about the Shiba Inu meme cryptocurrency, saying that once it recaptures the $0.00003 zone, it may reach a new all-time high soon after with little resistance.
Bray has urged the SHIB army to "make some noise" to drive the coin to close Friday with an over 20% rise.
Bray is a Senate candidate from the Libertarian Party. He has worked in the spheres of software development, information security and management.
I changed my Twitter background. It's time to kick $shib back into the 30's.

Come on #SHIBARMY … Make some noise. Let's close Friday over 20%.

Once we break the 30s again, we should have little resistance for a new ATH. pic.twitter.com/pt6yAm7Bsu— Shannon Bray (@ShannonBrayNC) October 22, 2021
Another influencer tweeting Shiba Inu picture
Elon Musk is not the only crypto influencer who likes tweeting pictures of Shiba Inu dogs. David Gokhshtein has now followed Musk's example, posting a picture of the dog breed that inspired the first Dogecoin and then SHIB and FLOKI as well.
Gokhshtein has been holding Dogecoin and recently tweeted that he had gotten into SHIB and FLOKI too.
Who dis? pic.twitter.com/huItClDp0B— David Gokhshtein (@davidgokhshtein) October 21, 2021
Will SHIB go to $0.01 soon?
Recently, SHIB has been listed by Robinhood app's rival, Public, and it is now accepted by real estate agency Candoli Propiedades based in Argentina. Besides, the coin has been added by two crypto exchanges—India-based ZebPay and Turkish BtcTurk, both the oldest and biggest platforms in their countries.
The community is expecting Robinhood app to list SHIB as well one of these days, hoping that it would push the price as high as $0.01.
Robinhood CEO Dodges Question About Shiba Inu Listing
Robinhood CEO Vladimir Tenev says that he has heard the Shiba Inu community
Robinhood CEO Vladimir Tenev addressed a swirl of rumors surrounding Shiba Inu during his Oct. 21 appearance on CNBC's "Mad Money."
When Jim Cramer, the host of the show, asked whether or not the leading online trading app was intending to list the canine meme token, Teven said that he had heard a lot of people in that community. 

Yet, he seemingly dodged the question and refused either to confirm or deny that the listing is indeed going to happen, prompting even more speculation. 
"Safety first"
After an awkward pause, Tenev went on to mention that Robinhood only offers seven coins and stressed that the company prioritizes safety:
I think it goes back to safety first. We are not generally going to be the first to add any new asset. We wanna make sure that it goes through a stringent set of criteria.
As reported by U.Today, Robinhood competitor Public.com added support for Shiba Inu earlier this month. 
Coinbase, America's premiere crypto exchange, added support for SHIB in September.
285 000 signatures
In the meantime, a Change.org petition to post the Shiba Inu cryptocurrency on Robinhood has now surpassed 285,000 signatures. 
Tenev's recent comment comes after the online brokerage denied making an announcement about listing SHIB, debunking Twitter rumors.
With that being said, Robinhood didn't explicitly state that it wasn't intending to list Shiba Inu in the future.