Three reasons why Ethereum price is going to $5,000
Ethereum price has breached a bull flag pattern, forecasting a $4,816 target.
Transactional data shows entry into the price discovery phase is closer than anticipated.
ETH dominance chart adds credence and hints at an explosive rally.
Ethereum price breached a crucial barrier, kick-starting a part of the massive uptrend that awaits it. While the short-term outlook for ETH might be concerning based on some metrics, others indicate that the long-term scenario remains largely bullish.
Ethereum price consolidates to move higher
Ethereum price is currently forming a bull flag. ETH rose 134% between July 20 and September 3, creating a flagpole. However, it consolidated soon after in a downward sloping channel, setting up the flag.
This pattern forecasts a 57% ascent, obtained by measuring the flagpole's height and adding it to the breakout point. A decisive close above the flag's upper trend line projects a target of $4,816.
On October 1, Ethereum price embarked on a 17% rally but is currently experiencing a slowdown as it encounters the $3,398 supply barrier. Investors should note that there is a chance for ETH to retrace to $3,202 before rallying higher.
Regardless of a correction, if ETH continues to climb, the barriers at $3,619, $3,952 and $4,380 will try to block its path. Therefore, the buyers need to shatter these hurdles to reach the target of $4,816.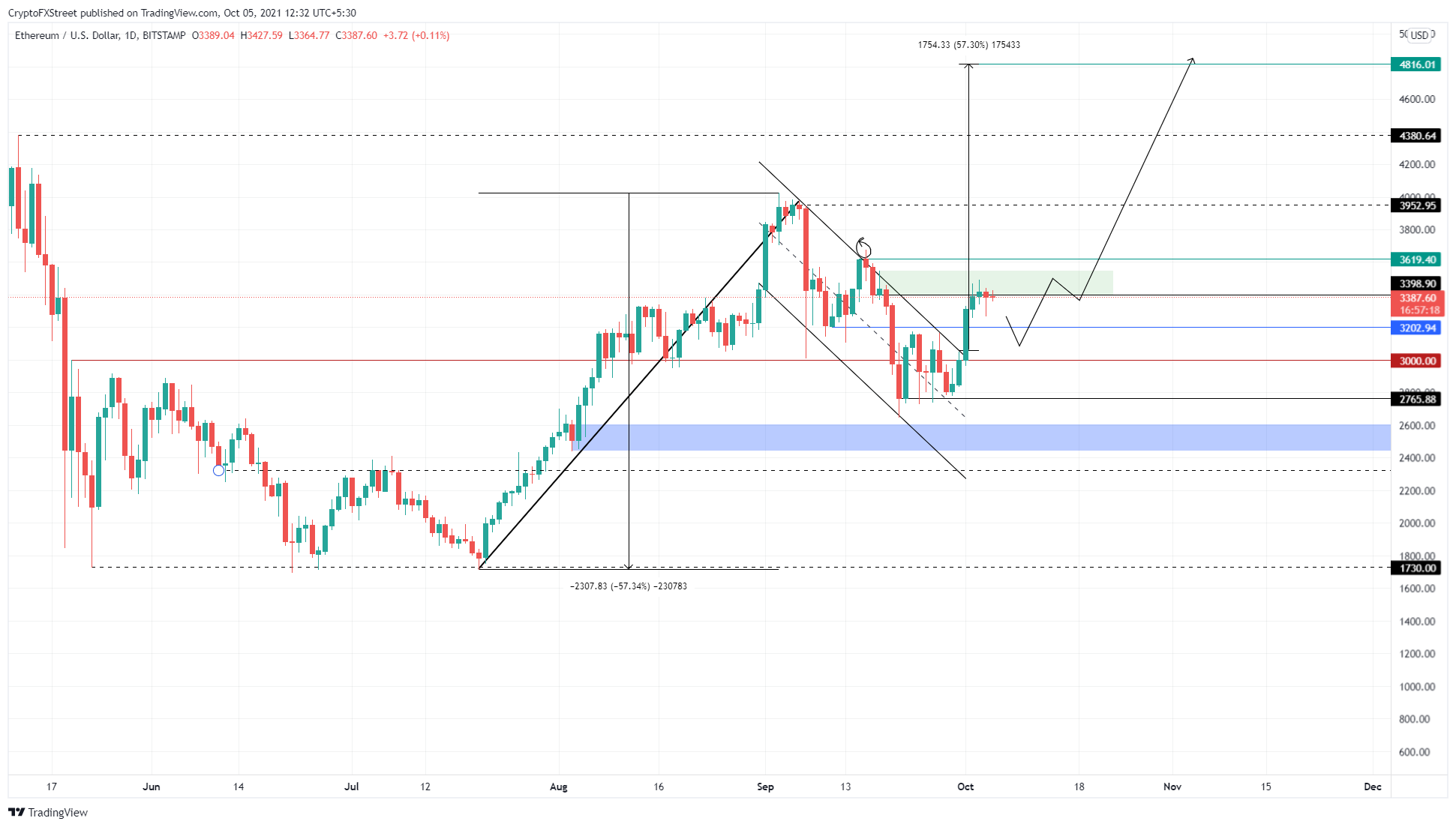 ETH/USD 1-day chart
Supporting the bullish outlook is IntoTheBlock's Global In/Out of the Money (GIOM) model, which shows little-to-no resistance for ETH beyond $3,815.
Roughly 1.95 million addresses that purchased 3.17 million ETH at an average price of $3,815 are "Out of the Money." Therefore, a decisive close above $3,815 will convert a majority of the holders to profitable and remove the unwanted selling pressure.
This development could trigger a massive bull run for ETH, pushing it past its all-time high at $4,380 and toward the intended target at $4,816.

ETH GIOM chart
On the other hand, the dominance of ETH is printing an ascending triangle. This metric is a measure of Ethereum's market cap relative to the other altcoins.
Based on theoretical projects, this technical formation forecasts a 19% increase in ETH dominance, painting a bullish picture for its future and adding credence to the optimistic thesis detailed above.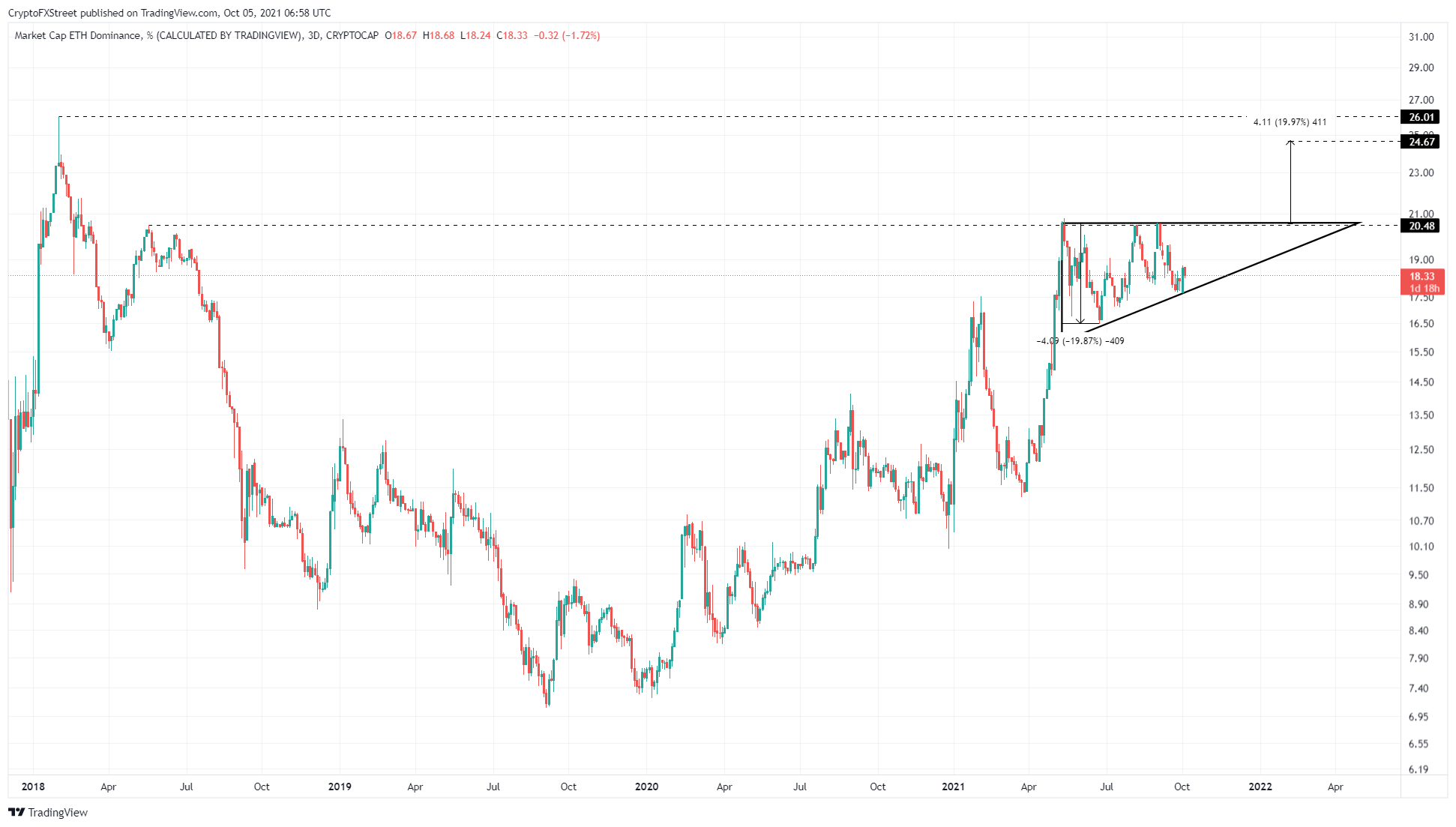 ETH Dominance chart
While things are looking up for Ethereum price from a long-term perspective, the reduction in daily active addresses over the past month despite the increase in price shows that the market participants are still fearful.
As long as there is uncertainty among a large group of holds, there is a chance for a flash crash that pushes Ethereum price down to $3,200.

ETH DAA chart
The 365-day Market Value to Realized Value (MVRV) model supports the short-term flash crash thesis. This on-chain metric is used to determine the average profit or loss of investors who purchased ETH over the past year.
Currently, the 365-day MVRV is hovering at 50%, indicating that over half of the market participants that purchased ETH are profitable. Therefore, these investors could book profits, triggering a short-term downswing for Ethereum price.

ETH 365-day MVRV chart
The supply of ETH on exchanges has risen by 170,000 over the past week, indicating that investors might be rushing to centralized entities to book profit, further adding credence to the short-term bearish outlook.

ETH supply on exchanges
Referring to the Supply Shock on-chain metric, Willy Woo, a popular on-chain analyst, mentioned in his recent newsletter,
Ethereum's fundamental demand and supply has not been climbing as much compared to Bitcoin.
He also adds that this is the region of historical strength, further indicating that the long-term outlook for both BTC and ETH remains bullish.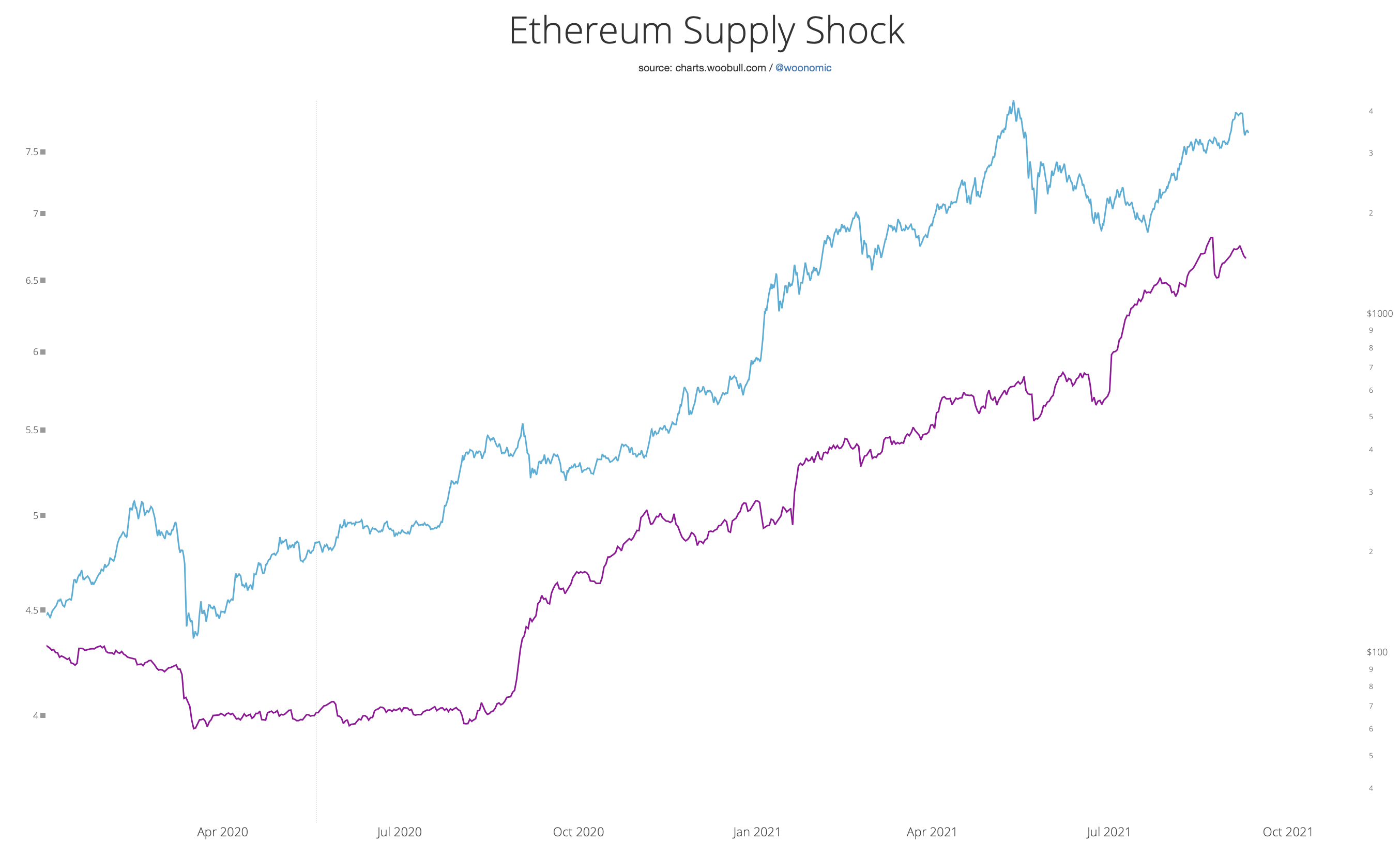 ETH, BTC supply shock chart
If Ethereum price drops below $2,765 and produces a decisive close below it, it would create a lower low, invalidating the bullish thesis. In this case, ETH might bounce off the demand zone, ranging from $2,442 to $2,605, and give the uptrend another shot.
Will Smith's Son, Rapper and Actor Jaden Smith, Posts Mysterious "ETH" Tweet
Jaden Smith joins the crypto-celebrity list with two tweets in a row
The "Icon" author, rapper, Hollywood actor and mega-star, Will Smith's son Jaden Smith, has posted a mysterious "ETH" tweet that followed a "Web3" publication shortly after.
The purpose behind the two tweets has not been disclosed, but it is most likely tied to the rising popularity of the two industries. Previously, Ethereum's price has reached the new ATH, which might have caught the famous rapper's attention.
ETH— Jaden (@jaden) October 22, 2021
Both crypto-related tweets have been warmly welcomed by the audience, collecting approximately 8,000 likes and more than 1,000 retweets on Twitter. In the comment section of the Web3 tweet, Jaden said that he actually owns an NFT just like his industry partner Snoop Dog.
With the rapid price increase of the Bitcoin, DeFi and NFT industries, more celebrities are exploring cryptocurrencies and blockchain technologies. In addition to giving significant investment returns, digital assets technologies may potentially change the banking, finance and art industries in the future.
Ripple CEO Says the SEC Helped Ethereum to Surpass XRP as No.2 Crypto
Ripple CEO aired his opinion on the crypto market and regulations.
Brad Garlinghouse said the US SEC granted Ethereum regulatory green light.
At the DC Fintech Week virtual conference on October 21, Ripple CEO Brad Garlinghounse aired his thoughts on the state of the crypto market and regulations. Besides, he holds a grudge over the financial regulator's approach to Ethereum.
In addition, Garlinghouse declared that the US Security and Exchange Commission (SEC) granted Ethereum regulatory green light that enabled it to surpass his firm's XRP token.
Likewise, the Ripple boss feels that his firm has been played out. But, at the same time, Ethereum's subsequent success is at least in part down to more favorable treatment by the US SEC. Also, Garlinghouse stated that it is affecting its market. He said,
"Within the last few years, XRP was the second most valuable digital asset. As it became clear the SEC had given a hall pass to ETH, ETH obviously has exploded, and that clarity has helped."
To clarify, XRP was the second-largest crypto asset by market cap in late December 2017. But, currently, it has dropped to seventh place while Ethereum has kept the second spot ever since.
Furthermore, the reason why XRP dropped is the US SEC pursuing Ripple over claims that XRP is unregistered security. In fact, in January, Ripple filed a Freedom of Information Act request with the US SEC demanding to know why it didn't consider ETH security.
As a result, later in July, a district judge allowed the firm to depose a former official who declared in 2018 that ETH was not a security.
Ripple CEO reinstates SEC bias towards ETH, claiming XRP could've been No.2

It is not news that the ongoing XRP lawsuit has got the better of Ripple's XRP token. Ripple CEO, Brad Garlinghouse recently questioned the SEC's bias towards Ethereum, claiming that XRP would've been at the No. 2 position instead of ETH if it weren't for the commission's partial crackdown. Garlinghouse spoke at the DC Fintech Week virtual conference yesterday, arguing that the U.S. Securities and Exchange Commission alleged Ripple's XRP as unregistered security while granting Ethereum a regulatory free pass, which in turn helped ETH shoot through the roof.
"Within the last few years, XRP was the second most valuable digital asset. As it became clear the SEC had given a hall pass to ETH, ETH obviously has kind of exploded and that clarity has helped."
XRP secured the position of the second-largest crypto asset by market capitalization during the latter half of 2017. However, the token has dropped down to seventh place while Ethereum stands strong as No. 2. Furthermore, Garlinghouse claims that the SEC's exclusively aggressive anti-crypto stance to allegedly protect the consumers is in fact anti-investors. Referring to the XRP lawsuit, Ripple CEO emphasizes that "nearly 50,000 U.S. people who hold XRP who are trying to sue the SEC for 'protecting them'".
XRP Holders left with bearish and frozen funds
Earlier this week, Attorney Deaton Filed a Letter Motion on behalf of the XRP Holders (Movants) that contended SEC's extension request, with the main argument concerning the XRP holders' frozen funds because of the consistent postponement of the lawsuit's final verdict. During the ongoing bull run, XRP remains considerably bear because of the regulatory crackdown on Ripple. However, the court has overlooked the community's concern and granted the extension explaining that in lieu of pending motions, extra time will only facilitate both parties to complete pending fact discovery and thoroughly prepare for upcoming expert depositions.
"The lack of liquidity within the United States, coupled with the mass de-listings prevents XRP Holders from trading, selling, transferring, or converting their XRP. It is because of this de facto in place seizure of their property that XRP Holders took the extraordinary step to seek intervention as defendants… Any delay in the underlying action marks yet another day XRP Holders do not have access to their funds.", wrote Deaton.