Baby Doge Waging a War of Terror on other Doge Projects

When Bitcoin brought the notion of decentralization to the centralized world, many wondered how this would transpire. Fast forward more than a decade later and the power held by decentralization can now be felt the world over.
Bakary Thaore wrote in October 2001 in Action Collective, (A Burkina Faso Publication on decentralization) that:
"Decentralization … confers onto local communities the power… to manage their affairs in order to promote their own development."
In blockchain, the same principles inferred by Bakary apply, the transfer of control and decision making from centralized entities (groups, organizations, or individuals) takes place and it rests onto a distributed network.
This means that within the crypto ecosystem, we see ourselves as equals and no central authority can rule over another. This is why after the birth of Ethereum, Bitcoin did not come out all guns swinging claiming that they were here first and Ethereum should cease and desist in any crypto-related actions. The same can be said about the father of 'memecoins,' Dogecoin.
Thanks to the concept of Dogecoin, multitudes of meme-centric tokens came up that helped solve multiple problems within the crypto sphere. After Dogecoin, in came Baby Doge, then WifeDoge, MommyDoge, NanoDogecoin, DaddyDoge, and the latest entrant, LittleBabyDoge.
With such a great leader ahead of the pack, one would assume that these upcoming Doge projects would form a united front and take over the crypto scene together. However, one of the Doge factions decided to monopolize the market and wage terror on other projects.
Is the Doge name a Baby Doge Monopoly?
Several Doge projects have reached out to the crypto community crying of how Baby Doge is working tirelessly to monopolize the market. They are accusing Baby Doge of using tyrannical and bullying tactics to derail their progress.
The latest in Baby Doge's bullying antics includes reporting the Twitter accounts of their Doge compatriots so that they can get suspended. This comes as a shock to many since Baby Doge does not own any copyrights to the name Doge; furthermore, the entire crypto ecosystem is decentralized, which means that no project should try and monopolize the market.
How Twitter, one of the leading crypto-centered platforms, allows this charade to keep happening is beyond anyone's comprehension. Such tactics might and will do more harm than good to the perpetrators, Baby Doge, as investors might start voicing their concerns on the new direction the project is taking.
Steadfast against Tyranny
We stand with all the Doge projects out there fighting the good fight. Let us say no to tyranny, bullying, and centralizing our decentralized ecosystem. If you see the hashtag #DogesTogetherStrong, do not leave without spreading the word.
The crypto space is behind you WifeDoge, MommyDoge, NanoDogecoin, DaddyDoge, and LittleBabyDoge. Fear not, in unity comes strength.
Dogecoin Price Struggling Near Vital DMA Lines, With Average Volume Activity.
Dogecoin price is currently trading near its major moving averages of 20, 50, 100, and 200-day lines, with slightly lower volume activity. 
The digital asset is presently trying to suppress its vital DMA lines and holding its 100 and 200-day lines. 
The pair of DOGE/BTC is trading at 0.000003868 BTC with an intraday gain of +1.02%, and the ratio of DOGE/ETH is CMP at 0.0000595 ETH with a 24-hour change of -5.98%.
Dogecoin price over the monthly chart is trying to sustain above its all vital moving averages of 20, 50, 100, and 200-day lines. Meanwhile, volume activity over the chart is slightly lower and needs to grow strongly. Similarly, the sustainability above its vital DMA lines with supportive volume activity will boost more upside in upcoming trading sessions.
Once the crypto asset jumps above its vital DMA lines, supportive volume activity will create the next lap of bullish move till $0.32 to $0.36. Support on the lower side is $0.2250 and $0.1945, whereas resistance on the higher side is $0.2720 and $0.3260.
Dogecoin price is trading under the bullish chart pattern while creating higher highs and lows
Dogecoin price at the weekly chart is trading under the bullish chart pattern while creating higher highs and lows. Meanwhile, the technical parameters are slightly neutral, with a slight recovery from lower levels. Volume over the chart slightly increases and needs more growth for a continuation of the pattern. DOGE price is trading at $0.2573 with an intraday gain of +2.34%, and the volume to market cap ratio is 0.06616.  
Relative Strength Index (BULLISH): Dogecoin price RSI is heading towards the overbought zone after a good recovery from the lower levels. In contrast, the coin trades on a higher note and projects slight caution with longs and RSI at 56. 
Dogecoin Forecast and DOGE/USD Analysis October 21, 2021
DOGE/USD are traded at 0.2554 and continue to move within the correction and the bullish channel. Moving averages indicate a short-term bullish trend for Dogecoin. Prices went up from the area between the signal lines, which indicates pressure from buyers of the asset and a potential continuation of the rise from the current levels. At the moment, we should expect an attempt to develop a correction in the value of a digital asset and a test of the support level near the 0.2425 area. Where can we expect a rebound again and a continuation of the rise in the Dogecoin rate with a potential target above the level of 0.3155.
Dogecoin Forecast and DOGE/USD Analysis October 21, 2021
In favor of the growth of the DOGE/USD quotes, a test of the trend line on the relative strength index (RSI) will come out. The second signal will be a rebound from the lower border of the bullish channel. Cancellation of the coin growth option will be a fall in the value of the asset and a breakdown of the 0.2175 area. This will indicate a breakdown of the support area and a continued fall in the cryptocurrency rate with a potential target below the level of 0.1845. With the breakdown of the resistance area and closing of quotations above the level of 0.2845, we should expect confirmation of the development of a bullish trend in Dogecoin.
Dogecoin Forecast and DOGE/USD Analysis October 21, 2021 therefore imply an attempt to correct and test the support area near the 0.2425 level. Where can we expect a rebound and continued growth in DOGE/USD to the area above the level of 0.3155. An additional signal in favor of raising Dogecoin will be a test of the trend line on the relative strength index (RSI). Cancellation of the growth option will be a fall and a breakdown of the 0.2175 area. This will indicate a continued decline in cryptocurrency with a target below the level of 0.1845.
Three critical reasons why Dogecoin price will easily quadruple
Dogecoin price is creating a massive fractal that hints at a 361% breakout move incoming soon.
DOGE has already breached a crucial resistance level, suggesting the start of a bull rally.
A breakdown of the $0.16 support floor will put the altcoin in jeopardy and on a path to invalidating the bullish thesis.
Dogecoin price might seem in a lull, as DOGE-killers like Shiba Inu and other meme coins are hogging the spotlight – nor has the dog-themed cryptocurrency's own lacklustre performance helped its cause, but things are set to change as a multi-month consolidation now promises a stunning breakout.
Dogecoin price screams bullish every way you look at it
Dogecoin price shows three possible outcomes, all of which are bullish. The first sees DOGE slicing through the support area ranging from $0.213 to $0.230. This move, albeit bearish in the short-term, would lead to a retest of $0.195, where Dogecoin price can form a double bottom and kick-start a new uptrend to $0.30 or $0.352.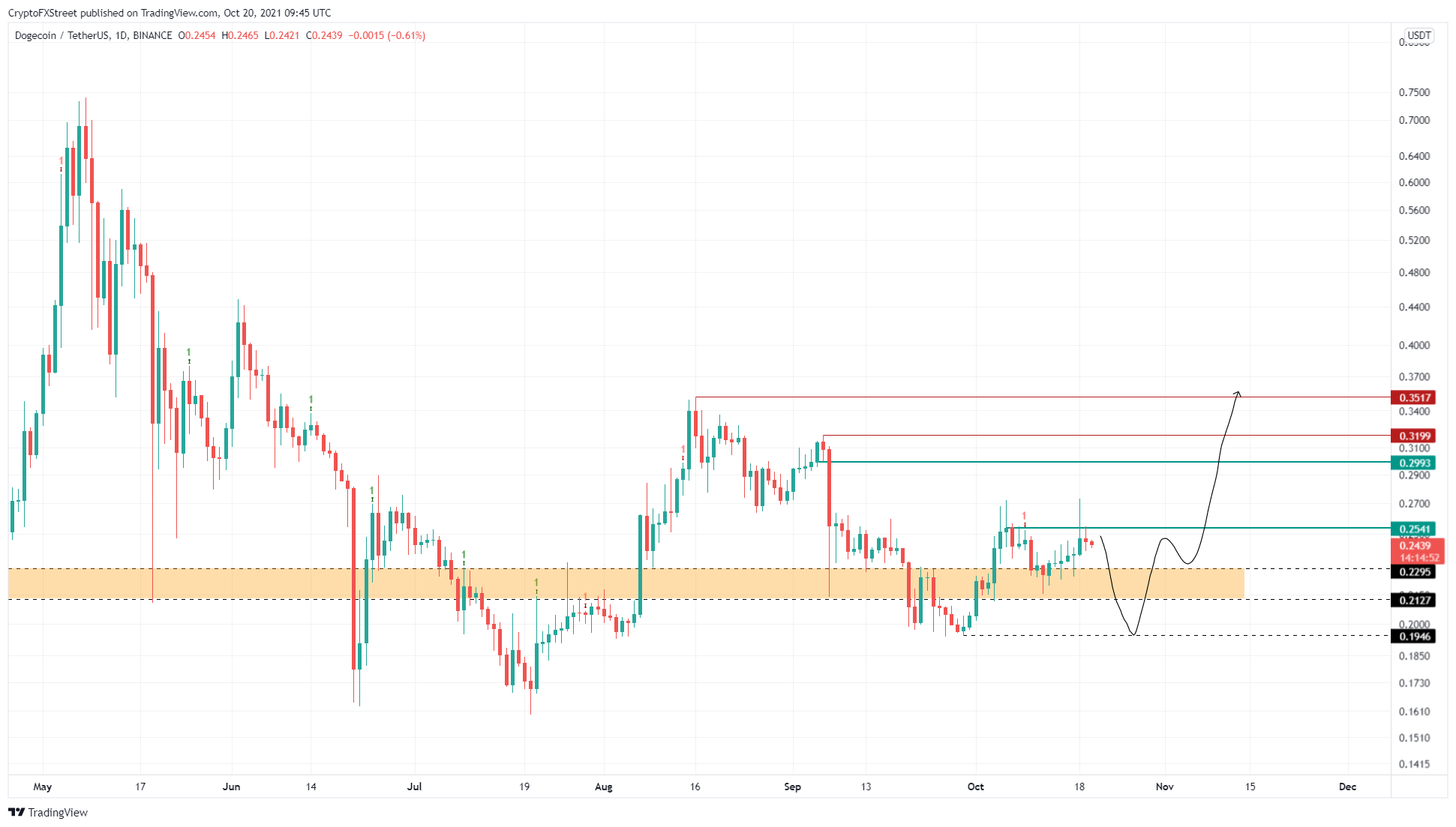 DOGE/USDT 1-day chart
The second outcome is for Dogecoin price to shatter the $0.195 support floor. This move would lead to a 35% drop from the current position, knocking the meme-themed cryptocurrency down to a stable support floor at $0.160.
While this might appear bearish, it would create a triple-top setup, aka bottom reversal pattern. This pattern would allow retail investors to purchase DOGE at a discount, pushing DOGE to retest the intermediate resistance levels at $0.424 or near the all-time high levels around $0.680. Either way, bottom reversal patterns are often seen in the cryptocurrency space and are one of the reasons why Bitcoin price kick-started its massive recovery rally after crashing to $28,000.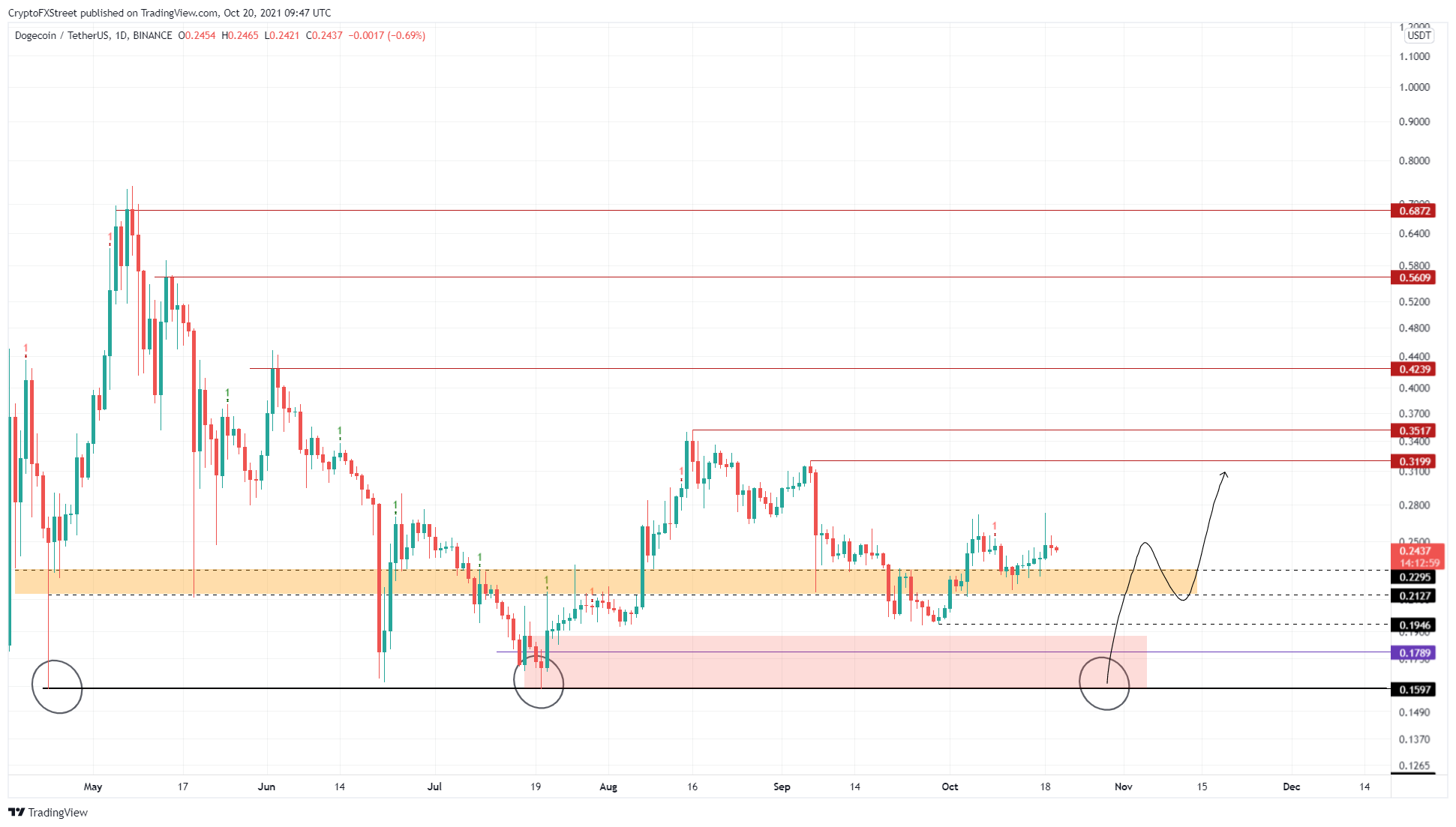 DOGE/USDT 1-day chart
DOGE fractal forecasts an eye-popping rally
The third outcome is for Dogecoin price to form a fractal – a formation that often develops after an extended run-up.
From early July 2020 to early January 2021, DOGE formed a rounding bottom pattern, which led to a breakout and a 1,435% ascent.
This run-up pushed the Dogecoin price from $0.0057 to $0.088. After reaching a new all-time high in early 2021, the dog-themed cryptocurrency slid into consolidation for more than two months, creating a descending triangle.
A breakout from this setup triggered another exponential leg-up that propelled the Dogecoin price by 1,102% to a new all-time high at $0.740. Since this new high, the meme coin has been coiling up, creating four lower highs and three equal lows.
Connecting these swing points using trend lines shows the formation of a descending triangle. This pattern forecasts a 363% ascent to $1.086, obtained by adding the distance between the first swing high and the horizontal support to the breakout point.
While the Dogecoin price has broken out of this setup, investors need to wait for a higher high above $0.36 to confirm the start of a new uptrend.
Either way, this technical formation is hinting at the start of a new leg-up that will quadruple the market value of DOGE soon.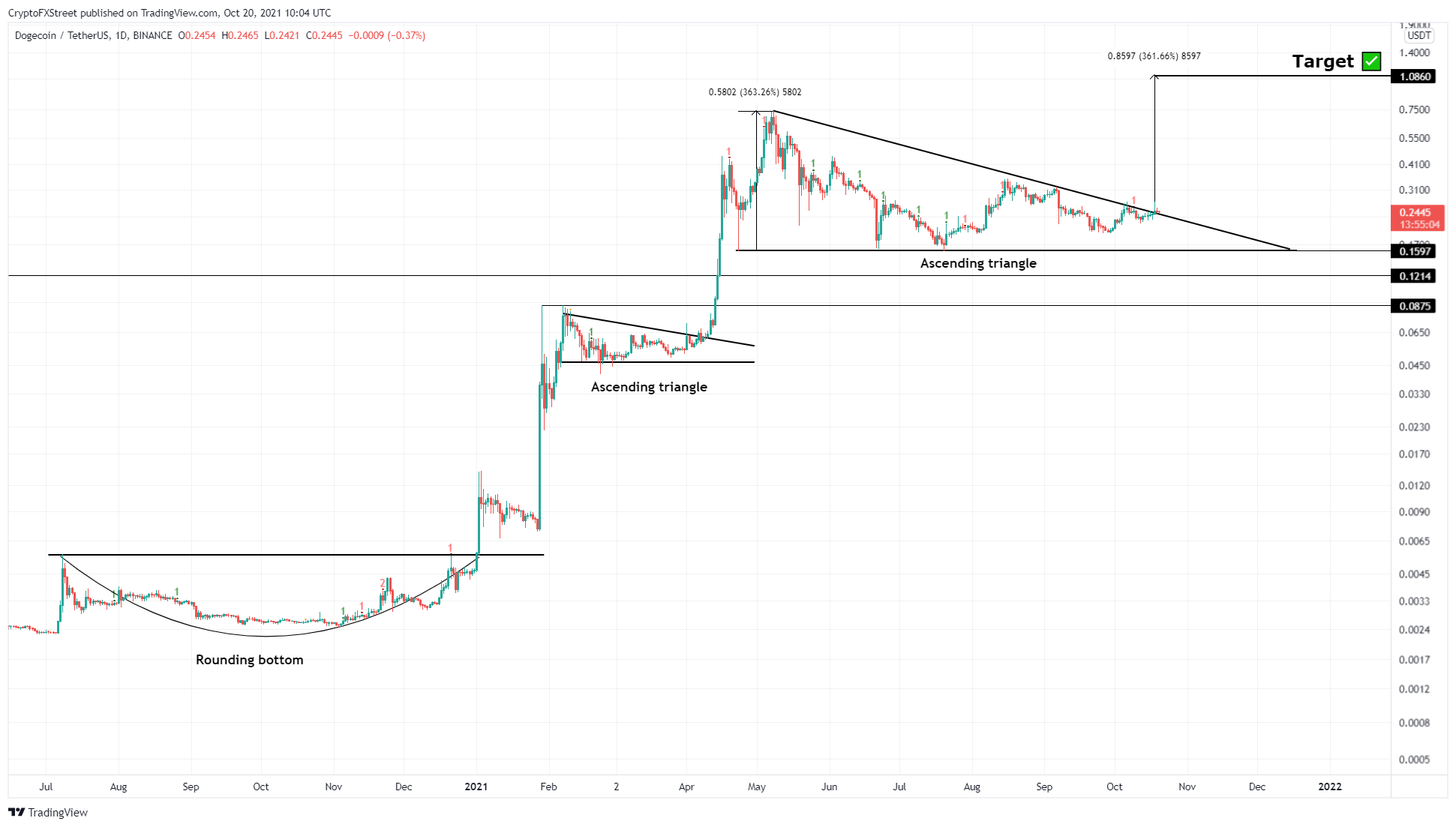 DOGE/USDT 1-day chart
While things are looking good for Dogecoin price in three possible outcomes, a breakdown of the $0.16 barrier could prove fatal for the altcoin. This move will knock DOGE down to $0.121, a breakdown of which will invalidate the bullish thesis and catalyze a 30% crash to the $0.09 support level.
News Source