Mark Cuban: NBA Fans Prefer Paying with Dogecoin Because Bitcoin Is an Appreciable Asset
According to Mark Cuban, people expect bitcoin to go up in value and that is why they don't want to buy NBA tickets with it.
The owner of the professional basketball team the Dallas Mavericks – Mark Cuban – revealed that people don't like buying tickets with their Bitcoin holdings because it is an appreciable asset. Instead, they employ Dogecoin, which is "easy to spend."
'Bitcoin Is a Little Bit of a Different Animal'
During an interview for Fox Business, the American billionaire Mark Cuban shared his views on some of the most popular cryptocurrencies.
Starting with bitcoin, he said the asset is a "great alternative store of value." Cuban went further, opining that it is even better than gold, and is also much different than the alternative coins.
"Bitcoin is a little bit of a different animal as crypto as a whole."
Not long ago Dallas Mavericks started accepting crypto payments for game tickets and merchandise on its online store. However, Cuban said NBA fans are not keen on purchasing tickets via BTC as they hold the asset for the long-term and expect its price to increase in time:
"Not a lot of people pay in bitcoin because it is really an appreciable asset. It's a store of value and they want it to go up in value."
On the other hand, many employ Dogecoin as a buying option as they have an entirely different attitude towards the meme token:
"We sell thousands and thousands of dollars per month during the off-season, and once the season starts I expect that to happen per week in Dogecoin – and that's really because it's easy to spend, it doesn't appreciate so much that people want to hold it forever."
Speaking of his personal investment in the meme coin, Cuban said he had increased it from $500 to $1,500 recently, explaining he bought "a little bit more for fun." Nevertheless, he described DOGE as a way to understand how digital assets function, not as a successful investment instrument:
"I've never told anybody it's a great investment, I've often said it's a great way to understand how cryptocurrency works, how to invest in the market."
Is Investing in DOGE a Wise Decision?
The meme coin, which started as a joke in 2013, has had by all means a turbulent year so far. At the beginning of 2021, its price tag stood at roughly $0.01. Shortly after, though, it skyrocketed and reached an all-time high of around $0.74 in May.
And when many experts thought that DOGE's next ATH would be hitting the milestone of $1, its price started plunging. As of the moment of writing these lines, it trades at about $0.25.
Often described as a trendy cryptocurrency that the younger generations prefer, Dogecoin has attracted the attention of numerous prominent names, including Elon Musk. Tesla's CEO has also admitted he had personally invested in it.
However, CoinShare's CSO – Meltem Demirors, for example, believes the recent fascination with Dogecoin is a speculative mania and a bubble.
Michael Saylor – Co-Founder, and CEO of MicroStrategy – also placed himself as a DOGE opposer. He warned people to be highly cautious when investing in it as it has a temporary role.
Dogecoin Price Struggling Near Vital DMA Lines, With Average Volume Activity.
Dogecoin price is currently trading near its major moving averages of 20, 50, 100, and 200-day lines, with slightly lower volume activity. 
The digital asset is presently trying to suppress its vital DMA lines and holding its 100 and 200-day lines. 
The pair of DOGE/BTC is trading at 0.000003868 BTC with an intraday gain of +1.02%, and the ratio of DOGE/ETH is CMP at 0.0000595 ETH with a 24-hour change of -5.98%.
Dogecoin price over the monthly chart is trying to sustain above its all vital moving averages of 20, 50, 100, and 200-day lines. Meanwhile, volume activity over the chart is slightly lower and needs to grow strongly. Similarly, the sustainability above its vital DMA lines with supportive volume activity will boost more upside in upcoming trading sessions.
Once the crypto asset jumps above its vital DMA lines, supportive volume activity will create the next lap of bullish move till $0.32 to $0.36. Support on the lower side is $0.2250 and $0.1945, whereas resistance on the higher side is $0.2720 and $0.3260.
Dogecoin price is trading under the bullish chart pattern while creating higher highs and lows
Dogecoin price at the weekly chart is trading under the bullish chart pattern while creating higher highs and lows. Meanwhile, the technical parameters are slightly neutral, with a slight recovery from lower levels. Volume over the chart slightly increases and needs more growth for a continuation of the pattern. DOGE price is trading at $0.2573 with an intraday gain of +2.34%, and the volume to market cap ratio is 0.06616.  
Relative Strength Index (BULLISH): Dogecoin price RSI is heading towards the overbought zone after a good recovery from the lower levels. In contrast, the coin trades on a higher note and projects slight caution with longs and RSI at 56. 
Dogecoin Forecast and DOGE/USD Analysis October 21, 2021
DOGE/USD are traded at 0.2554 and continue to move within the correction and the bullish channel. Moving averages indicate a short-term bullish trend for Dogecoin. Prices went up from the area between the signal lines, which indicates pressure from buyers of the asset and a potential continuation of the rise from the current levels. At the moment, we should expect an attempt to develop a correction in the value of a digital asset and a test of the support level near the 0.2425 area. Where can we expect a rebound again and a continuation of the rise in the Dogecoin rate with a potential target above the level of 0.3155.
Dogecoin Forecast and DOGE/USD Analysis October 21, 2021
In favor of the growth of the DOGE/USD quotes, a test of the trend line on the relative strength index (RSI) will come out. The second signal will be a rebound from the lower border of the bullish channel. Cancellation of the coin growth option will be a fall in the value of the asset and a breakdown of the 0.2175 area. This will indicate a breakdown of the support area and a continued fall in the cryptocurrency rate with a potential target below the level of 0.1845. With the breakdown of the resistance area and closing of quotations above the level of 0.2845, we should expect confirmation of the development of a bullish trend in Dogecoin.
Dogecoin Forecast and DOGE/USD Analysis October 21, 2021 therefore imply an attempt to correct and test the support area near the 0.2425 level. Where can we expect a rebound and continued growth in DOGE/USD to the area above the level of 0.3155. An additional signal in favor of raising Dogecoin will be a test of the trend line on the relative strength index (RSI). Cancellation of the growth option will be a fall and a breakdown of the 0.2175 area. This will indicate a continued decline in cryptocurrency with a target below the level of 0.1845.
Three critical reasons why Dogecoin price will easily quadruple
Dogecoin price is creating a massive fractal that hints at a 361% breakout move incoming soon.
DOGE has already breached a crucial resistance level, suggesting the start of a bull rally.
A breakdown of the $0.16 support floor will put the altcoin in jeopardy and on a path to invalidating the bullish thesis.
Dogecoin price might seem in a lull, as DOGE-killers like Shiba Inu and other meme coins are hogging the spotlight – nor has the dog-themed cryptocurrency's own lacklustre performance helped its cause, but things are set to change as a multi-month consolidation now promises a stunning breakout.
Dogecoin price screams bullish every way you look at it
Dogecoin price shows three possible outcomes, all of which are bullish. The first sees DOGE slicing through the support area ranging from $0.213 to $0.230. This move, albeit bearish in the short-term, would lead to a retest of $0.195, where Dogecoin price can form a double bottom and kick-start a new uptrend to $0.30 or $0.352.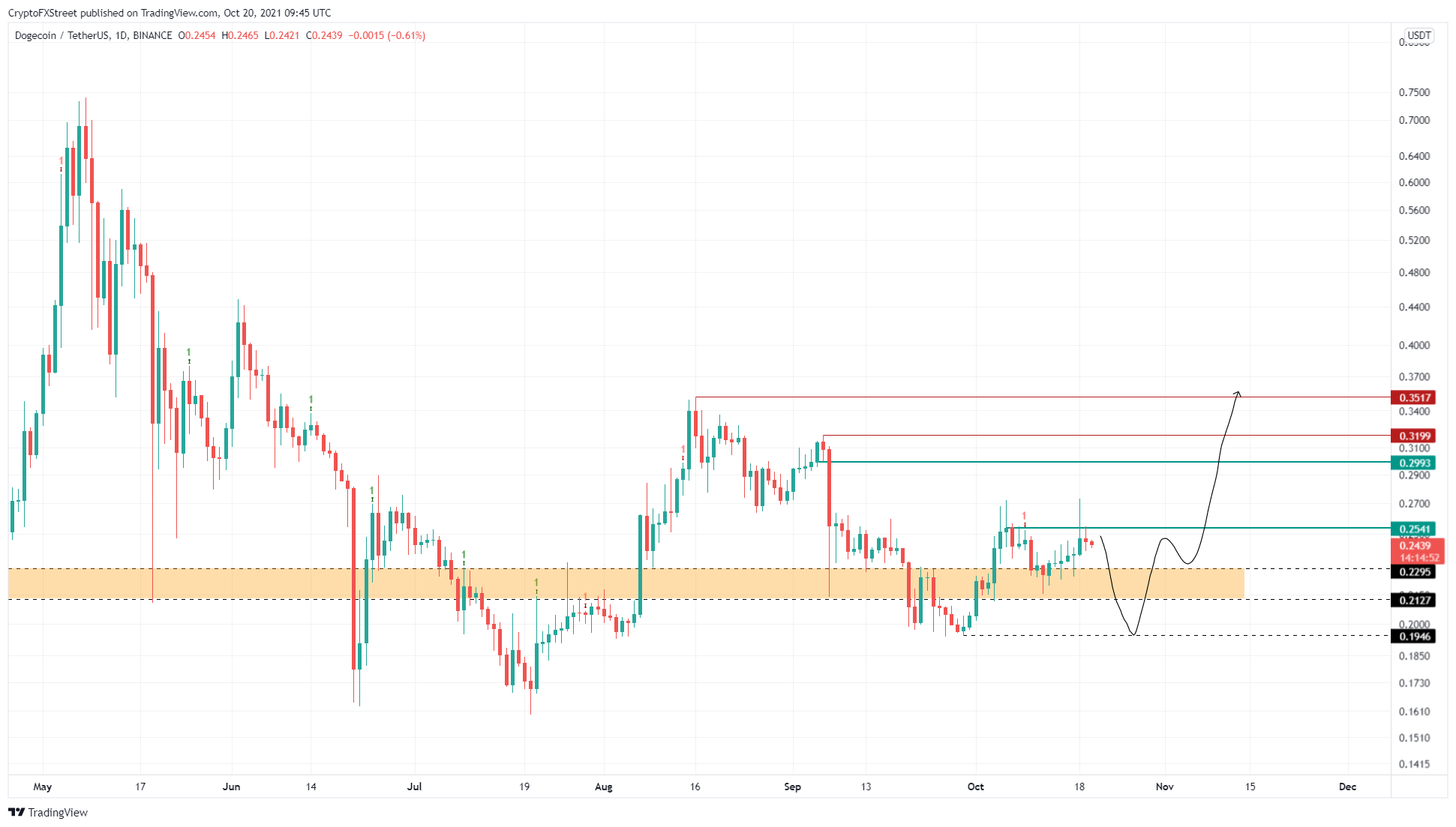 DOGE/USDT 1-day chart
The second outcome is for Dogecoin price to shatter the $0.195 support floor. This move would lead to a 35% drop from the current position, knocking the meme-themed cryptocurrency down to a stable support floor at $0.160.
While this might appear bearish, it would create a triple-top setup, aka bottom reversal pattern. This pattern would allow retail investors to purchase DOGE at a discount, pushing DOGE to retest the intermediate resistance levels at $0.424 or near the all-time high levels around $0.680. Either way, bottom reversal patterns are often seen in the cryptocurrency space and are one of the reasons why Bitcoin price kick-started its massive recovery rally after crashing to $28,000.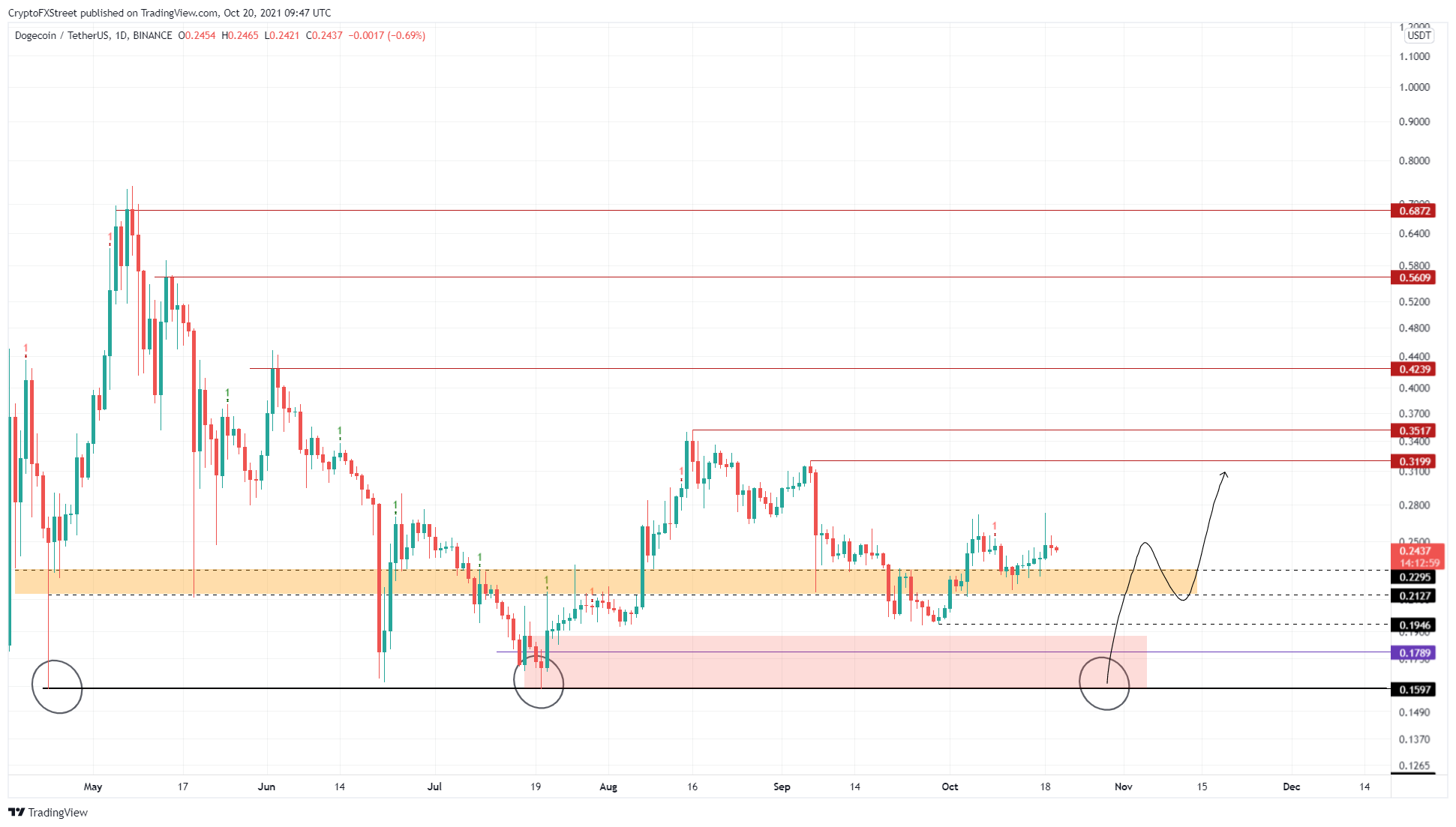 DOGE/USDT 1-day chart
DOGE fractal forecasts an eye-popping rally
The third outcome is for Dogecoin price to form a fractal – a formation that often develops after an extended run-up.
From early July 2020 to early January 2021, DOGE formed a rounding bottom pattern, which led to a breakout and a 1,435% ascent.
This run-up pushed the Dogecoin price from $0.0057 to $0.088. After reaching a new all-time high in early 2021, the dog-themed cryptocurrency slid into consolidation for more than two months, creating a descending triangle.
A breakout from this setup triggered another exponential leg-up that propelled the Dogecoin price by 1,102% to a new all-time high at $0.740. Since this new high, the meme coin has been coiling up, creating four lower highs and three equal lows.
Connecting these swing points using trend lines shows the formation of a descending triangle. This pattern forecasts a 363% ascent to $1.086, obtained by adding the distance between the first swing high and the horizontal support to the breakout point.
While the Dogecoin price has broken out of this setup, investors need to wait for a higher high above $0.36 to confirm the start of a new uptrend.
Either way, this technical formation is hinting at the start of a new leg-up that will quadruple the market value of DOGE soon.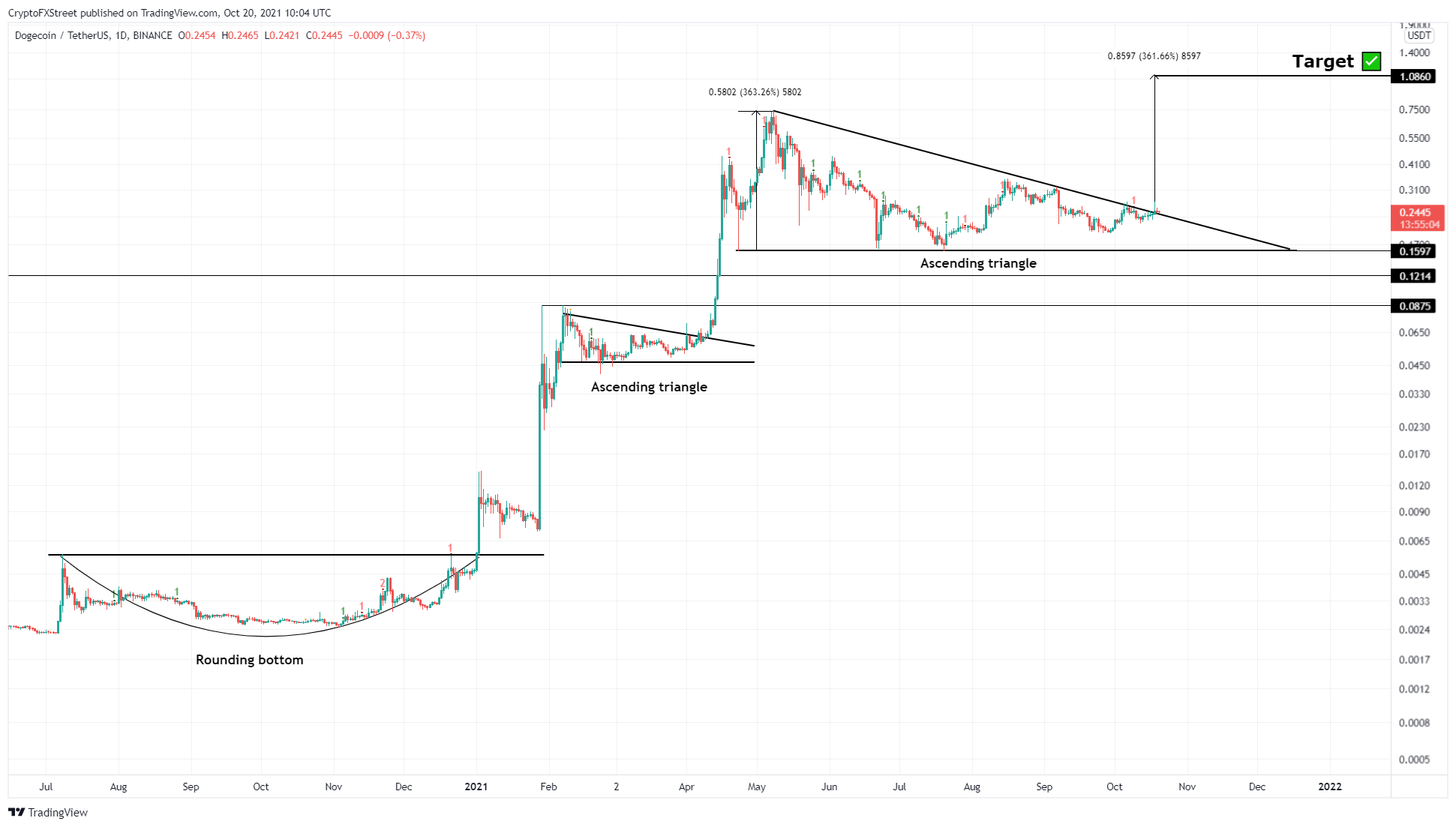 DOGE/USDT 1-day chart
While things are looking good for Dogecoin price in three possible outcomes, a breakdown of the $0.16 barrier could prove fatal for the altcoin. This move will knock DOGE down to $0.121, a breakdown of which will invalidate the bullish thesis and catalyze a 30% crash to the $0.09 support level.
News Source