Tezos Price Analysis: XTZ retraces below $7.50 support, further downside to slowly follow today?
Tezos price analysis is bearish today.
XTZ/USD retraced over the last 24 hours.
Previous support at $7.50 broken.
Tezos price analysis is bullish today as bearish momentum has pushed the market below $7.50 support over the last 24 hours. Therefore, we expect XTZ/USD to continue lower and retrace even more of the gain seen last week.
The overall market traded mostly in the red over the last 24 hours. The market leader, Bitcoin, is up by 2.77 percent, while Ethereum has lost 1.6 percent. The rest of the top altcoins have seen an even worse performance, with Tezos (XTZ) down by 10.5 percent.
Tezos price movement in the last 24 hours: Tezos breaks below $7.50 support
XTZ/USD traded in a range of $7.21 – $8.56, indicating strong volatility over the last 24 hours. Trading volume has declined by 27 percent and totals $801.9 billion, while the total market cap trades around $6.5 billion, ranking the coin in 32nd place overall.
XTZ/USD 4-hour chart: XTZ to drop further today?
On the 4-hour chart, we can see the Tezos price action continuing to decline below the $7.50 support.
Tezos price action has seen bullish momentum return over the past weeks. After a higher low was established around $4.50, a several-day rally took XTZ/USD to $7.50, where a lower high was set, indicating an increasingly tighter trading range.
However, after a retracement to $5.50 at the end of September, reversal followed. Over the first days of October, Tezos gained almost 70 percent to the $9 mark, where a new yearly high was set.
Another retracement followed over the past days, with both the $8 and $7.50 not preventing further downside. Overall, this Tezos price action development indicates that we should see more bearish momentum over the next 24 hours.
Tezos Price Analysis: Conclusion
Tezos price analysis is bearish today as bearish momentum still is strong after a break below the $7.50 support. Therefore, we expect XTZ/USD to continue lower later today and look to retrace even deeper.
While waiting for Tezos to move further, read our guides on Best NFT marketplaces, NFT history and development, as well as NFT Music
Bitcoin Mining Vs. The World: BTC Leads Sustainable Energy
Recent reports show that Bitcoin mining uses great amounts of renewable energy due to economic incentives. This turn of events raised their numbers of sustainable power mix to almost three times higher than the world average.
As renewable energy offers low costs, bitcoin miners, who had to spend 68.42% of their total income to purchase electricity, have upscaled their efficient use of green energy. A recent data review shows how their mix of sustainable energy is higher than any country or industry.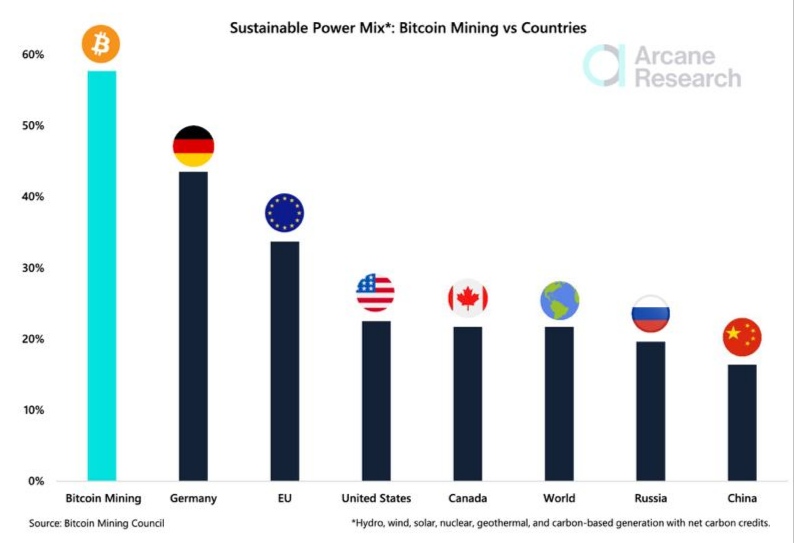 Renewable energy is not flexible and their locations do not tend to be convenient for most people. As bitcoin miners move close to sources of energy to lower the costs, they are a viable solution to not waste the sustainable energy that otherwise would be deployed, as explained by CoinShares.
According to a survey carried by the Bitcoin Mining Council (BMC), the electricity mix used by bitcoin miners increased 3% from second-quarter to an approximate of 57.7% sustainable in third-quarter 2021 "making it one of the most sustainable industries globally."
MicroStrategy's CEO Michael Saylor had stated earlier that the Bitcoin Mining Council's effort to bring clarity and transparency over Bitcoin mining will most likely "play an important role in demystifying" the industry.
Furthermore, a whitepaper by the Bitcoin Clean Energy Initiative from earlier this year had explained how bitcoin mining, when using renewable energy, "is especially suited to accelerate the energy transition" towards a cleaner electricity grid:
With bitcoin mining integrated into a solar system, (…) energy providers – whether utilities or independent entities – would have the ability to play the arbitrage between electricity prices and bitcoin prices, as well as potentially sell the "surplus" solar and supply almost all grid power demands without lowering profitability.
China's Ban Impact On Bitcoin Mining
Digiconomist data shows that China's ban of all Bitcoin mining activities dropped the total amount of "active computational power in the network" by 50%. The reduction of mining competition also generated higher levels of income for active miners worldwide.
Torbjørn Bull Jenssen CEO of Arcane commented earlier:
As China is turning away from bitcoin mining, the mining industry as a whole is becoming increasingly green and a driver for renewable energy around the world. Now is excellent timing for Arcane to enter into this segment, (…) Mining is a very interesting business stand alone, and it also has considerable synergies towards our other investments and business. I am looking forward to finalizing the strategy for Arcane Green Data and presenting it in more detail for our partners and investors.
In a wider panorama of energy usage by Bitcoin miners, Square funds a solar-powered facility for bitcoin mining, El Salvador explores the viability of using volcanic renewable power for mining bitcoin, and other countries propose economic incentives for bitcoin miners who use renewable energy.
CoinShare stated in June's report that bitcoin's network is "more renewables-driven than almost every other large-scale industry in the world."
Greed Didn't Hold Bitcoin Price at $60K – Market Summary
On Wednesday (27) the market capitalization of cryptocurrencies dropped nearly $200 billion in one day, Bitcoin (BTC) dropped nearly 7% and most altcoins followed. With the exception of Shiba Inu, which sets a new price record.
According to the cryptocurrency market leverage index, the increase in investor risk appetite reflects the build-up of excessive leverage we are now seeing. Understand how this scenario can impact asset prices here in the Market Summary.
Greed and risk appetite
Bitcoin is trading with a heavy tone amid signs of excess leverage and greed in the market.
The largest cryptocurrency by market value this morning (27) fell to US$ 59,000 – R$ 331,000 in the main Brazilian brokers – which represents, so far, a drop of 6.31% on the day.
That's a 12.36% drop from last week's record of $67,277, as CoinGoLive data shows.
Read too: Who will pierce the ceiling first: Bitcoin or Bolsonaro?
A pullback was overdue, and further bearish volatility could be imminent, according to analysts. "The estimated leverage ratio is about to reach the year's maximum. It seems obvious that the market is over-exploited right now," said Ki Young Ju, CEO of data analytics company CryptoQuant. "We will see some volatility with big sales soon."
The estimated leverage ratio is calculated by dividing the open interest on futures across all exchanges by the bitcoin reserves on the exchanges. Open interest refers to the number of contracts traded but not covered by an offsetting position.
The index essentially shows the degree of leverage of the average investor. While a rising index indicates increased risk appetite, a very high number reflects the accumulation of excessive leverage and hit high price indices earlier this year.
The leverage ratio currently stands at 0.19, the highest since November 2020. Even with this level of risk, it seems that investors in the cryptocurrency market were not intimidated. The Fear&Greed index shows that investors are still very optimistic about this level of risk.
The digital asset's market capitalization has dropped to $1.11 trillion, but its dominance over altcoins still remains around 43 percent.
Bitcoin "makes little sense as a currency," says economist
As it is now part of the agenda of Brazilian politicians to discuss Bitcoin, this Tuesday (26) in a public hearing at the Commission for Financial Inspection and Control of the Chamber of Deputies, three speakers gathered concluded that the eventual adoption of an official digital currency in the Brazil will require the participation of the National Congress in changes to the rules that deal with the Central Bank, the financial system and the foreign exchange market.
The debate was suggested by deputy Aureo Ribeiro (Solidariedade-RJ), president of the Financial Inspection and Control Commission. However, yesterday afternoon's work was coordinated by Deputy Hildo Rocha (MDB-MA).
Also present at the meeting was the professor at the São Paulo School of Business Administration (Eaesp) of the Getúlio Vargas Foundation Eduardo Diniz, who praised the Central Bank's caution in predicting the eventual adoption of the Real Digital in two or three years' time. "It could be sooner or later, it is necessary to see how this possibility will evolve in the world."
"It makes little sense [ter bitcoin] as currency," said Eduardo Diniz, a professor at EAESP when talking about the adoption of bitcoin in El Salvador. In his view, it makes little sense as states would not be willing to give up national currencies.
Diniz is in favor of the public sector's monopoly over currency and payment platforms so that the state can guarantee free competition. He comments, at a hearing in the Chamber of Deputies, the possible problems in leaving the payment system in the hands of private companies:
"On the other hand, these technological platforms have a very high risk of concentration… it is a situation in which the State has to regain control of these situations to avoid future problems" – said the professor
Shiba Inu hit a new price record
Like the BTC, most alternative currencies have also gone down badly this morning. Ethereum (ETH), for example, dropped to less than $4,016 after nearly hitting a record price hours ago.
Read too: First Ethereum 2.0 Upgrade Happens Today, See What Changes
However, there are some obvious exceptions. Shiba Inu (SHIB) rose more than 20% in one day. Furthermore, SHIB gains were well above 30% just a few hours ago – before the market-wide drop. Consequently, the meme token reached a new all-time high and trades at $0.000054.
Another exception is Project Aave (AAVE), which grew 10.4% on a 24-hour scale and is currently above $371.
The result of the main altcoins in the last 24 hours is as follows: Ethereum (-5.19%), Binance Coin (-7.42%), Cardano (-10.23%), Solana (-10.25%), Ripple (-9.46%), Polkadot (-5.42%), Dogecoin (-13.24%), Shiba Inu (+24.62%), Earth (-9.16%), Avalanche (-13 .26%) and Chainlink (-8.34%).
The cumulative market capitalization of all cryptocurrencies dropped to $2.57 trillion.
Follow the crypto market news on the Cointimes Telegram group, access.
MATIC Price Approaching $2 Level! New ATH is Imminent This Week?
After slashing past severe opposition, Polygon's native token, MATIC, appears to be catching up with the rest of the market. Technical indications and on-chain data now indicate that prices may be on their way to a new all-time high.
Polygon has broken through key resistance and now appears to be on the verge of setting new all-time highs.
MATIC Price has gained more than 22% in market value in the last four days, indicating bullish momentum. Prices have risen from a low of $1.52 on October 23 to a high of $1.86 recently. The altcoin is currently trading around $1.8370 up 10.33 percent against the US dollar in the last 24 hours. The year-to-date return-on-investment for $MATIC is an astounding +10337 percent.
Why MATIC Price can Hit New ATH soon?
This technical pattern indicates a 150 percent increase, which may be confirmed by measuring the distance between the original swing peak and the low one, then multiplying by $1.73 (breakout point) to arrive at a $4.32 goal.
Though Polygon's strategy sounds simple, the alt will face two significant roadblocks at $2.04 and $2.22 before retesting the ATH at $2.70. If MATIC overcomes these obstacles, the crypto will rise to $4.32.
As Polygon approaches the $2 mark, Traders may try to break their long positions. The potential increase in selling pressure could slow down the uptrend, preventing MATIC from slicing through this barrier and achieving its upside potential.

As per the above IOMAP chart, Bulls holds the upper hand. The only considerable interest area sits at the $2 mark, where 1,280 addresses have purchased more than 35.5 million MATIC. the major support level underneath Polygon sits at $1.75.
Strong Fundamentals add to the bullish bias
The MATIC ecosystem has seen an increase in daily addresses over the last three months, indicating that the major rise is on the way. The increase in active wallets' 7-day MA suggests that additional capital and investors are entering the market, which supports the optimistic narrative.
According to data from blockchain analytics firm IntoTheBlock (ITB), over 92 percent of all $MATIC addresses are currently profitable:
Polygon has a single resistance, according to the GIOM model, which might impede upsurges at $1.87. Around 17.54 thousand crypto addresses purchased 135 million tokens at this point. A significant close over $1.87 will therefore draw sidelined investors, easing selling pressure. MATIC would be able to extend its surges without difficulty as a result of this. The alt will then soar to an all-time high of $2.7 or higher.
Polygon PoS Just crossed 1 BILLION transactions processed
October has been nothing but great for Polygon and MATIC holders, starting off with MATIC pumping by more than 30% so far, and today as per the Reddit discussion MATIC crossed 1 Billion transactions processed on the Polygon PoS chain.