Creaton Raises $1.1 Million from Top VCs to Build Decentralized Content Platform on Polygon
Fresh funding will fuel the progress of Creaton's decentralized content-sharing tools.
Creaton is an early-stage startup that leverages the Polygon (MATIC) ecosystem to develop novel content solutions.
Creaton completes its strategic funding with $1.1 million raised
According to a press release shared with U.Today, Creaton, a decentralized content management and sharing platform on red-hot smart contracts environment Polygon (MATIC), has successfully closed its strategic funding round.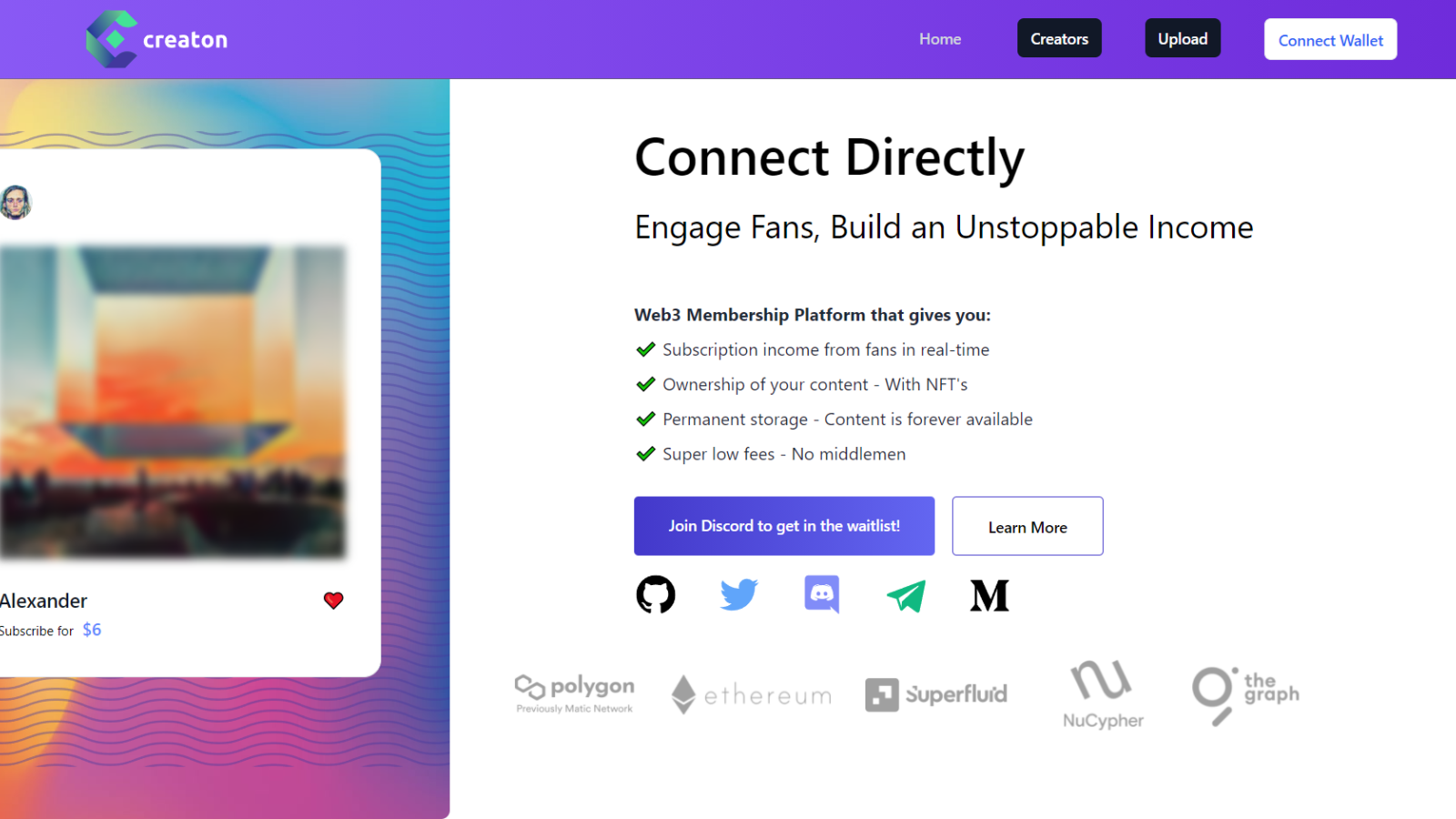 A total of $1,100,000 was raised from a clutch of high-profile VC funds. The likes of BTSE Labs, Tykhe Block Ventures and a group of angel investors supported this round.
Alexander Klus, Founder of Creaton, stresses the importance of this round for the progress of decentralized content sharing tools and the entire Web3 infrastructure:
Our mission is to throw off the shackles of Web 2.0 that have been so unfairly imposed over creators in recent years. Between payment issues, bans, and censorship, Web 2.0 platforms like Patreon have done a disservice to their core users. We aim to tackle this issue in a way that makes sense, combining multiple advanced blockchain technologies to make a platform that, for the first time, works. We are incredibly excited to build this with our amazing roster of investors.
Prashant Malik, founder of Tykhe Block Ventures, is certain that Creaton is on a mission to build an author-centric content management and sharing environment:
The thing we like about Creaton is that it empowers content creators like never before using decentralized blockchain technology. We are really looking forward to seeing the Creaton team focus their efforts on fuelling the next generation of the Creator Economy.
Bringing newest content practices to Polygon
At its core, Creaton addresses reconsidering the interaction between content creators and consumers on blockchain rails.
It is focused on establishing seamless cooperation between creator and subscriber with no middlemen or extra fees.
To achieve this goal, Creaton utilizes a one-stop stack of technologies, including Arweave storage, Lit Protocol encryption and SuperFluid payments.
Is Polygon MATIC back in the race? Is $2 incoming?
Polygon announced an increase in gas fees this week, following which the price plummeted dramatically. Nonetheless, the cryptocurrency has recovered by 28 percent in the last 24 hours, rising from $1.25 to $1.60.
The increase happened after the Korean cryptocurrency market Upbit announced that MATIC coin was now available for purchase and trade. The price rose from roughly $1.23 to $1.63, but then levelled off and is presently falling. 
On Polygon, the average price of gas has climbed to almost 56 Gwei. Although a 2900 percent increase in commission seemed startling, it was still considerably less expensive than conducting a transaction on Layer 1 Ethereum, which cost tens of dollars instead of a fifth of a penny.
According to pivot points research, the token's resistance levels following the $1.65 mark are at $2.00. If the stock takes a negative reversal, though, sellers may face resistance near $1.30 or $1.00.
Furthermore, when compared to the previous several months, the daily chart shows a massive increase in volume. In addition, the $1.65 breakout might attract more buyers.
The MATIC Token is currently trading at $1.55, and has surged by 0.7 percent in the last 24 hours.
Survey shows crypto traders are most bullish on polygon and other cryptos!
The Real Vision Exchange Crypto Survey is designed to assess investor sentiment by allowing participants to scan 30 tokens and decide whether each one should be overweight or underweight. Real Vision Bot, which was created by two independent coders and bolstered by macro master Raoul Pal, conducted the survey.
Mid-week madness? Votes in the @RealVision #cryptocurrency survey over the last 48 hours. #polkadot is leading, follower by #solana and #polygon. #bitcoin where are you?

Don't forget to vote:
Crypto: https://t.co/4xP2AoDSdq
Macro: https://t.co/D0BUbVVcdI pic.twitter.com/RpE7HKysWX— Real Vision Bot (@RealVisionBot) October 13, 2021
Traders choose an overweight portfolio of smart contract platforms Polkadot (DOT) and Solana (SOL), as well as Ethereum scaling solution Polygon, according to vote results from the first two days of this week (MATIC).
Because the price levels have moved higher, the one-day Polygon price analysis predicts an uptrend for the day. This has proven to be quite advantageous for the entire coin worth, since the price has also surpassed $1.45. As more and more pressure is applied from the buyers' side, the bullish wave is becoming stronger.
Crypto Traders Most Bullish on Polkadot, Solana, Polygon and 10 Additional Altcoins: Digital Asset Survey
A new survey unveils that crypto traders are most bullish on 13 altcoins including Polkadot, Solana and Polygon.
The Real Vision Exchange Crypto Survey is designed to track sentiment among investors by allowing participants to scan 30 tokens and choose if they want to have an overweight or underweight allocation for each one. The survey was conducted by Real Vision Bot, which was created by two independent developers and boosted by macro guru Raoul Pal.
Results from voting that happened on the first two days of this week indicate traders prefer an overweight portfolio consisting of smart contract platforms Polkadot (DOT) and Solana (SOL), as well as Ethereum-scaling solution Polygon (MATIC).
The scalable and interoperable ecosystem Cosmos (ATOM) is fourth on the list, and smart contract platforms Terra (LUNA) and Cardano (ADA) appear tied for fifth. Traders also have overweight allocations for decentralized oracle network Chainlink (LINK), Ethereum competitor Avalanche (AVAX), Ethereum-based token Enjin Coin (ENJ) and decentralized exchange Uniswap (UNI) for the sixth, seventh and eighth places, respectively.
Tied in ninth place are cross-border payment solutions Stellar (XLM) and XRP, as well as decentralized storage network (FIL).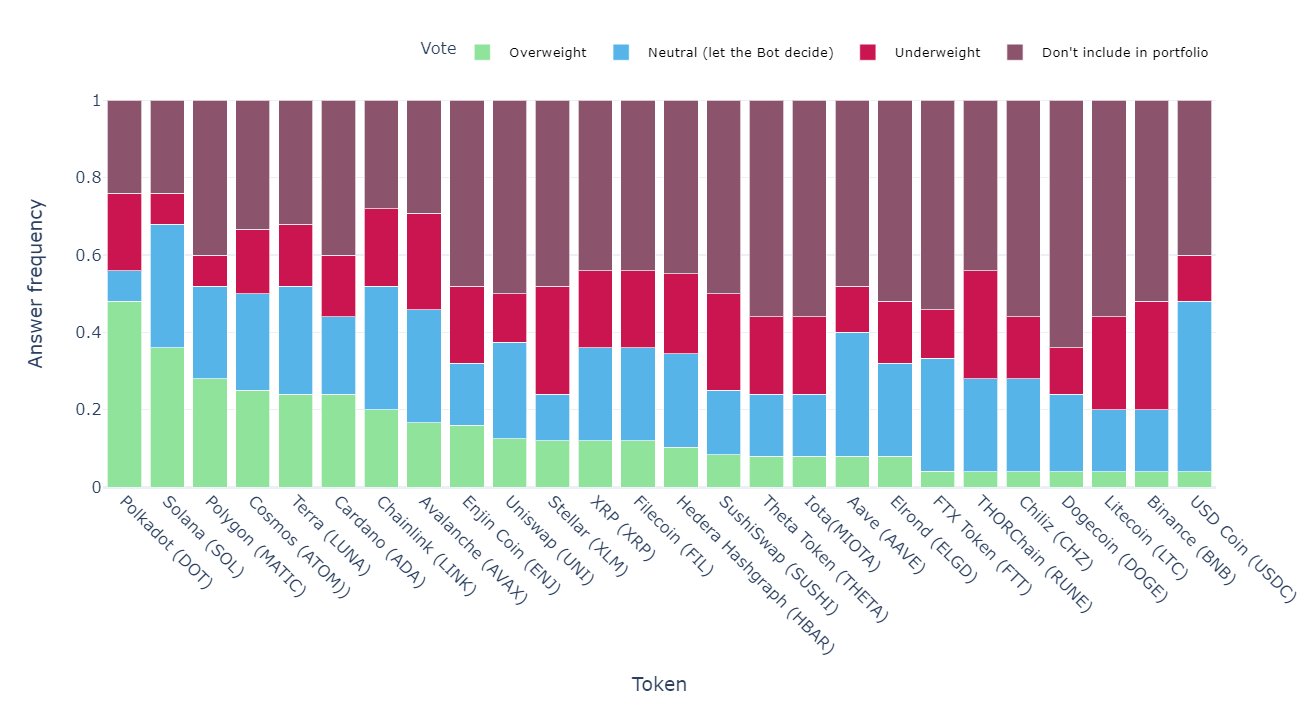 Real Vision Bot clarifies that the participants are not necessarily holding the cryptocurrencies that they voted for.
"They can of course vote according to their own positions, but also just based on their sentiment or forward looking. There are many reasons why the own book might not be 1:1 the preferred allocation."
Bitcoin (BTC) is conspicuously absent from the list. Pal highlights that the community is responsible for that absence.
"It's not us – it's the community who makes the allocation… You guys, to be exact.
Polygon price analysis: Bullish momentum reignites taking price levels to $1.46
Polygon price analysis predicts an uptrend.
Price is now standing on $1.46 level.
Support is considerably strong at $1.044.
The Polygon price analysis states that the bullish momentum has returned to the price chart as the price has been elevated up to $1.46 in the last 24-hours. The bulls have been performing quite consistently for the past few days after finding the path to recovery. Even today the trends have been extremely favorable towards the bulls and the price has improved tremendously. This is a welcoming sign for the buyers as the bullish current has been quite overpowering.
MATIC/USD 1-day price chart: Price rebalances itself above $1.45 after regaining strength
The one-day Polygon price analysis is predicting an uptrend for the day as the price levels have moved higher. This has proved to be quite profitable for the overall coin value as the price has reached the $1.457 level as well. The bullish wave is getting stronger as more and more pressure is being put forward from the buyers' side. If the bulls continue to progress then there is a chance the moving average (MA) value might go higher than $1.294.
The volatility has increased which means that price might fluctuate more in the coming time period. The upper and lower Bollinger band values have changed as well as now the upper value is standing at $1.442 and the lower value is standing at $1.044. The Relative Strength Index (RSI) score has moved up to 62.15 because of the climb in price.
Polygon price analysis: MATIC faces massive bearish resistance above $1.50
The price is undergoing decline according to the four hours Polygon price analysis. The price has decreased significantly during the last four hours which was quite unexpected as an uptrend had been following earlier. The price had been moving upwards quite consistently but now the trends have undergone reversal once again. The price has now been lowered down to $1.455, which is still quite higher than the moving average level i.e. $1.34.
Although a crossover between SMA 20 and SMA 50 curve took place earlier, the four hours progress has been quite negative. The volatility has increased tremendously and now the upper Bollinger band value is sitting at $1.45 and the lower value is at $1.087. The RSI score has dropped down to 70, which is still an impressive number.
The overall trend for the cryptocurrency is going bullish as the MATIC/USD price has undergone major improvement. There are 17 indicators that are present on the buying position, nine indicators on the neutral position while none is on the selling position.
The moving average is declaring the bulls on the leading position as well with a strong bullish signal. There are 14 indicators on the buying mark, one indicator on the neutral mark, and zero indicators on the selling mark. The Oscillators are giving out a bullish hint as well with eight oscillators on the neutral position, three oscillators on the buying position, and zero on the selling position.
Polygon price analysis conclusion
The bullish momentum has been intensifying over the past few days and so the circumstances have turned favorable for the buyers. Both the hourly and daily price predictions are indicating a rise in price and have reported that the price has heightened up to $1.46 today. The cryptocurrency might face loss in the upcoming hours as the four-hour price chart is confirming a drop in price.