Influencer David Gokhshtein Draws Attention to DOGE, SHIB, FLOKI Massive Rise
David Gokhstein has emphasized the recent massive growth of the canine coins: SHIB, FLOKI and stable rise of DOGE
PAC Protocol CEO David Gokhshtein has taken to Twitter to point out that SHIB and FLOKI have both massively risen in recent days. He also mentioned Dogecoin as the initial canine coin.
So you now have $DOGE, $SHIB and $FLOKI. pic.twitter.com/yubeFIew1l— David Gokhshtein (@davidgokhshtein) October 6, 2021
"You now have $DOGE, $SHIB and $FLOKI"
David Gokhstein, also a former Republican Congressional candidate, mentioned the most popular meme coins pumped by Elon Musk in his recent tweet.
Shiba Inu (SHIB) and Floki Inu (FLOKI), as well as Dogecoin, have been inspired Japanese dog breed Shiba Inu. Over the past week, SHIB has demonstrated a staggering rise, blasting off by a whopping 317.35%.
The rally was first driven by the news of an anonymous whale buying a lump of six trillion, and then three lumps totaling 276 billion SHIB over the weekend.
Apparently, Gokhshtein does not hold any SHIB and, according to his recent tweet, he may have some personal reasons for that. However, he does wish the SHIB community luck.
SHIB and FLOKI outperform Dogecoin
Later on, Elon Musk published a picture of his Shiba Inu puppy, named Floki, on his Twitter page. This gave more momentum to the SHIB rally and allowed FLOKI to spike as well.
SHIB even made it into the top 20 list the other day, and today it holds 15th place. The coin is trading at $0.00003141 after 31% growth in the past 24 hours. The coin has outperformed DOGE by price growth. The SHIB market cap has now soared to $12,399,994,375. Its trading volume has eclipsed $18 billion.
At the moment, SHIB is a mere 18% away from recapturing its all-time high of $0.0000388 reached on May 10.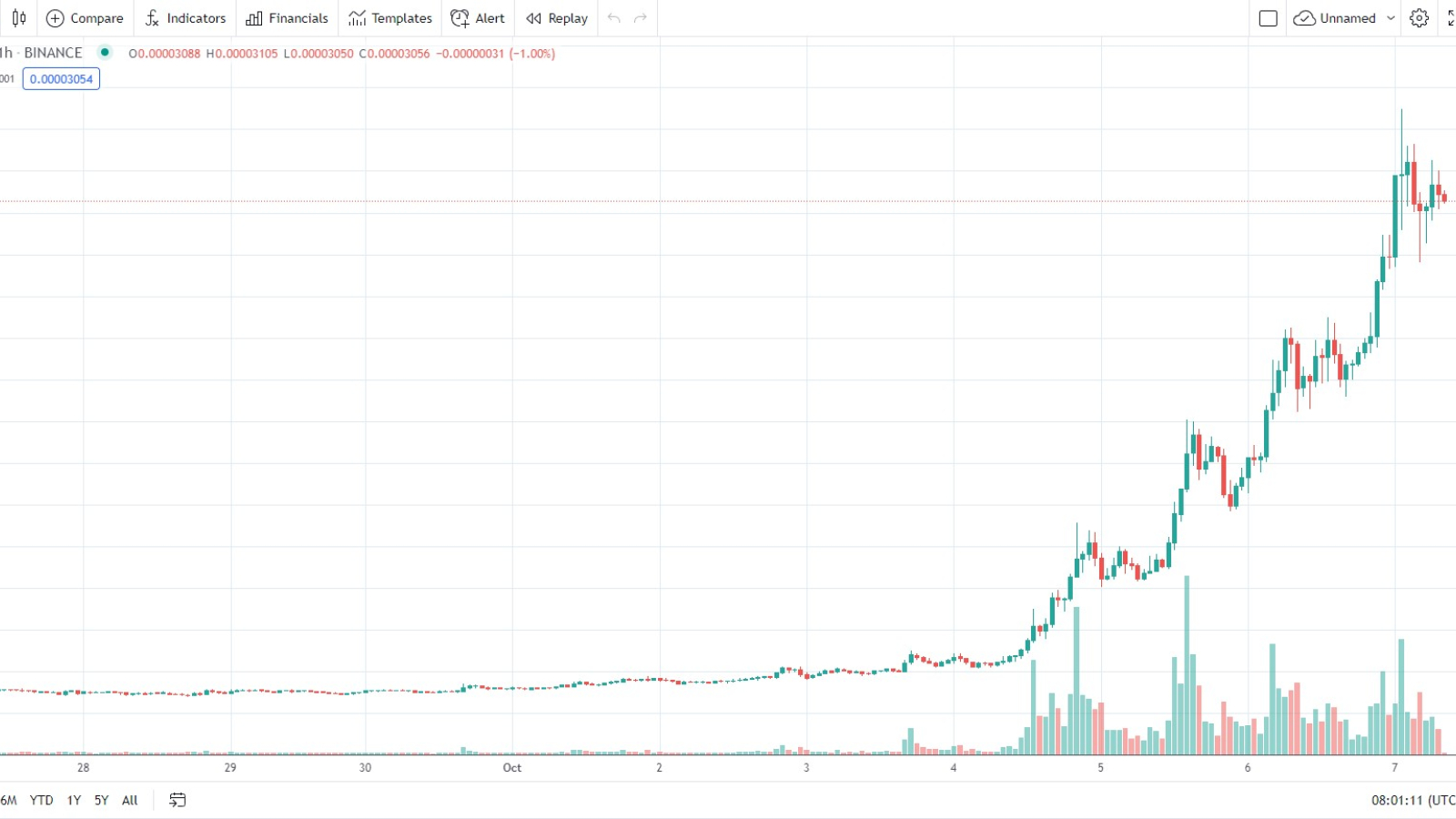 DOGE has only risen 26.48% from Oct. 4-6 but, by now, it has gone down 8.9%.
FLOKI is trading at $0.00006739, showing approximately similar growth, according to CoinMarketCap. It is still ranked 2,770, though, with a market cap of less than $1 billion: $634,885,530.
The FLOKI/WETH pair has surged 43.26% over the past day.
SHIBA INU Price Resumes Uptrend Shooting for The 0.00005, Will Robinhood List SHIB?
Without a doubt, Shiba Inu (SHIB) price is now making waves to flip the popular meme coin – Dogecoin (DOGE) that has been staggering since its peak on May 8. Shiba Inu (SHIB) dubbed as Dogecoin killer currently has the biggest circulating supply, having gained prominence among users, and has become one of the most traded cryptocurrencies on Binance and Coinbase.ADVERTISEMENT
Recent news had it that a unique burning mechanism was set up as 900 million Shiba Inu were burned leading to a 16% growth in price. This will likely continue, as trading pairs and pools are given the condition to purchase and burn $SHIB to get listed on their DEX, Shibaswap.
Shiba Inu also plans on introducing Utility to their ecosystem, as the development of the Shibarium Blockchain, shiboshi games, and Shiba Inu stable coin (SHI) is underway.
While development like ShibaNet is already set for use, for smart contracts and automatic royalties.
Lastly, news speculates about Robinhood listing Shiba Inu. This could be an accelerating factor to the ongoing astronomical heights of the Shiba Token($SHIB).
Let's move on to analyze the price charts of the SHIBUSDT.
Shiba Inu (SHIB) Price Prediction: Weekly Chart Analysis
Last weeks' hidden inside-bar candlestick pattern [11 October '21] confirmed an increase in demand for the SHIB token after an earlier breakout of the bearish expanding channel that kept the price in a range for about thirteen weeks.
We expect a bull-trap signal if the current week closes above last week's high. Such a signal in combination with other reversal chart setups on the lower time frames could signal a sharp price pull-back of the SHIB token price.
Shiba Inu (SHIB) Price Prediction: Daily Chart Analysis
The hidden bullish divergence pattern on 15 October above alongside the bullish inside bar identified on the weekly time frame was instrumental to the recent surge in the price of the SHIB token beyond the significant 0.000035 resistance.
An increase in bullish momentum could see the SHIBUSDT shoot for the 0.000050 resistance. However, a long-ranged bearish divergence is anticipated if the RSI values fail to breach the 99.7 mark.
Shiba Inu (SHIB) Price Prediction: 4 Hr Chart Analysis
A breakout above the bearish divergence resistance on 23 October 16:00 triggered the decision to scale up on existing bullish positions of the SHIBUSDT.
High RSI readings at level-99 alongside a hidden bullish inside bar candlestick formation at press time hints that the bulls may be exhausted, and early buyers may want to take some profit off the table.
A counter hidden-bullish divergence may send the SHIB price into an upward trajectory towards the 0.00005 round-number resistance if we can see RSI values below level-45.82.
Shiba Inu (SHIB) Intraday Levels
Spot rate: 0.00003732
Mid–Term Trend [H4]: Strong Bullish
Volatility: High
Support: $0.000030, $0.000035 and $0.0000270
Resistance: $0.00004465
Shiba Inu Speculators Could Learn This Lesson from Dogecoin
The popular meme coin shiba inu (SHIB) once again saw a massive pump over the weekend, rising by more than 50% on Saturday and Sunday before a correction reduced the gains as the new week started. And based on experience from other meme coins, even deeper corrections could arrive when the hype dies down.
Judging from data from some exchanges, including FTX and Poloniex, the weekend pump marked a new all-time high for the self-proclaimed dogecoin (DOGE) killer. However, on some other exchanges, including Binance, a higher peak was seen on the token's listing day on May 10 this year, although this may have been the result of thin order books on the first day of trading.
At the time of writing, (13:10 UTC), SHIB was down by 7% over the past 24 hours, trading at USD 0.00003865. However, the token still remained up by more than 40% for the past 7 days, well ahead of DOGE's 10% rise over the same period.
SHIB price chart:
Today's correction for SHIB came just as Tesla chief Elon Musk replied to a tweet from a Shiba Inu community member asking how many SHIB he holds. "None," Musk answered, without elaborating, to which the community member replied "U should consider buying some."
Further, while responding to another user in the same thread, Musk also warned "don't bet the farm on crypto," before adding:
"True value is building products & providing services to your fellow human beings, not money in any form," the Tesla founder and dogecoin proponent said.
The advice and blunt answer from Musk that he does not hold SHIB, which came just as the coin was correcting from its highs, begs the question of whether SHIB holders are simply betting that social buzz, and particularly mentions from well-known investors like Musk, will be what is needed to propel the price higher.
And while history has shown that amazing price pumps can occur from time to time for meme coins like DOGE and SHIBA, lessons from the DOGE mania in May this year remind that the subsequent corrections can be deep when rallies are purely driven by hype.
From its all-time high on May 8 of USD 0.74, DOGE corrected by as much as 78% within less than two months, to a low of USD 0.16 on June 22. (However, at the same time, the whole market was dropping.) In either case, the original dog-themed meme coin has since recouped some of its losses, but still remains down by around 65% from its peak, even as bitcoin (BTC) has reached new all-time highs.
The fall in prices for dogecoin can also be seen in Google search data, which is often used as a proxy to determine general interest in a subject.
Judging from Google Trends, worldwide Google searches for the term "dogecoin" peaked in mid-May, just as the coin reached its all-time high in the market. Since then, search interest has fallen significantly and is still nowhere near its highs.
The picture perhaps becomes even clearer when we add the term "shiba inu." The data then shows how interest in DOGE has recently been overtaken by a surge in search interest for shiba inu.
Despite the significant fall in both price and search interest, however, the dogecoin community is still alive and responding to tweets from the self-proclaimed "dogefather" Elon Musk. This was again illustrated just before the weekend, when the Twitter account UberFacts tweeted "Elon Musk is predicted to become the world's first trillionaire, thanks to SpaceX."
About two hours later, Musk replied "*In Dogecoin," which immediately led to a spike in the price of DOGE visible on the hourly chart.
*In Dogecoin— Elon Musk (@elonmusk) October 22, 2021
Meanwhile, SHIB has recently gotten some attention from a petition on Change.org that is asking the popular US-based stock and crypto broker Robinhood to list SHIB for trading on its platform. As of Monday, the petition had already received well over 300,000 signatures from users.
"Dogecoin has been a huge success for Robinhood, and its investors. We have all enjoyed the ride. Shiba Inu is a similar meme coin with genuine potential, up 2000% in the last weeks," the petition said.
So far, and despite some unverified rumors circulating online, no word has been heard from Robinhood that the trading app is even considering adding SHIB to its platform.
The SHIB token is now ranked 11th in terms of market capitalization, two spots below its fellow dog-themed meme coin DOGE. The ranking today means that the valuation difference between SHIB and the original DOGE has remained roughly similar since the two coins earlier this month stood head to head for meme coin dominance. 
And although the "dogecoin killer" is still valued lower than the original dog-themed meme coin, both meme coins, which are generally seen as having little to no real utility, have already surpassed major DeFi-related tokens such as the Avalanche blockchain's AVAX token and Uniswap's governance token UNI.
Commenting on the recent rally for SHIB over the weekend, Ben Caselin, Head of Research and Strategy at trading platform AAX, said "speculation is the primary driver" behind meme coin prices.
"During a bull market, when sentiment runs high, it doesn't take much for a memecoin to see a significant boost," Caselin said in an emailed comment, before warning that "there is no specific reason" for the huge inflow of capital into SHIB.
"Considering the history of crypto and how market dynamics have generally played out over the past decade, SHIB is likely to be challenged by other viral projects and is likely to shed much of its value when the top assets such as bitcoin and ethereum enter into the final stages of this cycle's bull run and the usual correction that follows as the assets secure their newly raised price floor," Caselin concluded.
SHIB, ELON and DOGE Show Strong Inverse Correlation with This Indicator
Community-driven coins seem to rise only when the community forgets about them.
According to the most recent data provided by Santiment, "memecoins" like SHIB, DOGE and ELON are moving with a reverse correlation with the so-called "Social Dominance" indicator. Once the indicator reaches new lows, the price of the aforementioned coin rapidly rises.
Memecoins on the rise
Overall, meme-based and community-driven coins have been the trend in recent months with Shiba Inu showing a 490% price increase, Doge being up by 28% percent in the last month, and Elon Musk showing a ridiculous 889% price increase in the last month only. One way or another, the community is the main fuel for those coins rather than institutional investors or use cases.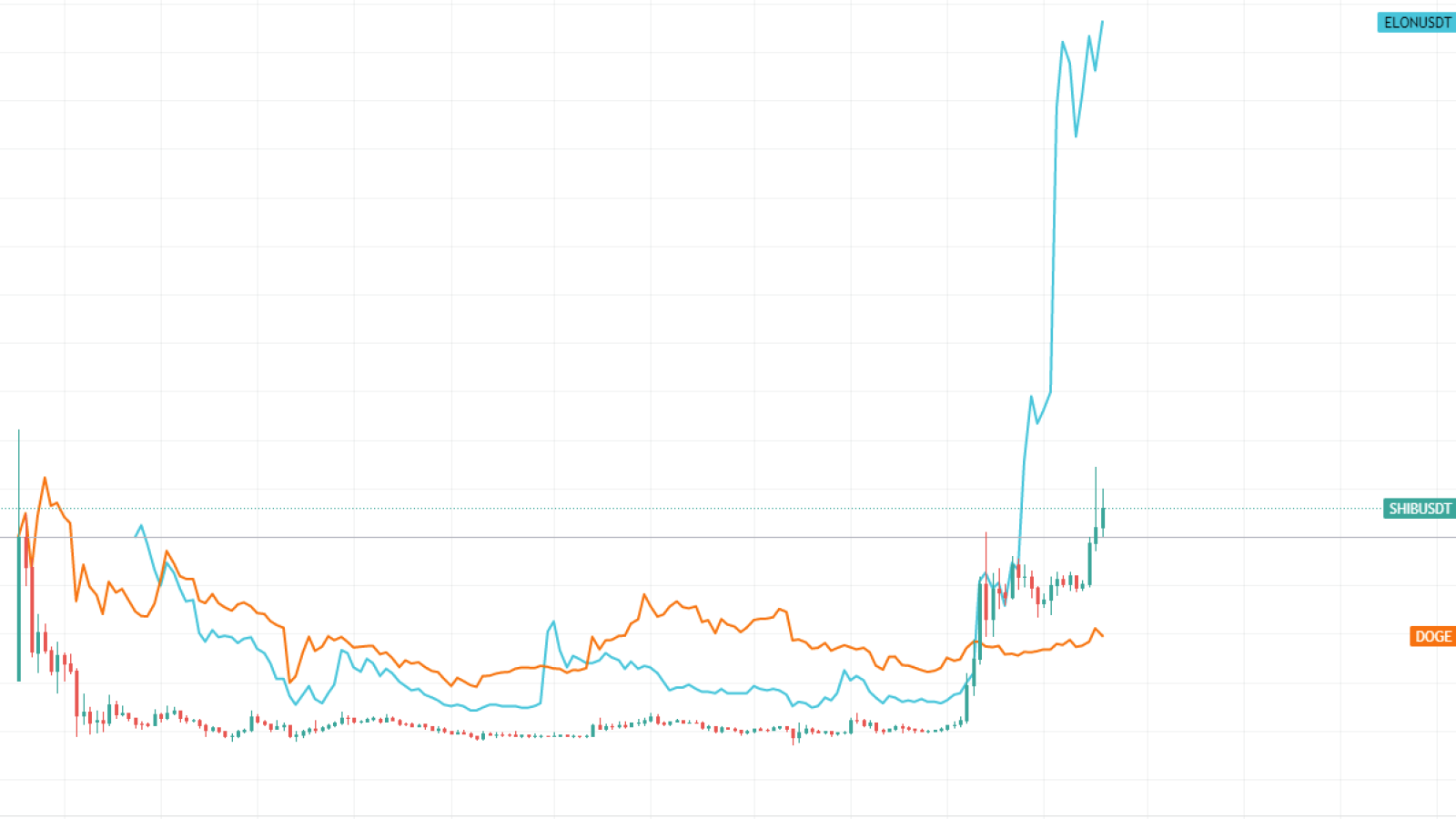 While trading pairs for such coins remain extremely volatile, there is no proper way to analyze them by using financial or technical analysis, which leaves traders with on-chain and market metrics like the ones presented by Santiment.
Reverse correlation
On the chart provided by the service, users can see the price of each mentioned coin and the Social Dominance indicator. Once communities "forget" about the coins and the indicator starts moving downwards, their price rapidly goes down and retraces back up only when whales are buying them back.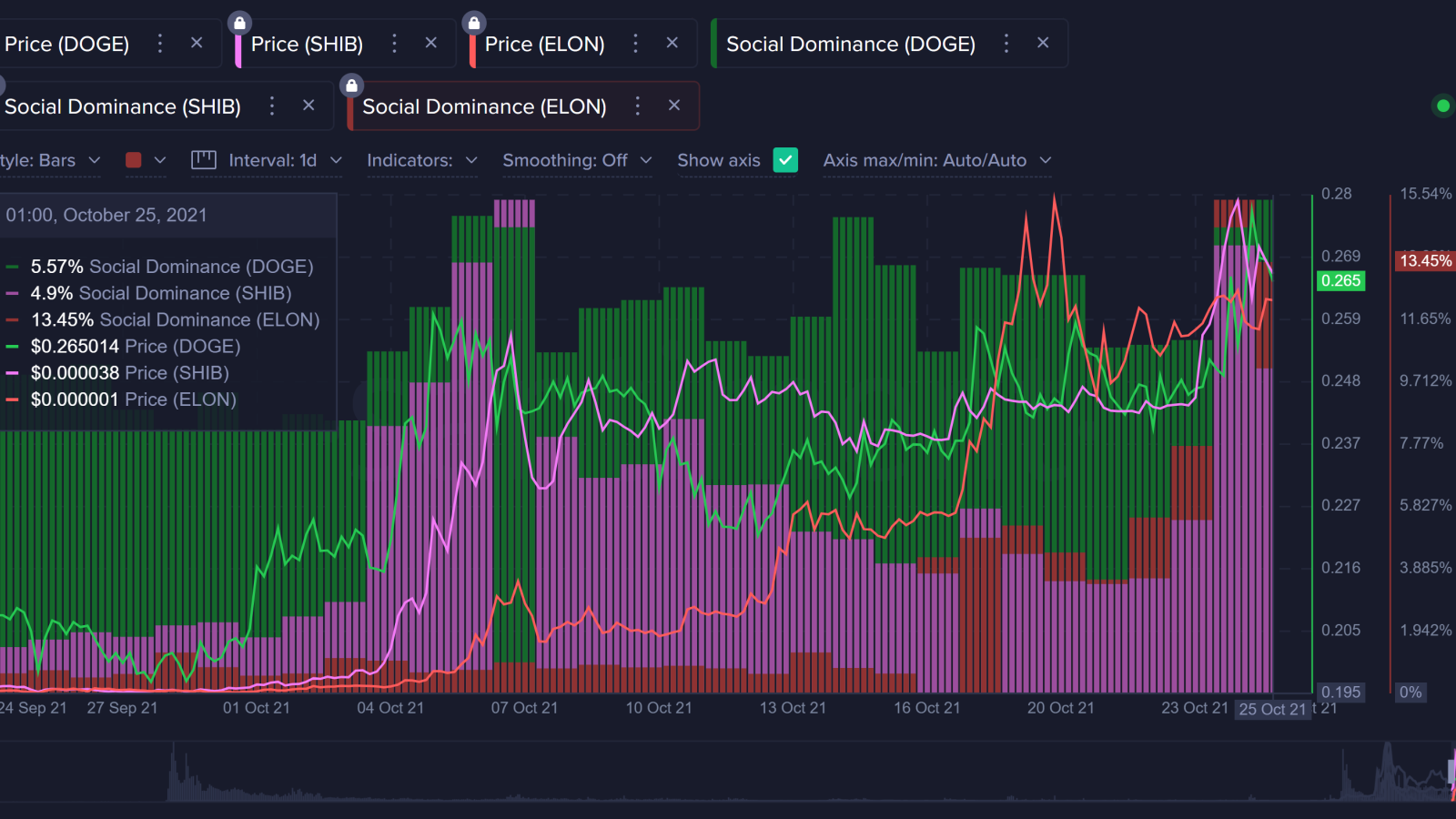 While the indicator in fact has a reverse correlation with the price of those assets, it only shows common accumulation and distribution cycles in which investors pick up assets only when retail traders are less interested in them.
But once the community picks up the hype and starts buying in, large addresses are taking profits and putting selling pressure on the asset, which leads to a rapid retrace down. While the coin is losing its monetary value, it also loses the retail trader's interest.