JPMorgan Names 3 Reasons Why Bitcoin Recently Hit $55K
JPMorgan has named the key factors behind Bitcoin's recent recovery
U.S. banking giant JPMorgan has outlined some of the key reasons behind Bitcoin's recent rally to a multi-month high of $55,793 in its recent report cited by Business Insider.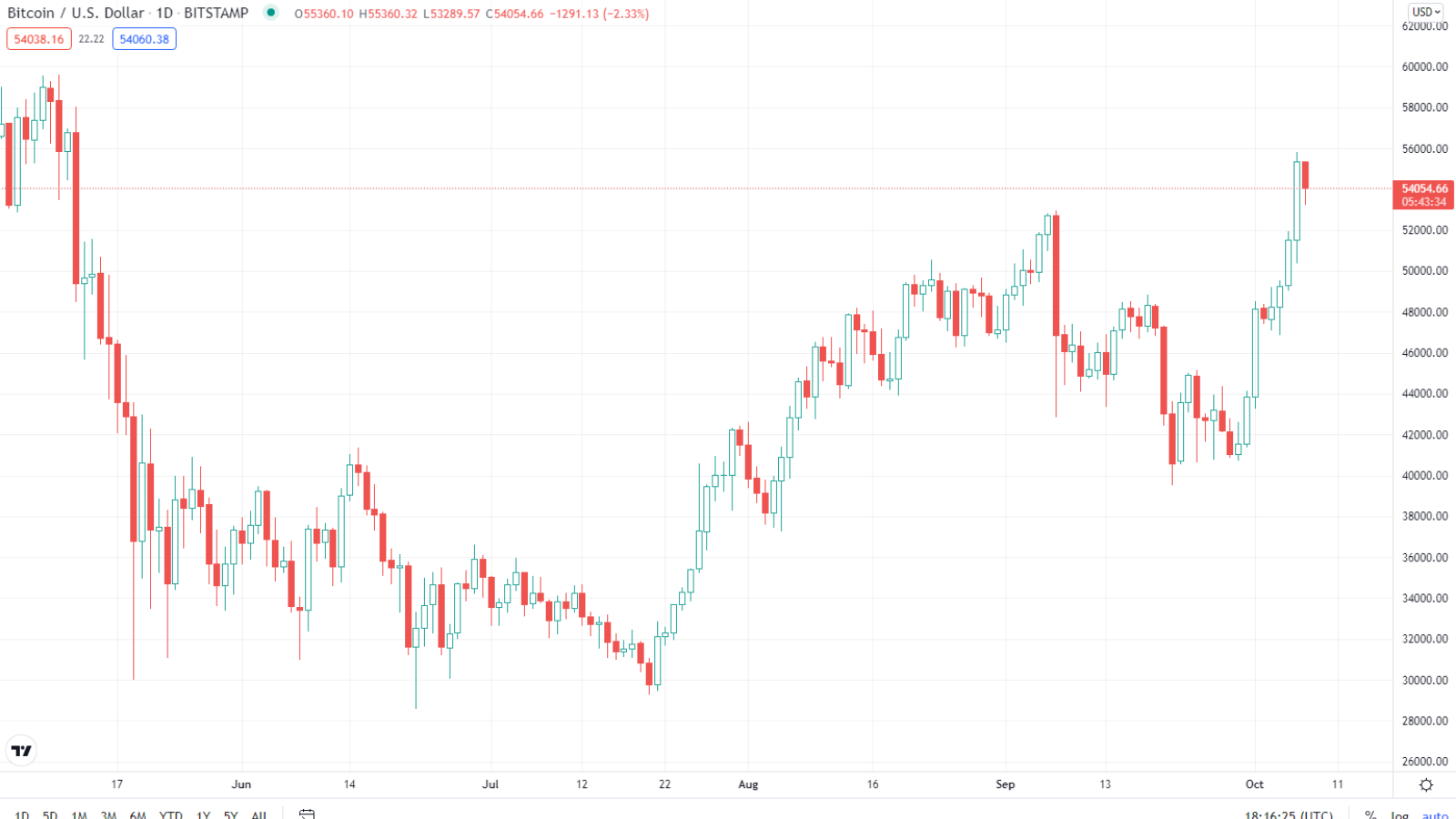 Federal Reserve Chairman Jerome Powell making it clear that the central bank has no plans for a China-style crackdown on cryptocurrencies was singled out as the main factor behind the most recent price surge.
U.S. Securities and Exchange Chair Gary Gensler also stated that his own agency neither has the authority nor intends to ban digital assets during a Wednesday hearing.
JPMorgan also believes that the rapid adoption of the Lightning network, whose capacity recently exceeded 3,000 BTC, also contributed to the rally. The Layer 2 payment rail has witnessed a major adoption boost because of El Salvador and Twitter.
Finally, Bitcoin is gradually replacing gold as a hedge against inflation:
The re-emergence of inflation concerns among investors has renewed interest in the usage of bitcoin as an inflation hedge.
As reported by U.Today, Galaxy Digital's Mike Novogratz recently predicted that the largest cryptocurrency could flip gold in a few years.       

Bitcoin is currently trading just above $54,000 after a slight pullback from recent highs.
s are now selling 'way more' US Dollars to buy Bitcoin
El Salvador's mainstream Bitcoin (BTC) adoption gains momentum during the ongoing bull run as citizens increasingly exchange their United States dollar savings for Bitcoin. 
President Nayib Bukele shared this new development on Twitter based on the data acquired from El Salvador's in-house wallet service, Chivo. President Bukele said:
"People are inserting way more USD (to buy #BTC) than what they are withdrawing from the Chivo ATMs."
He also urged media outlets to independently confirm the above information by visiting the ATMs. President Bukele further stated that Chivo has reported 24,076 remittance requests "adding up to $3,069,761.05 in one day."
2 new Chivo Facts:

1. People are inserting way more USD (to buy #BTC) than what they are withdrawing from the Chivo ATMs (any media outlet can independently confirm this by visiting the ATMs).

2. Today, we received 24,076 remittances, adding up to $3,069,761.05 (in one day).— Nayib Bukele 🇸🇻 (@nayibbukele) October 16, 2021
The increase in USD to Bitcoin conversions within the jurisdiction reflects a change in investor sentiment, which initially faced resistance during adoption from the general public. Moreover, the Salvadorean government offers various subsidies for using Bitcoin such as fuel subsidies and tax exemptions. 
El Salvador has installed over 200 ATMs after adopting Bitcoin as a legal tender, making it the third-largest network of crypto ATMs after the United States and Canada.
A Cointelegraph report shows that El Salvador exceeded United Kingdom's crypto ATM count after deploying 205 crypto ATMs, mainly to facilitate local Bitcoin transactions and Bitcoin to U.S. dollars conversions.
Recently, the Salvadorean government announced to build a $4 million veterinary hospital using the profits attained during the Bitcoin bull market. According to President Bukele, the veterinary hospital will host four operating rooms, four emergency clinics, 19 offices, and a rehabilitation area: "We decided to invest a part of that money in this: a veterinary hospital for our furry friends."
Why Bitcoin ETF Is Such A Big Deal and May Push Bitcoin Above $100k?

Amid a global regulatory crackdown on cryptocurrencies, the U.S. SEC's approval of a Bitcoin (BTC) Exchange-Traded Fund (ETF) has come as a pleasant surprise to the Bitcoin community. The most awaited ProShares Bitcoin Strategy ETF is reportedly launching as early as Monday, October 18. This ETF is going to be traded with a ticker symbol of BITO and will track Bitcoin futures.
Bitcoin rallies towards $100K
Instead of achieving regulatory green light, Bitcoin price crossed $62K this morning with a slight correction, BTC continued to stand strong at $61.5K, at the time of reporting. The market is raging with speculation of Bitcoin crossing $100K with this ETF. The timing could not have been better as the fourth quarter has commenced the holiday season bull run, with trader bonuses flooding in as cryptocurrencies take to an upward graph. Since the beginning of October, when the potential BTC ETF began gaining mass traction, the impact on Bitcoin prices also became evident.
According to a Bloomberg report, this Bitcoin ETF will further the institutional adoption of the decentralized sphere, specifically focused on Bitcoin. "An ETF should provide greater ease-of-use for retail investors looking to ride Bitcoin's often hair-raising ups and downs. Like securities tracking oil and gold, it will change hands on relatively familiar U.S. stock-market venues, rather than in cryptocurrency or futures exchanges whose workings are imposing to some users."
Regulatory approval can make or break a token
The frequently validated fact that regulatory approval radically helps the growth of cryptocurrencies, despite it being a decentralized and unregulated market, continues to gain credibility. XRP is one of the most prominent examples of how drowning in a regulatory puddle may keep certain tokens into a bear rut, while the rest of the industry leaps into the bullish phase. Due to the ongoing XRP lawsuit against Ripple, the XRP community continues to suffer as the fourth quarter has not helped XRP so far. The community blames the SEC for stretching the lawsuit intentionally so that XRP skips this bull run.
U.S. Patriotism Could Help Bitcoin Surpass $100,000, Says Bloomberg Analyst
Bloomberg analyst Mike McGlone, who has been predicting the price of bitcoin will go over $100,000 per coin, has revealed he believes U.S. patriotism could help the flagship cryptocurrency hit six figures.
In a tweet, McGlone revealed that U.S: patriotism could help the cryptocurrency's price move up as the U.S.'s dollar dominance, tax revenue, and other factors could lead the U.S. Securities and Exchange Commission (SEC) to allow a bitcoin exchange-traded fund (ETF) to trade on U.S. exchanges.
In the tweet, the analyst pointed out that the most important reason for his belief is that it counters China's response to the cryptocurrency space, which was a recent all-out ban that forced cryptocurrency mining operations and exchanges to move out of the country.
What Might Make #Bitcoin $100,000 a Speed Bump? U.S. Patriotism –
The U.S.'s dollar dominance, jobs, votes, plenty of revenue (tax) and, most importantly — it counters #China — are top reasons we expect Uncle Sam will embrace cryptocurrencies with proper regulation and ETFs. pic.twitter.com/ATiq00j5ho— Mike McGlone (@mikemcglone11) October 15, 2021
Notably, Bloomberg has reported that the SEC is set to allow bitcoin futures ETFs to begin trading, citing people familiar with the matter who asked not to be named that claimed the regulator "isn't likely to block the products from starting to trade next week."
Its sources point out that, unlike other Bitcoin ETF applicants, proposals by ProShares and Invesco are based on futures contracts and were filed under mutual fund rules that SEC Chairman Gary Gensler has said provide "significant investor protections."
A Bitcoin ETF approval in the U.S. would be the culmination of a nearly decade-long campaign to list such a product. Crypto advocates have been looking to list it ever since Cameron and Tyler Winklevoss, the founder of the Gemini exchange, filed the first Bitcoin ETF application in 2013.
Approval has, for years, been out of the grasp of issuers who have tried a variety of different methods to get a Bitcoin ETF out on the market. The SEC has in the past expressed concern prices could be manipulated in the crypto space and that liquidity may be insufficient.
Supporting the rumors that a bitcoin futures ETF is set to be listed in the near future was a tweet published by the SEC's Office of Investor Education and Advocacy, informing investors that before they bet on a fund holding bitcoin futures contract they must carefully weigh potential risks and benefits.
Before investing in a fund that holds Bitcoin futures contracts, make sure you carefully weigh the potential risks and benefits.

Check out our Investor Bulletin to learn more: https://t.co/AZbrkpfn8F— SEC Investor Ed (@SEC_Investor_Ed) October 14, 2021
McGlone, it's worth noting, has in the past said BTC's price correction earlier this year was due to its excessive energy use, but noted the move represented "the strength of the world's largest decentralized network," before adding its energy use is getting greener.
In November of last year, McGlone accurately predicted that bitcoin would break its previous all-time high of $20,000 and surpass its former all-time high in 2021.  This year, BTC hit a new $64,000 all-time before dropping to a $30,000 low and recovering.