Shiba Inu Massive 300% Rally! Will Shib Price Hit New ATH Today?
Bulls remain in control in the cryptocurrency market. However, not all major coins are in the green. Shiba Inu remains the top gainer for the 3rd consecutive day. SHIB Price Rallied more than 300% since a week. 
Shiba Inu market cap surges significantly, making it the 12th largest cryptocurrency. The meme token rally continued into the mid-week session, where it entered the top 20. The Dogecoin killer boasts a $15.5 billion market up, holding the 12th spot in the market.
Flash crash or ATH ? Where is the SHIB Price heading Next ?
SHIBA INU, an Ethereum-based spinoff from Dogecoin, saw the third day of huge gains. At the time of writing, SHIB's price is trading at $0.00003157 with a 40.9% surge in the last 24 hours.
The meme token must stay above $0.00003290 to continue the uptrend. Right now, SHIB is only 18% from reclaiming its May 10 all-time high.
What goes up comes down. SHIB price has good support at 0.000025 and 0.000020. We may see one more push in the coming days if the WHALE is still buying up to 0.000049 then a correction to 0.000025/20.
As per the Analyst in the trading view, SHIB is likely going to correct down from within the range of $0.00003296 – $0.00004000. This means the meme coin is likely to undergo correction once it hits the ATH.
Currently, SHIB is trading above EMA's crucial EMA's 20,50, and 100 EMA, indicating a super bullish trend. RSI is indicating an overbought zone, at 92 levels indicating a strong bullish sentiment in this token
Overall, SHIB has seen three days of growth, and there is a high chance of seeing a short-term correction to the high of the previous day around $0.000028. If bulls fail to hold this level, the correction may continue to the zone of $0.000025.
Almost 900 Million SHIB Tokens Burned Today
With a unique burning mechanism, SHIB is on the rise with 16% daily growth
According to cryptocurrency tracker Watcher.Guru, almost 900 million SHIB tokens have been burned today. With 1% of the circulating supply being burned daily, the asset's price is reacting with growth and moving up by 16% in addition to extremely positive market sentiment.
The burning mechanism of SHIB is dissimilar from the ones being implemented in Ethereum or any other currency or token. In order to get listed on ShibaSwap, each trading pair or pool has to purchase and burn some amount of SHIB and LEASH tokens.
Despite having relatively low burn rates compared to the market capitalization of the memetoken, a significant amount of SHIB has already been burned thanks to Ethereum's leading developer, Vitalik Buterin.
Previously, when SHIB token had just been launched, 50% of the token's total supply had been sent to Vitalik. Just to clarify, the amount of previously burned SHIB remains at 500 trillion. The Ethereum creator burned 90% of his own supply and donated 10% to a foundation in India combatting the pandemic.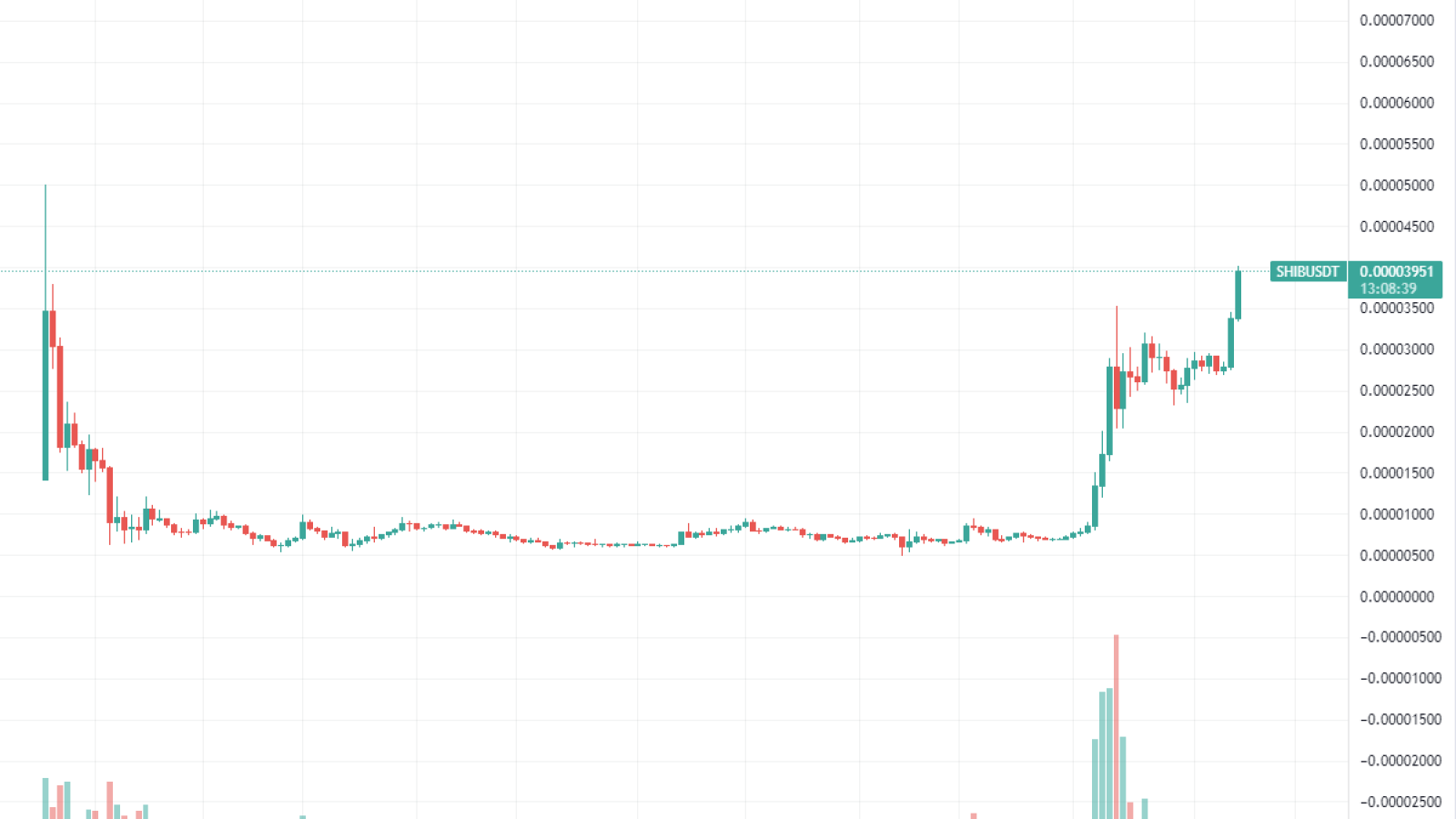 At press time, SHIB is trading at $0.00003940 with 16% daily growth. Additionally, the meme-based token reached a new post-listing high. Previously, the highest tracked price for SHIB was reached on May 10, when the token was trading for $0.00005.
Shiba Inu (SHIB) Surpasses Ether by Trading Volume Amid Explosive Rally
The "Dogecoin killer" is stealing Bitcoin's thunder with an eye-popping rally
According to data provided by CoinMarketCap, the daily trading volume of the Shiba Inu cryptocurrency has now eclipsed $14.5 billion.
Notably, it has surpassed Ether, which has recorded $14.3 billion worth of trading volume over the past 24 hours.
At the time of writing, Shiba Inu is the third most traded cryptocurrency overall (behind only Tether and Bitcoin).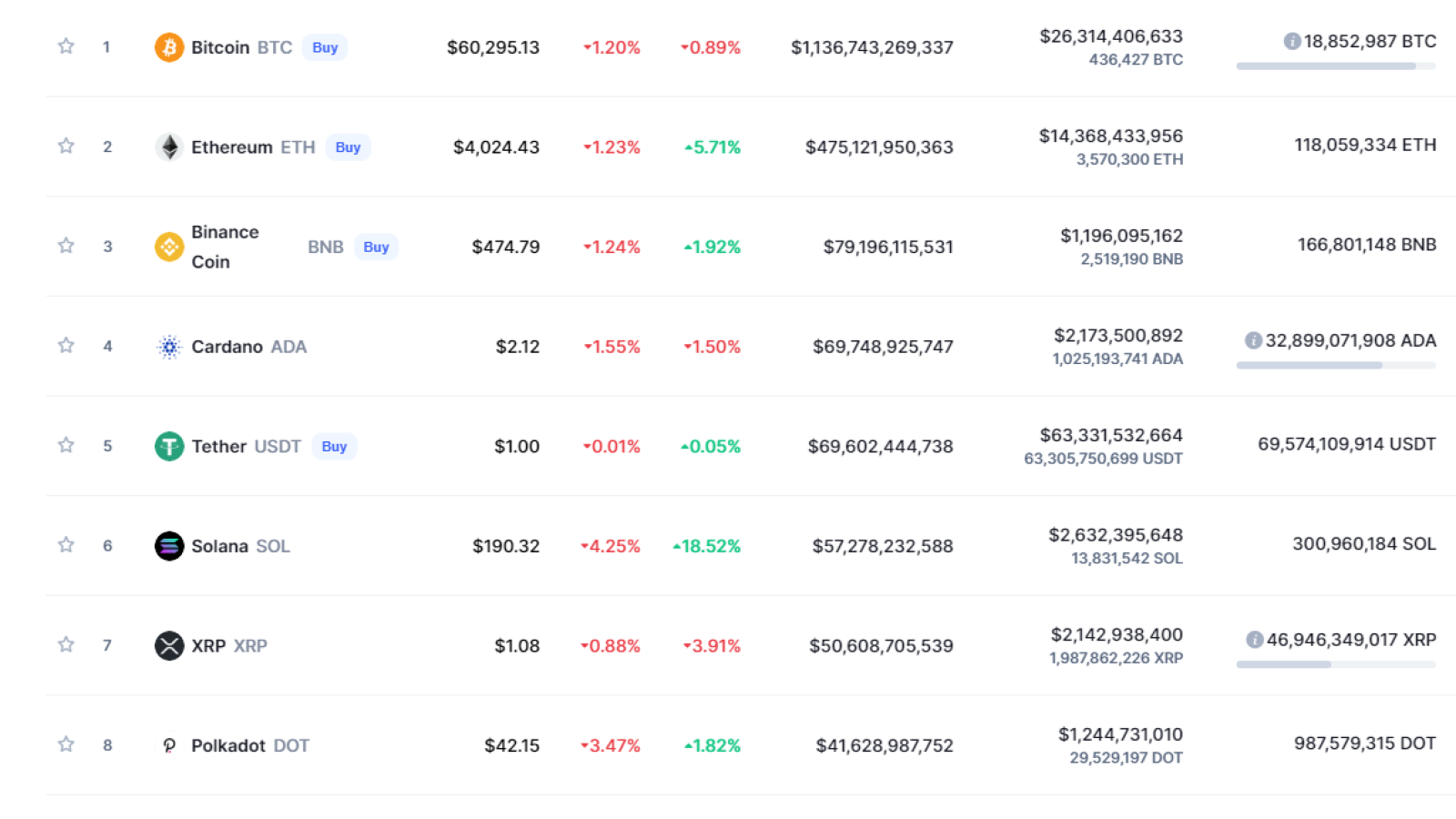 SHIB is dominating spot cryptocurrency trading volumes on the Binance exchange. It is also the most traded digital asset on Coinbase by a big margin.

As reported by U.Today, Shiba Inu hit a new all-time earlier today for the first time since early May, capturing the attention of the cryptocurrency community. After reaching a lifetime peak of $0.00004432, it has since shed some of the gains.
In the meantime, Bitcoin recently dipped below the $60,000 level. The leading cryptocurrency has become vulnerable to a steeper correction after bulls failed to hold onto recent gains. The flagship cryptocurrency is now on track to record its first weekly drop since September.

Market analyst Ben Caselin told Bloomberg that speculation is likely to be the key reason behind Shiba Inu's wild price action.
As of recently, the community has been abuzz with rumors about Robinhood listing Shiba Inu, which is likely to be another catalyst for the ongoing rally.
At the time of writing, SHIB is up a staggering 435% this September.
Shiba Inu to the Moon: SHIB Records New Groundbreaking Feat
Shiba Inu reaches a new all-time high.
SHIB is ready to join the league to the top 10 cryptos.
SHIB rose by 47.2% and trades at $0.00004157 in the 24 hours.
Shiba Inu is gradually taking the center stage among other memecoins. The speculations, media, and buzz surrounding crypto is adding to its surge. Just when we thought the meme coin wouldn't survive like Dogecoin (DOGE), it keeps exceeding lots of investors' expectations. At the time of writing, the Shiba Inu (SHIB) gained over a 47.2% increase and trades at  $0.00004157 in the 24 hours.
Of note, the bullish position of the coin attests to its popularity and its subsequent move to break new heights. At the moment, Shiba Inu is surging in the crypto market, thus, rising tremendously. Likewise, a week-long media bustle around the memecoin sees it jump from $0.00002796 to a new all-time high. 
All around, it is exciting in the crypto space as Bitcoin and altcoins are hitting new ATHs and deflecting negative tales voiced by some crypto critics. Though, some memecoins are gaining more traction and even pushing some of these major cryptos off the cliff.
The crypto world is emerging, evolving, and moving toward being not just crypto but also a currency that the entire world will embrace soon. The last couple of days have been well off for Siba Inu. Furthermore, Elon Musk's recent tweet of a text art image of a pup with a rocket ship triggered a rise in Shiba Inu's price. As much as the image didn't indicate he was talking about Shiba Inu, still, SHIB's price went up 21%. 
Not to mention, SHIB is truly living up to its nickname as the "Dogecoin Killer."  Most of all, Shiba Inu has garnered lots of attention since its debut in August 2020 and has incurred more than 5,130,000% with a circulating supply of more than 498 trillion. So far, a good number of crypto exchanges now allow users to buy and trade the 11th largest crypto according to Coingecko.
For good measure, the team behind Shiba Inu launched a decentralized exchange ShibaSwap in July 2021. For this reason, some attribute the current status of SHIB to the foregoing. Distinctly, Shiba Inu's team continues to build more use cases for SHIB. An initiative that aims to sustain its longevity, and value, and dispel crypto analysts' claims about memecoins.
Equally, the hype around Shiba Inu is not stopping at any moment. This is because it successfully captured the minds of prominent crypto enthusiasts, celebrities alike. Alongside this, its tight-knitted community, adoption as a form of payment, and the entire team of Shiba Inu working round the clock to make the crypto more valuable will make the crypto much likely to survive.
Even more, Shiba Inu needs no introduction again as the crypto keeps making a name for itself. Thus, moving away from the shadow of Dogecoin and in motion to join the top 10 cryptocurrencies. According to Coingecko, SHIB stands at the 11th position, swiftly marching to get to Dogecoin (DOGE) which stands at the 9th position.