Tezos Blockchain Continues To Win Industry Favor Worldwide
Tezos is on a total roll as it continues to attract more global attention.
London announces its R&D hub to integrate Tezos into the country's many sectors.
In Miami, Art Basel is hosting an International NFT art fair where Tezos NFTs will be on display.
Tezos continues to impress the crypto world by running at the forefront of innovation in the crypto and blockchain world. It is globally revered for its seamless upgrades and groundbreaking on-chain governance.
The most recent Tezos-centric activities include two very different yet equally impressive milestones. These include a research and development hub in London and a partnership with Art Basel Miami Beach 2021.
Upon checking out the news in London, we see that TriliTech has announced the launch of a new London hub for research and development of the Tezos blockchain. TriliTech is hoping to elevate and implement the adoption of Tezos into the center of London.
In particular, it hopes to integrate Tezos with the country's entertainment, technology, and finance operations. TriliTech is run by a group of experienced technology, entertainment, gaming, and financial professionals.
Together the team will drive advancement in technological research and development at the protocol layer. In addition, it will also elevate mentoring and training the next generation of blockchain enthusiasts and builders.
TriliTech's Chief Operating Officer (COO) — Robin Maxe, says
World-class adoption and development teams are fundamental to world-changing software networks. TriliTech aims to be a center of excellence in the Tezos ecosystem focusing on exciting and unique research and development at the protocol level and global adoption for the Tezos network, pushing the boundaries of blockchain use-cases.
All in all, the team aims to contribute actively towards ecosystem development and global adoption. It will do so by working with developers and partners on the Tezos ecosystem. Together they will propose new features for the network whilst also supporting protocol upgrades.
Meanwhile, in Miami. The distinguished gallery — Art Basel, announces an exquisite art premiere that will take place at Miami Beach from November 30 to December 4, 2021. Founded in 1970, the gallery will now showcase modern and contemporary art to the world with Tezos. Thus, the open-source blockchain platform will exhibit a curated NFT art experience built to explore a fresh frontier of art, culture, and technology.
In detail, the Tezos NFT art community, consisting of three of the top 20 NFT marketplaces will model what NFTs mean to the art world. This will be done via interactive exhibits, collaborative panel discussions, and inspiring speakers. With the rising tide of NFTs, Art Basel seeks to dive into the trendy and popular digital asset — NFTs.
The event, dubbed 'Art Basel Miami Beach 2021', welcomes renowned artists, emerging young talents, and galleries. Accordingly, collectors, art critics, architects, and several cultural personalities will convene at Art Miami Beach to offer their viewpoints. This is certainly turning out to be a gallery for the ages.
Tezos ready for new all-time high as XTZ grapples with crucial support
XTZ price is currently bouncing off the $7.18 support floor.
A bounce off this barrier will likely propel Tezos by 22% to $8.73.
A breakdown of the $6.56 demand barrier will invalidate the bullish thesis.
XTZ price has been on a slow downtrend since its all-time high on October 4. This descent has pushed Tezos down to a crucial support floor which will decide its fate going forward.
XTZ price at make or break
XTZ price rose 71% from September 29 to October 4, setting up an all-time high at $9.17. Since this point, Tezos underwent a correction that is stabilizing around the $7.18 support floor. Going forward, it is crucial that XTZ price stays above the $7.18 support barrier to have any shot at an uptrend.
Assuming the buyers step in and win this battle of control, XTZ price will rally 22% to take a jab at $8.73. Clearing the said barrier will allow Tezos to continue its ascent toward the next hurdle at $10.27, a new all-time high.
In special cases, XTZ price could extend toward the 261.8% trend-based Fibonacci extension level at $13.32. This move would represent an 83% climb from the $7.18 demand level.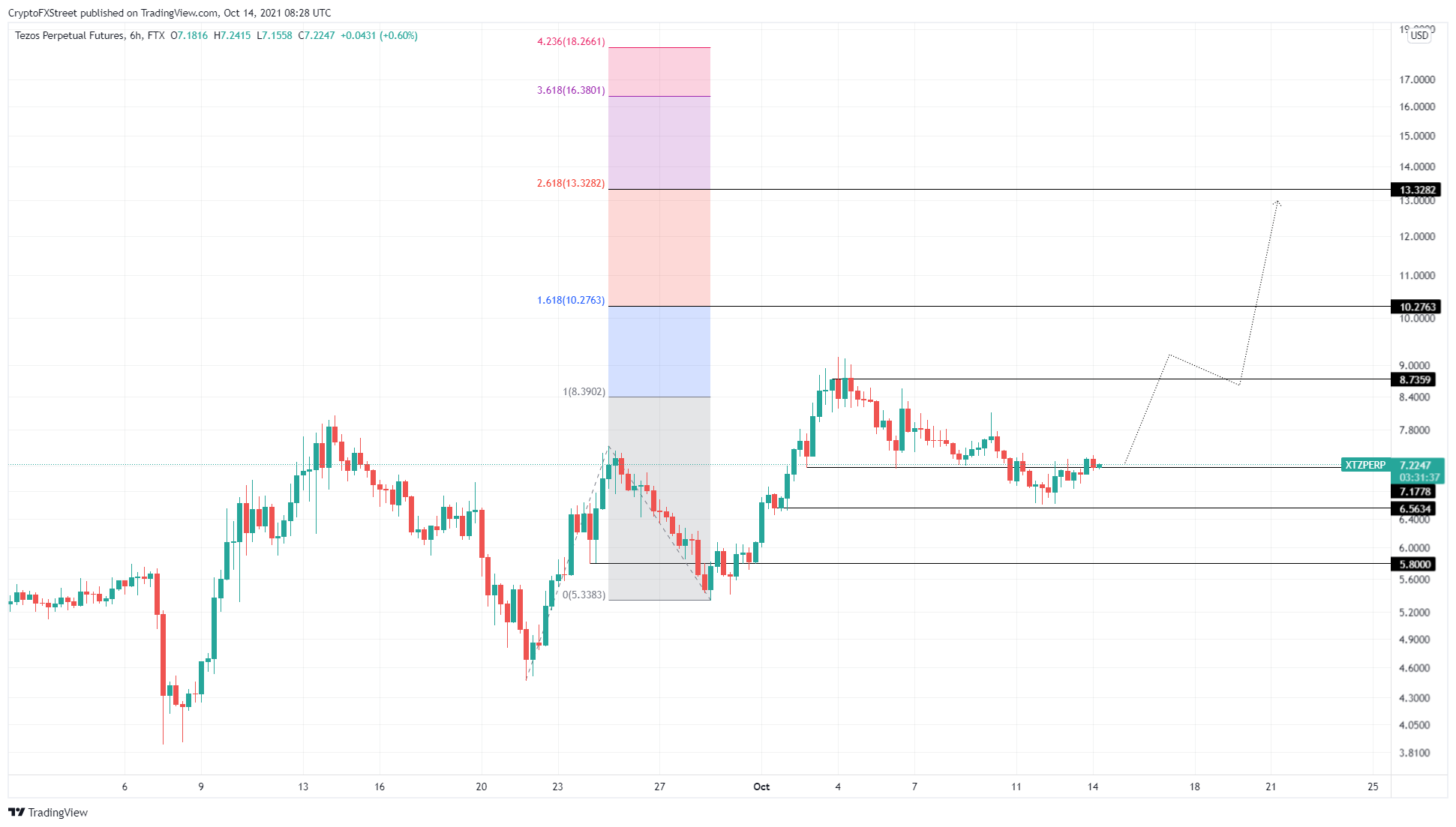 XTZ/USDT 6-hour chart
While the bullish assumption is plausible, it is based on the assumption that XTZ price wil stay above $7.18. Failing to do so will decrease the chances of a bull rally and knock Tezos down to $6.56.
If the buyers fail to defend this level and produce a lower low below it, it will invalidate the bullish thesis. This development could trigger an 11% descent to $5.8.
Tezos Price Analysis: XTZ bounces from $6.75, more upside to slowly follow?
Tezos price analysis is bullish today.
XTZ/USD found support above $6.75.
The closest resistance is around $7.50.
Tezos price analysis is bullish today as more upside was slowly gained overnight. Therefore, we expect XTZ/USD to continue higher and test the $7.50 mark next.
The crypto market traded with bullish momentum over the last 24 hours. Bitcoin gained 4.69 percent, while Ethereum 5.29 percent. Meanwhile, Polkadot (DOT) is the top performer, with a gain of 19 percent.
Tezos price movement in the last 24 hours: Tezos bounces from $6.75 support, heading to $7.50 next
XTZ/USD traded in a range of $6.94 – $7.36, indicating low volatility over the last 24 hours. Trading volume has declined by 41.62 percent and totals $339 million, while the total market cap trades around $6.22 billion, ranking the coin in 32nd place overall.
XTZ/USD 4-hour chart: XTZ to continue higher?
On the 4-hour chart, we can see Tezos price action slowly moving higher over the past 24 hours as bulls look to test the $7.50 resistance next.
Tezos price action has seen a more than week-long retracement. After a very bullish start of the month, during which XTZ/USD gained around 65 percent from the $5.50 support to the $9 resistance, a new major swing high was set.
However, after some consolidation below the $9 mark, a reversal followed, slowly sending Tezos lower. So far, XTZ/USD has retraced around 25 percent to the $6.75 mark after a series of lower lows and highs.
Over the past days, Tezos price has slowly moved higher as bulls look to retest the $7.50 mark as resistance. Therefore, more upside is expected. However, from the resistance, we could see another push lower later this week.
Tezos Price Analysis: Conclusion
Tezos price analysis is bullish today as further upside was seen overnight with no signs for a slowdown. Therefore, we expect XTZ/USD to continue higher and reach the $7.50 mark next.
While waiting for Tezos to move further, read our guides on Best NFT marketplaces, NFT history and development, as well as NFT Music.
Tezos Price Prediction-Will XTZ Price Hit $50 in 2021?
Decentralized technology is capturing the minds of the investors as it enhances the security and privacy of the users. Tezos is one of the decentralized, peer-to-peer open-source platforms for assets and applications promoted by validators and researchers across the globe.
After a very successful lawsuit and a number of lawsuits that led to a price decline, Tezos flipped the bearish trend and rolled towards the north. 
Are you in search of a good time to buy Tezos? Or maybe want to know the future of your holdings?
We got you covered. In this article, we will provide you the brief information regarding the price prediction of 2021 and beyond. Let us try to have some basic knowledge about Tezos.
Overview
| | |
| --- | --- |
| Cryptocurrency | Tezos |
| Token | XTZ |
| Price | $ 7.4800 |
| Market cap | $ 6,452,008,702.0000 |
| Circulating Supply | $ 862,436,155.9144 |
| Trading Volume | $ 400,316,127.0000 |
| All time high | $ 9.1200 October 4, 2021 |
| All time low | $ 0.3505 December 7, 2018 |
What is Tezos?
Tezos (XTZ) is a blockchain network linked to a digital token, which is called a tez or a tezzie. Tezos is not based on the mining of tez. Instead, token holders receive a reward for taking part in the proof-of-stake consensus mechanism. The term 'Tezos' is an ancient Greek word for smart contracts as per the developers.
Fundamental Analysis:
Tezos was Developed by Arthur Breitman. Tezos also referred to as XTZ is a coin that is a multi-purpose platform that supports dApps and smart contracts. The platform's main objective is to combine a self-correcting protocol and on-chain governance to manage network modifications. Additionally, The altcoin uses delegated proof-of-stake (DPoS) and supports Turing complete smart contracts. It would be worth mentioning that Tezos erupted into the crypto Land by collecting $232 million in their then record-breaking ICO.
Tezos Price Prediction 2021
The year 2021 seems extremely positive for Tezos, as the coin started its bullish rally from the very first day. With a trading value of $2, Terra resumed its run in January.
On a hopeful note, the coin dramatically started to accelerate. By the mid of march, the price of the coin surpassed $5 and continued to rally up to $8 till May. After the market crash, the price plunged back to $2.3 on 22nd July. Regaining the bullish momentum the asset formed a new ATH on $9.18 in October.
On a bullish note, XTZ continued to spike. By the year 2021, exponential growth is highly anticipated due to inbound development and adoption. In the best possible case, XTZ may exchange for $15 by the end of 2021. The price may drop well below $5 if the bears rule the market. With average buy and sell pressures the asset is anticipated to trade at $8.
XTZ Price Prediction 2022
XTZ might start the year 2022 with its price trading at $7.7. Later on, the price might hover around $12 and $20 until mid of 2022. The price may rise if the marketers focus on investing in Tezos. XTZ might remain stable above $15 with certain variations throughout the year. By the end of 2022, Tezos may trade at $17.2.
Tezos 5 Years Price Prediction
As we can see that Tezos is a self-evolving platform, we may more likely expect the platform to survive the frequent dips. With the adoption of Dapps and further developments, Tezos price might reach $26. XTZ could take a rebound in the course of the next 5 years.
Tezos Market Prediction
TradingBeasts:
According to TradingBeasts, XTZ price is expected to trade in between $3.72 and $5.48 by end of 2021 and may reach close to $8 by 2024.
DigitalCoinPrice:
According to DigitalCoinPrice, Tezo's price may reach $6.72 by the end of 2021. The coin will reach close to $10 by 2023. Further, the price may hit $14.45 in 2025.
WalletInvestor:
According to WalletInvestor XTZ is expected to surge from $4.53 to $7.926 in the coming year and $14.598 by 2026.
Longforecast.com:
Longforecast.com predicts a reasonable future price. The price may trend in between $3.37 to $4.31 by the end of 2021. Further, the price may trade in between $5.48 to $6.80 by the mid of 2025 and keep surging eventually.
Our Tezos Prediction
With the trading price of $2.04 Tezos initiated the year 2021. Tezos may reach as high as $11 by the end of 2021 and might reach around $15 during 2022. The Blockchain DApp industry explodes over the coming years. As Tezos foundation faucets continue to gain popularity, so will the number of XTZ holders. This Tezos foundation faucet will also play a major role in future price movements.
Tezos certainly has the potential to grow in value over the next several years. It might be a good investment for the future.
| | | |
| --- | --- | --- |
| Year. | Potential High. | Potential Low. |
| 2021 | $15.56 | $3.28. |
| 2022 | $25 | $8.28 |
| 2025 | $45.25 | $30.25 |
Historic Market Sentiments
2017
With the end of its ICO in July 2017, Tezos took a few months to get listed on popular exchanges. Meanwhile, in October 2017, it was first started being listed on a major exchange. Soon after the tokens hit exchanges, the price immediately surged at more than 3 times of its $0.51 ICO price. Further, until mid-November 2017, theXTZ coin price was hovering between $1.50 and $2.50. But within a few days, the coin recovered the loss and began to see huge growth as the market picked up steam.
At the end of 2017, XTZ rapidly gained momentum on exchanges, spiking to as high as $12.19, while the Tezos market capitalization swelled to enormous proportions. However, in just one week, Tezos was one of the first coins to suffer a bearish moment, by losing more than two-thirds of its value.
2018
Further in 2018, besides a short growth of $6 on Jan 3rd, 2018, the XTZ coin price suffered a drastic loss reaching the trading value of $2. Later the price was hovering between $2 to $3 until June. But, the Bears hit hard, the Tezos coin price sloped down to $1.65 in the mid of June and the bearish phase continued till 2018 ended with a trading value below $0.476. Falling below its ICO price for the first time in November.
2019
Tezos continued to trade at $0.48 by early 2019. Further, the price started to plunge as the attack of a bear. Later on, the XTZ reached $1.65 by the mid of May. However, the price resumed swinging. XTZ again climbed to $1.70 in December. At the end of 2019, XTZ traded at $1.35.
2020
Tezos has been generally bullish in 2020. From a low price of around $1.25 in January, the top cryptocurrency moved steadily to record Year-Till-Date (YTD) All-Time-High (ATH) of $3.6 in late February.
However, in March, XTD suffered a sharp price plunge, as a result, XTZ was trading at $1.25 in the middle of March. This was where things stood by the end of the first quarter of 2020.
By the beginning of the 2nd quarter, XTZ began to rise until it faced stiff resistance at $3 during May. On a bullish note, the price dramatically spiked to $4.28 by mid-August and further plunged to $3.34 at the end of August. Later on, XTZ continued to hover. Due to the expansion of Bitcoin's price rally, XTZ managed to trade at $2.50 by the end of November. By the end of December 2020, XTZ's price dropped to $2.
FAQ
Is Tezos a good investment?
Yes, Tezos might be a good investment if you are planning to invest for the long-term.Will Tezos Price rise by the 5 years?
Yes, Tezos price might rise by 5 years. It might reach $15.At what price Tezos will be trading at the future?
Tezos might trade around $10-$15 in the future.Where the Tezos can be traded?
Tezos can be traded on exchanges like Binance, Coinbase Pro, OKEx, VCC Exchange and many more.Will Tezos go up by the end of 2021?
Yes, Tezos might go up by the end of 2021 and might reach $3.