Polygon Price Analysis: MATIC spikes above $1.35 previous high, slow reversal to follow?
Polygon price analysis is bearish today.
MATIC/USD spiked to $1.44 today.
Further upside rejected. 
Polygon price analysis is bearish today as rejection was seen after a brief spike to $1.44 earlier today. Therefore, we expect MATIC/USD to retrace some of the gain and look to set a higher low next.
The overall market traded mostly in the green over the last 24 hours. The market leader, Bitcoin, gained 1.63 percent, while Ethereum was up by 0.93 percent. Meanwhile, Shiba Inu (SHIB) is the worst performer, with a loss of 26 percent after a strong push higher earlier this week.
Polygon price movement in the last 24 hours: Polygon spikes above $1.35 previous high
MATIC/USD traded in a range of $1.26 – $1.44, indicating strong volatility over the last 24 hours. Trading volume has increased by 29 percent and totals $1.164 billion, while the total market cap trades around $9.25 billion, ranking the coin in 21st place overall.
MATIC/USD 4-hour chart: MATIC set to retrace?
On the 4-hour chart, we can see the Polygon price experiencing heavy rejection after a spike higher, indicating an upcoming retracement over the weekend.
Polygon price action has seen bullish momentum return so far this month. After a consolidation above $1.05 at the end of September, a strong advance was seen on the 1st of October.
Over the following days, MATIC/USD established resistance around $1.35. From there, a slow retracement was seen this week, with a swing low of $1.20 established on Wednesday.
Since then, Polygon price saw consolidation in an increasingly tighter range until a quick spike higher was seen today. MATIC/USD peaked at $1.44 as strong selling pressure resumed.
Polygon Price Analysis: Conclusion
Polygon price analysis is bearish today as a rapid advance was met with heavy selling pressure over the past hours. Therefore, we expect MATIC/USD to retrace over the next 24 hours and establish a higher low.
While waiting for Polygon to move further, read our guides on Best NFT marketplaces, NFT history and development, as well as NFT Music.
Crypto Traders Most Bullish on Polkadot, Solana, Polygon and 10 Additional Altcoins: Digital Asset Survey
A new survey unveils that crypto traders are most bullish on 13 altcoins including Polkadot, Solana and Polygon.
The Real Vision Exchange Crypto Survey is designed to track sentiment among investors by allowing participants to scan 30 tokens and choose if they want to have an overweight or underweight allocation for each one. The survey was conducted by Real Vision Bot, which was created by two independent developers and boosted by macro guru Raoul Pal.
Results from voting that happened on the first two days of this week indicate traders prefer an overweight portfolio consisting of smart contract platforms Polkadot (DOT) and Solana (SOL), as well as Ethereum-scaling solution Polygon (MATIC).
The scalable and interoperable ecosystem Cosmos (ATOM) is fourth on the list, and smart contract platforms Terra (LUNA) and Cardano (ADA) appear tied for fifth. Traders also have overweight allocations for decentralized oracle network Chainlink (LINK), Ethereum competitor Avalanche (AVAX), Ethereum-based token Enjin Coin (ENJ) and decentralized exchange Uniswap (UNI) for the sixth, seventh and eighth places, respectively.
Tied in ninth place are cross-border payment solutions Stellar (XLM) and XRP, as well as decentralized storage network (FIL).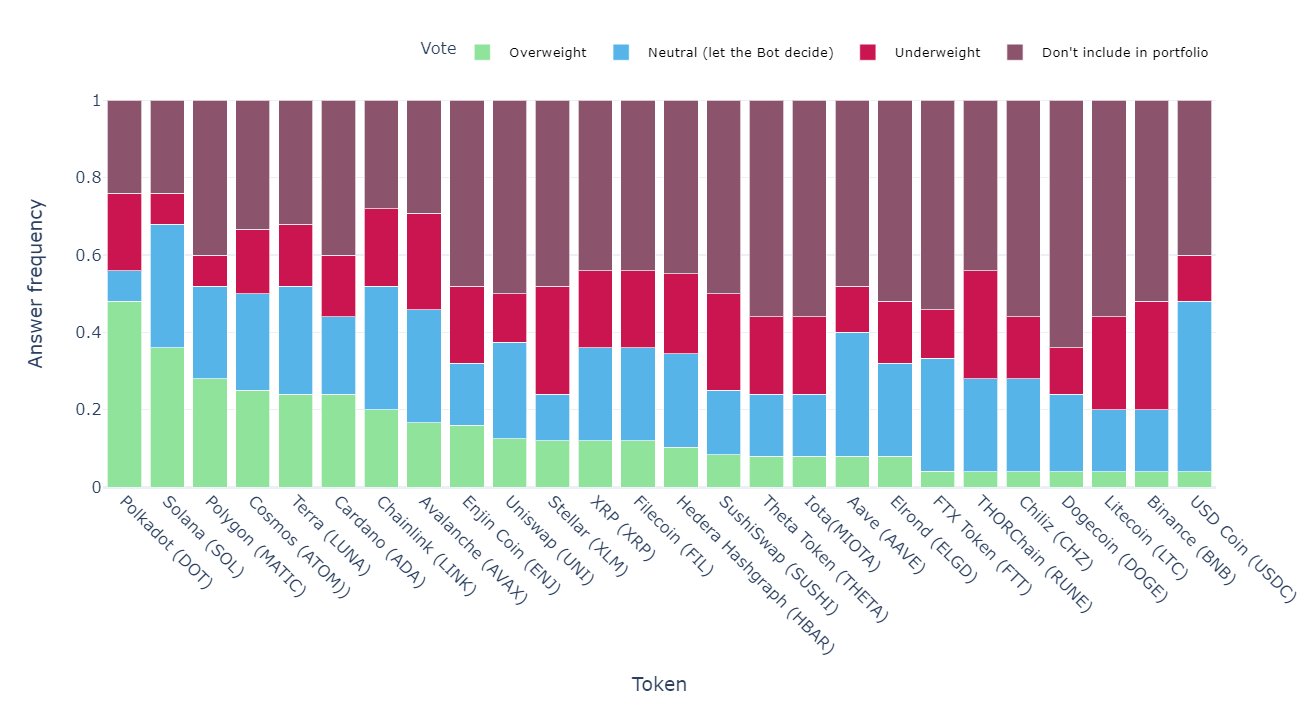 Real Vision Bot clarifies that the participants are not necessarily holding the cryptocurrencies that they voted for.
"They can of course vote according to their own positions, but also just based on their sentiment or forward looking. There are many reasons why the own book might not be 1:1 the preferred allocation."
Bitcoin (BTC) is conspicuously absent from the list. Pal highlights that the community is responsible for that absence.
"It's not us – it's the community who makes the allocation… You guys, to be exact.
Polygon price analysis: Bullish momentum reignites taking price levels to $1.46
Polygon price analysis predicts an uptrend.
Price is now standing on $1.46 level.
Support is considerably strong at $1.044.
The Polygon price analysis states that the bullish momentum has returned to the price chart as the price has been elevated up to $1.46 in the last 24-hours. The bulls have been performing quite consistently for the past few days after finding the path to recovery. Even today the trends have been extremely favorable towards the bulls and the price has improved tremendously. This is a welcoming sign for the buyers as the bullish current has been quite overpowering.
MATIC/USD 1-day price chart: Price rebalances itself above $1.45 after regaining strength
The one-day Polygon price analysis is predicting an uptrend for the day as the price levels have moved higher. This has proved to be quite profitable for the overall coin value as the price has reached the $1.457 level as well. The bullish wave is getting stronger as more and more pressure is being put forward from the buyers' side. If the bulls continue to progress then there is a chance the moving average (MA) value might go higher than $1.294.
The volatility has increased which means that price might fluctuate more in the coming time period. The upper and lower Bollinger band values have changed as well as now the upper value is standing at $1.442 and the lower value is standing at $1.044. The Relative Strength Index (RSI) score has moved up to 62.15 because of the climb in price.
Polygon price analysis: MATIC faces massive bearish resistance above $1.50
The price is undergoing decline according to the four hours Polygon price analysis. The price has decreased significantly during the last four hours which was quite unexpected as an uptrend had been following earlier. The price had been moving upwards quite consistently but now the trends have undergone reversal once again. The price has now been lowered down to $1.455, which is still quite higher than the moving average level i.e. $1.34.
Although a crossover between SMA 20 and SMA 50 curve took place earlier, the four hours progress has been quite negative. The volatility has increased tremendously and now the upper Bollinger band value is sitting at $1.45 and the lower value is at $1.087. The RSI score has dropped down to 70, which is still an impressive number.
The overall trend for the cryptocurrency is going bullish as the MATIC/USD price has undergone major improvement. There are 17 indicators that are present on the buying position, nine indicators on the neutral position while none is on the selling position.
The moving average is declaring the bulls on the leading position as well with a strong bullish signal. There are 14 indicators on the buying mark, one indicator on the neutral mark, and zero indicators on the selling mark. The Oscillators are giving out a bullish hint as well with eight oscillators on the neutral position, three oscillators on the buying position, and zero on the selling position.
Polygon price analysis conclusion
The bullish momentum has been intensifying over the past few days and so the circumstances have turned favorable for the buyers. Both the hourly and daily price predictions are indicating a rise in price and have reported that the price has heightened up to $1.46 today. The cryptocurrency might face loss in the upcoming hours as the four-hour price chart is confirming a drop in price.
Here's how Polygon boosting utility can impact MATIC's rally
The market has had high hopes from the Polygon network, more so, after it overshadowed the Ethereum network as the former's active addresses briefly flipped ETH's.
While the network's growth has been commendable, the layer-2 solution that connects Ethereum to other blockchains, saw considerable roadblocks after the network's validators recommended raising transaction fees to tackle the spike in spam transactions.
What changes?
After Polygon's co-founder Sandeep Nailwal, made the recommendation, the network saw a drastic decline in its on-chain activity. Daily average transaction volume on Polygon dropped from over 6 million to under 3 million, an over 50% fall.
Nonetheless, Polygon still captured the highest share of total value locked on Ethereum bridges. In the last week, the number of wallets on Polygon increased sharply and reached about 97.7 million wallets, which caused the gap with Binance Smart Chain to plummet to about 695,000 wallets.
In fact, Polygon has maintained its dominance over Arbitrum and Optimism in terms of TVL in Ethereum bridges despite the decline. However, Polygon's Total Value Locked had fallen by 8.3% to $4.46 billion over the last week. The main reason came from DEXs when TVL decreased significantly from the beginning of September.
However, all in all, since the network maintained its dominance as daily transactions fell, traders still expected a bullish impact on MATIC's price.
Price still on crossroads
After three recent fakeouts for a breakout since September, MATIC seemed to be underperforming price-wise. After reaching a multi-month high of $1.79 on September 5, the alt made lower lows while teasing the market with a potential breakout.
Nonetheless, the asset has maintained above the crucial $1.2 level all through October. In fact, MATIC had 5.76% daily gains at the time of writing but was down 1.54% weekly. While on the price front, MATIC didn't seem to be making any big moves, the network strengthening utility could boost price action.
Network strengthening utility
Recently, Polygon Studios, the gaming, and development arm of Polygon, partnered with Unicly (UNIC), a protocol that combines, fractionalizes, and facilitates NFT trading. This partnership is expected to enable NFT projects built on Polygon to be eligible for whitelisting and receive incentives through UNIC rewards.
Amid the NFT boom, one striking trend was the high social anticipation around protocols that added a utility layer to NFTs. With this partnership, Polygon also looks set to boost the network's utility. In fact, Unicly could further provide solutions to Ethereum's gas fee problem which again pumps the network.
Based on these developments it could be anticipated that MATIC might break out especially, after consolidating for over a week. However, MATIC's low trade volumes and low social anticipation amid growing network developments still acted as a roadblock.