Dogecoin price action sees rejection at the topside of a pennant, limiting further gains
Dogecoin bulls saw their profits halted at $0.29.
The DOGE price rejection on the red descending trend line keeps Dogecoin price action stuck in a pennant.
With profit-taking happening across the board in several cryptocurrencies, any further upside in Dogecoin price action looks muted.
Dogecoin (DOGE) continued its positive trend this week, following the bounce off the green ascending trend line supporting the uptrend since February of this year. On the upside, DOGE price action was somewhat capped by the red descending trend line and the monthly R1 resistance level. Expect prices to get squeezed in towards each other in the next coming weeks for Dogecoin.
Dogecoin price action will consolidate in the coming weeks, followed by a bullish outbreak
Dogecoin price action is still in an uptrend since February 2021, marked by the green ascending trend line. That same green trend line got tested twice past two weeks and still shows resilience against any bears. Dogecoin bulls use each test on the trend line to rejoin or add positions in the DOGE price action.
The bounce off that green ascending trend line at $0.19 acted as a launching point for a bullish candle that got topped at $0.29. Around that level, the monthly R1 resistance level comes in, and the red descending trend line from mid-August forms the topside of a pennant. This way, bulls in DOGE saw their profits limited to only 50%.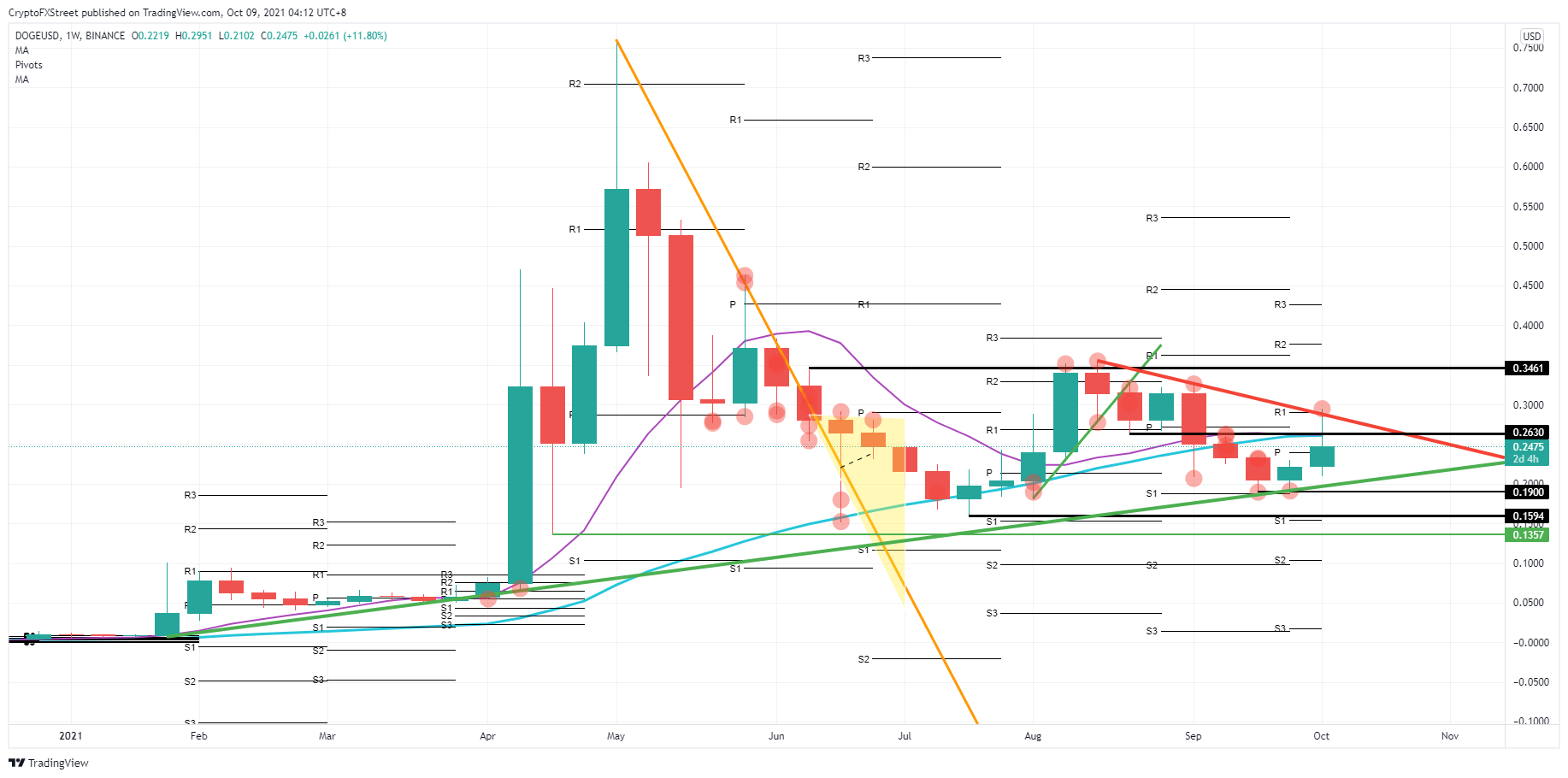 DOGE/USD weekly chart
Dogecoin price will see bulls trying to form a third green candle above $0.26. If bulls succeed in that attempt, expect a preemptive breakout from the pennant and the red descending trend towards $0.35. If the consolidation continues and prices are getting further squeezed towards each other with lower highs and higher lows, expect bulls to take the upper hand in Dogecoin price action and face much fewer bears because they would be washed out during the consolidation phase. Bulls then would face less resistance towards $0.35 and might even see $0.50 as price target in DOGE.
For the worse, a shift in market sentiment could spell an attack on the green ascending trend line from DOGE bears. If bulls forfeit on the ascending trend line, expect $0.19 and $0.16 to provide some good support. At $0.14, bulls will be stopping DOGE bears in their tracks as Dogecoin price action at that level is trading at a very attractive discount.
DOGE Has Allowed Lots of People to Get into Bitcoin: David Gokhshtein
Crypto influencer and former politician David Gokhshtein believes that Dogecoin has done a lot to attract people to Bitcoin.
Chief executive of PAC Protocol, David Gokhshtein, has taken to Twitter to suggest that the most popular meme currency (and the one favored by Elon Musk), Dogecoin, has attracted a lot of people to the flagship crypto, BTC.
"DOGE has allowed a lot of people to get into Bitcoin"
Gokhshtein often mentions other cryptocurrencies in his tweets, aside from PAC Protocol. In the past, Ripple-affiliated XRP, along with Bitcoin was mentioned pretty frequently by him.
Now, the influencer and former Republican congressional candidate Gokhshtein is exploring meme cryptocurrencies, among other coins. In particular, he has been tweeting about Dogecoin and looking into Shiba Inu (SHIB).
Today, he tweeted about DOGE, stating that this currency that started as a BTC parody in 2013 has allowed a lot of people to enter Bitcoin. He cited multiple free data available on the Internet.
$DOGE has allowed a lot of people to get into #bitcoin.

Data supports it — its free to look up.— David Gokhshtein (@davidgokhshtein) October 18, 2021
Mark Cuban defends DOGE against Bitcoin maxis
Over the weekend, as covered by U.Today, billionaire investor, Shark Tank cohost and owner of the Dallas Mavericks, Mark Cuban, debated with podcaster and Bitcoin maximalist Preston Pysh on Twitter regarding DOGE.
Prior to that, Cuban participated in a live audio conversation on Twitter Spaces. There, he repeated what he has been saying quite often recently: DOGE is "a great introduction into the crypto space," a cheap way of learning about crypto.
Still, Cuban admired Bitcoin as well, but he believes it to be a great store of value. He doubts that BTC can succeed as a unit of payment, unlike Dogecoin.
Here's how much DOGE Cuban holds
Despite being a big fan of Dogecoin, the billionaire only owns about $1,500 worth of this meme coin. He bought some more recently "just for fun," in his words.
He recently stated that a lot of people are using DOGE to buy tickets and merchandise from the Mavericks online shop. According to him, every month, people spend thousands of dollars in DOGE buying stuff from the Mavericks.
As soon as the gaming season starts, he expects the amount of DOGE spent to increase substantially.
Elon Musk pushes DOGE up 13%
On Monday, Oct. 18, the most popular meme crypto, Dogecoin, went up almost 13% after Elon Musk supported DOGE co-founder Billy Markus's tweet, where he urges the community to "keep DOGE absurd."
Besides, the Tesla CEO tweeted a "drawing" of an animal that looked pretty much like a Shiba Inu dog. Both SHIB and DOGE went up after that.
DOGE Over 12% Up, Trading at $0.26
Elon Musk-favored meme crypto Dogecoin has risen more than 12 percent
The ninth largest cryptocurrency, DOGE, a favorite of the richest person on the planet, Elon Musk, has shown a rise by over 12 percent, trading at $0.2676, as per the data provided by CoinMarketCap.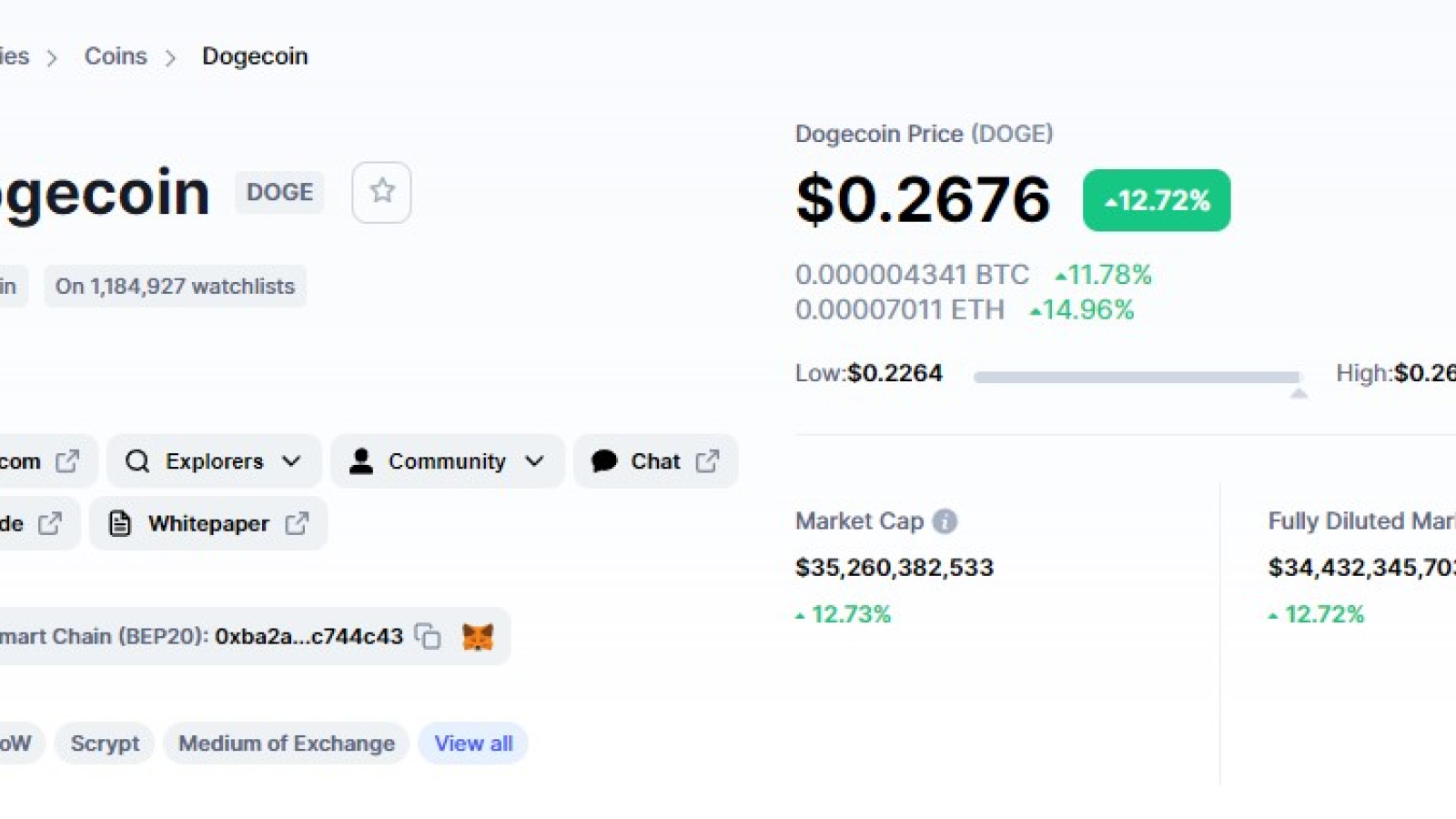 Earlier today, Elon Musk supported the tweet of a Dogecoin co-founder Billy Markus, who mocked all the DOGE-hating part of the crypto community and urging the devs to "keep Dogecoin absurd".
The centibillionaire also posted a tweet with a "drawing" of what the community believed to be a Shiba Inu dog going to the moon.
On Saturday, a popular crypto YouTube counted that Elon Musk's net worth in DOGE now totals 861 billion and the Tesla CEO replied he hoped that would be enough to extend human life to Mars.
70% of DOGE Holders in Profit While Transaction Size Is Rising
Memecoins on rise once again with Shib and Doge trading at an average 10% profit
Dogecoin on-chain data signals the overall growth of the network, with the majority of Doge investors remaining in profit in addition to the average transaction size on a strong rise, according to data from IntoTheBlock. At press time, the price for one Doge is up 10%.
Rising transaction size and activity
Doge on-chain data suggests that, while an asset's price goes up, more background activity begins happening on the network. While exchange inflows still remain low, rising transactional activity may suggest only a couple of things: traders are moving insignificant amounts of funds on exchanges or transferring their Doge between wallets for various reasons.
While exchanges have not yet reported any significant flow activity on Doge trading pairs, the negative effect of rising transactional activity may be reflected if the majority of coins are being transferred to exchange wallets.
Majority of holders in profit
Though 70% of Doge holders remain in profit, the amount itself is not considered too high. Previously, when Dogecoin was trading close to the previous ATH, money "in profit" stood at 90%.
Whenever the "in profit" amount reaches numbers close to 90%, the correction hits the market since the majority of traders are taking their profits at the top, which starts a chain of liquidations and the rapid fall of the price.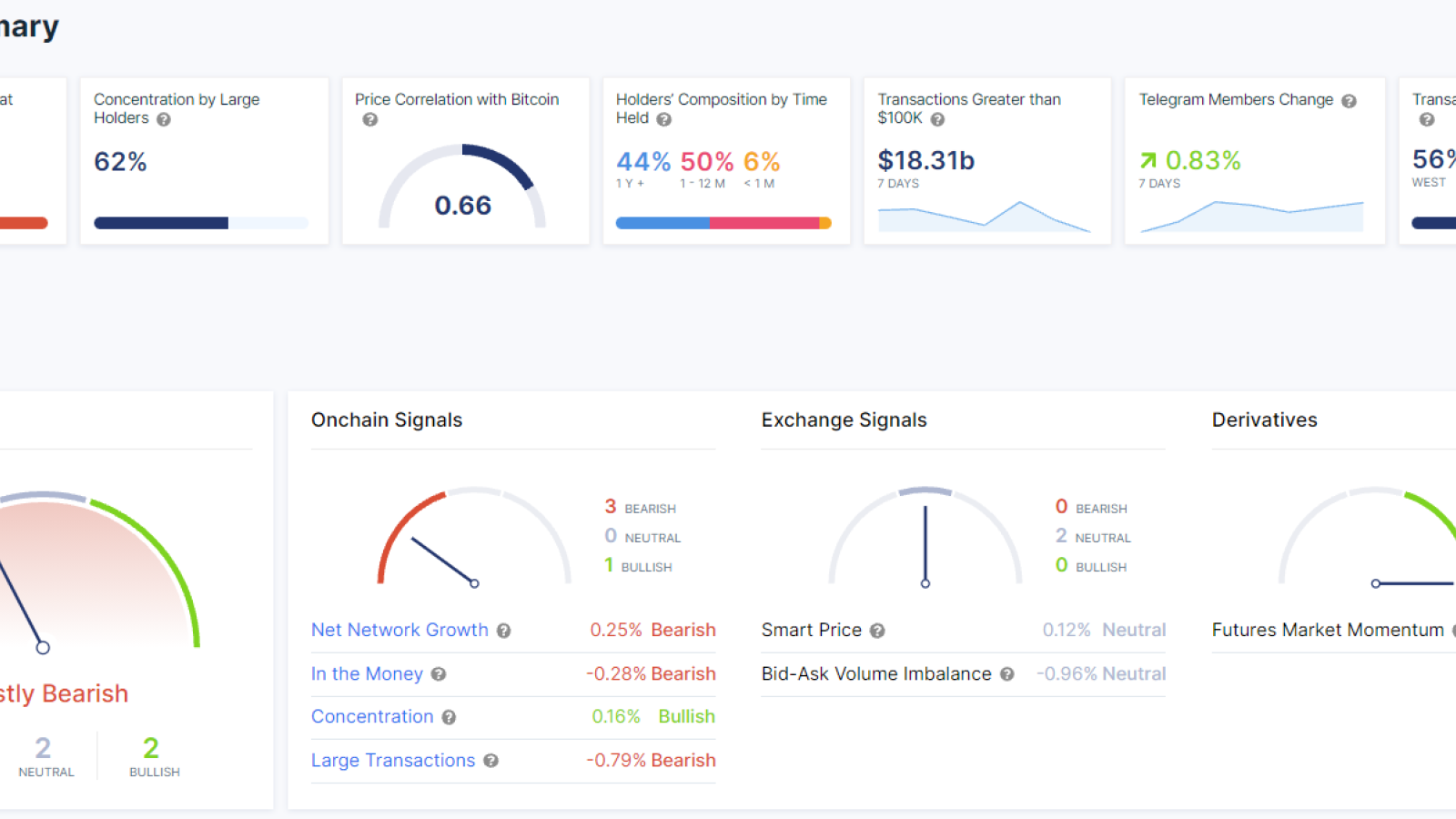 Though overall on-chain indicators show a "bearish" market, it does not go well with the current price action. Social sentiment indicators also show that the "$DOGE" ticker is currently trending and overperforming Bitcoin and Ethereum in terms of mentions.