Stellar to boost network utility with new Matching Fund as XLM edges closer to breakout
XLM price is stuck between $0.342 and $0.318 barriers as it ponders on a directional bias.
Stellar launches the Matching Fund to help early-stage companies interested in building on the XLM blockchain.
A decisive close above $0.342 and $0.355 will open the path for a retest of $0.426.
XLM price has been consolidating since the October 6 rally. In fact, Stellar looks to be on a slow downswing. Due to this development, the altcoin has slid between a stiff resistance level and a stable support floor. Therefore, XLM price needs to shatter either of the barriers to kick-start a move.
Stellar launches the Matching Fund
The Stellar Development Foundation (SDF) has been on a roll as it recently announced the partnership with MoneyGram on October 6 and also revealed the launch of Matching Fund on October 8.
This development from SDF comes as an extension of its strategic venture-style investments to help grow the Stellar ecosystem. Matching Fund falls within the purview of the Enterprise Fund and will invest in or fund early-stage companies that are in the pre-Series B level and are building on the Stellar blockchain.
The blog stated,
The Matching Fund will match up to $500,000 USD in investment made by a lead investor in a company and processes deals through an expedited process.
Moreover, the Enterprise Fund will continue to support investments across all stages but shift to later stage investments up to Series E (pre-IPO).
With Ripple/XRP, its main rival facing the SEC, Stellar/XLM has received a wide birth to make headway in the remittance industry. Stellar is making good use of this freeway as it recently announced a partnership with MoneyGram, who broke off the collaboration after the SEC sued Ripple.
XLM price vies to head higher
XLM price rose roughly 15% on October 6 on the MoneyGram announcement and sliced through the $0.342 resistance barrier. This uptrend set up equal highs at $0.358. However, soon after the local top, Stellar buyers failed to sustain this ascent, leading to a downswing to $0.325.
Therefore, the $0.342 and $0.358 barriers currently serve as resistance barriers, and XLM price needs to overcome these to have any upswing opportunities.
A decisive close above $0.342 will be an initial confirmation that the buyers are interested, but a 12-hour candlestick close above $0.358 will set up a higher high and indicate the start of a new uptrend. In this case, XLM price could rally and tag the $0.426 supply level, constituting a 26% ascent from the current position.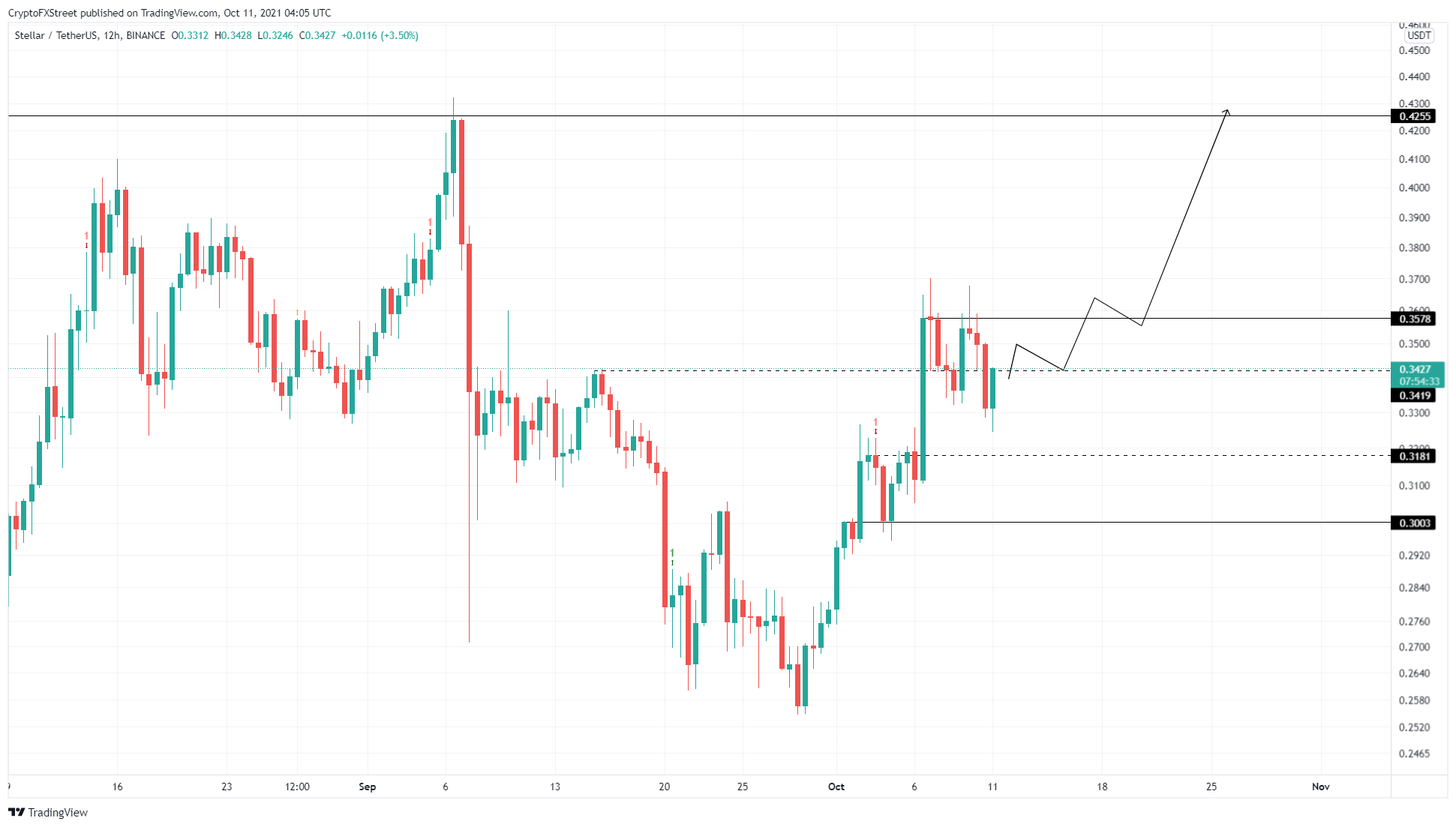 XLM/USDT 12-hour chart
While things are looking good for XLM price, a failure to slice through $0.342 and $0.358 will reveal a weakness among buyers or absence of buying pressure. In such a scenario, Stellar will likely revisit $0.300, a breakdown of which will invalidate the bullish thesis.
Stellar Lumens (XLM) Towards a Historical Day
Development Foundation recently expressed: At tomorrow's hearing, I'll make the case that stablecoins are a critical component of a more equitable financial system. There are some incredible solutions in the Stellar ecosystem already solving problems created by gaps in the existing system. I'll shine a light on them.
My great hope is that we move forward looking at the meaningful financial innovation that can come from working together, to help citizens and businesses benefit from more accessible, efficient services. This drives me every day. I look forward to sharing more tomorrow.
Community Reaction: I can't wait. tomorrow will be historical day for XLM and you. I won't sleep.
Hopefully highlighting the deployment of stable coins outside of the USA will reduce the political theatre. The USA being left behind in the adoption of blockchain technology will get their attention eventually.
The fact that you're part of the small group invited to the table says a lot. Continue the great work.
A light on them? What do you think of the dying investors? You think you're just making your own name, ignoring the XLM price?
It is everyday dumping to gain more and more USD that drives you every day.
Investors or Traders? Investors think mid to long-term. Traders think short term and when they're not getting their returns they start to complain and die off. XLM will change the world with few other crypto projects, but it won't be overnight, just like Rome wasn't built in 1 day.
They can't change the world but their wallets.
Time will tell. Is Stellar XLM backed by VC and/or big whales? Time HAS ALREADY told us. I've invested XLM more than 7 years.
Stable coins are the most underrated aspect of crypto. So much so that crypto as we know it would fail without them. We need stable for every currency, every stock, every asset class in existence. Then we'll be getting somewhere.
We'll see those in Congress that truly believe in equity and inclusion (for underbanked) and shine light on those who are protecting the established elite banking systems. It's a start of a new day for all.
You should tell them just to clarify, our Jed was part of Ripple/XRP project. Stellar/XLM is similar so let's get the Ripple XRP case over so we XLM won't have BIG problems too.
Why do we have to watch while others earn money? I wonder why you and the foundation are dumping coins when the price goes up.
The Stellar ecosystem is going to free so many people around the world, and I mean that in the sense of the project objectives, to bring financial services to the unbanked, not the rising price of XLM to line the pockets of the 'relatively' privileged; keep up the great work.
XLM Spikes 10% as Stellar CEO Is Set to Testify at Full Committee Hearing
The CEO of Stellar Foundation, Denelle Dixon, will testify as a witness at a hybrid hearing on Dec. 8
Denelle Dixon, CEO of Stellar Development Foundation, is set to testify at a full committee hearing. The price of XLM, Stellar's native crypto asset, is up 10% in the last 24 hours.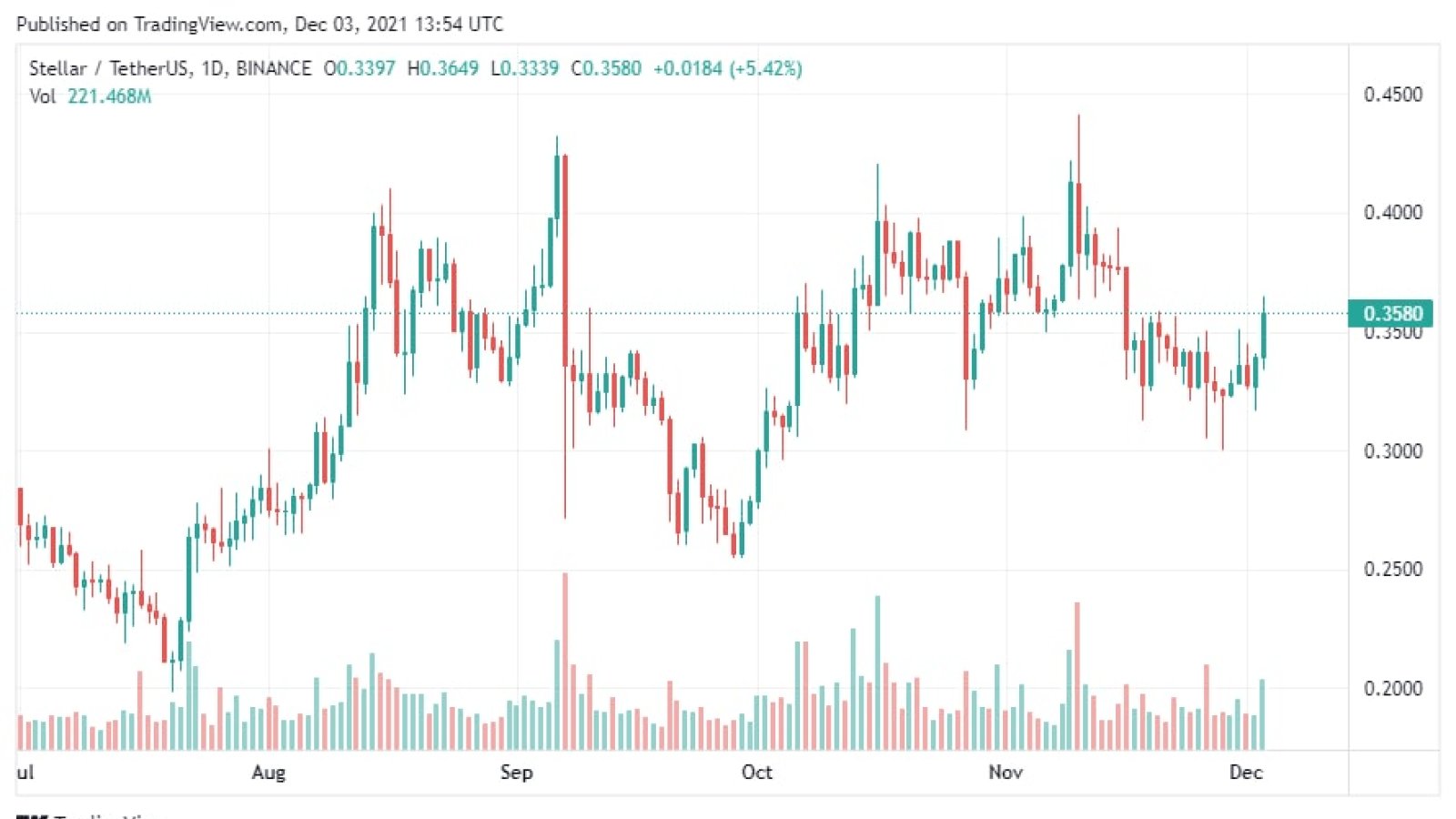 XLM/USD Daily Chart, Courtesy: TradingView
The Stellar CEO, in her words, "feels honored to testify at next week's full committee hearing on digital assets and the future of finance." Representative Maxine Waters, Chairwoman of the House Committee on Financial Services, made the announcement. On Dec. 8, the full committee will have a hybrid hearing.
In a recent release, Representative Maxine Waters, chairwoman of the U.S. House Committee on Financial Services, has invited cryptocurrency CEOs to testify at a scheduled hearing on "Digital Assets and the Future of Finance." Jeremy Allaire, CEO of Circle Pay, Sam Bankman-Fried, CEO of US FTX Exchange, Brian Brooks, CEO of Bitfury Group, Chad Cascarilla, CEO of Paxos Global, and Denelle Dixon, CEO of Stellar Foundation, will testify as witnesses in the Dec. 8 hybrid hearing.
Stellar (XLM) traded in an indecisive trend for most of November. However, bulls suddenly reemerged, leading to a retest of the $0.36 high on Dec. 3. Litemint, a longtime ecosystem participant, launched its non-fungible token (NFT) marketplace, enabling users to mint NFTs on Stellar.
XLM was trading at $0.358 as of press time.
XLM price stuck in pennant, with bullish breakout holding 40% gains
Stellar price action is getting squeezed from both sides, forming a pennant.
As the RSI dips to the lower end of the index, expect bulls to stand ready for a pop higher.
Seeing momentum build, $40 will not stop the rally which could overshoot towards $0.46.
Stellar (XLM) price has been stuck in a downward trajectory for most of November. It has only been since November 27 that bulls have advertised their presence by posting higher lows. Now a pennant has formed, and as it unravels expect a bullish breakout that could see a violent move, followed by an acceleration higher between $0.41 and $0.46.
XLM has bulls gearing up for the rally
XLM price has not been able to provide any solid numbers for November. After hitting a cap at $0.44, on November 11, price has been on the back foot ever since.It is only since November 26 that bulls seem to have reemerged with a blue ascending trend line where lows are getting progressively higher. 
The late entry of the bulls in XLM price action makes sense, as bears were grinding down the price action very slowly, which resulted in a very slow drip in the Relative Strength Index, keeping the incentive alive for bears that there was still more downside to come. In recent moves, however, the RSI started to bottom,  offering more limited gains for bears wishing to short Stellar price. With bears starting to doubt if XLM will ever correct towards $0.25 or $0.25, for that matter, bulls have a chance to strike quickly and squeeze bears out of their positions.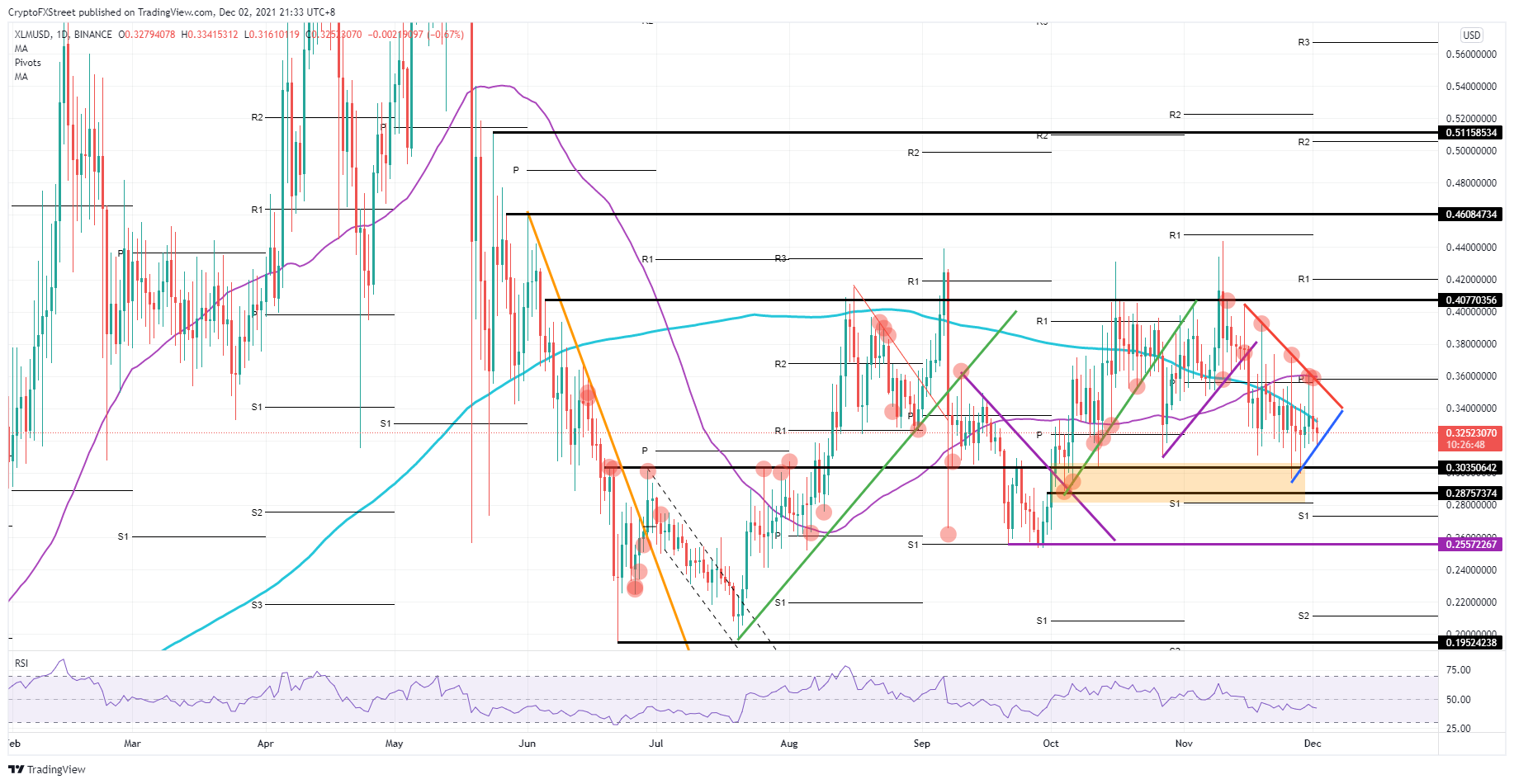 XLM/USD daily chart
A self-fulfilling prophecy is in the making then, as bears will want to close their positions and book profits, increasing demand for XLM. This will likely lead to an explosion in buy-side volume and see price run up rapidly, taking out the monthly pivot at $0.36 and the historical resistance at $0.40. The next level to watch will be $0.46, which may be where bulls first pause, otherwise, the RSI would be at risk of swinging towards overbought too rapidly. 
The only element that could disturb the strategy currently unfolding, is if more headwinds arise from concerns surrounding covid variants. XLM would then see its pennant breaking to the downside and testing $0.28, possibly even with an attempt towards $0.26, which was held successfully at the beginning of October. Should that break, however, expect bulls to step in and defend $0.20, a key psychological level at the June as well as the July lows.