Binance to Remove OTC Marketplace for Chinese Yuan
Chinese cryptocurrency traders are running out of options, with Binance announcing that it will discontinue OTC trading for the Chinese yuan
Cryptocurrency exchange Binance has announced that it will discontinue support for the Chinese yuan on its over-the-counter trading platform on Dec. 31.

The company claims that the removal of the OTC marketplace is linked to "regulatory requirements."

Users from mainland China will only be able to withdraw funds or close their positions.    
Binance's announcement pushed the Bitcoin price to an intraday low of $54,684.
The company highlighted its commitment to regulatory compliance in its statement:   
Binance withdrew from the Chinese mainland market in 2017 and does not engage in exchange business in mainland China. Binance has always attached great importance to compliance obligations and has always strictly complied with the relevant requirements of local regulatory agencies.
After China banned crypto exchanges in 2017, local cryptocurrency traders would mainly rely on OTC desks amid severe regulatory scrutiny.

However, residents from mainland China are now running out of options amid the government's intensifying crackdown.
Binance Destroys $639 Million Worth of BNB
Binance's burning a record $639 million worth of BNB has failed to push the price significantly higher
Leading cryptocurrency exchange Binance has announced the completion of its 17th quarterly burn.

The company destroyed more than 1.3 million BNB tokens that were cumulatively worth roughly $639 million.

This marks Binance's biggest quarterly burn to date in dollar terms.
"Burning" is the process of shrinking the token's circulating supply. Binance is on track to destroy 50% of all BNB tokens every quarter.

The number of tokens that are destroyed each quarter is calculated based on the trading volume on Binance's crypto-to-crypto exchange.
As reported by U.Today, Binance burned $393 million worth of BNB in the second quarter and $595 million in the first quarter of 2021.
The BNB price added a meager 1.2% after the burn was announced before quickly trimming even such modest gains.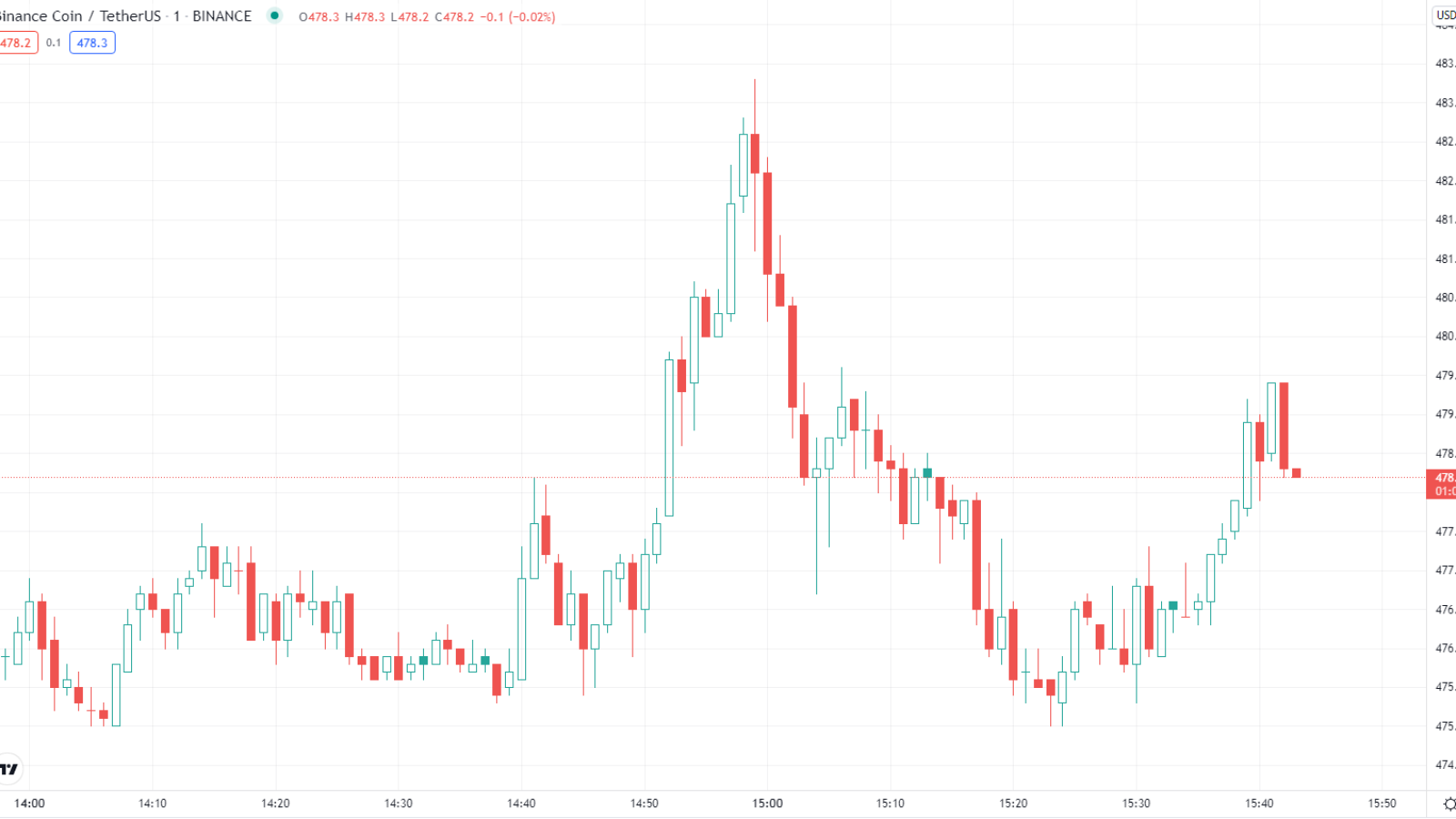 Last week, BNB recorded a double-digit price spike after announcing a $1 billion growth fund.
Binance completes 17th BNB quarterly burn worth $639 million
Leading cryptocurrency exchange, Binance has completed the 17th BNB quarterly burn about an hour ago. According to the tweet from the exchange, a total of 1,335,888 BNB have been removed from circulation by dint of today's event, which is perceived to be bullish for the price in the long term.
Over $639M burned in 17th BNB quarterly burn
Today's record is not the highest in terms of the total number of BNB burnt. However, it is by far the largest in terms of the US dollar value, reaching over $639 million, which is a factor of the current price of BNB. In the previous BNB quarterly burn, only about 1.296 million BNB were burned, which was over $393 million at the time. 
Just took $639,000,000 USD worth of #BNB out of circulation, permanently. https://t.co/soXlS24PIk— CZ 🔶 Binance (@cz_binance) October 18, 2021
Binance plans to burn 100M BNB
So far, Binance has removed a total of 33.19 million BNB from circulation through its BNB quarterly burn event. This sums to over $2 billion at the current price. Binance plans to burn 100,000,000 BNB in total, which is expected to be completed in the next five to seven years, according to the CEO Changpeng Zhao.
Recently, Ethereum also began burning some of part of Ether (ETH) paid in transaction fees, which was a functionality introduced by the newly-passed EIP-1559. Abot 567,438.09 ETH has been burned so far, which is worth more than $2 billion.
At the time of writing, BNB is up, trading at $479.50, which represents a 2.98% increase on the 24 hours count. It remains to be seen how impactful the 17th BNB quarterly burn will be to price in the coming days
Binance Burns Almost $640 Million Worth of BNB Tokens
Binance just cleared over half a billion dollars of its native token from circulation – the most valuable burn in dollars terms to date.
Binance recently completed its 17th token burn. Over 1 million BNB were removed from circulation, comparable to previous burns. However, due to increased token value, this is the highest value burn of BNB to date.
Binance announced the recent burn on their site earlier today – the 17th burn since the first in October 2017.
According to the exchange, 1,335,888 BNB were removed. In dollar terms, this equals $639,462,868 at the time of the burn.
Specifically, 1,318,049 BNB were actually burned, while 17,839 BNB were "effectively burned" through Binance's Pioneer Burn Program. The program counts for BNB that were practically lost after sending BNB to dead addresses.
This is greater than the 1,296,728 BNB tokens destroyed in the previous burn, as well as the 1,088,888 cleared in the 15th burn.
The 14th burn still dwarfs this amount, which removed over 3 million tokens from circulation at once. However, in fiat terms, the most recent burn is the only one to remove over $600 million in value.
The BNB market cap has risen substantially since the last burn. While shy of $50 billion on July 18th, the total capitalization is over $80 billion today. This helps explain the record-setting dollar value of the destroyed tokens.
Binance's quarterly burns are procedures designated in the network's whitepaper. It has promised to continually buy and burn BNB until the network supply is reduced to 100 million BNB, from its original 200 million.
The current BNB circulating supply stands 168,137,035, according to CoinGecko.