Cardano sits on strong fundamentals that are not priced in yet
Cardano price is hovering above an ascending parallel channel's upper trend line, indicating a potential retest.
ADA and RSI have formed bearish divergence on a weekly chart, adding credence to the short-term correction.
Transaction data shows that any upswing will face gigantic resistance up to $2.76.
Cardano price has been on an exponential run in 2021, which seems to have exhausted its momentum. After the second swing high on August 30, ADA is now undergoing a full-blown retracement. While this correction started roughly a month ago, more seems to be on its way for the so-called "Ethereum-killer."
Cardano technicals turn bearish
Cardano price created three higher highs and two higher lows on a weekly chart starting in early February 2020. Connecting these swing points showed the formation of an ascending parallel channel.
While Cardano price broke out of this pattern on February 1, 2020, things escalated quickly, pushing ADA from $0.33 to $2.47, a 643% ascent in roughly three months. This exponential upswing faced exhaustion, resulting in a 60% descent.
After this point, Cardano price failed to gather steam, which led to a sideways movement for roughly two months. This coiling up was followed by another leg up that produced a swing high at $3.10, much higher than the previous one.
The implication of the second local top is profound since the RSI set up lower highs during the same period. This forking between the price, which formed higher highs, while the indicator reveals a lower high indicates the formation of a bearish divergence.
This development is also why ADA saw a 60% correction.
As a result of the said divergence, Cardano price has retraced roughly 32% to where it currently stands. While the bigger picture remains bullish with higher highs and higher lows, ADA still has to correct before it can begin its uptrend.
Extending the parallel channel seen in 2020 shows that the previous swing low bounced off this setup. Therefore, if the correction continues, Cardano price will likely tag the same barrier again. From the current position, ADA still has roughly 20% to go before it revisits this level at $1.68.
While a bounce from this support floor is likely, investors should expect ADA to tag $1.46 in a highly bearish case.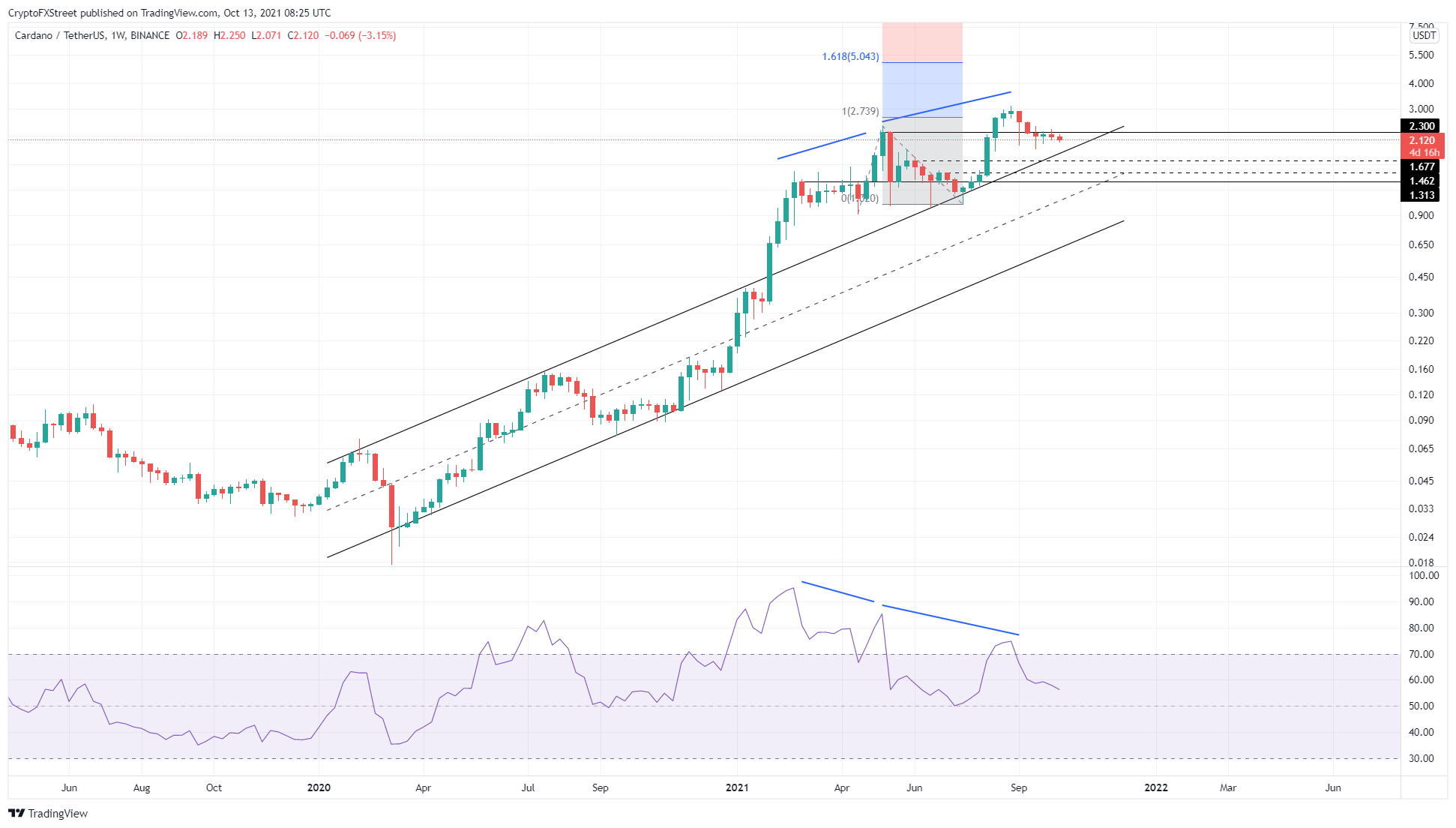 ADA/USD 1-week chart
Immense headwinds await ADA
While the historical and the technical perspectives hint at a downswing for Cardano price, on-chain metrics suggest that ADA will face massive headwinds going higher. IntoTheBlock's Global In/Out of the Money (GIOM) model shows that the number of "Out of the Money" investors increases as the price goes higher.
For example, the GIOM shows that a whopping 281,000 addresses that purchased 8.14 billion ADA at an average price will be "Out of the Money" if Cardano price produces a decisive close below $2.05.
Going higher on the scale shows 58,740, 295,470 and 449,360 addresses that bought 1.84 billion, 3.69 billion and 4.85 billion ADA at an average price of $2.20, $2.32 and $2.76 are all underwater.
Therefore, any short-term buying pressure that pushes ADA higher will face immense selling pressure from investors who want to break even.

ADA GIOM chart
Hence, combining the bearish outlook observed from the technical and historical perspective with the on-chain data reveals that the only place Cardano price can go is lower. Moreover, increasing Bitcoin dominance tends to have a negative impact on altcoins. So far, BTC dominance has risen by roughly 15% since September 13. 
The current weakness shown in the altcoin market is due to this sudden uptick. Going forward, this metric is likely to surge another 8-10%, which could be a tool in the bears' arsenal.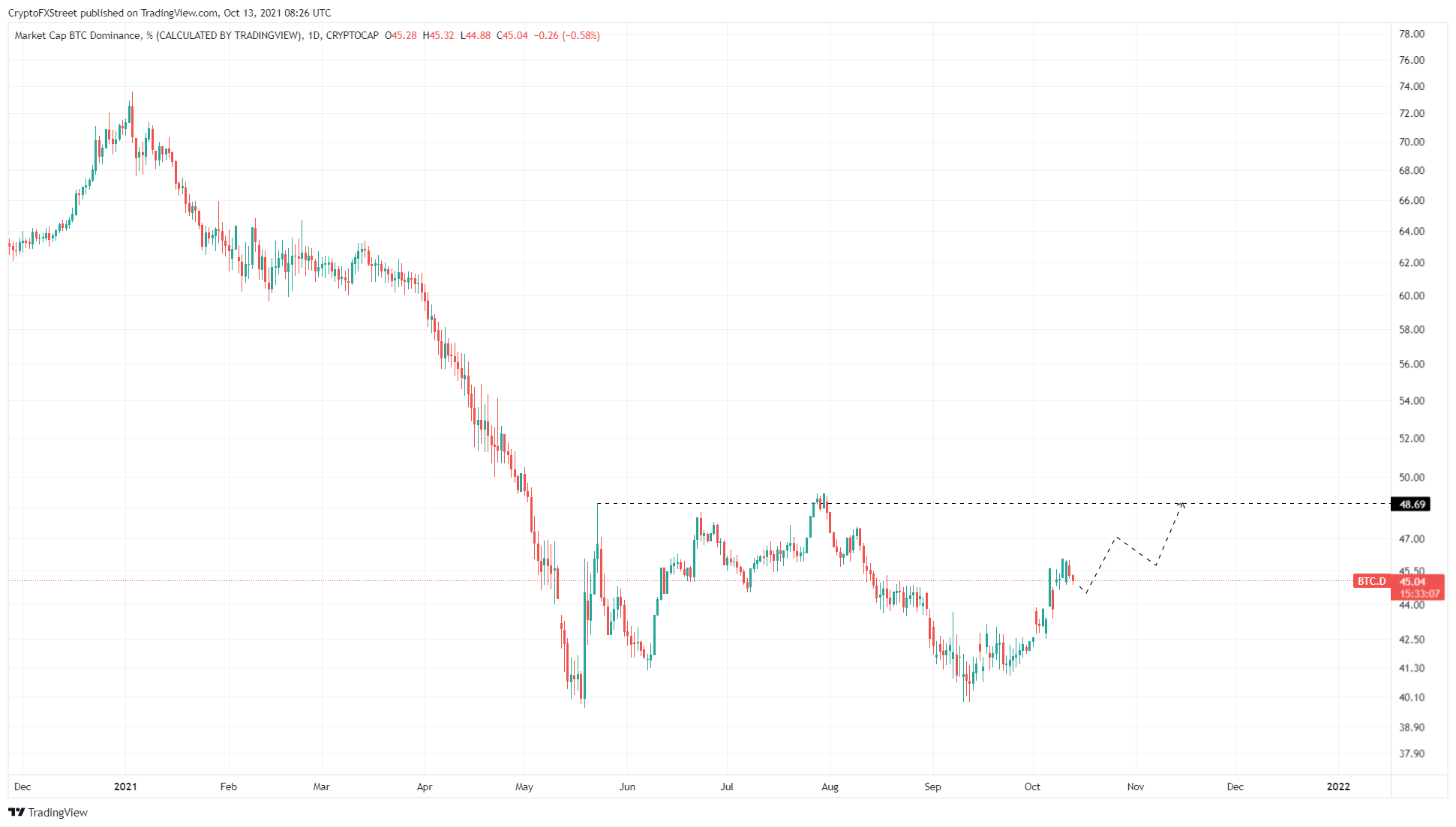 BTC dominance chart
While things are looking bad for Cardano price, the fundamentals are seeing a significant uptick, especially since the introduction of the Alonzo hard fork in September. The DeFi ecosystem on the Cardano blockchain is picking up momentum.
In a recent announcement OccamX, a decentralized, exchange launched on September 4. Launched by the Occamfi team, the DEX is one among many to hit the developing ecosystem on ADA, which was made possible due to the introduction of the much-awaited smart contract capabilities.
On that front, Cardano co-founder Charles Hoskin stated that the second wave of DeFi is "up for grabs" after implementing the Alonzo hard fork. He added that Cardano is positioned itself at the center of this second wave, including interoperability, liquidity, and the ability to move assets across different chains.
Other notable development taking place on the Cardano blockchain includes the recently launched NFT market place SpaceBudz. The platform was launched by Berry Pool operator, who is also the creator of the popular ADA wallet Nami.
While the market is currently lull due to the increase in Bitcoin dominance, things will pick up when it's altcoins' time to rally. When that happens, the selling pressure posed by the cluster of underwater investors will be overwhelmed by massive capital inflows and easily slice through them.
In such a situation, if ADA can produce a decisive close above $2.76 and hopefully $3, it will convert the underwater investors' selling pressure into buying pressure and lure sidelined investors to jump on the bandwagon kick-starting a new uptrend.
In such a situation, Cardano price could rally to $5, coinciding with the 161.8% Fibonacci retracement level.
Cardano To Explode Very Soon, ADA Price Poised TO Hit $8 Soon!
Cardano after a notable uptrend above $3 adopted a sideways trend for a very prolonged period. And hence, the price was speculated to be stagnant or to be more specific, dead, showcases signs of a major flip ahead. The upcoming rally could lead ADA price towards the immediate target at its ATH initially. 
As the crypto space geared up with the Bitcoin price raising ahead of $60,000, many altcoins followed. However, ADA prices remained away from the crowd by maintaining a narrow trend. And therefore lost its position in the top 3 crypto assets based on the market cap. Yet the traders appear to have not lost their interest in the asset. 
#Cardano is sitting at $2.13 at this time, and traders' interest in the #4 market cap asset appears to be picking up. Traders on #Binance are longing $ADA to a greater degree than usual as #altcoin movement is picking up against $BTC. https://t.co/yF29mEPTd4 pic.twitter.com/BBc1zqQNDC— Santiment (@santimentfeed) October 19, 2021
According to the data from the On-chain analytic platform, Santiment, despite the asset slipping to 4th position, traders continue to long their positions. It could also signify the altcoin momentum gearing up against Bitcoin.
Cardano Price Analysis
Cardano price after smashing its highs in early September continued swinging within a symmetrical triangle. After numerous pumps and dumps, the asset is finally on the verge to explode by breaking the pattern.
As the price explodes after breaking the pattern, it appears poised to smash the immediate resistance level that resides around the ATH. However, once the asset trends are in the discovery phase, reaching new highs could be on the cards. According to an analyst, the asset could reach $8 in the near future. But smashing $5 appears imminent for the ADA price.
Hoskinson's Brief Update: Cardano's Great Year Ahead
Cardano Founder — Charles Hoskinson, speaks to the crypto community.
He catches them up on all things Cardano via a live broadcast.
After the smart contract launch, Cardano will now move to bring scalability.
Founder of Cardano (ADA) — Charles Hoskinson, takes a moment to address the crypto space and catch them up on all things Cardano. Specifically, he did so via a live broadcast.
Brief Update https://t.co/9Tw2zPtVxm— Charles Hoskinson (@IOHK_Charles) October 18, 2021
The broadcast comes from South Africa, as Hoskinson is currently traveling through different parts of Africa. He says there's a lot of potential opportunities here and he is looking forward to learning more during this trip.
In detail, the purpose of this brief update was to dampen the negative and uncertain buzz about the project within the crypto world. Hoskinson wanted to be upfront and transparent about all that's been going on since the Alonzo smart contract update launch last month.
Frankly, he is very puzzled at the rising FUD within the space. He says that so far, Cardano has met every single milestone on its roadmap with no delays and no issues. The network has never collapsed and Cardano's community continues to grow.
Hoping to reassure the naysayers, Hoskinson lays out Cardano's current plans. To begin, he says that most of the concerns he sees seem to be about scalability. The upcoming PAB launch set to come out later this month or early next month will take care of this.
To add on, Goguen's goal was to set the network's programming model. Likewise, Basho's goal is to make the program work on a large scale, and this is where Cardano is heading next. While the PAB will improve scalability, more and more users will join the network.
By the time this number rises, Cardano will be ready to launch its sidechains as well as its Layer-2 solution — Hydra. Besides these, Cardano has a lot of other projects in motion as well. To name a few, Plutus, Mamba Pool, Atala PRISM, Mithral and so much more. In fact, there are 14 teams working to bring 14 different elements within the Cardano ecosystem alone.
On the other side, Cardano is working with dozens of commercial projects that are fully funded and ready to go. Thus, Hoskinson is excited for the next year, as we will see the large-scale commercialization of Cardano.
All in all, he is happy to see that the ecosystem is alive and active, humbled that demand for the project has gotten stronger, and grateful to the community for being here. Finally, he encourages skeptics to read the Cardano whitepaper written back in 2016.
The document shows exactly what the project aimed to bring, and they will see the steady and unwavering progress that has been delivered till now. He ends the broadcast by saying that Cardano is exactly where it needs to be right now and will continue to grow as planned.
Cardano Traders Have Started Longing Again While Funding on Binance Picks Up
Demand for Cardano derivatives is on the rise, according to on-chain and market data
As the altcoin market starts growing again and funding rates are picking up, Cardano traders and investors start to open more long positions, according to data provided by Santiment. In order to track the trader's interest in cryptocurrency, Santiment tracks funding rates on the Binance exchange.
With increased derivatives funding, traders might expect elevated volatility due to the increasing number of leveraged positions. A more leveraged market might help the price action during an uptrend.
The downside of an overleveraged market
The main downside of elevated volatility on the market is the absence of strong support zones that practically have no time to form in the face of the rapidly rising price.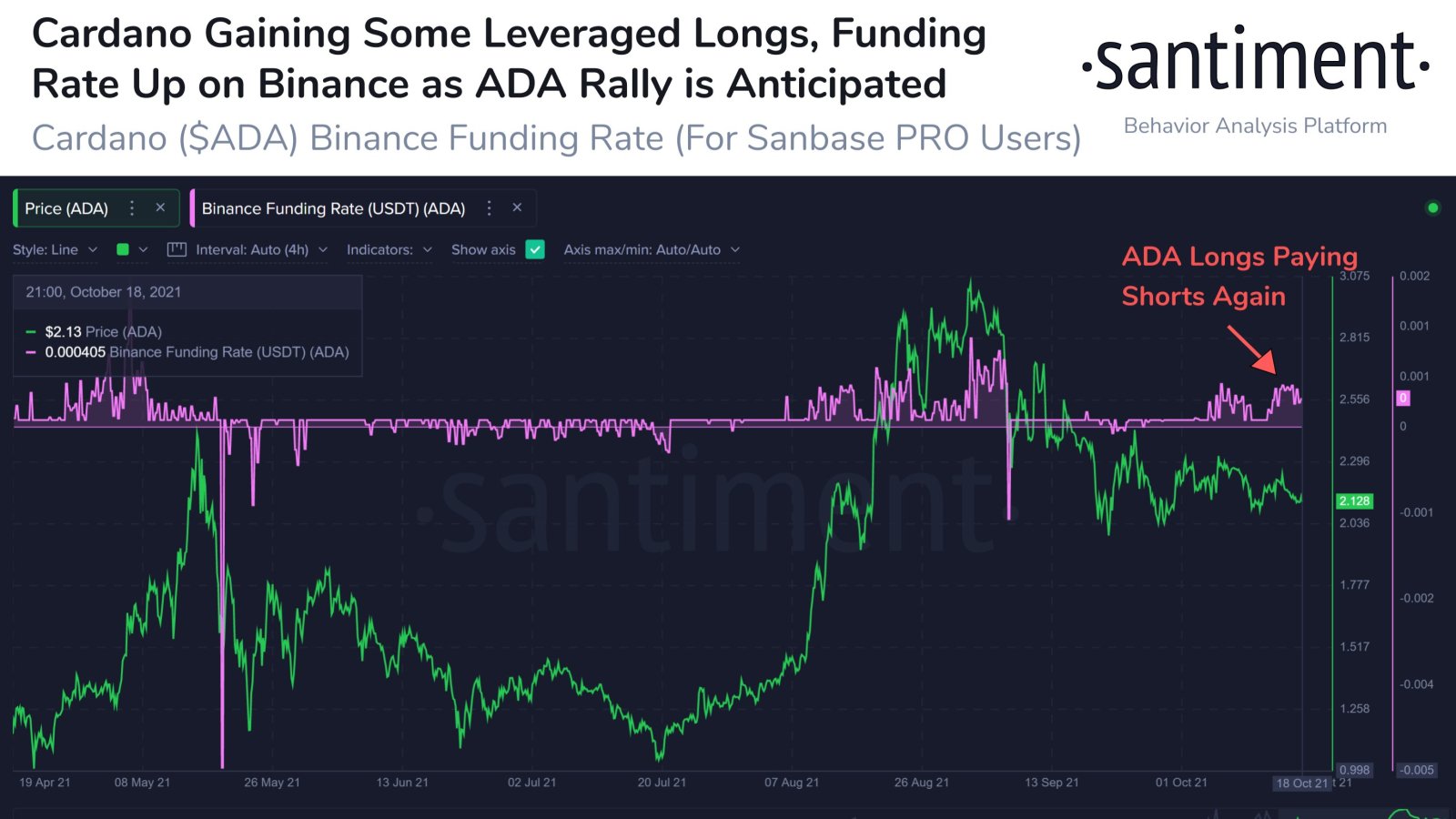 Cardano markets were constantly overleveraged during the previous bull run. Right after the market entered the correction phase, ADA faced a 30% retrace and has not recovered to date.
In the last month, the average weekly volatility on ADA has been staying around 8%, while in the post-smart contract announcement phase, the average volatility has remained at about 20%.
The main advantage for traders
Since current market sentiment for ADA remains neutral, an increase in volatility might lead to both positive and negative outcomes. But according to the data from Binance, there are more longs being opened than shorts. With additional longs funded and the absence of selling pressure, the price of the asset might rise further.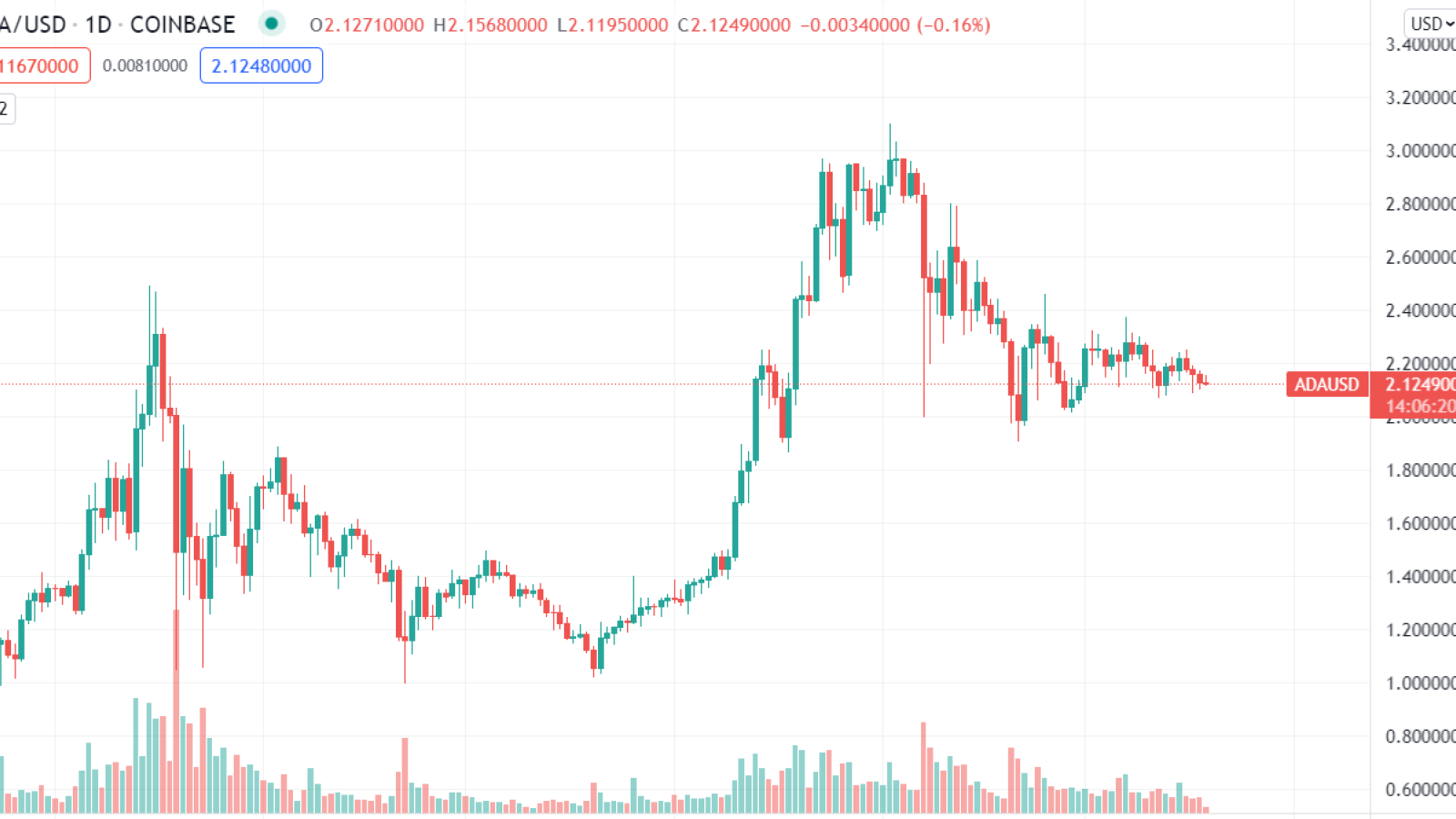 Currently, only 61% of ADA holders remain in profit, which indicates that 40% of all holders have opened their positions for a higher price. On-chain data also suggests that more selling pressure might appear on the market once the price comes close to the previous ATH.