Coinbase Takes Giant Leap Into Nascent Crypto Space With Announcement of New NFT Marketplace
Coinbase, the biggest crypto exchange in the US, says it is launching a non-fungible token (NFT) marketplace.
In a new blog post, the digital asset exchange announces the creation of Coinbase NFT, a platform that aims to allow users to easily buy and sell NFTs .
VP of product and ecosystem Sanchan Saxena explains that while NFTs have risen to prominence, the space is often less than user-friendly.
"If you've tried to create or purchase an NFT, you've probably found the user experience lacking. Creating an NFT should be as simple as tapping a few buttons. Anything more complicated is a barrier to creativity."
The new peer-to-peer marketplace will enable users to mint, buy and showcase digital works of art in a secure and user-friendly manner. Emphasis will be given to discovery and discussion.
"Just as Coinbase helped millions of people access Bitcoin [BTC] for the first time in an easy and trusted way – we want to do the same for the NFTs."
The overall NFT market has seen an explosion in activity, rising to $2.5 billion in sales in the first half of 2021 compared to $13.7 million in the first two quarters of 2020.
This past August there was over $4 billion in volume across the top marketplaces.
As Coinbase notes,
"The rise of NFT art has been made possible by provable ownership recorded via tokens on blockchains like Ethereum [ETH]. NFT art has attracted artists from all over the world, leading to an explosion in the variety of art work available.
Pieces with cultural significance within the crypto community tend to fetch higher price tags, but we're already seeing crypto and mainstream culture merge, led by various [social media and celebrity] influencers."
UK investors have lost $200M in cryptocurrency scams since 2021
Investors in the UK have lost over $200 million in cryptocurrency scams since this year. 
About 558 of the fraud reports were related to fake celebrity endorsements.
Cybercriminals are still capitalizing on the growing attention and popularity of digital currency to siphon money from unsuspecting investors. Recently, the fraud and cyber reporting center of the United Kingdom (UK), Action Fraud, disclosed that the residents have lost over $200 million (or £146,222,332) in cryptocurrency scams since the beginning of the year.
The losses so far already represent a 30 percent increase from the record last year. The Action Fraud said investors have filed 7,118 reports of cryptocurrency scams since January, most of which were from people below the age of 50 years, losing over $28,000 (£20,500) on average. The majority of the victims (52%) were aged between 18 and 45.
"Reports of cryptocurrency fraud have increased significantly over the past few years, which is unsurprising given everyone is spending more time online," said Temporary Detective Chief Inspector Craig Mullish from the City of London Police. "Being online more means criminals have a greater opportunity to approach unsuspecting victims with fraudulent investment opportunities."
Fake celebrity endorsements
The Action Fraud noted that some of the cryptocurrency scam reports they received were connected to fake celebrity endorsements. We have reported several cases where cybercriminals impersonate well-known figures or use fake testimonies to deceive people into investing in their projects. 
Between April 2020 and March 2021, about 558 UK investors filed fraud reports involving "bogus celebrity endorsements," and 79% of all the inventors who fell for these scams said it was crypto-related.
As recently as October 15, Cryptopolitan reported that scammers made away with about $1.4 million from Tinder users who were tricked into a fake Bitcoin dating app. 
Here's Why Billionaire Real Estate Mogul Barry Sternlicht Owns Two Different Crypto Assets
Billionaire and real estate magnate Barry Sternlicht says that he owns Bitcoin (BTC) and Ethereum (ETH) for a number of reasons.
In a new interview with CNBC's Squawk Box, the chief executive of Starwood Capital says that he's invested in crypto due to his concerns regarding endless money printing and what he sees as questionable monetary policies.
"The reason I own BTC is because the US government and every government in the Western hemisphere is printing money now until the end of time, And this is a finite amount of something, and it can be traded globally and people have fiat currencies whether it's in Nigeria or… Bolivia or wherever, you can move into something that the world has accepted as a substitute for gold."
Referencing JPMorgan CEO Jamie Dimon who said he thinks Bitcoin is "worthless", Sternlicht argues that the same case could be made for gold.
"What Jamie Dimon talked about, I mean gold is kind of worthless too, silver [as well], they have some industrial uses, but they're minor."
The billionaire says that while Bitcoin is minimal in its purposes, he sees high potential in Ethereum's ecosystem, plus all of blockchain technology in general.
"Since it's 18 million float of 21, I think Bitcoin… It's the biggest. It's a dumb coin, it has no real purpose other than a store of value, and it's a little crazily volatile. So Ether, which is right below it, I own some of that. That's a programmable Bitcoin, and then there are tons of other coins that are built off of that system… I've become very interested in blockchain technology as a whole, the digital ledger is going to change everything…"
"Gold is kind of worthless," says Barry Sternlicht. "The reason I own #bitcoin is because the U.S. government and every government in western hemisphere is printing money now to the end of time and this is a finite amount of something and it can be traded globally." pic.twitter.com/72zYQTjF0y— Squawk Box (@SquawkCNBC) October 13, 2021
Crypto Traders Most Bullish on Polkadot, Solana, Polygon and 10 Additional Altcoins: Digital Asset Survey
A new survey unveils that crypto traders are most bullish on 13 altcoins including Polkadot, Solana and Polygon.
The Real Vision Exchange Crypto Survey is designed to track sentiment among investors by allowing participants to scan 30 tokens and choose if they want to have an overweight or underweight allocation for each one. The survey was conducted by Real Vision Bot, which was created by two independent developers and boosted by macro guru Raoul Pal.
Results from voting that happened on the first two days of this week indicate traders prefer an overweight portfolio consisting of smart contract platforms Polkadot (DOT) and Solana (SOL), as well as Ethereum-scaling solution Polygon (MATIC).
The scalable and interoperable ecosystem Cosmos (ATOM) is fourth on the list, and smart contract platforms Terra (LUNA) and Cardano (ADA) appear tied for fifth. Traders also have overweight allocations for decentralized oracle network Chainlink (LINK), Ethereum competitor Avalanche (AVAX), Ethereum-based token Enjin Coin (ENJ) and decentralized exchange Uniswap (UNI) for the sixth, seventh and eighth places, respectively.
Tied in ninth place are cross-border payment solutions Stellar (XLM) and XRP, as well as decentralized storage network (FIL).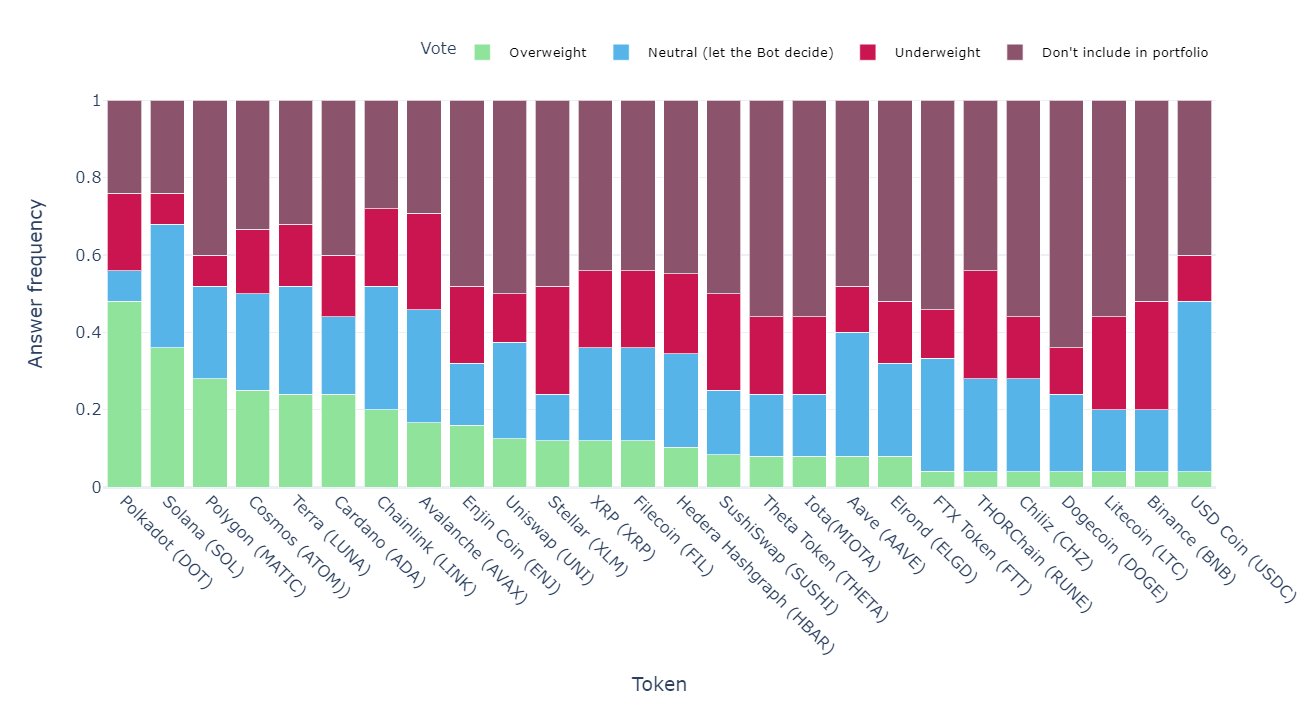 Real Vision Bot clarifies that the participants are not necessarily holding the cryptocurrencies that they voted for.
"They can of course vote according to their own positions, but also just based on their sentiment or forward looking. There are many reasons why the own book might not be 1:1 the preferred allocation."
Bitcoin (BTC) is conspicuously absent from the list. Pal highlights that the community is responsible for that absence.
"It's not us – it's the community who makes the allocation… You guys, to be exact.