Crypto Markets Presenting Historic Opportunity As Bitcoin Thrusts Upward, According to Closely Followed Trader Pentoshi
Widely followed crypto market analyst Pentoshi thinks that Bitcoin's run-up is giving traders a prime opportunity.
The trader tells his 309,300 Twitter followers that Bitcoin (BTC) moving higher before dragging the crypto market up creates an opportunity to compound Bitcoin profits with altcoins.
"​​If $Btc up + alts down it's truly a great opportunity historically because you get to ride Btc to new ath's [all-time highs] then compound alts to ath's
Why better opportunity to achieve your goals than that for those who get it
When you've experienced multiple cycles you know. Take what we get"
At the time of writing, Bitcoin is trading at $56,856, according to CoinGecko. Pentoshi thinks that all-time highs are almost certain for BTC. But traders could still expect to see a dip below $55,000.
He's looking at $73,200 and $85,000 as the next levels for Bitcoin to hit in Q4.
"58k hit, so far so good
So what next?
I think best case scenario for dip hunters now is 53-55k for a [higher low]
Def feels like a lot of people are offside since much lower, and Bitcoin is in a new trend
ATH's seem almost certain for Q4"
He reminds traders that while Bitcoin moves in a strong uptrend, dips become shallow with fewer to take advantage of.
$BTC trending

Dips are shallow. a lot of people waiting for that retest but never get it

Obviously 2 important areas ahead before potential ath's https://t.co/tSULnCRsjO— Pentoshi Won't Dm You. hates Dm's. DM's are scams (@Pentosh1) October 11, 2021
Here's why the market might be overestimating the impact that new futures-based ETFs will bring to the market
While the cryptocurrency industry waits for the drop of the first Bitcoin exchange-traded fund to be delivered shortly, Bloomberg has released an article in which the agency covers how and why traders might miss even greater rewards while trying to catch big gains from a "new" product.
The primary basis of such a statement is the Bitcoin futures curve. Futures contracts with long expiration dates usually trade at a premium to the price of the underlying asset. The main reason for that is that most traders believe, due to its nature, cryptocurrency will rise in the future.
But the main problem with current ETF products is the underlying asset. While the fund may be called "Bitcoin ETF," it's not actually tied to Bitcoin. The underlying asset here is Bitcoin futures contracts that become a reason for funds to lose some of their profits since they have to pay fees to enter a new contract. Since longer futures contracts trade at the premium, it is more convenient to enter short-term futures contracts and pay the fee.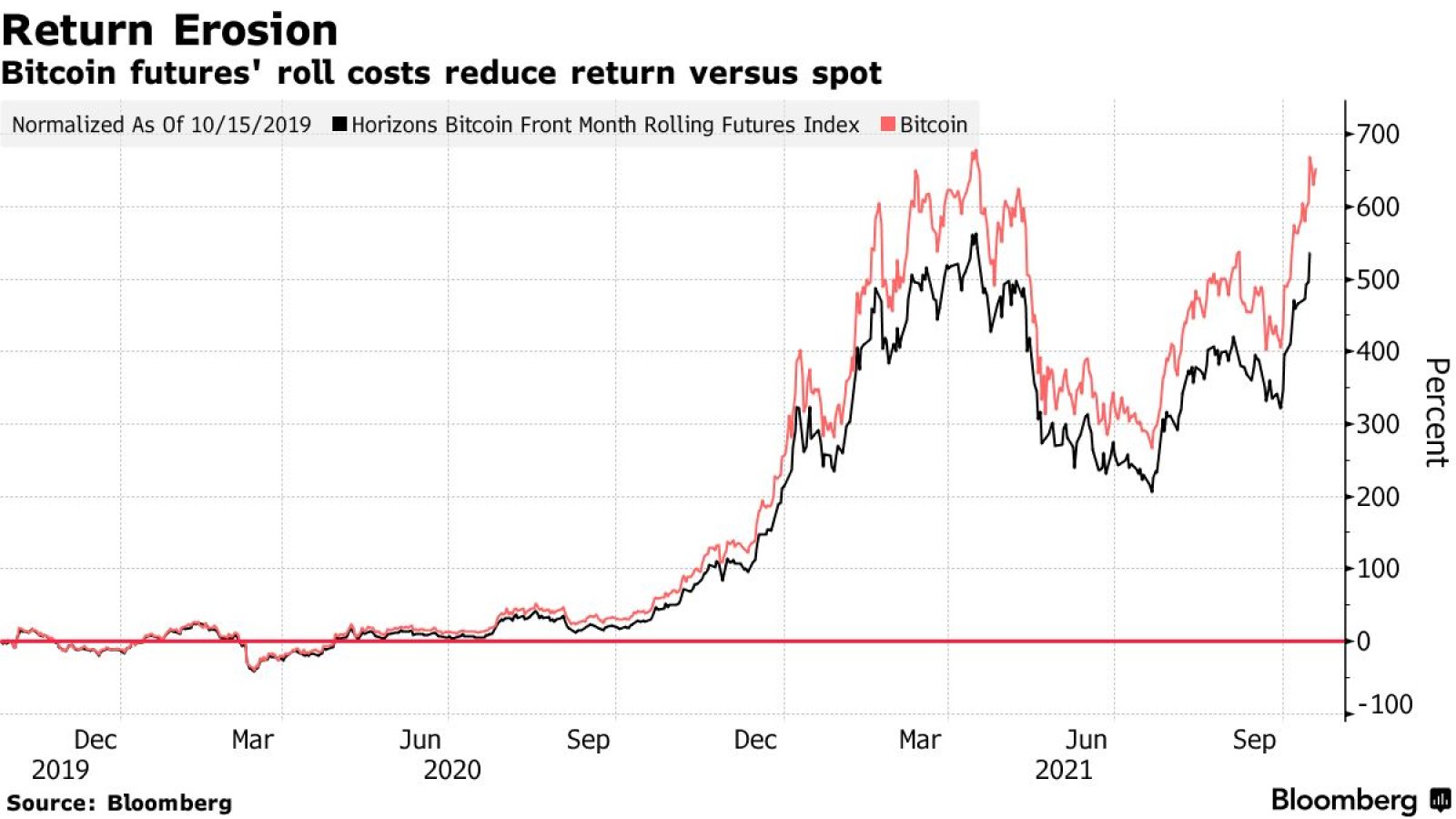 For the mentioned reason, Genesis Trading's Noelle Acheson said that Bitcoin traders are overestimating the potential upcoming demand for derivatives-based ETFs since, as was mentioned, they have more underlying management costs. As an example, the BITO fund currently carries an expense ratio of 0.95%, while the average equity-based ETF will function at around 0.7%.
With the number of underlying expenses behind futures-based Bitcoin ETFs, traders and investors might not choose the mentioned funds for long-term crypto market exposure. Instead, it is more reliable to simply buy the asset itself rather than invest in the ETF, especially for retail traders.
As Markets Turn Red, Senator Pat Toomey Calls China's Crypto Crackdown 'Big Opportunity' for the US
Crypto prices are down across the board today after China announced it is banning virtually all activity related to the cryptocurrency industry.
In a document co-signed by numerous state institutions, the Chinese government blames fraud and other illegal activities as rationale for the crackdown.
The policy brief says,
"Virtual currency trading… activities have risen, disrupting economic and financial order, breeding illegal and criminal activities such as gambling, illegal fund-raising, fraud, pyramid schemes, and money laundering.
In order to further prevent and deal with the risks of virtual currency trading speculation, and effectively maintain national security and social stability… Virtual currencies such as Bitcoin [BTC], Ethereum [ETH], and Tether [USDT]… are not legally reparable, and should not and cannot be used as currency in the market.
Financial institutions and non-bank payment institutions shall not provide services for virtual currency-related business activities."
China plans to "severely crack down on illegal financial activities related to virtual currencies," with criminal violators subject to "investigation and punishment according to law."
United States Senator Pat Toomey sees the ban as an opportunity for the US to expand its dominance in the tech industry.
China's authoritarian crackdown on crypto, including #Bitcoin, is a big opportunity for the U.S. It's also a reminder of our huge structural advantage over China.— Senator Pat Toomey (@SenToomey) September 24, 2021
The Pennsylvania Republican added,
"Beijing is so hostile to economic freedom they cannot even tolerate their people participating in what is arguably the most exciting innovation in finance in decades.
Economic liberty leads to faster growth, and ultimately, a higher standard of living for all."
The anti-cryptocurrency measure's ten co-signatories include the People's Bank of China, Ministry of Public Security, and Securities Regulatory Commission.ADVERTISEMENT
Over the past 24 hours BTC is lower by 3.9% and valued at $42,025, while ETH is down 6.6% to $2,898, according to Coingecko.
China has taken a hard line against digital assets this year, including recently banning crypto mining.
From Prime To Primepool, HT Holders Are Igniting The Market's Wealth Effect
Since the launch of Huobi Token (HT) in 2018, platform tokens have become a popular investment target. The rise of emerging platforms has further driven the development of platform tokens that feature "brokerage stocks".
After the DeFi boom in 2020, the governance tokens represented by UNI have exploded, changing the direction of platform tokens.
Since May of this year, Huobi has been ushering in a new era of development through the restart of its Prime event and the introduction of Primepool, enabling users to earn new tokens at zero cost while continuing to strengthen the HT system. 
HT becomes a rigid market need
According to TokenInsight data, during the bull market from March to April, the daily trading volumes of HT accounted for half of the total daily trading volumes of the five major platform tokens including BNB, HT, UNI, OKB and FTT, with the highest proportion reached 63.7%.   
Coinmarketcap data shows the market value of HT is around US$2.375 billion. This is an increase of approximately 128% from the beginning of the year.
During the mid-May boom, the market value of HT reached US$6.493 billion.
From the perspective of market performance, the price of HT on January 1, 2021 was about US$5, and by mid-May of 2021, the price of HT peaked at US$39.91.
Although the market plummeted in May and the mainstream currencies in the market fell, HT has continued to recover since July, with an increase of 218% from the beginning of the year.
With the continuous development of the Heco ecosystem since the end of 2020, on-chain trading volumes soared from January to February and maintained a high level from February to mid-May.
As the foundation of the Heco ecosystem, HT has benefited from its growth, as reflected by its price growth.
The restart of Huobi Prime and the launch of Primepool have also introduced significant benefits to users while increasing the need for HTs.
According to statistics, in the second quarter of this year, the number of HT holders increased by about 2%. These two events have become an important factor in the sustainability of HT.
Prime and Primepool are Igniting the Market
Although Huobi Prime can bring relatively good returns each term, it's not that easy for some users to successfully participate and win rewards.
The introduction of Primepool has expanded the pool of participants. Users can even stake the new tokens they received in prior events to acquire new tokens in new events.
For instance, users can stake HT or DFA (the first Primepool project, DeFine ) tokens to win TALK (Talken) in the third Primepool event;
Similarly, users can stake HT or TALK tokens to join the most recent STF (Structure Finance) primepool event.
"In order to lower the entry barriers and capital requirements for user participation in new projects, we redesigned Primepool, making it much more easy to understand and join," said Ciara Sun, Head of Coin Listing and Blockchain Investments.
"Our Users Can Leverage Greater Financial Returns With Less Risk, And At The Same Time, More High-Quality Projects Can Gain Market Exposure."
Since Huobi restarted Prime and launched Primepool, the two have also formed a continuous positive feedback effect on HT's price.
Starting in July, the overall price of HT began to rebound. Demand for HT has rebounded as its market circulation continues to decrease.
During the most recent fourth Primepool event, users were able to lock in their Huobi Tokens (HT) and Talken (TALK) tokens in exchange for a chance to win STF (Structure Finance) tokens.
HT figures are impressive
According to Huobi data, a total of 50.27 million HTs and 10.67 million TALKs were locked in.
Users received approximately 1.58 million STF token rewards, which is about 316,800 USDT based on STF's opening price, and 22,318,000 USDT based on its highest price.
The highest price of STF reached 14.09 USDT in the first five minutes of the event, and the highest price jump was 6,945%.
According to the data revealed by Huobi, the annualized yield of HT mining was as high as 278.96%, and the annualized yield of TALK mining was as high as 6664.89%.
Both the Huobi Prime and Primepool events have drawn significant attention to Huobi's listings of new coins.
While other exchanges offer similar programs for community members, Huobi has consistently provided the highest APY returns for its users.
The market performance of Huobi Prime and Primepool events demonstrate the appeal of listing coins on Huobi.
Aside from promoting the application scenarios of HT, Huobi Prime and Primepool can further increase the value of the projects listed from previous events.
If users come to a consensus on the prospects of the project during this period, they may continue to promote the development of the project and the community.
With this benchmark effect, more cutting-edge project parties will be willing to launch new projects on Huobi Primepool.
Bottom Line
Starting in 2021, Huobi has paid more attention to the DeFi, NFT and GameFi sectors. By focusing on assets from these sectors, Huobi is expected to become a key player in these respective industries. This will, in turn, bring more benefits to its ecosystem and help open a new chapter in its development.