Dogecoin price could double within the next few weeks
Dogecoin price is experiencing a sell-off as it pierced the $0.230 to $0.212 support floor.
A decisive close below $0.195 will likely knock DOGE down to $0.16.
Investors can expect the meme coin to kick-start a 100% uptrend after a bounce from $0.16.
Dogecoin price has been on a slow and steady downtrend. However, this correction is undoing its recent gains and is close to converting a crucial support area into a resistance barrier. While the current outlook is bearish, this descent will set up a much-needed bottom reversal pattern, propelling DOGE to nearly double in value.
Dogecoin price looks for launching pad
Dogecoin price rose 38% between September 28 and October 2, slicing through the $0.212 to $0.230 resistance area and flipped it into a support barrier. While this was a bullish development, the altcoin markets started seeing a declining interest among users as rumors of Bitcoin ETF began circulating.
Perhaps capital rotating out of altcoins and into BTC could be the culprit that triggered the ongoing downswing, which led Dogecoin price to correct 18% and is currently trading inside the said barrier. A decisive close below $0.212 will indicate that the bulls are losing, and the chances of extending this retracement are high.
In such a case, Dogecoin price will revisit the September 29 swing low at $0.195, where it has a chance to form a double bottom and reverse the downswing.
A failure to make a comeback here will drag the meme coin down to $0.1789 or a stable demand level at $0.16. Here, Dogecoin price will form a triple bottom setup, signaling that a massive uptrend awaits DOGE holders.
Assuming a similar rally begins, Dogecoin price will slice through the temporary barriers and make a run for the liquidity resting above the September 6 swing high at $0.314. This run-up would constitute a 97% ascent from $0.160.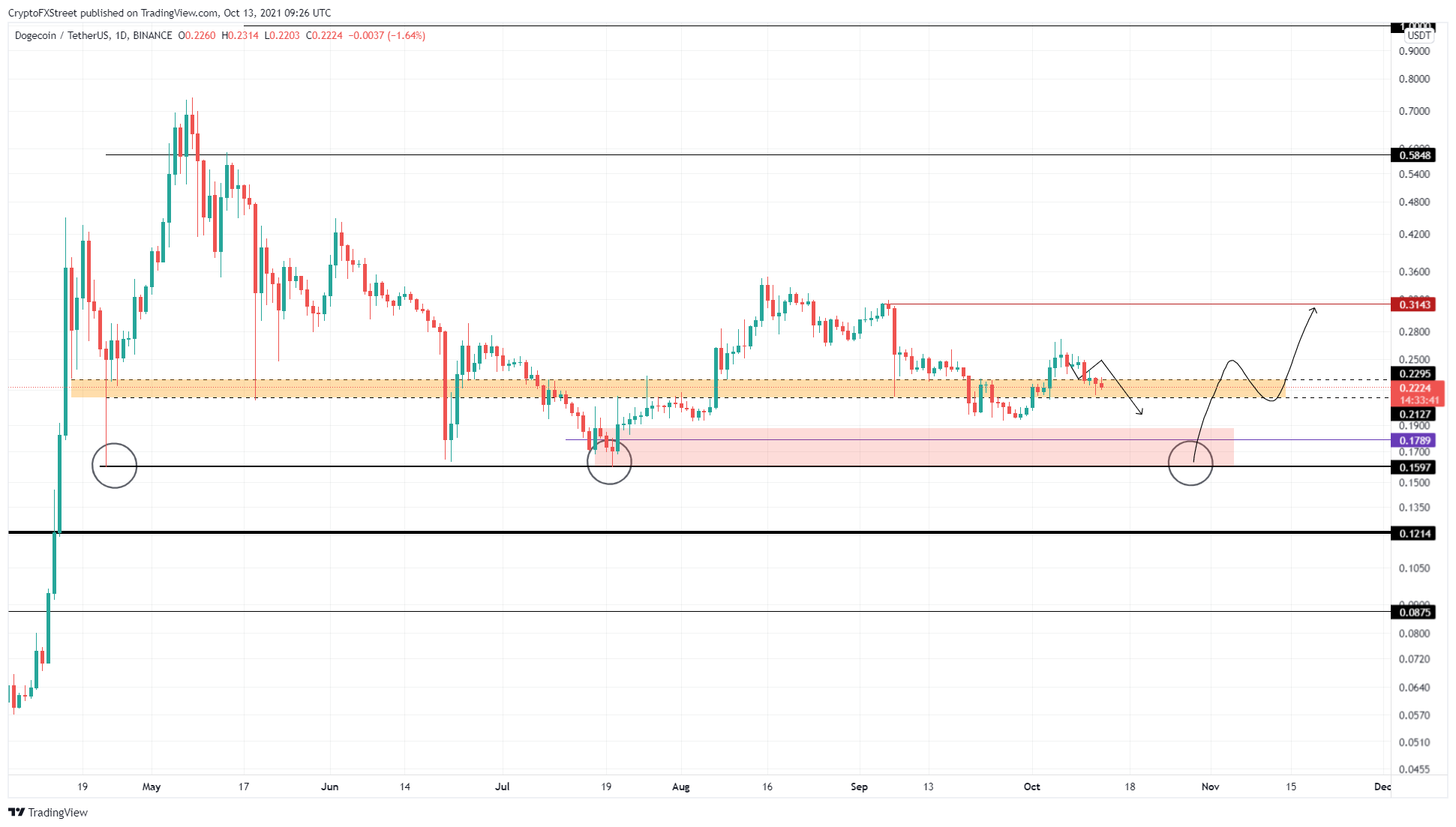 DOGE/USDT 1-day chart
On the other hand, if Dogecoin price fails to defend $0.16, things will turn bearish for the meme coin. Market participants can expect a 25% downswing to drag DOGE down to the nearest support level at $0.121.
Dogecoin & Shiba Inu Could Surge Heavily! Attention Traders, This Could Be Last Buying Zone
Dogecoin Price Eyes A 30% Upswing!
Dogecoin price since the beginning of the present trading month is maintaining a substantial uptrend. The popular meme coin is attempting hard to break the upper barrier yet facing equal competition from the bears. However, the indicators point out towards a healthy uptrend, but still, the possibility of a slight pullback is also possible. 
After oscillating heavily in between the strong resistance and support levels, the price is finally attempting to clear them. The asset was trending within the ascending triangle for quite a long time and was expected to continue for a couple of days more. However, the DOGE price quickly regained bullish momentum and accumulated a little. Finally, attempted a couple of times to break the downtrend line. 
The asset initially broke the symmetrical triangle with a notable jump where-in RSI flipped the bearish divergence. Finding its support at $0.23, the asset appears to be pretty poised to hit the important resistance levels in between $0.35 to $0.44. 
Shiba INU Price Targets $0.00004300 Levels
The asset followed a magnificent rally with nearly 340% gains in just 4 days, forecasting the strength in the rally. However, after rallying like a monster, yet the Shiba Inu price appears to be pretty exhausted and is trending within the descending channel. No doubt the dump attempted the price to bring to its initial positions, yet the bulls sustained the price above $0.00002000. 
Since the price smashed its monthly highs, it followed a trend within a parallel descending channel. A couple of attempts to hit the upper levels failed and currently, the price is experiencing a slight drain. And hence a drop to $0.00002584 is quite possible in a coming couple of days. Yet, a notable rebound could assist the price to hit the immediate resistance levels at $0.00003469. Further, the price could trend in the discovery phase, smashing the current ATH. However, SHIB price may go with its own phase undergoing multiple pumps and dumps.
Collectively, the popular meme coins are on the verge to showcase a magnificent rally ahead. Specifically, following the Shiba Inu(SHIB) price rally, the Dogecoin(DOGE) price which remained stagnant could follow soon. 
DOGE Has Allowed Lots of People to Get into Bitcoin: David Gokhshtein
Crypto influencer and former politician David Gokhshtein believes that Dogecoin has done a lot to attract people to Bitcoin.
Chief executive of PAC Protocol, David Gokhshtein, has taken to Twitter to suggest that the most popular meme currency (and the one favored by Elon Musk), Dogecoin, has attracted a lot of people to the flagship crypto, BTC.
"DOGE has allowed a lot of people to get into Bitcoin"
Gokhshtein often mentions other cryptocurrencies in his tweets, aside from PAC Protocol. In the past, Ripple-affiliated XRP, along with Bitcoin was mentioned pretty frequently by him.
Now, the influencer and former Republican congressional candidate Gokhshtein is exploring meme cryptocurrencies, among other coins. In particular, he has been tweeting about Dogecoin and looking into Shiba Inu (SHIB).
Today, he tweeted about DOGE, stating that this currency that started as a BTC parody in 2013 has allowed a lot of people to enter Bitcoin. He cited multiple free data available on the Internet.
$DOGE has allowed a lot of people to get into #bitcoin.

Data supports it — its free to look up.— David Gokhshtein (@davidgokhshtein) October 18, 2021
Mark Cuban defends DOGE against Bitcoin maxis
Over the weekend, as covered by U.Today, billionaire investor, Shark Tank cohost and owner of the Dallas Mavericks, Mark Cuban, debated with podcaster and Bitcoin maximalist Preston Pysh on Twitter regarding DOGE.
Prior to that, Cuban participated in a live audio conversation on Twitter Spaces. There, he repeated what he has been saying quite often recently: DOGE is "a great introduction into the crypto space," a cheap way of learning about crypto.
Still, Cuban admired Bitcoin as well, but he believes it to be a great store of value. He doubts that BTC can succeed as a unit of payment, unlike Dogecoin.
Here's how much DOGE Cuban holds
Despite being a big fan of Dogecoin, the billionaire only owns about $1,500 worth of this meme coin. He bought some more recently "just for fun," in his words.
He recently stated that a lot of people are using DOGE to buy tickets and merchandise from the Mavericks online shop. According to him, every month, people spend thousands of dollars in DOGE buying stuff from the Mavericks.
As soon as the gaming season starts, he expects the amount of DOGE spent to increase substantially.
Elon Musk pushes DOGE up 13%
On Monday, Oct. 18, the most popular meme crypto, Dogecoin, went up almost 13% after Elon Musk supported DOGE co-founder Billy Markus's tweet, where he urges the community to "keep DOGE absurd."
Besides, the Tesla CEO tweeted a "drawing" of an animal that looked pretty much like a Shiba Inu dog. Both SHIB and DOGE went up after that.
DOGE Over 12% Up, Trading at $0.26
Elon Musk-favored meme crypto Dogecoin has risen more than 12 percent
The ninth largest cryptocurrency, DOGE, a favorite of the richest person on the planet, Elon Musk, has shown a rise by over 12 percent, trading at $0.2676, as per the data provided by CoinMarketCap.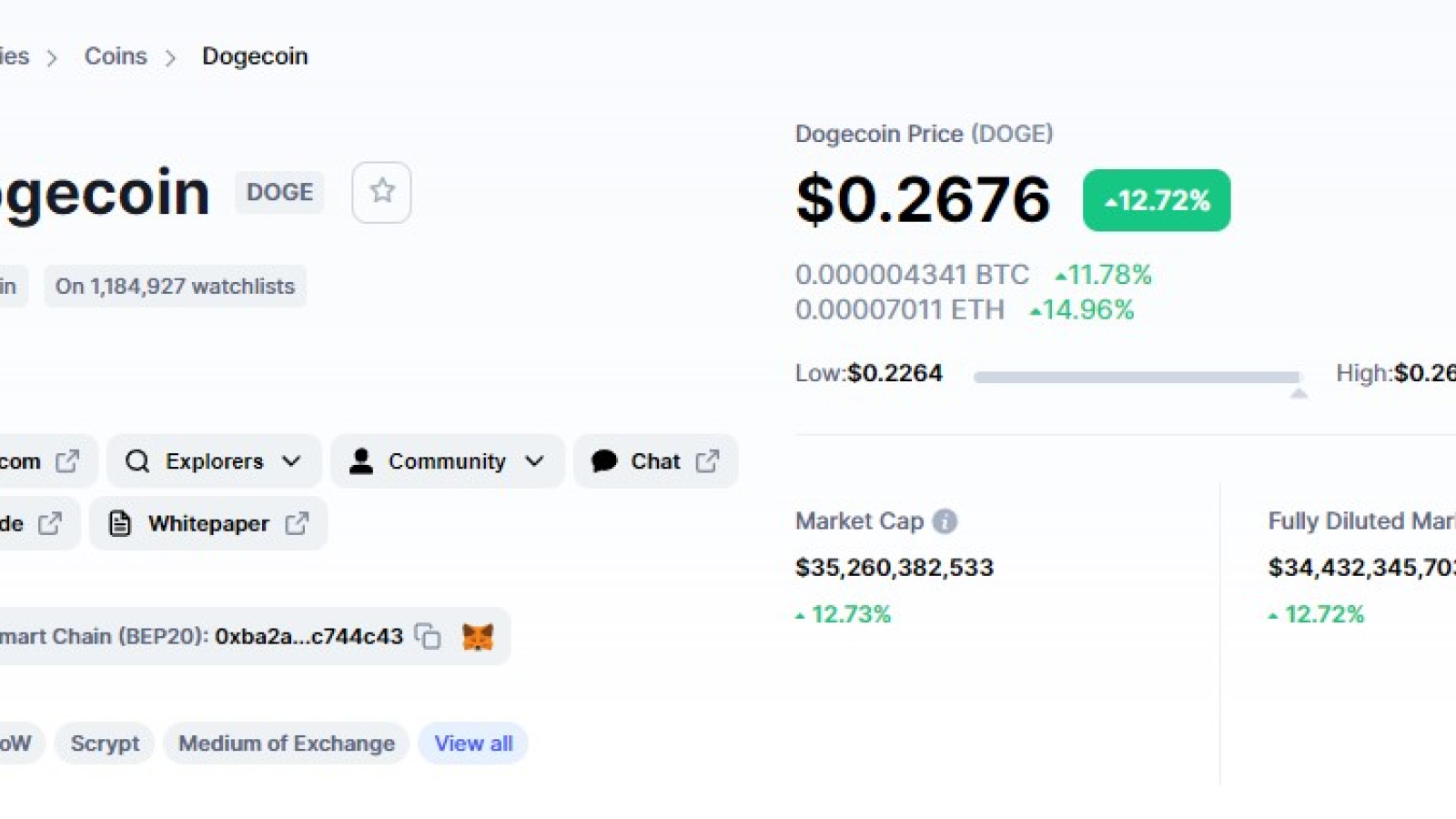 Earlier today, Elon Musk supported the tweet of a Dogecoin co-founder Billy Markus, who mocked all the DOGE-hating part of the crypto community and urging the devs to "keep Dogecoin absurd".
The centibillionaire also posted a tweet with a "drawing" of what the community believed to be a Shiba Inu dog going to the moon.
On Saturday, a popular crypto YouTube counted that Elon Musk's net worth in DOGE now totals 861 billion and the Tesla CEO replied he hoped that would be enough to extend human life to Mars.